Q Series
GOES WHERE YOU GO
Weber
Weber® Q 1000 Gas Grill

Titanium
Image for capacity demonstration purposes only.
Actual product model and features may vary.
The sun is shining and water glistening. Grab your Q 1000 portable gas grill, call your friends, and hit the waves. Small enough to go wherever you go with enough grilling space to concoct a quick meal when back on land.
Part #50060001

Free Shipping & Returns on Weber.com Orders $50+
Free Standard Ground shipping on small parcels and grills <70 lbs. via FedEx, with delivery within 5-8 business days, expedited options available. Free 30 day returns. Shipping Information & Return Policy
Main burners: BTU-per-hour input

8,500

Dimensions - Lid Open (inches)

23.5"H x 27"W x 20.5"D

Dimensions - Lid Closed (inches)

14.5"H x 27"W x 16.5"D

Primary cooking area (square inches)

189

Total cooking area (square inches)

189

Stainless steel burners

1

Fuel type

Liquid Propane (disposable cylinder sold separately)

Features

Porcelain-enameled, cast-iron cooking grates

Push button ignition

Cast aluminum lid and body

Glass-reinforced nylon frame

Removable catch pan

Infinite control burner valve

Cookbox

5 years, no rust through/burn through (2 years paint excluding fading or discoloration)

Lid assembly

5 years, no rust through/burn through (2 years paint excluding fading or discoloration)

Stainless steel burner tubes

5 years, no rust through/burn through

Porcelain-enameled cast iron cooking grates

5 years, no rust through/burn through

Plastic components

5 years (excluding fading or discoloration)

All remaining parts

2 years

Proposition 65 Warning: Handling the brass material on this product exposes you to lead, a chemical known to the State of California to cause cancer, birth defects or other reproductive harm. (Wash hands after handling this product.)




Combustion by-products produced when using this product contain chemicals known to the State of California to cause cancer, birth defects, or other reproductive harm.



Image for capacity demonstration purposes only.
Actual product model and features may vary.
Porcelain-enameled, cast-iron cooking grates

Infinite control burner valve

Stainless steel burner tube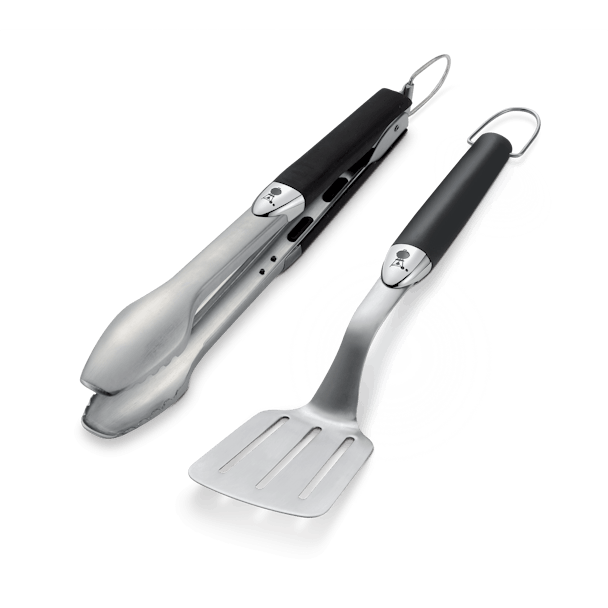 Grill on the go with
A TRAVEL SIZED TOOL SET
The travel size Premium Tool Set fits perfectly in your backpack and can go with you on any adventure. Whether flipping burgers in the deep woods or turning salmon on the shore, be equipped with the best tools.
Explore the tool set
Weber® Q 1000 Gas Grill
is rated out of
5
by
332
.
Rated

3

out of

5
by
fischjj
from
Q1000 Grill for RV
I purchased this grill because it is small and can be easily stored in my RV. However, the design is poor. A 16 oz propane bottle is too fat and can only be installed by putting a lot of torque on the BBQ fitting. A 14 oz bottle is too tall for easy attachment. The engineer needs to redesign the unit to make the handles thinner or the legs longer. The Weber customer service representatives have been great and I appreciate their efforts to make me happy. I purchased an extension hose so that I could use my 16 oz gas bottles.
Date published: 2019-02-05
Rated

4

out of

5
by
Skitheeast
from
Great portability and easy setup
The grill works great and cooks everything perfect even in cold temperatures.
Date published: 2018-02-19
Rated

5

out of

5
by
bignose
from
fantastic little grill
I've had its bigger brother, the 3000, for a year and love it. I bought the 1000 to replace a small charcoal grill that we had at our in-town house where we have limited room. It is almost as good. I cook veggies and meat on it and recently tried pizzas. The pizza was trickier because the heat capacity is a bit too low. Need a pizza stone to even out the heat and cook without burning. With that, I can do anything in it that I can do in the 3000 (as long as it fits on the smaller surface). I did get the hookup for a larger propane tank since I use it often and don't use it as a portable.
Date published: 2018-08-26
Rated

3

out of

5
by
Bay1
from
Cheaper feature set
In spite of what is said in the instruction manual - grill does not accommodate the "fat" cylinders - just the "skinny" ones. Customer support admits that. Even though the igniter produces a spark it never lights the grill - the spark is in the wrong place. We have to use a hand held lighter. This new cost-reduced model clearly wasn't fully tested. Very disappointed in this purchase compared to one we bought a few years ago.
Date published: 2018-06-19
Rated

3

out of

5
by
Greg54
from
A little disappointing
I've been using a Smokey Joe Weber charcoal grill for years and really like it. We have a fire ban where we live due to dry conditions so I bought this gas grill because I couldn't burn with charcoal. The grill works fine, other than it won't light if there is any wind whatsoever and we live in a windy area so I usually have to light it in the garage. My main complaint is the meat comes out kind of blackened on the outside and dry on the inside, which causes it to lose flavor. I've tried different heat settings and cooking time but still can't get it as good as it is on our charcoal grill. Frankly, I'm looking forward to the end of our fire ban so I can go back to using out charcoal grill.
Date published: 2019-10-26
Rated

5

out of

5
by
driven365x
from
Versatile
You will like this grill. I received it for a gift a year ago after good reviews from people I vacation with. I have used this for a full season of activities now. I use it in Central New York for tailgating and family outings. I also use it for a week plus camping on the beach. So I use it in all conditions from extreme heat to cold and dry to rain/snow. Likes: Almost everything Durable (has held up well through salt water wind and snow). Even heat with cast iron (cooks eggs in a pan in no time). Removable drip tray for easy clean up. Very portable. Dislikes: Being very picky In really windy or cold conditions, high may not be hot enough for certain meals. Drip tray pans are an odd size and hard to find (can just put foil over but its harder to slide in).
Date published: 2018-01-13
Rated

2

out of

5
by
Mike E
from
Standard 16 oz propane bottles do not fit
Seems great, but the most common size of 16 oz propane bottles do not fit on the grill. The bottle cannot be screwed into the regulator without physically unscrewing the regulator from the grill. Major design flaw.
Date published: 2019-06-15
Rated

5

out of

5
by
k mike
from
Buy with confidence
I baught my weber Q over 10 years ago from Sears. I just now am replacing my "gas emement... thing?? Its just my wife and I in the house so this works great for all we do. What I like most about this grill is the construction AND when BBQing things like chicken thighs this grill will not flair up. It manages the greese and prevents fire. (I even clean it maybe once a year.) One thing I did do was buy a grill temp guage at the hardware store. Drilled a 1/4" hole in the face of the grill to install it. Easy! I worked construction for 32 years and traveled the country. I loved BBQing in the motel parking lot. This is the best traveling grill I have ever had. Buy with confidence, this grill will last?
Date published: 2018-07-29
Rated

5

out of

5
by
August
from
My 4th Weber
I BBQ some hamburger the first time to break in the new porcelain grill and they turned out perfect; (purchased for our new RV) - the next night BBQ a pork tenderloin with plum sauce and it turned out with just a little "pink" in the center - "perfect"! On my other Weber's I use use to the cast iron grill and always liked it - but I like the new porcelain grill better - easier to clean and still leaves the "grill marks". I am very happy and also just ordered another porcelain grill for my older 2000 model that still is cooking and enjoyed a perfecy salmon!!!!!
Date published: 2019-10-03
Rated

5

out of

5
by
Jeff123
from
Awesome little grill
Bought this grill a year ago and used it extensively at the lake. It's small which I needed but it fed a family of 5 doing meat alone on it. Heats up fast and cooks even and hardly uses propane. When this one stops working I'll upgrade it to the electric start with a temp gauge in the same size. The ignighter never skipped a beat and even in windy conditions this little grill had no problems keeping a solid temp without the burner blowing out. Very easy to clean I would give this grill 10 stars if I could and would recommend to anyone looking for a small portable grill.
Date published: 2019-04-02
Rated

5

out of

5
by
Jody60
from
The best grill you'll ever purchase!
This is the 2nd Q 1000 my husband & I have purchased in the past 10 years. Our first was still going strong, but left it at our camp and purchased a new one for home. We were so impressed with the quality, there was no question about buying the same model. The new one has a 2 piece cast grill, which was a great move on Weber's design team, since it makes it easy to fit in the kitchen sink for cleanup. Love how it is portable, but fits on a small table close to the back porch door. It may seem pricey, but you get what you pay for. ($ 170.00 divided by 10 years!? a bargain!) and we grilled in below zero temps in Vermont, too. We purchased the 20 gallon propane adapter hose, to go with it, and one tank lasts a year!
Date published: 2019-06-16
Rated

5

out of

5
by
Beeman
from
Small but mighty
I have had the biggest Q grill for several years, using it on the Webber roller cart as my back yard grill hooked to a 20# tank with a propane hose connector, with great results. I have had the Q 1000 for a few months now, and it has been equally satisfying. I bought it to carry in my small RV. It's only 14" tall and easily fits under the retractable bed, through the back door. Webber Q grills are very fuel efficient, compared to other gas grills I have owned. The Q 1000 has enamel coated cast iron grates, that provide great searing grill marks on the food and they clean up easy. The Q 1000 grill even fits on the same roller cart I use with my bigger Webber Q grill. I am very happy with my purchases of Webber Q grills.
Date published: 2019-10-11
Rated

5

out of

5
by
Al / Vermont
from
Well made, efficient and small profile!
While I have a full sized Weber used during the warmer days of the year, this Q model (my 3rd Q) is used outside on a deck just past a patio door entrance and easy to access even during bad winter weather. We grill ~3 times a week on this Q and a 20 lb cylinder of propane lasts a years due to the lower BTU (and propane consumption) output. The Q model may be all you need and it does get hot enough to fully crisp/sear the outside of chicken wings, ...my favorite and my wife's salmon/swordfish! 40+ years using Weber and indeed, the best grill you can buy!
Date published: 2020-02-14
Rated

5

out of

5
by
nicg123
from
Perfect for what we were looking for
So far so great. We were looking for something at a moderate price point to serve as our first grill. Our landlord was particular about not wanting charcoal, so we went with the Q1000 gas grill. It's easy, low maintenance, and really well made. And has way more room for food than I thought! Our first go we were able to do skewers and burgers at the same time, which was a pleasant surprise. Even though we were just looking for something simple as our first grill, I see us taking care of this model and having it for years to come.
Date published: 2019-06-10
Rated

5

out of

5
by
April
from
Best Ever Small BBQ
I bought mine about 5 years ago and it still works perfectly! I bought an adapter and hooked it up to a tank. I built a shelf attached to the deck, and it never flares up or quits working, including the auto start clicker. Sometimes I have to use the butane one, but mostly it works. The space on this small one is room enough to cook steaks for six people. I love it. Now I have a Natural Gas hookup, so am looking here to see if I need a new adapter, or can use the same one as for my propane tank.
Date published: 2019-06-24
Rated

5

out of

5
by
DB123
from
Nice grill
I have had this a few weeks now and couldn't be happier. The first steaks I cooked were amazing. I was a little worried about leaving the lid down and just going by the grilling guide that was included. I crossed my fingers, put the lid down and waited for the grill to do its magic. Wow, this little grill is wonderful. I have had many bigger grills over the years but none of them have wowed me like this little grill. I am looking forward to many happy years of barbecuing with this grill.
Date published: 2019-07-30
Rated

5

out of

5
by
Bk2earth
from
No thermometer
I love my Weber grill. Propane canisters can be used as well as a direct connection to a propane tank. I didn't know I was ordering the Weber without the thermostat. I also ordered the flat plates for pancakes, etc. to compliment the usefulness of the Weber grill. As long as you watch the heat settings everything will turn out great. Called Weber & they registered my purchase online and sent me a thermometer I can use to judge doneness of what I am cooking. Fabulous customer service!
Date published: 2018-07-15
Rated

5

out of

5
by
Capone
from
I like my new grill
My old grill was falling apart and after pricing repair parts I scrapped it. A friend has a Weber just like the one I bought. He has had it for some time and uses it at his shop, like once a week, and highly recommended it. I have used the new Q1000 3 times and it cooked our steaks perfectly. It's size is perfect for my wife and I, but the grill area would support a lot more meat if required. We plan on taking it with us on our RV trips. I wish I had bought one years ago!!
Date published: 2019-10-15
Rated

4

out of

5
by
Jen V
from
Reliable Weber Quality
I bought this grill to replace the one we use when camping. I have a Weber grill that I cook and grill on almost daily at home. I knew I could count on Weber's outstanding quality. This little grill is a champ! It cooks quickly and evenly. It's easy to clean.My ONLY complaint is....I wish there was a way to fasten the grill lid to the grill. The lid flops open and the grates fall out when moving the grill from place to place. Oherwise, I couldn't be happier with my purchase!
Date published: 2018-06-21
Rated

5

out of

5
by
DeDee34
from
I love this grill!
It's the perfect size for me and two other adults that live with me. I bought the stand and keep it out on my back deck with a cover. I've also attached a propane tank to it so that I don't have to keep replacing the camping sized gas cylinders. It cooks great, cleans up well and I have the option of taking it with me for tailgating!
Date published: 2020-03-31
Rated

5

out of

5
by
Linda58
from
So glad I finally went back to a Weber
We do a lot of camping and use our portable BBQ often. Had bought a different brand from Costco 2 years ago and never liked it much from the beginning. At the time, the reviews were good, but over 2 years, the reviews and product went downhill. Being frustrated with it, we decided to go to a Weber as that has always been our favourite brand. This little Weber Q1000 is fantastic. It heats up fast, cooks steaks really well, and is light weight and very easy to handle. If you are deciding between some other brands and a Weber, pay the little extra and go Weber the first time. It will not only save you money down the road, but it will save you the frustrations of dealing with inferior products. Wish we went Weber from the beginning. But they always say, "sometimes you just have to learn from experience". We sure did.
Date published: 2019-09-30
Rated

5

out of

5
by
Leland
from
Weber® Q 1000 Gas Grill
I bought this gas grill to replace an identical one that we have been using for about 10 years. This is a great little grill for the 2 of us senior citizens. My wife goes out on our patio, lights the grill and in less than 5 minutes she goes back out there to grill hamburgers, pork chops, steaks. corn on the cob. chicken breasts and fajita meat. I attach it to a propane tank using the Adapter hose I purchased from Weber and used with the old gas grill that I replaced.
Date published: 2018-09-21
Rated

5

out of

5
by
gn1963
from
EZ Grilling..!'
Nice grill for two, very portable. I like the two piece grill top,, easy to clean in a sink... I think I got to go with everyone and get a adapter for a bigger tank. Seem I can use it 3-4x's before changing small bottles... My con's would be that for the price I would have thought they would have had a lid thermometer built in to it. I didn't notice after looking at other models that this one didn't until I got it home. Do you really need it?? Thumbs up..!!!
Date published: 2018-10-03
Rated

5

out of

5
by
Rayorno
from
Weber Q 1000
I had been conciderjng the Webber Q for some time Now that my old trusty has rusted away, Im in a transition. My back yard is still under construction and we needed light compact durable replacement. I liked that the Q was neat and mobile. The catch Pan underneath was also easy to clean. I can see keeping this in my garage and grilling On Rainy days The cooking surface was heavy steel and coated. It had even flame and cooked very well. Many possibilities
Date published: 2018-02-10
Rated

5

out of

5
by
IvorCoh
from
Best little Grill in town!
My wife and I are fulltime RVers, we wanted a compact grill for our coach that would not take up too much valuable storage space. We found the perfect product - the Weber Q1000 was just the thing, big enough for the two of us, (or more if needed), easy to store, easy to use! Our Q1000 has proven to be the perfect answer to our needs with t's ease of use and it's great working, doing the job we required perfectly. Very happy with our little Weber Q1000
Date published: 2018-01-12
Rated

4

out of

5
by
Retired Navy Diver
from
Highly portable and energy efficient
When my first Q1000 was broken by careless movers, I quickly bought a new, identical grill. I also bought and highly recommend the folding stand and propane hose connector for the grill. It is an attractive, solidly constructed little beast with thicker metal gauge and a better hinge than nearly all other portables. It's important to keep the grill relatively clean. When dirty, the piezoelectric igniter stops functioning. Sure, I'd buy the Q1000 again.
Date published: 2018-01-12
Rated

5

out of

5
by
Mikeleeriver
from
Great little grill
Love this grill. We have had Weber products for many years and carry a small grill in our RV along with a bigger grill. When both grills needed replacement we looked at the Q series. We purchased the Q1000 and have been impressed with the way it cooks. This is a great little grill Big enough so we can carry just the one now. Small enough so it takes up very little space and light enough so its easy to move around. No issues at all since purchasing it.
Date published: 2019-06-13
Rated

5

out of

5
by
tlcatlin
from
Love the Q1000 Grill
Even though I have a Weber Genesis grill, I enjoy using the Q1000 because of its convenience, being a smaller grill. Also, it's small enough that I have used this grill on camping trips. While small, I have still been able to cook a rack of pork ribs on it. I regret not getting the Q1000 with the thermometer, like I have on the Genesis, so that I can more easily monitor the warmup. The Q1000 always starts with a one-button click and cooks evenly.
Date published: 2018-01-16
Rated

4

out of

5
by
Mrs.Larry
from
Great Grill
I bought this for my husband as a surprise. He's wanted a Weber for a couple of years and his old grill was just waiting on his old grill to quit. I bought this one only because it didn't have side table and I knew he didn't want them. The only downside is that I didn't realize this unit didn't come with temp. control. Now he has the grill he wanted but wishes it had that feature; so, I'm a little bummed out that they didn't put that on this model.
Date published: 2019-07-10
Rated

5

out of

5
by
JohnAS
from
Outstanding Portable Grill
After many good years with my last small Weber grill I finally decided it was time to retire it and buy a new one. I had no doubt that I wanted another Weber so it was just a matter of deciding which model. I chose the Q 1000 because I liked the looks, the features (especially the greatest surface) and the performance. It has definitely pleased me and lights the first time every time, is easy to control the heat, and great to clean up afterwards.
Date published: 2019-06-12
bvseo_sdk, dw_cartridge, 16.1.1, p_sdk_3.2.0
CLOUD, timer 149ms, 0ms
reviews, product
bvseo_sdk, dw_cartridge, 16.1.1, p_sdk_3.2.0
CLOUD, getContent, 0ms
reviews, product
Keep

Exploring
Q Series

Weber® Q 1200 Gas Grill

Q Series

Weber® Q 2000 Gas Grill

Q Series

Weber® Q 2200 Gas Grill

Q Series

Weber® Q 3200 Gas Grill

Q Series

Weber® Q 3200 Gas Grill (Natural Gas)