A GRILL MADE TO FEED EVERYONE
Weber
Genesis® II E-410 Gas Grill (Natural Gas)

Black
Image for capacity demonstration purposes only.
Actual product model and features may vary.
Grill a burger for everyone at the party. A large grilling area, high performance grilling system, and convenient side tables for prep, are all you need to easily execute a lot of food when you need to, or a family meal any night of the week. Best of all, the Genesis II E-410 is backed by a 10 year warranty on all parts of the grill.
Part #67011001

$40 Shipping & Free Returns on Weber.com Orders
Grills 70+ lbs. ship by freight carrier with delivery by appointment within 2-5 business days. $40 Standard Delivery, $75 Upgraded Delivery. Free 30 day returns. Shipping Information & Return Policy
Main burners: BTU-per-hour input

48,000

Dimensions - Lid Open (inches)

62"H x 65"W x 31"D

Dimensions - Lid Closed (inches)

47"H x 65"W x 29"D

Primary cooking area (square inches)

646

Tuck-Away warming rack area (square inches)

198

Total cooking area (square inches)

844

Stainless steel burners

4

Fuel type

Natural Gas (gas supply hose included)

Side tables

2

Swivel locking casters

2

Durable all-weather wheels

2

Tool hooks

6

Battery type

AA

Batteries

1

GS4 High Performance Grilling System

Infinity ignition

High performance burners

Stainless steel Flavorizer bars

Grease Management System

Features

Porcelain-enameled, cast-iron cooking grates

Porcelain-enameled lid

iGrill 3 compatible (accessory sold separately, not included)

Built-in lid thermometer

Stainless steel side tables

Open cart design

Welded tube frame

Infinite control burner valves

10-foot flexible hose (NG model)

Stainless steel heat deflectors

All Parts

10 Years (excluding normal wear and tear and subject to additional terms and conditions in the warranty)

Proposition 65 Warning: Handling the brass material on this product exposes you to lead, a chemical known to the State of California to cause cancer, birth defects or other reproductive harm. (Wash hands after handling this product.)




Combustion by-products produced when using this product contain chemicals known to the State of California to cause cancer, birth defects, or other reproductive harm.



Image for capacity demonstration purposes only.
Actual product model and features may vary.
Stainless steel Flavorizer bars

Porcelain-enameled, cast-iron cooking grates

Stainless steel side tables
---
---
---
CAPACITY OF THEE-410
A one-stop-shop for any grilling enthusiast who loves to entertain. The large cooking area allows you to sear a steak and grill potatoes while veggies roast in the middle. Place serving trays in the open-cart so that everything you need is at your fingertips.
Image for capacity demonstration purposes only.
Actual product model and features may vary.

Serving size: up to 28 burger patties (with the Weber burger press)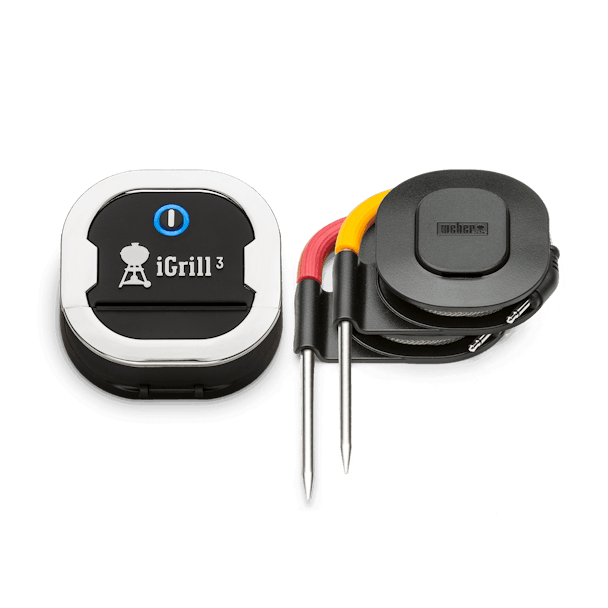 Infinite possibilities
WITH THE IGRILL 3 APP-CONNECTED THERMOMETER
Open up a new world of grilling possibilities with the iGrill 3 app-connected thermometer. iGrill 3 monitors food from beginning to end, and notifies you once it has reached the perfect degree to serve. Each Spirit II and Genesis II comes to you iGrill compatible.
EXPLORE IGRILL 3
Genesis® II E-410 Gas Grill (Natural Gas) is rated out of 5 by 90.
Rated 5 out of 5
by
Guitar
from
Simple and Eeeeasy
I enjoyed my previous Weber Grill for 12 years, and purchased another due to Weber amazing warranty. The new 4-burner grill is the same size, but I find it a more even cooking temperature control with far less flareups. Loving it! There was an initial problem. The NG fittings from the last grill were 3/8" while the new grill is 1/2". There was no warning from any sales person. Fortunately, Weber support folks are trained to email instructions on the parts required to make this easy conversion. Cost - less than $20.00 and easy.
Date published: 2018-07-07
Rated 5 out of 5
by
Dewyz1100
from
Large Grilling Space - No Unneeded Extras
I had the same little propane grill for 18 years...rebuilding it countless times to keep it going...and always wondering when the tank would run out while cooking... So glad I was able to make the switch to a natural gas grill...and this one has some impressive grilling area space... I searched the Weber product offerings, and found that this model offered the most grilling surface space, without any of the side burners, drawers, doors, and flashy vertical stainless steel paneling that I had no need for... Just a no nonsense "grill a feast" grill that I could plumb in and grill all day/night without ever running out of flame... If I had any suggestions on an improvement, it would have to be an option to have extended work surfaces on either side of the grill... With this much grilling area, exterior work space is limited when setting down dishes for either loading, or unloading the grill...and where do I set my beer without it getting warm...?!? ;)
Date published: 2019-07-31
Rated 5 out of 5
by
dsb22
from
Big Upgrade!
I recently replaced an ~8 year old E-310 about 8 years old - very happy with it but it rusted out. The new E-410 is a big upgrade, and not just the larger burner surface. The design has improved, particularly the new burner system. Quick to heat up with a much more even temperature distribution. This has made cooking for large groups a pleasure - very happy! Only small complaint - the open frame and storage shelves means that the grease drip tray is at dog snout level. Assembly instructions are super clear and everything comes together smoothly if you don't rush it.
Date published: 2018-05-20
Rated 3 out of 5
by
GregB
from
I wanted this to be a 5 star review...
I did it. I spent way more than I wanted to so I could have a natural gas grill fuel system. I was told by several reps at different stores that once you enter into the natural gas grills from Weber then it's their commercial line. The thermostat is broken after about 20 hours of use. Yes they sent me a replacement but where's the QC at that level? The grates are impressive but I fear that the guts of the grill won't last as long as expected. Bottom line is that it's the best grill I have ever owned (4x more expensive that any others I have owned).
Date published: 2018-05-20
Rated 4 out of 5
by
FTGriller
from
Excellent Grill
Really nice grill. Warms and heats evenly. Two things to be aware when you assemble: 1) there's an assembly guide included or you can use the Bilt app on your phone to guide you. I tried using both of them together, but they go thru the steps in a different order so it gets confusing. I'd recommend using the app and skipping the booklet altogether. 2) The ignition module comes with a plastic cover that seems like the wrong part for the module it covers. It fits but not how it's supposed to so be aware when you get to that step.
Date published: 2019-07-17
Rated 5 out of 5
by
TNGriller
from
Best grill I've ever owned
When my older grill died I was faced with the decision- pay more $ for a Weber or buy another brand that would have a very limited shelf life. Cheaper but also would last only a few years with uneven cooking, very limited warranty. This is an outstanding grill. Gets piping hot, cooks evenly, looks great. I've owned several cheaper grills in the past, never willing to take the plunge on a Weber until now. Yes expensive but so far worth every penny. With a 10 year warranty, hard to argue. Love it!
Date published: 2018-05-27
Rated 5 out of 5
by
Mike99
from
Great Grill
I looked at a lot grills before I bought this one but none of the other ones I looked at felt as solid as the Weber. I also was happy the Natural Gas unit was the same price as the propane unit.
Date published: 2018-06-04
Rated 4 out of 5
by
Desiple
from
Consistent performance
As one should expect, each time this devise is asked to preform it obliges with ease and quickly comes to the selected temperature. It is well constructed' quiet, sturdy to last' and an attractive device, pleasing to the eye. It does get durty but easy to clean. So far so good. I purchased a light that attached to the handle and found it wolfully lacking in its ability to aluminate anything and promptly returned it for a full refund. Don't waste your time or money on the light.
Date published: 2019-08-11
Rated 5 out of 5
by
Ed 47
from
Best I've owned - period.
It's been in service in our sub tropical climate for a little over a year now and is used 3-4 times per week. The only issue was that the warming tray/grill rusted but Weber's excellent customer service rep sent a new one as soon as I called them with no questions asked. For the past 50 years I've been buying less expensive grills and replacing them every 2-4 years but I suspect this grill will be with me for a while to come. And this thing will run at 600 degrees all day.
Date published: 2018-10-01
Rated 5 out of 5
by
SJK9
from
Awesome Grill - cooks perfectly!
This was a Father's Day gift to me. I had an old Weber grill from almost 20 years ago that I hadn't used much in the last ten years due to my travel schedule. We built a house with a gas connection so I didn't need the propane tanks anymore. This grill fits the bill. Easy to use, perfect cooking, large enough to host a large party but not too big or too expensive. I wish it had an LED light to help at night but other than that no complaints.
Date published: 2019-07-14
Rated 4 out of 5
by
Par3
from
Cooks fantastic
We love this grill! However, returning the grease pan is a royal pain! Even though I am short, I have to get on my knees and still bend lower and try to reinsert the pan into recessed and narrow rails. Since we almost exclusively cook on the grill and clean the grease pan every time, it is a minor annoyance. One other feature we miss from an earlier three burner Weber is a fold up table attached to the side table - additional space is helpful.
Date published: 2018-06-12
Rated 5 out of 5
by
RobGE
from
Perfect upgrade
I recently upgraded from a 12 year old Weber Spirit. While both are 3 burner grills, this one is noticeably larger and more durable. I can now easily cook both my meat and veggies at once. The heat seems nice and even. It's also nice to, once again, have a working starter and a working fuel gauge. My new grill also has a side burner. While I have yet to use, it is nice to know that it is available.
Date published: 2019-07-11
Rated 5 out of 5
by
cavaleaf
from
Trust Your Weber
I purchased the Weber Genesis II E-410 July, 2018. I have had Weber grills (gas & charcoal) in the past. They have all been reliable, well built, easy to maintain, and great pieces of cooking equipment. The Genesis II is no exception. I use it nearly every day for baking, roasting, and (or) grilling. The temps are even throughout the cooking chamber which makes it greatly reliable for baking (bread, pizza, pies, casseroles, etc.) and roasting (beef, pork, poultry, fish, vegetables). For grilling, high temps are easily attained for searing and beautiful grill marks. The desired temperatures are easily maintained. The Genesis II is a substantial, well constructed piece of equipment, with a great warranty, and well established performance record. The Genesis II reliability and consistency in performance enhances its versatility. The ability to go 'natural gas' makes it hassle free.
Date published: 2018-08-29
Rated 5 out of 5
by
Frankie B
from
Best Grill I Ever Bought.
This grill is made very well. No flimsy parts like the cheaper ones.Lghts up quick gets very hot.This grillneeded to be assembled. and there were no issues came packed very carefully and was easy to put together. instructions were very straight forward. Had a Charbroil Comercial last and this heads and tails above in quality . I have had it for a month now and it is the best to cook on.
Date published: 2018-06-22
Rated 4 out of 5
by
AD716
from
Overall a great product
I bought this item in May of 2018. The grill is great it cooks evenly and hot. Sal far the finishes are lasting well. My only problem with this grill is that if I leave the shutoff valve that weber says to install for safety, actually plays a roll in the performance. I noticed that if i did not turn the shut off valve closed and left it open over night the next time I would use the grill is would take aproximately 5 minutes or longer to get gas to flow through the grill to be able to ignite. I contacted weber they had me do a bunch of tests to no result. I decided to just start closing the valve and opening as I needed it solved all my problems. I told weber about this and they said that the grill was probably being over pressured, but this does not make sense to me because of the shut off valve is before the the grill regulater. Other than this mishap the grill great cooks very well and having natural gas is also great no more ugly LP bottles
Date published: 2018-08-01
Rated 5 out of 5
by
Grillin' Guy
from
Best Grill Hands Down!
Have owned numerous gas grills over the years and this is the best darn grill ever! Quick to heat to temp with even heat across all burners. Did make a small retrofit to the cart wheels, though and ordered an additional set of casters to install in the legs instead of the fixed cart wheels so I could better maneuver the grill.
Date published: 2018-06-16
Rated 5 out of 5
by
leez
from
Well worth the extra cost
We purchased this about 6 weeks ago and have used it several times. Heats up fast and evenly across the entire surface. The other grills i've had always had hot spots not this one. I wish they would have made it with doors on the front and side panels, like the propane models, so i could hide all of the tools for the grill.
Date published: 2019-06-13
Rated 5 out of 5
by
anoblack
from
Such a great grill!
We purchased this grill to replace the one that the previous homeowners had left, and I'm so glad that we picked this grill. It's very easy to start AC heats very well. It cooks everything very evenly and all meals that we've cooked on the grill have been delicious. I also highly recommend the Bluetooth thermometers!
Date published: 2018-05-27
Rated 5 out of 5
by
Cuatro_Uno_Dos
from
Phenomenal
Tired of buying disposable $200-$300 grills, I finally upgraded to a Weber Genesis II E-410. The difference is stagering. Even heat makes grilling so much more enjoyable. Plenty of room for indirect grilling a huge plus. The 10-year warranty allows my to only worry about what to grill next! Weber only from now on.
Date published: 2018-07-24
Rated 4 out of 5
by
Grill Seargent
from
Natural Gas Grill
Purchased the grill about 3 weeks ago and so far so good. Had a little difficulty with the ignitor when the wind was strong. The manual says you can clean the coated grates with a stainless steel brush but eventually it will rip off the coating. So not sure they provided accurate care instructions.
Date published: 2019-07-30
Rated 5 out of 5
by
Linda from Hamilton NJ
from
great grill!!!!
I purchased this grill from Ace Hardware free delivery. Great grill, plenty of space, easy on gets hot quickly. I absolutely LOVE it. It was worth it getting a grill that will last than having to buy a new one every couple of years because the old one has disintegrated right before your eyes.
Date published: 2019-09-16
Rated 5 out of 5
by
Yopauliect
from
Impressive Heat and DIY Setup
I did not spring for the professional install. 2 hours after 30 mins unpacking. Parts hiding in parts yet keep looking you'll do great. 12 months grilles at my place and this one rocks precious three burners. No more propane tanks. NG for me and never seen these temperatures with propane.
Date published: 2019-08-14
Rated 4 out of 5
by
Bubbabump
from
I love it!!!!!
Over all I love my new grill. It cooks great. The first natural gas grill I have ever owned. I'm not sure why the temperature will not get hotter than 425 degrees, I wish it would, but that's hot enough to cook. Still a great grill. I use it A LOT and hope to do so for many years to come.
Date published: 2019-06-12
Rated 5 out of 5
by
Johnnyb911
from
Easy to clean
Heat as in any bbq has a few spots that are hotter than others. This has the least and cooks evenly. So easy to clean. Love the grill. The third one I have had as I have lived in several states in the past few years and left the grills for the new home owners
Date published: 2019-06-12
Rated 5 out of 5
by
Top Wop
from
Replace my Old Weber
I came out of a Smmit 4 burner Weber grill and you have solved the problem of the individual burners and the lighting method. Both of these features are much better on the new grill. Also like the cast iron grill grating as opposed to the stainless Steel rods.
Date published: 2019-07-20
Rated 5 out of 5
by
Tree dog 2
from
Everything you could want in a grill
Best grill I have ever owned. Great temperature control even cooking on the entire grill surface, no need to ever have to move food around because there is nowhere that isn't a great place to cook. I'll never have any other grill except a Weber Grill.
Date published: 2018-05-27
Rated 4 out of 5
by
Prefer not to answer
from
Great quality
We love our new grill and how great our food tastes when we use it! We wish it had one more feature though, it has no enclosed cabinet on the bottom and the grease tray attracts animals (raccoons). Are there any add on pieces that you sell?
Date published: 2019-06-26
Rated 5 out of 5
by
late4game
from
I love that it is simple. I wanted no outside bur
I love that it is simple. I wanted no outside burner and no cabinet. Keeps things much cleaner for us. Unfortunately, my dog has discovered the grease catcher under it, and we now have to figure out something to keep her out. UGH!!!
Date published: 2018-08-08
Rated 5 out of 5
by
Bob VanC
from
Bought my new Genesis II E-410 and love it
I upgraded from my Weber Gold Series. I have been loyal to Weber since my Gold Series BBQ. Best Customer service I have ever worked with. Love how my Genesis performs. Doing everything from Wing to Bacon wrapped Turkey Breast.
Date published: 2018-06-18
Rated 4 out of 5
by
Bernz
from
Assembly
Got this as a Christmas Gift. Too cold outside to use until Spring. Did assemble and directions were OK - Good. A few things were not addressed in the instructions. Took about 4 hours by myself. Looking forward to cooking on it.
Date published: 2019-02-02
bvseo_sdk, dw_cartridge, 16.1.1, p_sdk_3.2.0
CLOUD, timer 147ms, 0ms
reviews, product
bvseo_sdk, dw_cartridge, 16.1.1, p_sdk_3.2.0
CLOUD, getContent, 0ms
reviews, product
Keep Exploring
Genesis® II Series

Genesis® II E-310 Gas Grill

Genesis® II Series

Genesis® II E-310 Gas Grill (Natural Gas)

Genesis® II Series

Genesis® II S-310 Gas Grill

Genesis® II Series

Genesis® II S-310 Gas Grill (Natural Gas)

Genesis® II Series

Genesis® II E-315 Gas Grill

Genesis® II Series

Genesis® II E-315 Gas Grill (Natural Gas)

Genesis® II Series

Genesis® II E-330 Gas Grill

Genesis® II Series

Genesis® II E-330 Gas Grill (Natural Gas)

Genesis® II Series

Genesis® II E-335 Gas Grill

Genesis® II Series

Genesis® II E-335 Gas Grill (Natural Gas)

Genesis® II Series

Genesis® II S-335 Gas Grill

Genesis® II Series

Genesis® II S-335 Gas Grill (Natural Gas)

Genesis® II Series

Genesis® II E-410 Gas Grill

Genesis® II Series

Genesis® II E-435 Gas Grill

Genesis® II Series

Genesis® II E-435 Gas Grill (Natural Gas)