SEAR, SAUTÉ, AND GRILL TO PERFECTION
Weber
Genesis® II E-435 Gas Grill

Black
Image for capacity demonstration purposes only.
Actual product model and features may vary.
Grill burgers, sear steaks, and sauté veggies on a grill that's big enough to do it all. Perfectly grilled food is the mission of the Genesis II E-435. Everything from a world class grilling engine to an outstanding 10 year warranty on all parts of the grill sets you up to be a backyard hero.
Part #62016001

$40 Shipping & Free Returns on Weber.com Orders
Grills 70+ lbs. ship by freight carrier with delivery by appointment within 2-5 business days. $40 Standard Delivery, $75 Upgraded Delivery. Free 30 day returns. Shipping Information & Return Policy
Main burners: BTU-per-hour input

48,000

Sear Station burner: BTU-per-hour input

9,000

Side burner: BTU-per-hour

12,000

Dimensions - Lid Open (inches)

62"H x 65"W x 31"D

Dimensions - Lid Closed (inches)

47"H x 65"W x 29"D

Primary cooking area (square inches)

646

Tuck-Away warming rack area (square inches)

198

Total cooking area (square inches)

844

Stainless steel burners

4

Fuel type

Liquid Propane (20 lb. tank sold separately)

Side tables

2

Swivel locking casters

2

Durable all-weather wheels

2

Tool hooks

6

Battery type

AA

Batteries

1

GS4 High Performance Grilling System

Infinity ignition

High performance burners

Stainless steel Flavorizer bars

Grease Management System

Features

Porcelain-enameled, cast-iron cooking grates

Porcelain-enameled lid

iGrill 3 compatible (accessory sold separately, not included)

Side mounted gas tank

Built-in lid thermometer

Stainless steel side tables

Grill cabinet

Painted steel doors

Welded tube frame

Fuel gauge - LP models only

Infinite control burner valves

Stainless steel heat deflectors

All Parts

10 Years (excluding normal wear and tear and subject to additional terms and conditions in the warranty)

Proposition 65 Warning: Handling the brass material on this product exposes you to lead, a chemical known to the State of California to cause cancer, birth defects or other reproductive harm. (Wash hands after handling this product.)




Combustion by-products produced when using this product contain chemicals known to the State of California to cause cancer, birth defects, or other reproductive harm.



Image for capacity demonstration purposes only.
Actual product model and features may vary.
Stainless steel Flavorizer bars

Porcelain-enameled, cast-iron cooking grates

Stainless steel side tables

Fuel gauge - LP models only
---
---
---
CAPACITY OF THEE-435
The four burners and ample cooking area allow you to barbecue a rustic entree in the middle of the grates while veggies sear to the side. Boil pasta or sauce on the side burner so that everything you need is outside, where you need it.
Image for capacity demonstration purposes only.
Actual product model and features may vary.

Serving size: up to 28 burger patties (with the Weber burger press)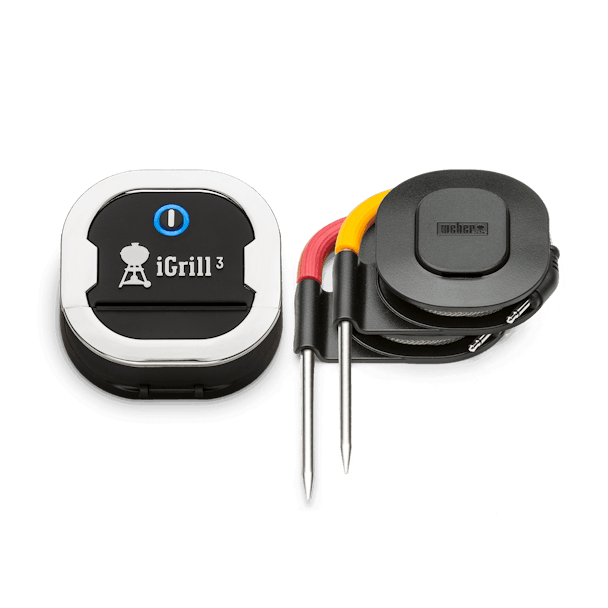 Infinite possibilities
WITH THE IGRILL 3 APP-CONNECTED THERMOMETER
Open up a new world of grilling possibilities with the iGrill 3 app-connected thermometer. iGrill 3 monitors food from beginning to end, and notifies you once it has reached the perfect degree to serve. Each Spirit II and Genesis II comes to you iGrill compatible.
EXPLORE IGRILL 3
Genesis® II E-435 Gas Grill is rated out of 5 by 72.
Rated 2 out of 5
by
stevee
from
Defective parts in the box
I have this grill for weeks and have been unable to use it because there were broken and missing parts in the box. I had the grill more than 80% assembled but found there was a nut insert missing from one major frame piece and they were unable to just ship this part so I had to wait for the new frame part, then completely dis-assemble it and start over. The other part (so far) that was broken in the box was a control panel - the cheap plastic part had broken and the replacement part Weber shipped came broken in the same place. I asked Weber if they could just ship the plastic part (attaches with two screws to the main stainless steel part) but they told me they could not so will send the whole unit again.
Date published: 2019-06-02
Rated 5 out of 5
by
DONDOU
from
A Beast!!!
This Weber Genesis II grill is an absolute beast! It maintains temperature beautifully and works like a charm. No flare ups. Easy to clean. Ignites instantly. The only knock, if anything, is I was told that if I bought Weber stainless steel grates for it, I would void my warranty. Don't understand that. Nonetheless, the porcelain coated cast iron grates work like a charm and are surprisingly super easy to clean. Love this grill. Would definitely recommend!
Date published: 2019-06-12
Rated 5 out of 5
by
BC54
from
Really good choice
We have owned and used a Weber Silver C grill for almost 17 years, and although we have used it several times a week during that time, it is still working. We decided to buy an upgrade as a Christmas present to ourselves and we purchased this on-line about a month ago (be aware it is a heavy piece of equipment). Assembly is pretty straight forward, but we ran into a problem where an incorrect gas manifold installed at the factory. I contacted customer service and worked with Dane who was very helpful and a pleasure to work with. Bottom line, I was sent a new manifold with an offer to book a service company to install it at Weber's expense., I chose to install it myself to save time and the part fit perfectly. The grill is dream to use, and I can see the difference it makes. Weber's service was great as they took care of the problem and more. I am a forever Weber guy, and when the time comes to upgrade again, I will be back. Problem is, this one may outlive me.
Date published: 2019-01-19
Rated 5 out of 5
by
Dr.Balance
from
An Amazing Company Building an Amazing Grill!
Just purchased this E435 and had it built and delivered by a local store in Toronto (Dickson's BBQ Center). The sales team and manager were incredibly knowledgeable and amazing to deal with. Delivery guys were very careful and just two awesome personalities to chat with. I'm so glad we went with this 4 burner model rather than the 3. For approx $250 more the value is incredible. We don't have a large family yet but having that extra grill real estate is so useful when you want to cook indirect as well as grill veggies, maybe a couple of sausages on low heat.... all at the same time! I love the Sear Station... it is NOT a gimmick when you know exactly how to use it. A little research and trial and error... Get the grill extremely hot for 15 min, drop the steak for 1 min per side and slide it over to indirect to finish the cook... Sear and slide! This was the best steak I have ever made, bar none! The presentation was incredible... the Cast Iron Grates deserve a special nod for that beautiful presentation and for locking in that signature seared flavor. I've been playing around with the optional iGrill 3 for a few days and love that thing. Maybe a little too much setup time for a simple steak compared to an instant probe but it will be amazingly useful when we get into low and slow cooks ie, roast, ribs, etc. The Build quality... please! This thing is built like a tank! Enough said! Okay, one more thing to say.. I love the height of the whole appliance, Weber seems to make them taller than the completion which for a taller guy like myself is a nice bonus. It is getting harder and harder to purchase products these days and being able to justify what we spend on them, but after seeing this thing in person and in action, and dealing with Weber and their dealers' customer service (small, quickly resolved issue with a scratched piece that was promptly shipped to me in 2 days) I am definitely a Weber fan for life! In conclusion this is a fantastic feature rich product that is built like a tank, and backed by an amazing company. Can we ask for anything else?
Date published: 2019-05-06
Rated 4 out of 5
by
Texas Spitter
from
Would be 5 stars except for assembly problems
Grill works great. Quick to light, heats-up fast, and heat is easy to control. I couldn't be happier with the grill. That said, assembly was a nightmare (if I could turn back time, I'd pay someone to put the thing together). No written instructions, just drawings. I was doing okay until I tried to connect the gas line to the side burner - - - just wouldn't connect. Called customer service, waited on hold forever, and was told to "wet it." Tried water, didn't work, called customer service again, waited on hold forever again, as was told to "spit on it" (seriously). I asked the customer service guy what I should do if that didn't work and he said, "take a break, then go back and spit on it again." Well, the spit finally worked but, if you buy this grill and plan do-it-yourself assembly, bring plenty of spit.
Date published: 2019-11-30
Rated 5 out of 5
by
KatieJ
from
Great grill!
I researched grills, read reviews and looked at them both online and in-store. Weber grill is of high-quality materials, heats up quickly and is very easy to use. I can't say enough about Weber's customer support. When the handle arrived dented Weber sent a new handle without hesitation. And their 10-year warranty tells me they stand behind their products. The only thing I don't like is the partially visible propane tank. While it has no impact to the grill, and does make it easier to turn the gas on/off, I'd prefer an option to fully hide the tank.
Date published: 2019-06-28
Rated 5 out of 5
by
York
from
Best Quality
I've purchased a number of gas and charcoal grills over the past 45 years and the Weber Genesis II E-435 is great. The step by step assembly instructions were the easiest and most detailed that I've used from their competition. All parts were accounted for plus they all fit without a struggle to make them fit. The instructions said you need 2 people for assembly but I did it in 2-1/2 hours. You will need 2 people to load the box since it is heavy and big. Cooking on this grill is a pleasure and I would highly recommend this grill.
Date published: 2020-01-12
Rated 5 out of 5
by
Carmine
from
Interesting Grill
I bought/ordered this grill at Lowes at the beginning (3)May planning to used it on Memorial Day, but did not receive it until June 3. This model is not carried in store. However, it is an excellent grill and we are enjoying it.
Date published: 2019-06-26
Rated 5 out of 5
by
Happy Customer!
from
Great Grill!
Assembly has a lot of parts, but was not difficult. Well worth the time putting it together. High quality grill. Cooking on this Weber grill is a pleasure.
Date published: 2019-06-24
Rated 5 out of 5
by
Todius
from
4 burners, front doors, great appearence
I was really looking for an additional burner. My previous Weber had 3. It was 10 years old and was working perfectly.
Date published: 2019-06-12
Rated 5 out of 5
by
Bsbs
from
Fantastic grill
I replaced my 20 year old Weber grill even though it was still working
Date published: 2019-01-25
Rated 5 out of 5
by
RichardF
from
Excellent quality
I have had all stainless steel grills in the $350 range in the past and I was skeptical at first that for 3X the cost that this grill would be worth it. After a month of cooking on it I am convinced I made the right choice. The cooking experience due to the build quality and performance is so much better than on my previous grills. The 4 burner setup also gives you great space to move things around get that great char on the meat and cook the meat just right.
Date published: 2019-06-28
Rated 5 out of 5
by
Keith W.
from
This Grill Cooks Evenly Across the Entire Surface
This grill is fantastic. I could have gotten by with the three burner, but I got the 4 burner. It will be the last grill i'll need to buy. The past two grills I've owned were just ok. I was constantly moving things around trying not to burn one side of the grill to the other. It meal either over cooked or under cooked. Again, This grill is fantastic. I didn't understand the searing station function. The 4 burners are laid out evenly from left to right. The 5th searing burner is located between the 3rd and 4th burners. It raises the heat in the local area. It works well to get the outside of a thick New York Steak and turn it off once its colored nicely. A hamburger patty cooks well in this area quickly without turning off the searing burner. Being from Santa Maria where BBQ or Grilling is a two or three times a week, I use the Weber for most
Date published: 2020-01-17
Rated 3 out of 5
by
Cld723
from
Average, but not at an average price!
I guess I would have to say this about my recent purchase of the Weber E435, it's certainly big enough to cook for many. But I have a few thoughts on its performance while doing so. If you are an avid griller like myself, who for years dreamed of a Weber, be assured it's not really that different from the $300-$400 competitors grill with regards to performance. Your successful grilling is less about the grill and more about your skill!! There are hot spots and cool spots, the heat distributor bars are not thicker metal, the grill grates are the same as the competition, the igniter works as others, it's actually a bit concerning to me when I look at the bill! I truly was convinced that upgrading to the Weber was the pinnacle....yeah it looks good, yes friends envy it, absolutely your wife will say "really?"...but in the end the actual PERFORMANCE was no different than to myriad of $300 grills I have owned over the years. Maybe Weber will earn their respect in longevity, we shall see!!
Date published: 2019-06-12
Rated 5 out of 5
by
Fun guy
from
Good cooking
I bought it for Amazon, Part of the joy of having a barbecue is been able to know where everything is and how it functions, the joy of putting the barbecue together. As for the cooking, this bbq replaced 17 year old Weber Genesis I. The ability to control heat for cooking different items is the best. I have no concerns as to its longevity and look forward to many years of service. And I would recommend this bbq to anyone.
Date published: 2019-07-08
Rated 5 out of 5
by
Nosmada1
from
Take your grilling to another level!
This is my fourth Weber Genesis grill. I grill year round which can be a challenge in the Minnesota north. This grill is amazing. The new flame bars throw very consistent heat and there are almost no flare ups to contend with. Grilling is more consistent and predictable regardless of the weather. If you're hesitating, don't because this grill is going to provide at least 10-15 years of cooking pleasure.
Date published: 2019-06-14
Rated 5 out of 5
by
GerryJ4W
from
Great quality features
We bought our Genesis 2 for Father's Day this year as a replacement for our Genesis 1. it's a pleasure to BBQ with Genesis. Great even heat and the sear burner does the job. We are still learning how to effectively use each section of the grill. First time grilling on cast iron grills(as opposed to stainless) and I like the good grill marks. I would definitely make the same purchase again.
Date published: 2019-07-12
Rated 5 out of 5
by
Grilling Masterpiece
from
Best grill period!
I've had this grill for several months now and I have to say, it's beyond excellent! I have cooked baby back ribs, hamburgers, grilled pineapple, peppers you name it and everything cooked even and perfect. I wouldn't buy anything else for my grilling needs. I love this grill and hope it lasts many years. Can't wait to use it again. I would highly recommend this 4 burner beauty!
Date published: 2019-06-27
Rated 5 out of 5
by
Old one
from
Great replacement
I bought this grill to replace my 19 year old Weber. This unit is much larger. I've cooked steaks, ribs and chicken and it has been a pleasure to cook on. At the age of 70 plus I put this unit together without any additional help. The hard part was putting the heavy lid on the unit. Otherwise it was very entertaining to put together.
Date published: 2019-07-15
Rated 5 out of 5
by
Ela89
from
Very Happy
Been using the grill since Memorial Day weekend. There is a learning curve, but there have been no leftovers so I must be doing something right! I would have liked though an approximate way to reach a certain temperature, I.e. all dials on medium will produce what temp? What should the dials be set for to achieve 400 for instance.
Date published: 2019-07-01
Rated 5 out of 5
by
David27
from
Everything you could want in a grill!
My wife bought me the Weber Genesis® II E-435 Gas Grill for Fathers day. It was everything I could have hoped for. Very heavy duty, solid, works well every time. the design is spot on, all features work exactly as described. One of the best Fathers day gifts I have ever received. WONDERFULL, I couldn't have asked for more.
Date published: 2019-08-05
Rated 1 out of 5
by
None 2
from
Not worth money ?
This grill is very disappointing I made a mistake had 10 yr old 3 burner Weber loved it ! My wife wanted to buy me a new grill for my birthday ! To much grill for me and hate the design not a fan of the cooking grates either ? Heating is not even Don't grill as much as I used to ! Last Weber I ever buy !!
Date published: 2019-06-27
Rated 5 out of 5
by
TJSN
from
High performance and excellent quality
Expensive but worth the money. You can spend a lot less but it will lack in quality and performance. This product is well built. It is fairly easy to assemble, especially with a second set of hands. After watching reviews on grills, Weber's are at the top for performance. Overly satisfied with this grill.
Date published: 2019-08-30
Rated 5 out of 5
by
RT1974
from
Very sturdy grill
Assembled this in 2hours. All parts fit very easily together. Still getting used grill with it. Only concern I have is it seems to burn a lot of LP. I was going to use it Memorial Day weekend and had to get another tank because the gauge read that it was almost empty. I had only used it a few times.
Date published: 2019-05-27
Rated 5 out of 5
by
jaywoo
from
Greatest Grill Ever!
Although we spent some money on this grill to replace a less expensive box store grill, it was MORE than worth the money. We never knew what we were missing until we got this. Every day we try to figure out what we're grilling! Assembly was time consuming, but the BILT app was incredibly helpful.
Date published: 2019-06-27
Rated 3 out of 5
by
JJO@ Perfution
from
Wishing it Worked
This was delivered by Home Depot a month ago and I've yet to get the ignition system to work, having to resort to pulling the grates and lighting it with a match. Once lit, it works quite well which is no surprise as I've been a fan of Weber for some time but this time has been a disappointment.
Date published: 2019-10-08
Rated 5 out of 5
by
Tim2
from
A Solid Grill
This is my second Weber and is another solid grill. It's simple but has all the features I need. Heats up nice and evenly, maintains temperatures and although I've seen reviews suggesting it doesn't get hot enough I have to differ because, mine gets plenty hot. I'm truly liking this grill a lot.
Date published: 2019-06-27
Rated 5 out of 5
by
Old Fartt
from
Almost cooks for you
Great grill - sear station is awesome - very little flare up even when cooking rib eye steaks. If hooking up to your central LP tank be sure to have your propane company install a seperate regulator and set it to 14 inches of water column (standard for home appliance and furnace is 11 inches)
Date published: 2019-07-18
Rated 5 out of 5
by
CLynch
from
You get what you pay for
I recently purchased this grill to replace my 15 year old Weber Genesis that got damaged in a big storm. While it wasn't cheap, it really is true that you get what you pay for. It is very solid, incredibly well made, and the heat this thing puts out is unbelievable. Highly recommend!
Date published: 2020-02-18
Rated 5 out of 5
by
MichaelF
from
Peerless
Without question my Weber Genesis II E-435 is the finest grill I have ever owned, and I have owned many grills. It renders well charred tender ribeye steaks, and fall off the bone Smokey ribs as well as any thing you like. Good job Weber. I don't like my eggs green anyway.
Date published: 2019-06-12
bvseo_sdk, dw_cartridge, 16.1.1, p_sdk_3.2.0
CLOUD, timer 159ms, 0ms
reviews, product
bvseo_sdk, dw_cartridge, 16.1.1, p_sdk_3.2.0
CLOUD, getContent, 0ms
reviews, product
Keep Exploring
Genesis® II Series

Genesis® II E-310 Gas Grill

Genesis® II Series

Genesis® II E-310 Gas Grill (Natural Gas)

Genesis® II Series

Genesis® II S-310 Gas Grill

Genesis® II Series

Genesis® II S-310 Gas Grill (Natural Gas)

Genesis® II Series

Genesis® II E-315 Gas Grill

Genesis® II Series

Genesis® II E-315 Gas Grill (Natural Gas)

Genesis® II Series

Genesis® II E-330 Gas Grill

Genesis® II Series

Genesis® II E-330 Gas Grill (Natural Gas)

Genesis® II Series

Genesis® II E-335 Gas Grill

Genesis® II Series

Genesis® II E-335 Gas Grill (Natural Gas)

Genesis® II Series

Genesis® II S-335 Gas Grill

Genesis® II Series

Genesis® II S-335 Gas Grill (Natural Gas)

Genesis® II Series

Genesis® II E-410 Gas Grill

Genesis® II Series

Genesis® II E-410 Gas Grill (Natural Gas)

Genesis® II Series

Genesis® II E-435 Gas Grill (Natural Gas)