FOR ENTERTAINING FAMILY AND PEOPLE YOU CONSIDER FAMILY
Genesis® II E-410 Gas Grill

Black
The social spark of your backyard. An excuse for a spontaneous get-together. And the new center of your inner-circle. Invite the crew, ignite the Genesis® II E-410 gas grill, and let the GS4 grilling system take charge while you enjoy the company.
Part #62010001
Main burners: BTU-per-hour input

48,000

Dimensions - Lid Open (inches)

61"H x 61"W x 31"D

Dimensions - Lid Closed (inches)

45"H x 61"W x 29"D

Primary cooking area (square inches)

646

Tuck-Away warming rack area (square inches)

198

Total cooking area (square inches)

844

Stainless steel burners

4

Fuel type

Liquid Propane (20 lb. tank sold separately)

Side tables

2

Swivel locking casters

2

Durable all-weather wheels

2

Tool hooks

6

Battery type

AA

Batteries

1

GS4 High Performance Grilling System

Infinity ignition

High performance burners

Porcelain-enameled Flavorizer bars

Grease management system

Features

Porcelain-enameled, cast-iron cooking grates

Porcelain-enameled lid

iGrill 3 compatible (accessory sold separately, not included)

Built-in lid thermometer

Stainless steel side tables

Open cart design

Welded tube frame

Fuel gauge - LP models only

Bottom shelf

Infinite control burner valves

Stainless steel heat deflectors

All Parts

10 Years (excluding normal wear and tear and subject to additional terms and conditions in the warranty)

Proposition 65 Warning: Handling the brass material on this product exposes you to lead, a chemical known to the State of California to cause cancer, birth defects or other reproductive harm. (Wash hands after handling this product.)




Combustion by-products produced when using this product contain chemicals known to the State of California to cause cancer, birth defects, or other reproductive harm.



Porcelain-enameled, cast-iron cooking grates

Fuel gauge - LP models only
---
---
---
CAPACITY OF THE
E-410
A one-stop-shop for any grilling enthusiast who loves to entertain. The large cooking area allows you to sear a steak and grill potatoes while veggies roast in the middle. Place serving trays in the open-cart so that everything you need is at your fingertips.
Image for capacity demonstration purposes only.
Actual product model and features may vary.

Serves 8-10 people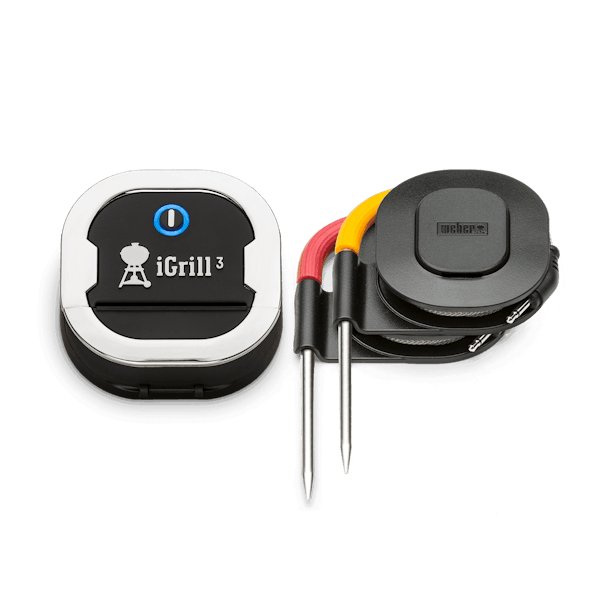 Infinite possibilities
WITH THE IGRILL 3 APP-CONNECTED THERMOMETER
Open up a new world of grilling possibilities with the iGrill 3 app-connected thermometer. iGrill 3 monitors food from beginning to end, and notifies you once it has reached the perfect degree to serve. Each Spirit II and Genesis II comes to you iGrill compatible.
EXPLORE IGRILL 3
Genesis® II E-410 Gas Grill is rated out of 5 by 709.
Rated 4 out of 5
by
Mmbuesman
from
Very nice but with one major shortcoming
Bought this over the summer and was very excited about it. After many years of using cheaper grills this was my first real nice grill. The build quality and materials are great and the unit looks fantastic. It works very well. For this price I was surprised that the bottom was left open instead of given doors, but that's not really an issue for me. The one thing that really was disappointing though is the heat - even with every burner full open you can't get it hot enough to really do a proper searing. Frankly that's unacceptable at this price point. That said I really like everything else about the grill and I'm fairly happy overall.
Date published: 2018-01-14
Rated 5 out of 5
by
Mr. Grill Master
from
Love my new grill.
I have always had a weber, but this one is the best and everything cooks evenly.
Date published: 2018-10-17
Rated 5 out of 5
by
Scottfrompinehurst
from
Well worth the purchase
I can not be more pleased with my E-410. I purchased my Weber at the Home Depot and when I brought it home, there was a small crack on the left side of the lid. I was apprehensive to call as I figured I would get the runaround. I could not have been more incorrect. The representative on the phone had a new lid FedExed to me within 48 hours. Wow!! Great service!! Besides that, the even cooking, great temp controls, and reliability make this the best grill I have owned to date! I utilizer this grill 3 days a week minimum. I cook everything from bacon and eggs to steaks and burgers. Very pleased!
Date published: 2018-01-13
Rated 1 out of 5
by
Kyle1
from
Not what I expected
I bought this grill as a new addition to our brand new home. I thought that I was getting a world class product. Man am I disappointed! I spent $1000 for a grill that works like a grill that was $100. I have had several other Weber grills in the past and this by far is the worst one that I have owned. First off the burners do not hear equally. Hot on one side and warm on the other side. Secondly the grates that are in the grill are awful, hard to clean and starting the flake and discolor after only four uses. The thermometer doesn't work and whole construction of the product is not up to par for a Weber product. I am highly disappointed in this product. Buyer beware!
Date published: 2018-01-13
Rated 5 out of 5
by
Felix31
from
My first Weber grill
My third grill, but my first Weber. And after a month of cooking on it, I can only say WOW. I once thought that spending more than a couple hundred dollars on a grill was excessive. Now, after having used my new Weber quite a bit, I am convinced that the Weber product lives up to the lofty prices, and is exceptional in every facet. When shopping I had read reviews that nitpicked this little thing and that little thing, and I can say that my grill has no flaws which stand out. It gets plenty hot, cooks evenly, cleans up well, has lots of great features, and a 10 year warranty. In my honest opinion, worth every penny of its price. And then some.
Date published: 2018-05-25
Rated 5 out of 5
by
Greg
from
Omg even as an amateur griller, this is amazing
I've had several cheap propane grills and this by far was worth the investment. Even heat, amazing durability, beautiful steaks. I use this baby 3-4 times per week and I absolutely love it. customer service is amazing too. When i get adventurous and want to grill something I've never tried i call them for advice. Haven't been steered wrong yet! I highly recommend their searinng grate. If you enjoy a blue rare steak, just throw it on there for 30 seconds on each side and you're done. Fajitas are a breeze now. Chicken, shrimp, ugh the list goes on. If you plan to grill often, invest the money and buy a Weber, you will not regret one penny.
Date published: 2018-01-12
Rated 5 out of 5
by
Scpick
from
Beautiful grill
I purchased this new four burner grill, the third Weber gas grill, but this one is larger than the others I have used which were three burners. The old one was 15 years old, in reasonably good shape, and I gave it to my son in law, an upgrade for him. The grill does take longer to warm up, with the four burners and all, but I like that there are no hot spots, which my old grill had. I do prefer the old grates, these are pretty thin, but I am sure I can work with them, it will be interesting to see how it performs since I have not used the grill all that much yet. It sure is a beautiful machine though, and I look forward to using it for many years.
Date published: 2018-09-29
Rated 5 out of 5
by
Dan O
from
Excellent grill
I have had this grill for 6 or 7 months. Although I use it more in the summer, I still use it at least a couple of times a week in the winter. I couldn't be happier with it. It cooks pretty evenly over the entire surface, and because of the large area and 4 burners,it works great for indirect grilling. I did a 19 pound turkey and pork tenderloins for thanksgiving and it was a breeze. We do a weekly pizza on a stone and finish it off on the grill for a few seconds at over 600 degrees. I have built decks and outdoor kitchens for clients and installed grills that cost several times more. My grill works just as well, if not better.
Date published: 2018-01-13
Rated 4 out of 5
by
Master Chief Boatswain's
from
Superb product, not so great assembly
I purchased this grill approximately 6 months ago. I wanted the black cover, but was not available. Neither was grey. Cu was the lone option available. It came preassembled. Upon receiving it from home delivery, I attempted to "fire-it-up". However, only 2 of the four burners will light via the installed ignition switch. If I light the first two, turn the other two switches to the on position, close the lid for a few seconds, and wait, the other two burners will ignite. Once ignited, though, the grill works like a finely-tuned instrument. I'm extremely satisfied that i doled our the extra cash to obtain this grill.
Date published: 2018-01-13
Rated 5 out of 5
by
Mrtonymunoz4u
from
Extreme grill for the pro.
Bought this grill last fall, I've owned Weber grills and I can truly say they are excellent, customer service is amazing and so is the warranty. I own a 48" DCS which is also an amazing grill but I use both, depending on what I'm cooking. I have attached a couple of this years bbq's enjoy your grill!
Date published: 2018-07-05
Rated 2 out of 5
by
Anonymous
from
Redesign missed the mark
After having a genesis grill for 15 years with great performance I expected more. We have a lot of large gatherings so we wanted a larger grill surface so we could put out large amounts of food at one time. Although the grill surface is huge and can accommodate large amounts of food it does not ever get above 400 to 450 degrees for preheat and only gets hotter as it flares up from drippings. It is not the OPD on the LP tank, my belief is there are not enough burners or enough BTUs from the burners to heat this size grill efficiently. Too bad as we were die hard Weber enthusiasts with our $400 Genesis. The old grill is still in use as the new one would never get to grilling temp in the winter.
Date published: 2018-01-12
Rated 4 out of 5
by
Ginaamarsh
from
Ease of use
This is my first Webber gas grill. It has plenty of surface area for grilling, easy to clean and use. The only issue we have had is blow out. We have a breeze most days and the open base design tends to allow the flame to be blown out easily. We took the back vented panel off of our old grill and attached it to the back of the Webber. This has reduced the frequency of blow outs during high winds and has eliminated it completely in light breezes. We are in a newly built home and will be building an outdoor entertaining space so a wall will be built where the grill will be used to help further reduce the flame out issue.
Date published: 2018-01-05
Rated 4 out of 5
by
Hans
from
Genesis II E-410 Good but Could Be Great
Purchased a Genesis II E-410 beginning of last summer. Assembly was straight forward. Grill got heavy use through summer into fall. Very Good Features: Removable bottom pan and drip try - very easy to keep clean Robust lid keep the heat in if you like cooking with it down Issues/design features that could be better: Could use a little more BTU's I'd like an enclosed base with doors so storage of utensils etc. is out of sight Take side panels too small, could be larger to "hide" tank Must open lid from the front, if you are standing to the side and try opening the lid it will not open smoothly SIDE BURNER!!!!!
Date published: 2018-01-12
Rated 5 out of 5
by
Bronco Mike
from
Nice Grill!!
I replaced a Silver C from 2002 that I call Ol Reliable. I cooked "a Tonne " of great food on that unit. I put on a new burner and gave it to my son and it still works great. I wanted 4 burners with more indirect area. I cooked my first batch of chicken wings last weekend and it was amazing! They all came off within about 3 minutes due to very even cooking. I've had very successful cooks so far and am very impressed. Packaging was great and instructions were excellent. Nice looks and great performance!! I bought a Traeger this year too and it's good for some things but I think a nice Weber like this is the best!! And the propane works when the power is out!!
Date published: 2018-09-10
Rated 5 out of 5
by
Roscoe
from
Keeps getting better and better!
Prior to purchasing I read all the reviews and was somewhat concerned regarding the grills quality; all burners being able to ignite and the grills ability to heat up efficiently and affectively. Having owned six Weber charcoal and gas grills over the years, four of which were still in service, I just had to go with my gut feeling that Weber quality and service would still be there. I have not be disappointed! This grill is just great, plenty of room, functions flawlessly, and maintains the heat required for all my grilling needs. This grill replaced my ten year old Genesis and I have no doubt it will also stand the test of time. Thanks for a great product Weber!
Date published: 2018-06-13
Rated 5 out of 5
by
Abes22
from
Love my Weber
Bought my first Weber Grill back in April 2017. Have given it some time before writing this review. I had been looking at Weber grills for many years but was having a hard time spending the money after some of the experiences I had with other brand name grills in the past. I'm glad I finally did. This is by far the best grill I have ever purchased both from the standpoint of cooking and the materials of construction. If you're looking for a new grill and are tired of having to rebuild your old grill each year, or feel the way I did before I finally made the leap I would highly recommend giving this Weber grill a chance. I expect this grill will be around for many years to come.
Date published: 2018-02-15
Rated 4 out of 5
by
Grillin' Time
from
Even Heat Distribution
This grill is amazing when it comes to evenly cooking meat, reducing flame-ups and just down right great at grilling. The only concerns I have with the Genesis II is the elimination of the front doors and enclosure to hide the propane tank (This is a comment I get from everyone on why the propane tank is visible like that) and also the poor quality of the stainless steel on the side shelves and front panel - It just looks like unsiightly after the first use and the Weber cleaner that you can buy isn't worth a lick. Overall: Great grill, poor use of materials and aesthetics for the money you pay for one.
Date published: 2018-03-17
Rated 5 out of 5
by
Hp013731
from
Best Grilling Experience by Far
I've waited a couple decades to buy a Weber. Over that time I've gone through no less than 6 'other' gas grills. By design and engineering, this one Weber will outlast them all. Grilling on a Weber Genesis is truly amazing. Heat conducts evenly for perfect cooking. I cook a lot of chicken for my wife, daughter and in-laws; you just can't burn it on a Weber! (I'm sure you can, but why???). It's very easy to cook beef, chicken and veggies at the same time due to the grills ability to maintain a range of temperatures at the cooking grate level. I will never by one of those other brands again.
Date published: 2018-01-05
Rated 5 out of 5
by
joey4420
from
Wonderful Grill
I needed to replace a "Napoleon" grill that I really liked, but due to some rust issues it would cost more to repair and update (some parts were obsolete on a 5 year old grill that cost more than my new Weber). Either way the Weber is not only built better than my more expensive Napoleon it has the same grilling surface that I had. The grill was pre assembled by Lowes when I purchased it and I love how it is assembled and how well it grills. It is built very well and I can't imagine that I will have issues with this unit rusting. Any any part I may need I don't think Weber will discontinue.
Date published: 2018-07-30
Rated 5 out of 5
by
Giddyup
from
Weber quality, as always
We purchased this grill, now our third, in our grill line up, I have to say first, that 19 years ago, I bought our first Genesis grill, used, for sale in front of someone's home. We have cooked on it Rain, Snow! And Shine. IT HAS NEVER LET US DOWN..still going. Now, this new grill is no different with the exception of new modern equipment. This new grill is awesome, stays at a constant temp, has pleanty of room, and using the indirect heat method, acts like an oven. It as usual, is a well made piece of equipment, I plan on emailing Weber with our complete story, look no further to find your "Forever Grill". , any of their products are a small investment in your outdoor cooking happiness!!!!
Date published: 2018-08-22
Rated 5 out of 5
by
Rito
from
Cooks food really well
I love my new Weber grill. I had it delivered and put it together myself. Definitely was a bigger project than I anticipated, but instructions were very good and when I had a question, I was able to call Weber and speak to someone who helped me complete the job. The grill cooks food extremely well. Food is cooked very evenly across all four sections. I have had a smaller mode previously was a little hesitant to upgrade based on the costs, but I'be Actually noticed a real difference in the food I am cooking even from a lower model Weber grill. I am very please with this purchase, no regrets.
Date published: 2018-06-07
Rated 1 out of 5
by
Nathan
from
Unsatisfactory heat levels.
I switched to a gas grill after years of grilling on charcoal. Just for convenience. The E-410 isn't a grill. It is an outdoor oven. Cooking a burger or steak and enjoying the flames giving the meat that perfect char is not an option with this grill. I've cooked burgers on this 'grill' for 30 minutes. There were zero grill marks and the burger was tartare. Weber advised that the grill was designed to cook with the lid closed. I say it is a poorly designed grill. My wife calls it an 'Easy Bake Oven'.
Date published: 2018-05-22
Rated 5 out of 5
by
Geo F
from
Great Product and Even Better Service!
I bought this grill as a replacement for a much older version. I was very impressed by the quality and ease of assembly. Just as or more importantly, I am very impressed with the service I received from your Weber associate who handled an issue that arose (a couple of wire connectors on the were damaged). I took a picture, sent it to her and, amazingly, I had a replacement part shipped to my house within 34 hours. She also comp'ed me a cover for my troubles of having to wait and to reassemble the igniter/wires. This was truly a superb example of top notch customer service. Well done!
Date published: 2018-08-09
Rated 2 out of 5
by
AndrewB
from
Does not work without buying additional features
When you spend over $1,000 on a grill and grill cover you expect that it will work. My grill is still not operating as I need to spend hundreds of more dollars for an extension to connect to my larger propane tank. I called to discuss my disappointment that this item wouldn't be included in such a significant (as all homes in my town have such tanks and thus it Is bery common) and I was essentially told "too bad, pay even more money". What a poor customer experience. My last Weber purchase was about 7 years ago and it was so positive. The company is clearly losing its customer focus.
Date published: 2018-03-24
Rated 1 out of 5
by
Scott L
from
More like an oven than a grill
We built a new home with a in-ground pool and patio. We wanted a high end grill compliment our new investment. I think overall the quality of construction of this grill is good. Nice look, sturdy, good fit and finish. That being said it is terrible to cook on. Pre heating takes way to long. If you open the lid to flip the food the heat loss is immediate and recovery time takes forever. It is impossible to sear a steak. It takes forever to cook burgers. It will heat to 550 degrees so I don't think it is something that is broken. I wish I could return it. Its to bad because we bought a bunch of Weber accessories to go with it and were really excited about this product at first. Now I am just frustrated.
Date published: 2018-05-29
Rated 3 out of 5
by
DUCK DIGGLER
from
Underwhelming!!
Had a Home Center special for over a decade and that grill was great. I looked so forward to ordering this new Weber grill I almost couldnt stand it. Shipping, packing and assembly were all top notch as expected. This grill is a severe disappointment when it comes to high temperature searing especially when it comes to steaks. I will say....it does a good job of grilling everything else, evenly and cooked but if you are looking for solid high temp searing grill I'd suggest looking elsewhere. Thankfully I still have my Weber Kettle for when I do steaks. Just one man's opinion.
Date published: 2018-01-16
Rated 5 out of 5
by
Mark321
from
Excellent new Grill from Weber
This is my 6th Weber grill over the past 25 years and I love the quality and durability of their products. I purchased the E410 because it was simple and straight forward. The new burners create excellent and even heat, the control knobs are much simpler and sturdier than the past ones with indications that are molded in and won't fade over time. Its easy to clean and looks good. So far I have been impressed by its performance and look forward to using it for many years. My only request is to offer spare parts for this product - they are not available on the Weber site.
Date published: 2018-06-21
Rated 4 out of 5
by
udflyer
from
Overall good grill
I like weber, and I like this grill. I replaced an old genesis from 2003 with this. I really miss the fold up table/shelf on my old weber. This new grill although great with cooking, has very minimal shelf space to set your pan(s)/trays during cooking. I loved the fold out tray/table on both sides of my old Weber Genesis Gold. Otherwise, great grill. I do wish I had the stainless steel cooking surface, food sticks more to the porcelain covered iron than it did on stainless steel. Looks like I need to spend another $200 to buy stainless steel grates and flavorizer bars.
Date published: 2018-07-12
Rated 1 out of 5
by
Andrea
from
Horrible grill not worth even 100 dollars!
I am very disappointed with this grill. I spend over 800 dollars for it at Lowe's. First the fire ignition did not work and Lowe's people can to my house to "fix it" it worked but the job looks horrible! Secondly, the temperature doesn't rise unless the lid is closed. My meats won't get a nice grill color unless I close it. Really the only thing you can do with this grill. The color I order was not what I got either. I regret buying it. I would have been better off with a grill half the price or less. This is my experience I really hope others had a better one.
Date published: 2018-01-12
Rated 5 out of 5
by
Shelby Lou
from
Great Value and performance
As a previous owner of a 3 burner Weber grill, and was very satisfied with its performance, I find the E-410 to be even better. The features I Find most helpful is the ability of the E-410 to heat and cool down much faster. Also it goes to a higher temperature and is able to sear excellent. The utensil hooks on the side are also a nice touch. We use the grill virtually all summer and fall and are able to keep the heat from our stone/oven from adding unwanted temps in the house. We are also able to do some regular baking in the webers. Overall very happy with our purchase.
Date published: 2018-05-31
bvseo_sdk, dw_cartridge, 16.1.1, p_sdk_3.2.0
CLOUD, getContent, 29ms
reviews, product