WE'VE MASTERED THE FLAME FOR A PERFECT STEAK
Weber
Genesis® II E-315 Gas Grill

Copper
Image for capacity demonstration purposes only.
Actual product model and features may vary.
An exclusive world-class grilling engine, three powerful burners that are guaranteed to ignite every time, and iGrill 3 smart technology compatibility - all backed by the Weber 10 year warranty on all parts of the grill. This is the new standard in Weber gas grills.
Part #61025001
Main burners: BTU-per-hour input

39,000

Dimensions - Lid Open (inches)

62"H x 59"W x 31"D

Dimensions - Lid Closed (inches)

47"H x 59"W x 29"D

Primary cooking area (square inches)

513

Tuck-Away warming rack area (square inches)

156

Total cooking area (square inches)

669

Stainless steel burners

3

Fuel type

Liquid Propane (20 lb. tank sold separately)

Side tables

2

Swivel locking casters

2

Durable all-weather wheels

2

Tool hooks

6

Battery type

AA

Batteries

1

GS4 High Performance Grilling System

Infinity ignition

High performance burners

Stainless steel Flavorizer bars

Grease Management System

Features

Porcelain-enameled, cast-iron cooking grates

Porcelain-enameled lid

iGrill 3 compatible (accessory sold separately, not included)

Side mounted gas tank

Built-in lid thermometer

Stainless steel side tables

Grill cabinet

Painted steel doors

Welded tube frame

Fuel gauge - LP models only

Infinite control burner valves

Stainless steel heat deflectors

All Parts

10 Years (excluding normal wear and tear and subject to additional terms and conditions in the warranty)

Proposition 65 Warning: Handling the brass material on this product exposes you to lead, a chemical known to the State of California to cause cancer, birth defects or other reproductive harm. (Wash hands after handling this product.)




Combustion by-products produced when using this product contain chemicals known to the State of California to cause cancer, birth defects, or other reproductive harm.



Image for capacity demonstration purposes only.
Actual product model and features may vary.
Stainless steel Flavorizer bars

Porcelain-enameled, cast-iron cooking grates

Fuel gauge - LP models only

Stainless steel side tables
---
---
---
CAPACITY OF THEE-315
Ideal for entertaining a small crowd or a perfect solution to any family meal. Store your essential grilling accessories in the grill cabinet, while grilling tools hang from the tool hooks, and spices are ready when you are on the side tables.
Image for capacity demonstration purposes only.
Actual product model and features may vary.

Serving size: up to 20 burger patties (with the Weber burger press)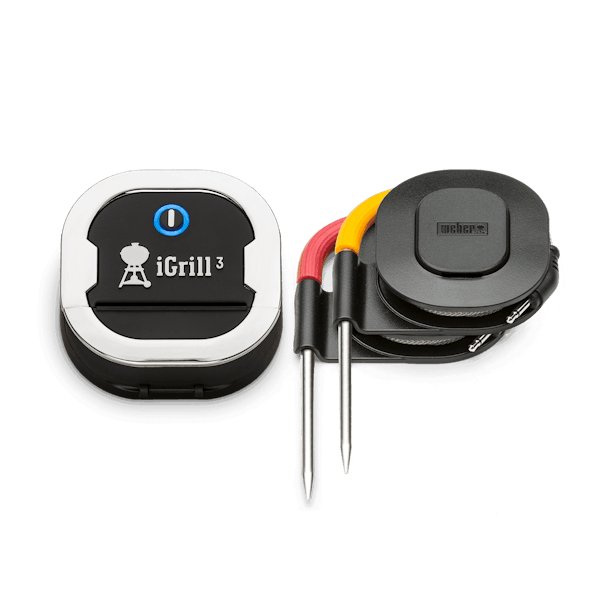 Infinite possibilities
WITH THE IGRILL 3 APP-CONNECTED THERMOMETER
Open up a new world of grilling possibilities with the iGrill 3 app-connected thermometer. iGrill 3 monitors food from beginning to end, and notifies you once it has reached the perfect degree to serve. Each Spirit II and Genesis II comes to you iGrill compatible.
EXPLORE IGRILL 3
Genesis® II E-315 Gas Grill is rated out of 5 by 382.
Rated 4 out of 5
by
tek1
from
Lighting Can Be Tricky
After 20 years with my old Weber Gas grill, I bought a new Weber-Genesis II E-315. I had a bit of a learning curve with the new grilling technology, but getting more accustom to it and the grill really cooks well. The only real issues I have is it can be hard to light in the slightest bit of wind, and I really miss the ability to just fire it up with my trusty 'click lighter'. There no holes in frame for easy access for lighting the grill. If you can't light the grill with the battery operated lighting mechanism, you have to light with a match clipped to a metal stick that you then have to insert through the grates to light the grill. Try doing that on a winding day.
Date published: 2019-07-25
Rated 5 out of 5
by
PerkinsG
from
Great Quality - Even Cooking
I bought this Weber Genesis II right before the 4th of July. Saw lots of other cheaper grills and was close to buying one. I'm glad I didn't. This grill cooks great. The food is evenly cooked at a constant temperature. The best part is that there are no flare-ups. As soon as any grease hits the panels below, any flames disappear right away. My only issue with this grill is that I have trouble browning meat. It cooks very evenly but does not brown to that nice crisp color I've had before. So what I've been doing is putting the meat under the oven broiler for the last 5 minutes and I'm good. Hopefully someone can tell me other ways to brown meat on the grill itself.
Date published: 2019-08-26
Rated 5 out of 5
by
DBinPG
from
Quality to the max
We went into Home Depot to buy a BBQ that was on sale for $299 but after talking to the Store Manager he explained the differences, we walked out spending a lot more on the Weber... I must admit I thought maybe we spent to much... BUT when I got it home and started putting it together (which was super easy) you could immediately tell the high quality parts and materials that are used on the BBQs. We have only had a chance to do a couple of BBQs since we bought but even the constant temps and cooking we are super pleased with.... so glad the Home Depot guy took the time to teach us a thing or two about BBQs. :)
Date published: 2019-05-05
Rated 5 out of 5
by
Jim1960
from
Fantastic Grill
This grill replaces the Weber Genesis that I owned for 30 years (yes, 30 years!) and used at least weekly in warm weather. Even though the old grill still worked, the new Genesis II E-315 has a lot of new features over the old. The burners heat and cook much hotter and cook more evenly than the old model. I use the iGrill 3 temperature sensor for just the right doneness every time. I like the enclosed cabinet for storage and keeping animals out of the drip pan. And I actually prefer the heavy cast iron grate over the lighter stainless steel. This is a great grill and I look forward to using it for many years.
Date published: 2019-06-14
Rated 5 out of 5
by
NJGrillerz
from
Good grill with excellent, even heating.
We've had this grill for two months now, and it has been great. The best part is the heat management. There are almost no cool spots in the grill, which makes managing heat by using the controllers very easy to do. It also heats to grill-temperature very quickly with all burners on high. The grill-box, base and table-sides are quite sturdy, although I think the wheels could be a bit more solid, but that may be more perception than reality. Assembly was well documented and easy to complete. It would be nice if they would flip the direction of the upper shelf wires, as they run side-to side, which makes using a flipper a bit tricky, as you have to come under the food from the side.
Date published: 2019-07-11
Rated 5 out of 5
by
Grill chick
from
Love the tank on the outside of the cabinet.
I don't want to even cook in the house. Can do most everything on here.
Date published: 2019-09-14
Rated 5 out of 5
by
PCard
from
Weber (Nobody knows Grills Better)!!
I recently purchased this new Grill, to replace my other Weber grill which was amazing! This one has similar features to the older grill (grease mgmt, gage for tank and side tables). I really like the cast iron/porcelain grates, which will certainly stand up to the heat and last a long time! We initiated the new grill with Chicken & Vegetable kabobs! Turned out amazing and delicious! I'm looking forward to this Summer and many Summer's to come, with another amazing Grill from Weber!! Keep up the good work!!!
Date published: 2019-03-24
Rated 5 out of 5
by
Bill80
from
Works as Well as it Looks
Given to me for my 80th Birthday by our grown children. Replaces a 22 year old Weber Platinum 1200 Series LP Grill that still works well. The E-315 Genesis 11 however is a huge step up. Burner controls are flawless allowing precise temperature control within plus or minus 10 degrees or less! The battery powered burner lighting mechanism is a quantum upgrade over the mechanical push button starter used on the old 1200 Series. The burner orientation from burner box length to width is an improvement for indirect cooking. All this and the unit looks as good as it performs!
Date published: 2019-08-12
Rated 4 out of 5
by
VenomWeber
from
Excellent Grill but needs one thing!
I recieved this as a gift for my birthday. My family has always been a Weber family (kettle grills, Genesis gas, and Spirit). I had bought a Spirit a few years ago, and served my wife and I well until we had kids. We needed something bigger, and was asking about a Genesis for a birthday present. It is a great grill, cooks even, heavy duty construction, features are great....except for one thing. It does not have crossover ignition like grills of the past. You have to open each gas valve and hit the sparker to get it to light, instead of one time and open gas valves as you need them. I wish this was an upgrade/fix. It does not light as easy as other Webers have done in the past. Other than that, a great grill!
Date published: 2019-06-27
Rated 5 out of 5
by
Tiki Tom's Grill
from
Amazing Meat Machine
I had a Sam's club professional grill that I purchased and have been using for 15 yrs and thought it was the cat's meow until I purchased the Weber E-315 grill.... I'm grilling almost every day because this grill is such a joy to use. I only wish I would have spent the extra $100 on the E-335 and would have gotten the aide burner. I used tinfoil and made a smoker box and did some ribs low and slow - the grill held 225° and the ribs were amazing. I've done steaks, ham, make a couple of pizza's on a stone, everything comes out amazing. Best grill I've ever owned.
Date published: 2019-07-22
Rated 5 out of 5
by
Johnjr749
from
Love my Weber
This is my second Weber. My last one was bought in 1998 and just retired the day before I bought my new Genesis (actually still have it just in case I have a big party). I've used my new grill multiple times. Took a little time to get used to as it cooks a little different than my old one. Biggest difference being the burners go side to side as opposed to back to front like my old one. I wasn't thrilled with that change, but after using it, it is actually much better. My grill was missing one part when I bought (it came assembled so I am not blaming Weber), but one call and my part was sent right out at no charge. Weber has the absolute BEST customer service. A1 service and help. I would never buy another brand.
Date published: 2019-08-05
Rated 5 out of 5
by
MikeePP
from
My 3rd Weber
This isn't the cheapest grill out there but it's the only one I'll ever buy. I'm on my 3rd Weber and my second one lasted 15 years being used 2-3 times every week and kept uncovered. I did replace the regulator and kept it clean. The weather finally killed it. No hot spots whatsoever on this one, super sturdy construction and no nonsense. Friends tried to sell me a pellet grill but no way. They're good for smoking but can't get the grill/char marks and nothing is better to sear a nice steak than this grill. If I'm still alive in 15 more years I'll buy my 4th!
Date published: 2019-08-07
Rated 5 out of 5
by
Gear
from
Met all expectations
I'd been waiting several years to upgrade to a Weber, and I must say it is definitely a cut above anything else and all that my high expectations hoped for. Assembly was not bad if you took your time and allowed for 2 - 3 hrs with help from 1 other person. This thing is a BEAST and weighs about 180 lbs, so make sure you don't have to climb or go down steps when you are done assembly. All worked flawlessly once completed and turned on. Controls allow for exact temps that you need for any type of cooking. This will be a part of the family for many years to come.
Date published: 2019-07-15
Rated 1 out of 5
by
AJH1
from
Rusty Grating
After a single use, the grating was scratched by using a stainless steel brush as recommended for this product and immediately rusted. I would give this produce a 2-star, but given the company elected not to make a stainless replacement grating for this model, I think a 0-star is appropriate. Unfortunately, 1-star is the lowest.
Date published: 2019-03-16
Rated 3 out of 5
by
Weber Owner
from
Not hitting it out of the park for the price.
Grill Genesis II E-315 is a good cooking grill w/ consistent well spread heat. No issues with its performance once burners are lit. Issue is the 3rd burner all the way to the right does not light timely. It builds for about 30 seconds and then "pops" to life. Also, portability with the wheels is dissatisfying. The maneuverability to simply pull the grill away from the house to use is cumbersome.
Date published: 2019-07-29
Rated 5 out of 5
by
Mateo2000
from
Get your sear on!
I was looking for a replacement grill and took the recommendation from America's Test Kitchen that this was one of best mid-priced grills on the market. It has been just what I've needed for family grilling. Good temp control, heavy duty grill surface, easy-lighting, nice drip pan, and attractive exterior color. There is a feature on the side (a simple scale) that holds the propane tank that tells you when the tank is getting low - very helpful. I use the storage cabinet underneath for cleaning supplies. Very happy with the product...
Date published: 2019-07-21
Rated 5 out of 5
by
pfb369
from
I Finally Own One!
I bought this about a month ago. I use it at least a couple times a week. I should have spent the money years ago! I got tired of buying "latest and greatest" stuff only to replace them in 2-4 years because they couldn't handle the work. This thing is solid as a rock and is so much fun to cook on. I worried about 3 burners for so much space, but I can stop the thermometer on a dime and totally control the temp. I can cook multiple things (veggies, meat, etc.) at the same time and control each area of the grill easily. I love all of the features. The exterior tank is SO MUCH easier to swap out. The space underneath is well laid out and doesn't get wet and nasty. Just love getting home after work and busting out the grill to make supper!
Date published: 2019-08-31
Rated 5 out of 5
by
Bmc401
from
Love it - one small flaw
I bought it about two months ago and I'm amazed at how hot the grill can get and how sturdy it feels. I have a cover on it now but it did take a few days for me to acquire a cover. That said, without a cover, rain is able to find itself into the cooking area and drop into the grease tray overflowing it and creating a greasy mess on the shelves. I had to clean it twice and now I must remember to put cover on it later in the night after it has cooled otherwise any pop up storm can cause me some grief. Otherwise, I love it
Date published: 2019-09-10
Rated 5 out of 5
by
bruce53
from
My first Weber! Simply Awesome!
My last grill fell apart within three years. It never worked right. It was one of those low price grills that sell by the thousands at a main brand hardware store. I needed something well built that would last a long time and look good, year after year because I use it at my Airbnb and my guests use every weekend. I bought it my new Weber grill in store and didn't fully realize just how well made it was until I got it home and started using it. I am simply amazed at the quality of the construction. This is how we made products in America when I was a child. Things use to last and you didn't have to buy replacement insurance because things didn't need to be replaced. Weber products stand out as American made quality... someting we need to bring back!
Date published: 2019-09-03
Rated 5 out of 5
by
Minivandriver
from
Very evenly distributed heat
I've had this grill for about a month now, and I'm very impressed with it. The characteristic that I appreciate the most is that the heat from the burners seems very evenly distributed across the cooking surface. I was at first put off by the higher price compared to other grills, thinking that it couldn't really be that much better. But I was wrong about that. It's very noticeably better than the less expensive grills in terms of the quality of the cooking surface and the heat distribution. I'm glad I made this purchase.
Date published: 2019-06-12
Rated 5 out of 5
by
RockvilleChris
from
Best grill yet
Replaced a Webber Silver after many years of use. E-315 is slightly larger and definitely more advanced. Cooking for Christmas steak dinner for 14 was not only tasty but all the meat came out perfect. A major improvement ove the other grills. Webber May be more expensive but the quality and capabilities are worth the additional cost.
Date published: 2019-01-13
Rated 5 out of 5
by
Thomas B
from
Great Weber Genesis® II E-315 Gas Grill
We got this grill about 6 weeks ago using the United Airlines Reward program and are extremely happy with it. It is a quality grill. Installation was well documented and was completed in a couple of hours. The grill lid was damaged during shipment (shipping company problem) and Weber sent a replacement lid. Heating to 500 degrees is quick and the grill maintains heat at all levels well. Still working on cooking times because this grill can cook at much higher temps than the old cheap grills we had used in the past.
Date published: 2019-09-03
Rated 5 out of 5
by
Weber Convert
from
Genesis II E-315 doesn't disappoint!
I went back and forth with justifying spending the money on this Weber grill. After having used if for a couple of months so far I am very impressed with everything about this grill! It heats up very quickly and very evenly. The compartment below is roomy and the side trays are very nice to be able to place your accessories. I would recommend this grill to anyone if they are looking for a quality grill that will last for years. They do also provide a 10 year warranty which really takes this grill over the top.
Date published: 2019-07-26
Rated 3 out of 5
by
Atlmagi
from
Great grill, VERY poor service
I have had problems since I purchased this grill with not being able to get the heat temperature less than 350. I left a message with services and about a week ago and still have not heard back from anyone. It's a shame that they can produce great grills but not support their customers.
Date published: 2019-07-11
Rated 2 out of 5
by
Larry 47
from
Poor quality control
I bought mine from Home Depot. The box was in great shape, no evidence of being dropped or dented. The box was in perfect shape, and didn't look to ever been opened. When I removed the parts to assemble, they were packed in a manner that would have prevented them from damage in shipment. However, some of the parts were mangled so bad, I had to use a hammer on them so they would fit together. I should have returned it to the store, but I didn't feel like packing it back up and taking it back. Besides, they only had one left, and no telling how bad that one was inside.The front frame was so bad, I couldn't have closed the doors on the front. After beating and banging on it, I got it close enough to be able to close the doors. The tank shield was also bent. The way these parts were pack, which was very good, they had to be bent up before they were packed. There is no way you could have not seen the damage. Instead, they shipped them anyway. Line I said, VERY poor (If any) quality control. Never again.
Date published: 2019-06-16
Rated 5 out of 5
by
MarkofSA
from
Great grill. Durable. Worth the money
Ive had this grill for about a month. I took advantage of a mismarked post xmas ad at home depot. The grill heats quickly. Its right at 500° (pretty much max temp) in around 10 minutes. Keep in mind its january so outside temps r pretty low. Im sure it will heat up more later n the year. Grill retains heat very well, just seems overall to have a sturdy, durable feel. And the most impressive thing to me is the actual effect of the "flavorizers." Those heat shields actually seem to be effective in doing exactly what weber claims they are for. Meat actually has a flavor in it (good) that i didnt get from my last grill. Also, cooking our grill foods, sausage, pork chops, steaks, and chicken theighs, it doesnt seem to flare up anything like what my old grill did. Especially with the sausage and steaks, id have to mind the grill and wait for flare ups. So far, after 3 steak and 2 sausage cookouts, i havent noticed 1 flare up. Grill also seems to cook pretty even when u can leave the lid closed. Very happy
Date published: 2019-01-27
Rated 4 out of 5
by
JSherm_510
from
Really great!
Bought at retail for around $1K. I have about 5 tri tips under my belt with it at this point and the grill is really great. I like everything about it. It gets extremely hot, quickly, which is nice. Also, it's able to hold a precise temperature very well if you set it properly. I assembled it myself to save some money and make sure the product got to me in pristine condition. It was a fun weekend task to unbox and assemble it. My one knock is that I wish the manufacturing on these was still done in the USA.
Date published: 2019-06-27
Rated 5 out of 5
by
catroc
from
Highest Quality
If you have any doubts about the Weber quality, assemble it yourself. Every part was perfect, all holes lined up, everything came out square. Except for the warming rack making a little rattling noise the whole grill is as solid as can be. I've never seen more even flames across all three burners and the grate seems to heat up uniformly. Have used it only twice so far since I got it only three days ago but am completely satisfied. A word of warning: follow the instructions and burn off the grill for 20 minutes on high before cooking. You will see smoke coming off the grill for a few minutes and then clear up. I'm a bit leery about getting a rotisserie after reading reviews on them so be careful and do your homework before buying one. It might save you some money and grief.
Date published: 2019-06-22
Rated 5 out of 5
by
Doug13
from
Best Grill I Ever Used
This grill is expensive, but it is easy to use and the heating is consistent. The grill area is large enough to grill a lot of meat at one time. It is solidly built. I grill multiple times per week as I meal prep for my wife and I. Hands down, this is the best grill I have ever owned. I had a problem with the initial setup, but Weber customer service sent me the replacement parts quickly. That fixed that problem. I will almost certainly be a Weber customer when it is time for another grill.
Date published: 2019-06-12
Rated 5 out of 5
by
Murphy 982
from
Replaced a 19 year old Gensis Silver
I replaced a 19 year old Weber Genesis Silver mainly because of its age, the squirrels had chewed the plastic parts to pieces and I just wanted a new grill. This one is much easier to control the temperature, starting it is a snap, and cooking is a pleasure. Have only used it about 4 times so far, but think I will get as many years of great cooking experiences with this one as I did my previous grill. Also going to be more diligent in keeping this one covered to thwart those rascally squirrels.
Date published: 2019-07-04
bvseo_sdk, dw_cartridge, 16.1.1, p_sdk_3.2.0
CLOUD, timer 165ms, 0ms
reviews, product
bvseo_sdk, dw_cartridge, 16.1.1, p_sdk_3.2.0
CLOUD, getContent, 0ms
reviews, product
Keep Exploring
Genesis® II Series

Genesis® II E-310 Gas Grill

Genesis® II Series

Genesis® II E-310 Gas Grill (Natural Gas)

Genesis® II Series

Genesis® II S-310 Gas Grill

Genesis® II Series

Genesis® II S-310 Gas Grill (Natural Gas)

Genesis® II Series

Genesis® II E-315 Gas Grill (Natural Gas)

Genesis® II Series

Genesis® II E-330 Gas Grill

Genesis® II Series

Genesis® II E-330 Gas Grill (Natural Gas)

Genesis® II Series

Genesis® II E-335 Gas Grill

Genesis® II Series

Genesis® II E-335 Gas Grill (Natural Gas)

Genesis® II Series

Genesis® II S-335 Gas Grill

Genesis® II Series

Genesis® II S-335 Gas Grill (Natural Gas)

Genesis® II Series

Genesis® II E-410 Gas Grill

Genesis® II Series

Genesis® II E-410 Gas Grill (Natural Gas)

Genesis® II Series

Genesis® II E-435 Gas Grill

Genesis® II Series

Genesis® II E-435 Gas Grill (Natural Gas)

Genesis® II Series

Genesis® II S-435 Gas Grill