A GRILL TO COMPLEMENT ANY BACKYARD
Weber
Genesis® II E-330 Gas Grill

Copper
Image for capacity demonstration purposes only.
Actual product model and features may vary.
Four bold colors, unmatched grilling performance, and upgraded features are what make the Genesis II E-330 your grill of choice. Backed by a 10 year warranty on all parts of the grill and lifetime of customer support, your search for the ideal grill ends here.
Part #61022001

$40 Shipping & Free Returns on Weber.com Orders
Grills 70+ lbs. ship by freight carrier with delivery by appointment within 2-5 business days. $40 Standard Delivery, $75 Upgraded Delivery. Free 30 day returns. Shipping Information & Return Policy
Main burners: BTU-per-hour input

39,000

Sear Station burner: BTU-per-hour input

9,000

Side burner: BTU-per-hour

12,000

Dimensions - Lid Open (inches)

62"H x 59"W x 31"D

Dimensions - Lid Closed (inches)

47"H x 59"W x 29"D

Primary cooking area (square inches)

513

Tuck-Away warming rack area (square inches)

156

Total cooking area (square inches)

669

Stainless steel burners

3

Fuel type

Liquid Propane (20 lb. tank sold separately)

Side tables

2

Swivel locking casters

2

Durable all-weather wheels

2

Tool hooks

6

Battery type

AA

Batteries

1

GS4 High Performance Grilling System

Infinity ignition

High performance burners

Stainless steel Flavorizer bars

Grease Management System

Features

Porcelain-enameled, cast-iron cooking grates

Porcelain-enameled lid

iGrill 3 compatible (accessory sold separately, not included)

Side mounted gas tank

Built-in lid thermometer

Stainless steel side tables

Open cart design

Welded tube frame

Fuel gauge - LP models only

Infinite control burner valves

Stainless steel heat deflectors

All Parts

10 Years (excluding normal wear and tear and subject to additional terms and conditions in the warranty)

Proposition 65 Warning: Handling the brass material on this product exposes you to lead, a chemical known to the State of California to cause cancer, birth defects or other reproductive harm. (Wash hands after handling this product.)




Combustion by-products produced when using this product contain chemicals known to the State of California to cause cancer, birth defects, or other reproductive harm.



Image for capacity demonstration purposes only.
Actual product model and features may vary.
Stainless steel Flavorizer bars

Porcelain-enameled, cast-iron cooking grates

Stainless steel side tables

Fuel gauge - LP models only
---
---
---
CAPACITY OF THEE-330
Ideal for entertaining a small crowd or a perfect solution to any family meal. The sleek open-cart can be used for placing serving trays, while grilling tools hang from the tool hooks, and spices are ready when you are on the side tables.
Image for capacity demonstration purposes only.
Actual product model and features may vary.

Serving size: up to 20 burger patties (with the Weber burger press)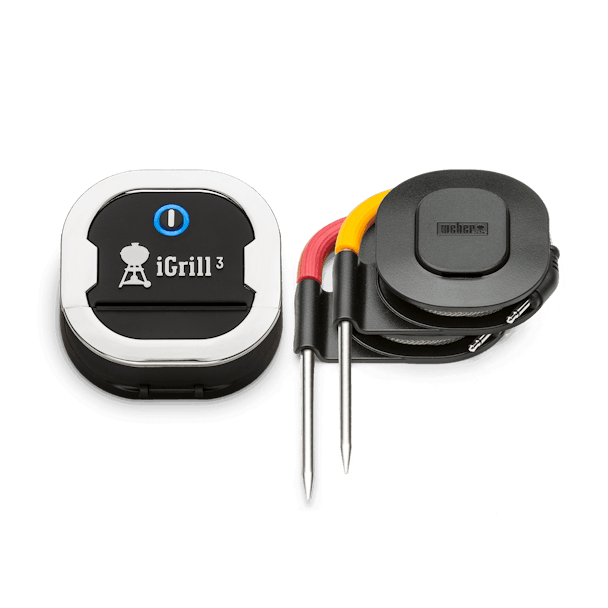 Infinite possibilities
WITH THE IGRILL 3 APP-CONNECTED THERMOMETER
Open up a new world of grilling possibilities with the iGrill 3 app-connected thermometer. iGrill 3 monitors food from beginning to end, and notifies you once it has reached the perfect degree to serve. Each Spirit II and Genesis II comes to you iGrill compatible.
EXPLORE IGRILL 3
Genesis® II E-330 Gas Grill is rated out of 5 by 109.
Rated 5 out of 5
by
jsvoboda
from
Exactly What I Need
I have owned this for about 3 months and could not be happier. I was a chef in a restaurant and value heat distribution and the ability for something to make food look good as well as taste good. The grill comes with everything you need and performs beautifully. It can easily kick up to 600+ and go down to around 300 if you want to grill something low and slow. The ceramic grill grates make excellent sear markings and are pretty easy to clean and very durable (I thought they'd be more fragile than they actually are). There is ample room and would easily be able to grill for a 10-12 person party. The only thing missing is a light, but that's only a minor issue.
Date published: 2019-09-13
Rated 5 out of 5
by
Lind210
from
The Best BBQ Ever
We had a Weber BBQ for 20 years, then we felt it was time for a new one. So we bought a cheap one(another brand) well that was a mistake. Then at Christmas, my husband told me that Weber had come out with a Genesis that had a side burner. Well that did it. We decided to make it a Christmas gift to ourselves. Well we have used it about 10 times since and it is the best. It cooks great and the side burner is a huge help.
Date published: 2019-01-13
Rated 5 out of 5
by
yumyum
from
It's a Brave New World of Grilling!
I replaced a 15 year old CharBroil and am delighted with the result. Easy to use, great results, very attractive to look at...in a word, NICE. Price was OK considering I'll probably have it for another 15 years. Cleaning no problem; the techno features for grilling have taken perfection to a new level. Love the foldaway rack and the scale for weighing the propane tank. Copper color is awesome, everyone loves it over the usual grill blah BLACK. Just to be safe I keep the grill cover on all the time for protection. Not the easiest to put together and printed instructions could be better, more user-friendly. Had problem with #1 burner but quickly received a replacement for the igniter.
Date published: 2019-08-23
Rated 3 out of 5
by
Raymondo
from
Disappointed
I owned a Weber Grill for years and finally it was done. Decided to purchase a New Weber and picked it up at a Big box store, brought it home and assembled the grill. I had a problem with the regulator/hose assembly, cheap quality and I did not want to wait for Weber to send me another so I purchased one from a Big box store, much better quality for about $ 20.00. I did order a replacement from Weber and it did arrive but I will use the after market assembly. Overall the grill is a good grill but does not equal the older Weber I had in the past. Price vs quality not a good buy.
Date published: 2019-09-19
Rated 5 out of 5
by
Landdchamp
from
E330
I purchased this BBQ about two years ago. It has, and still is, the best BBQ I've ever owned or used. The sear station is great. I was at first, a little intimidated with it, but now love it. No hot or cold spots on the grill. Even temp (unless using the searer). I keep it waxed and looks like the day I brought it home.
Date published: 2019-04-09
Rated 5 out of 5
by
nickname already used
from
Way to pack
The Weber name speaks for itself. This is our first gas Weber, but we have had a charcoal Weber for ever. I think I was most impressed with the way it was packed. All the parts were somehow carefully packed into one big box, labeled excellent, and there was almost no plastic to dispose of. Not a single missing part or and only one extra screw at the end of the process.
Date published: 2019-01-13
Rated 5 out of 5
by
Bettycrocker
from
Great grill
I bought this the first of the summer and have loved it! I put it together with my husband so I know this grill intimately now. It is made to last. The instructions were a little hard to follow but over all it went together without any problems. We have wanted a Weber grill for years and when we finally bought one we are kicking ourselves for not doing it sooner. This grill makes our food taste like we know what we are doing. (For the most part, we do not). The app is great in guiding us with times and temperatures; the grill does all the work. We love our grill.
Date published: 2019-06-27
Rated 5 out of 5
by
tdave
from
Sear Station - just what I wanted.
We replaced a Kitchen Aid with a separate searing burner. It was messy searing a steak and then transferring to the main area to finish. This works much better. Overall the grill design feels clean. Cleaning the grease drippings is easy and accessible. The open shelf with the tank to the side is much more useful than doors with a tank inside. It is easier to access and change the tank. It is a nice size. We grill vegetables using two large cookie sheets at a time, too. The igniters appear to be better protected from drippings and hopefully longer lived.
Date published: 2019-07-16
Rated 5 out of 5
by
fla man
from
Weber quality and great warranty.
This was a replacement for a 16 yr old Weber Silver series, which was still working. It had all the additional items that I purchased for the silver series as standard (cast iron cooking grates, stainless steel flavorizer bars), and had a searing burner with separate igniters for each burner. The only thing I miss that the old Weber had was the lift up side tray for additional prep space, but I can work around that. And the 10 yr. warranty that is now standard for the Genesis II convinced me to stay with Weber. No one should be disappointed with this product.
Date published: 2019-10-25
Rated 5 out of 5
by
Poppaboat
from
You won't find a better grill!
This is without a doubt the best grill I have ever owned. I also bought the Igrill meat thermometer and it will guarantee whatever you're grilling comes out perfect! Couldn't be happier!
Date published: 2019-01-28
Rated 5 out of 5
by
Wayne77
from
Very happy !
We had our last Weber silver for fourteen years . The Weber before that we had for Sixteen years.Yes we had replaced parts but warranty covered the parts About four years ago we had to replace parts cost us about 170.00 well worth it . It was time look for another grill we looked at every grill out there. Nothing compared to the Weber, we looked and looked. Ordered our new Weber it was shipped to our home , took about two hours to assemble. My wife was looking at the hood had a paint issue called Weber they sent another top out. Weber is the best !
Date published: 2019-10-03
Rated 5 out of 5
by
JRoe
from
Accurate heat
I only like buying grills no more than once a decade, so I read a lot of reviews. My last "high end" one needed replaced after 7 and it should of been much sooner. I lived with the cold spots that left steaks over done on one part and raw on the other. This grill has nice even heat that cooks everything nearly the same. This makes it so much easier to get the correct temperature on steaks, burgers, and anything else. Keeping it clean in between uses makes for almost no flare ups. In edition , the customers service is prompt and aims to satisfy you.
Date published: 2019-07-05
Rated 5 out of 5
by
Rental guy
from
It is never too late
I have been grilling for 40+ years on what i thought were good grills. My local hardware store is a Weber dealer and I have been looking at them for two years. I finally got tired of burning the hair off my right arm reaching in to flip something over due to very uneven heating on my old grill. The quality of a Weber grill is so worth the extra investment. It has only been a month but i am kicking myself in the butt and asking why it took so long for me to make the smartest decision in a long time. I LOVE my Genesis II 330 John L Hilton Head SC
Date published: 2019-06-25
Rated 5 out of 5
by
LumberSnack
from
Grilling excellence
My new Genesis II E-330 is my 3rd Weber. I first started out with an old Weber Kettle to which I have become a Third Degree Black Belt in char grilling and char smoking.... I make meat candy on my Weber Kettle. My second Weber was A Spirt II 3 burner and that was a top notch little grill, with the rear perpendicular flame tube it would heat up so fast and due to its one piece stamp cook basin the heat retention was incredible. All in all a fun little grill. My Third and final Weber is my new Weber Genesis II E-330 and this is grill has taken me from an advanced outdoor cook to a Professional Outdoor Grill Master. What a beautiful appliance, with her sleek exterior and clean lines combined with the simplicity of 3 burner set up for max heat and ease of cleaning this Grill truly has taken my skills to the next level. Weber truly is at the top of the outdoor grilling food chain. Well done ladies and gentlemen, well done.
Date published: 2019-04-18
Rated 5 out of 5
by
Joe U.
from
I love it!
Ever since my in-laws gave me this as a house-warming gift, I've been using every excuse I can to grill food. If I had to make one complaint, it would be that the hooks for barbecue tools on each side are way too large for the holes in the handles of most tools.
Date published: 2019-01-18
Rated 4 out of 5
by
Grampy06
from
Great Grilling
I replaced my old Ducane which was over 20 years old. I waited for a long time to be able to buy a Weber with a side burner and cast iron grates. All models with a side burner had Stainless which is what I had on my Ducane. I liked them and they were like new after 20 years but like the searing with cast better. I wish there was one that was smaller with the same features it's only me and my wife but I do like the sear burner and I can replace the grates with Stainless if I want at a later date.
Date published: 2019-06-29
Rated 4 out of 5
by
Scuba-Steve
from
Second weber gas grill
Thus us my second Weber gas grill. First one I bought lasted 20 yrs. It was time to upgrade. So, sold the old one and bought a new one from local hardware store. Put together myself and was easy. Always had the stainless steel grates, so getting used to the coated cast. Only reason I dont give 5 stars is the tank adapter. Didn't seal totally on my tanks. Which made me have to trade them in on newer tanks. Overall ,I have 3 weber grills. 1 gas and 2 charcoal. Customer service is always pleasant.
Date published: 2019-06-12
Rated 4 out of 5
by
Frank M
from
Continued Weber Customer
I am very happy with this purchase. I've been a Weber owner for quite some time. The searing station is awesome and the in-line burners are a definite improvement over the side to side version. The only setback I've found is with the lower profile of the hood. It lowers the height inside the grill for the rotisserie requiring you to remove the grates. It also limits the height of your warming rack. I used to stack corn on the cob two high and keep them warm while I finished off the meal.
Date published: 2019-06-24
Rated 5 out of 5
by
carlos1950
from
excellent gas grill
I am very happy with every part of this gas grills, I can adjust temperature to what i want , this is my third grill and i even had a $2200.0 weber m and by far this is the one that i am happiest with ,
Date published: 2019-01-13
Rated 4 out of 5
by
Anonymous
from
Grates not real good
I am having trouble with the black coated grated on my grill. The cleaning of it is annoying and wastes a lot of propane. I think I should have stayed with the stainless steel grates like I had. I was told these would function well and was told how to clean them by covering w foil and running flame on high to turn debris to powder. Touching grill to cover w foil is not easy to wrap foil around grate. It's not safe and I don't need like that process. What can I do with it now??
Date published: 2019-08-09
Rated 5 out of 5
by
TearBear
from
Absolutely fantastic grill
I have grilled indirect over medium heat for years with what I thought was good results. Then I purchased a Weber Genesis II E-330 and followed the Weber recipes of short times and high heat. I can't believe the difference in taste. I wish I would have bought a Weber years ago. I am very pleased and excited to try recipes I would not have attempted before, even in the dead of winter, as my new grill will reach temperatures I could not with my previous grill. I am very pleased!
Date published: 2019-08-27
Rated 5 out of 5
by
DonnaD
from
Fantastic Grill
This grill is great and is well worth the money. I use the grill not only for dinnesr but also for breakfasts. The side burner adds to the variety of what you can cook. I use a skillet and also an espresso pot just like an indoor stove top. We also puurchased the rotisserie which is a very easy set up. Chicken cooks perfectly and if you really want to celebrate get a bone in rib eye and set it up for a twirl. The temperature range on the grill cooks food to perfection.
Date published: 2019-06-17
Rated 5 out of 5
by
jtmjr
from
Fast and easy
I purchased this grill because we moved into a house with a pool and did not want to mess with charcoal. I have been a Weber kettle customer for over 30 years and was a bit skeptical about converting to gas. This grill has exceeded my expectations, it is fast to pre-heat, there is no mess to clean up and so far it cooks everything to perfection. The main feature for me is the sear function which I use often it provides that extra texture and taste to select foods.
Date published: 2019-08-20
Rated 4 out of 5
by
Dee Dee
from
Heats up fast
We have not used it too much yet, but it heats up quickly and evenly. My only complaints are that I wish it had doors on the bottom, and it is difficult to keep the tray on the left from spotting. I am going to try the stainless steel method I use on appliances. I put it together by myself, with one small assist. I took my time and did it over a few days indoors, as it was winter and I was in no hurry. The instructions are not the best, but he phone help is great.
Date published: 2019-06-15
Rated 5 out of 5
by
deemen
from
Even Cooking
I bought the Genesis II a month ago as the grill for our new place. The grill is beautiful, cleanup is simple and it cooks very evenly. It is pricey compared to most other grills on the market but you definitely get what you pay for. The extra burner for steaks really helps to get a good sear and the side burner is convenient for side dishes. I don't have a pet so the open grease pan is just fine but I wish the extra for the doors wasn't so expensive.
Date published: 2019-07-30
Rated 5 out of 5
by
GusMia
from
Tough Built!
This is my first Weber grill and I am still amazed by the way it is built and the quality of its materials! The main body being cast iron, the thickness of the grease management funnel pan, the lid, all seems to be of very durable materials! My first BBQ was a total success; by the taste of the entire meal and by the moments shared in our patio while grilling! I am sure this will be a keeper for many years, and very happy with y investment!
Date published: 2019-06-17
Rated 5 out of 5
by
CL20
from
Great grill
I bought this to replace my 21 year old Genesis. I had it shipped and spent 2.5 hours putting it together. I've used it at least a dozen times to grill steaks, burgers, and chicken. The 4th burner for searing worked great in getting the temp high enough to leave perfect grill marks on the steaks. Very minimal flare ups and the suggested gas settings for each type of cooking is spot on. Highly recommend as a grill that will last.
Date published: 2019-06-18
Rated 5 out of 5
by
Gerry111
from
Weber is the best on the market
Replaced a great Weber Summit series grill I had for about 15 years with a flashy-looking, unknown brand from one of the 2 big box stores. A long and endless series of problems began almost as soon as I brought it home. After 3 years of frustration, sold it for $5 and immediately purchased another Weber. Works great, service help we've gotten in the past has been just as good so you get the best and stick with it.
Date published: 2019-06-13
Rated 5 out of 5
by
SuperHappyGriller
from
Nice Surprise
My Wife purchased this for a Fathers Day surprise as we had what I thought was a good BBQ already WOW was I wrong......no more burning everything Super even heat very controllable and easy to clean and the iGrill 3 which was a promotional add on has really helped as well I have been using it almost daily Now I know just how much better and why people would pay a little more because it's worth it!
Date published: 2019-07-12
Rated 5 out of 5
by
SoCalJoe64
from
A Great Grill
The Genesis II E-330 is a great grill. I bought it a few weeks ago. When I unpacked it, it seemed a bit daunting, but I put it together in a few hours. It's a nice looking grill, the crimson top and the stainless steel really pop. I love the searing burner. Steaks and chicken get a very good sear. It also cooks very evenly. My Weber Q300, although a nice grill I've had for several years, has hot spots. My son is going to use it for the beach. The Weber II E-330 is very easy to clean. The slide out grease tray is very convenient. The porcelain enamel grates clean very easily with a wet wireless grill brush and a grill scrubber. Done in less than 5 minutes. The side burner is big and makes boiling potatoes, warming sauces or cooking/warming beans convenient. The scale for the LP tank makes it easy to know when it needs to be replaced. 2 shelves for storing accessories is nice.
Date published: 2019-06-27
bvseo_sdk, dw_cartridge, 16.1.1, p_sdk_3.2.0
CLOUD, timer 180ms, 0ms
reviews, product
bvseo_sdk, dw_cartridge, 16.1.1, p_sdk_3.2.0
CLOUD, getContent, 0ms
reviews, product
Keep Exploring
Genesis® II Series

Genesis® II E-310 Gas Grill

Genesis® II Series

Genesis® II E-310 Gas Grill (Natural Gas)

Genesis® II Series

Genesis® II S-310 Gas Grill

Genesis® II Series

Genesis® II S-310 Gas Grill (Natural Gas)

Genesis® II Series

Genesis® II E-315 Gas Grill

Genesis® II Series

Genesis® II E-315 Gas Grill (Natural Gas)

Genesis® II Series

Genesis® II E-330 Gas Grill (Natural Gas)

Genesis® II Series

Genesis® II E-335 Gas Grill

Genesis® II Series

Genesis® II E-335 Gas Grill (Natural Gas)

Genesis® II Series

Genesis® II S-335 Gas Grill

Genesis® II Series

Genesis® II S-335 Gas Grill (Natural Gas)

Genesis® II Series

Genesis® II E-410 Gas Grill

Genesis® II Series

Genesis® II E-410 Gas Grill (Natural Gas)

Genesis® II Series

Genesis® II E-435 Gas Grill

Genesis® II Series

Genesis® II E-435 Gas Grill (Natural Gas)

Genesis® II Series

Genesis® II S-435 Gas Grill