LOOKS NICE AND SEARS A MEAN STEAK
Weber
Genesis® II S-335 Gas Grill

Stainless Steel
Image for capacity demonstration purposes only.
Actual product model and features may vary.
There's nothing ordinary about a grill that can simmer sauce while searing steaks, just inches apart. The Genesis II S-335 is equipped with a sear station, side burner, 10 year warranty on all parts of the grill - and that's just the beginning.
Part #61006001

$40 Shipping & Free Returns on Weber.com Orders
Grills 70+ lbs. ship by freight carrier with delivery by appointment within 2-5 business days. $40 Standard Delivery, $75 Upgraded Delivery. Free 30 day returns. Shipping Information & Return Policy
Main burners: BTU-per-hour input

39,000

Sear Station burner: BTU-per-hour input

9,000

Side burner: BTU-per-hour

12,000

Dimensions - Lid Open (inches)

62"H x 59"W x 31"D

Dimensions - Lid Closed (inches)

47"H x 59"W x 29"D

Primary cooking area (square inches)

513

Tuck-Away warming rack area (square inches)

156

Total cooking area (square inches)

669

Stainless steel burners

3

Fuel type

Liquid Propane (20 lb. tank sold separately)

Side tables

2

Swivel locking casters

2

Durable all-weather wheels

2

Tool hooks

6

Battery type

AA

Batteries

1

GS4 High Performance Grilling System

Infinity ignition

High performance burners

Stainless steel Flavorizer bars

Grease Management System

Features

7mm diameter solid stainless steel rod cooking grates

Stainless steel lid

iGrill 3 compatible (accessory sold separately, not included)

Side mounted gas tank

Built-in lid thermometer

Stainless steel side tables

Grill cabinet

Stainless steel doors

Welded tube frame

Fuel gauge - LP models only

Infinite control burner valves

Stainless steel heat deflectors

All Parts

10 Years (excluding normal wear and tear and subject to additional terms and conditions in the warranty)

Proposition 65 Warning: Handling the brass material on this product exposes you to lead, a chemical known to the State of California to cause cancer, birth defects or other reproductive harm. (Wash hands after handling this product.)




Combustion by-products produced when using this product contain chemicals known to the State of California to cause cancer, birth defects, or other reproductive harm.



Image for capacity demonstration purposes only.
Actual product model and features may vary.
Stainless steel Flavorizer bars

7mm diameter solid stainless steel rod cooking grates

Stainless steel side tables

Fuel gauge - LP models only
---
---
---
CAPACITY OF THES-335
Ideal for entertaining a small crowd or a perfect solution to any family meal. Store your essential grilling accessories in the grill cabinet, while grilling tools hang from the tool hooks, and spices are ready when you are on the side tables.
Image for capacity demonstration purposes only.
Actual product model and features may vary.

Serving size: up to 20 burger patties (with the Weber burger press)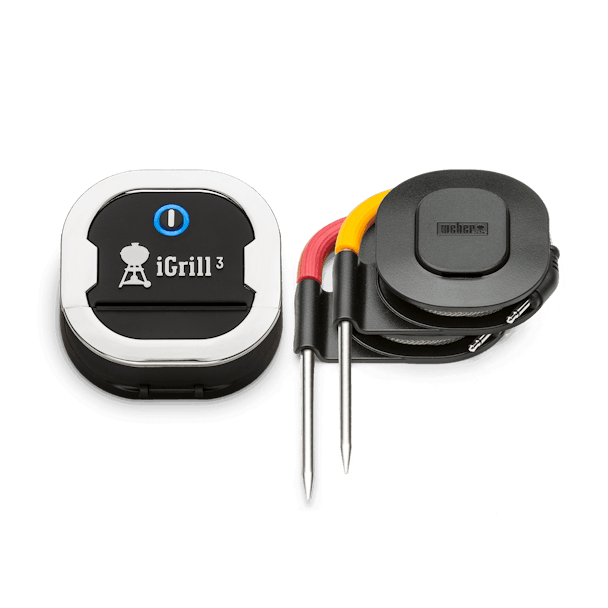 Infinite possibilities
WITH THE IGRILL 3 APP-CONNECTED THERMOMETER
Open up a new world of grilling possibilities with the iGrill 3 app-connected thermometer. iGrill 3 monitors food from beginning to end, and notifies you once it has reached the perfect degree to serve. Each Spirit II and Genesis II comes to you iGrill compatible.
EXPLORE IGRILL 3
Genesis® II S-335 Gas Grill is rated out of 5 by 518.
Rated 5 out of 5
by
Suzy Q
from
Weber is the way to go!
Needed a new grill after our Weber Q gave up after a number of years. Looked at the alternatives and chose the Weber over the slightly cheaper big box store brands, since we wanted a grill that will last for a long time. The sear station works perfectly for those of us that prefer rare over well-done. The side burner was a must - works very well for frying fish. Recommend adding the rotisserie too. We also have a charcoal burning grill, but we are using the Weber gas almost nightly since it is so easy to start. Two of us put it together in less than two hours with no bickering.
Date published: 2019-06-12
Rated 5 out of 5
by
Revak29
from
Best Grill I Have Ever Bought
I had bought the S-335 about 3 weeks ago and I absolutely love it! This is the best grill I have ever cooked on. It distributes heat evenly so I can place my meats anywhere on the grill. I have had zero flares up that would normal cause my food to overcook and love the searing feature. It really allows you to get the perfect sear each. In addition, besides the way it cooks, with webers 10 year warranty I really believe in the quality of this grill because if weber is guaranteeing this grill for that long then they are standing behind their product. I would highly recommend any weber grill but this one is the true Cadillac of consumer grills.
Date published: 2019-07-22
Rated 5 out of 5
by
Master Grill II
from
The Best Grill
I got this grill for Christmas. I normally cook on a charcoal grill/smoker but this Grill is definitely the one to get if you plan to cook something quick. Since Christmas I have cooked a Tenderloin, Hamburgers, Fajitas and Salmon. The Tenderloin came out fantastic on the grill especially if you use the temperature Gauges to not over cook your meat. I highly recommend this grill to those out their in the market to get one. "Price is only an issue in the absence of value" and this grill is definitely worth the the value. It also came with a 10 year warranty.
Date published: 2019-01-16
Rated 5 out of 5
by
Prairiewolf
from
best I have ever cooked with
I recently acquired the Geneses II. I got the three burner with the sear burner and it has been a delight to use. I have owned over 8 Weber grills with a variety of burner configurations from two to 8+ on the Summit. The configuration go the Genesis ii S-335 has been the best achieve a quick cooking temp and with the sear burner, I am able to get to 650 degrees in about 12-14 minutes. The new burner tube design is better than previous as well as the electronic ignition that lights each burner individually - nice touch Weber, I love that part. I chose to assemble myself and it was a breeze. No missing or damaged parts and everything fits like a glove.
Date published: 2019-07-07
Rated 1 out of 5
by
Bubba Ray
from
Unknowling broken when purchased. I had to fix.
We bought a floor model at Lowe's. When we hooked it up and tried it out, one of the burners did not light. After inspecting, we noticed one of the control knobs appeared bent. Taking the control panel off, it was apparent that one of the 'nozzles' was bent where it connected to the manifold. I contacted Weber and after a couple days convinced them, with photo's, that the unit was bad. They commenced to tell me they would honor the warranty and said they would mail me a replacement manifold and that I would have to replace it. Seems like a safety issue to me. Very disappointed!!!!!
Date published: 2019-06-13
Rated 5 out of 5
by
Dr.Phil
from
Had no idea I would notice this much difference
Had prior stainless gas grill for over 15 years. Replaced insides several times but outside still looked nice. Wheels finally started dragging so went looking for new grill. Was also considering pellet grill, but realized we do most our grilling for steaks so bought the Weber. Also bought grill temp probes. We noticed an amazing difference compared to our old grill. Preheats in a fraction of the time. Stainless grates are a breeze to clean. Surface temp is very even front to back and side to side. Extra searing burner makes me look like a pro with steaks. Haven't used side burner but it puts out a strong flame just like stove top. Get it on sale if you can, but it's worth the extra $$
Date published: 2019-08-22
Rated 5 out of 5
by
Kpsrnr
from
Fantastic Grill
We bought this grill after purchasing a new home that did not have natural gas. Our old house had a gas line that went directly to our grill and we did like that we didn't have to worry about tanks etc. However, the speed at which this grill gets up to temperature and the quality features more than make up for having to deal with Propane tanks again. I bought this Weber grill based off a recommendation and we are not sorry. Our old grill wore out quickly and was hard to find replacement parts for. I had Weber grills in the past, I won't buy anything but a Weber ever again.
Date published: 2019-06-13
Rated 5 out of 5
by
Bluewater
from
Quality Grill
Upgraded from a 5 yr old Spirit 310 that has been a great grill. Gave it to my brother in law and now he has a great grill. Love the fold down warming rack and the side burner. 10 year warranty is a huge benefit. Recently added Igrill3 to the grill. I cook a couple of times a week on a grill and this is even more impressive than the Spirit. I have been experimenting with the use of the grill as a smoker. I have an A Maze N smoker tube and have had really good results with ribs. The Genesis will hold a constant temperature as well as any smoker. May sell my dedicated smoker. Thanks for a quality long lasting product.
Date published: 2019-07-13
Rated 4 out of 5
by
Dizzy 16
from
Side burner issue
Love my new Weber. Have had them since the mid 80's! First stainless grill and really like it. The one big drawback is I like to use a rotisserie for large cuts of meat. However, you cannot use the side burner as the handle of the rotisserie's spit extends over the burner.
Date published: 2019-01-21
Rated 1 out of 5
by
Ynotafirefighter
from
Heartbreaker
Always wanted a Webber has grill. Purchased a nice big stainless Geneses II S-335 grill. Oh boy! Started on the very first light. Had trouble with ignition. After several attempts it finally lit. Cooked pretty good. A little hot on low but good. The next several attempts weren't any better. The final straw was cooking on low the burners went out, opened the lid tried to reignite then kaboom. Almost got me. Took it back that day. Really dissatisfied.
Date published: 2019-06-13
Rated 5 out of 5
by
Tom6438
from
Gen II S-335 works great. Very happy
Was easy to assemble. they recommended two people job but i did it all alone carefully. Built really good for the long term. Everything worked perfectly out of the unopened box from Home Depot. Get hot really fast and after learning a few differences between now cooking on stainless steel vs. cast iron, the steaks and chicken cam out great. Stainless grill cleans faster than cast iron, or so it appears with burners on high. I like the 4 burners. I'm not sure how much i will use the side additional pot cooker. While the S-335 is pricey, I figured it would last a long time with a grill cover here in Wisconsin.
Date published: 2019-10-31
Rated 5 out of 5
by
Svend02703
from
Great Features
The searing station is definitely a "must have". Just as my old Weber, this grill does a great job of maintaining heat at what ever temperature you desire, but the ability to kick it up on one side for searing beef or tuna steaks does take it up a notch. I also like the redesigned grease trap, much easier to access. As well as having the tank outside ... much easier to turn on/off between grilling sessions. The fold-away warming rack is also a plus. While this is a very high-end purchase, it does carry the 10-year warranty on ALL of the grill parts. Since I do grill several times a week, grill parts do wear out. My last Weber lasted over 7 years. I have never had a grill that long before. Quality Product!
Date published: 2019-06-23
Rated 5 out of 5
by
RMB1225
from
All around great grill
I purchased this grill to replace a 10 year old Weber Spirit Grill that had served me well but was tired. We us our grill at least twice a week. I decided to by the Genesis II Stainless online knowing I would have to assemble it. It arrived, I put it together in a couple of hours and it is the best grill I have ever owned. The stainless construction and side burner set it apart. It cooks great and clean-up is easy. Highly recommend this grill unless you are looking for one with a bunch of bells and whistles. Then go with a model with those features.
Date published: 2019-01-13
Rated 3 out of 5
by
Brandy c
from
Great to cook on
I bought this a couple months ago. It is great to cook on. My only problem is that when i attached the gas hose to the tank it leaks. So i tried another tank. Still leaks. So i emailed CS. She was a bit rude told me that isnt the problem its ur tank. I sent pictures ofcourse it's still my tanks. Mind you plural. So I attached a totally different hose with the same tanks and no leak. Wish theyd just replace the hose. But other than that I live my grill. Best thing I've had for a grill.
Date published: 2019-06-12
Rated 5 out of 5
by
BMoreGill'n
from
Solid Gas Grill
Have you ever purchased something that you immediately knew was not only a great buy but will last forever? This is definitely one of those items. Solid material, great design, large grill surface, and beautifully even and controllable heat!!! What else is there to ask for in a grill? Oh yeah, the iGrill 3 which I added and love!! I'm not a millionaire so the price was hard on my budget, but this was a long-play as I know I will get every dollar of that back and more in worry-free, enjoyable entertaining, and somewhat therapeutic grilling over the next 10 (warranty life) years.
Date published: 2019-06-18
Rated 5 out of 5
by
Pelican
from
Great Grill
I purchased the Weber about a month ago, it's a great grill, have cooked chicken halfs on indirect heat , rotisserie turkey that came out great, also added the weber smoke box , it produces a great smoke and add wood chips of your choice when needed, also grilled steaks with the sear burner, let me tell you, you could not ask for a better steak, putting the Weber S335 was very easy, and everything was there and packaged very nicely, I have owned weber products for many years and as always with Weber you get the best, thanks Weber for this fantastic S335 grill, we will enjoy it for many years to come
Date published: 2019-08-28
Rated 5 out of 5
by
GPerry22
from
Finally!
Well, I finally upgraded to a Genesis® II S-335 Gas Grill...after years of sub-par grills. What took me so long? The heat is great, the deisgn is fantastic and the quality is above all others. I love having the iGrill attached, and I love that the propane tank is on the outside and you have an immediate visual of your fuel level. The only criticsm I have is when it comes to the grooves for the rotesserie. They are a little too low, which restricts what size meat you can put on the spit. Other than that, I'm incredibly happy with this purchase!
Date published: 2019-04-19
Rated 5 out of 5
by
Smooth
from
A Porsche on my Porch
I have had the Genesis II just a short while having replaced my previous Weber that gave me 12+ years of good service. I spoiled myself with the Genesis and look forward to using it as often as I can. With its size I prepared our entire meal of steaks, garlic bread and then a cast iron skillet sautéing mushrooms. Yet to use the side burner. So far steaks, burgers, beer can chicken, grilled BBQ chicken. Didn't need to get used to 'hot spots' and no learning curve. Maybe a stretch but like having a Porsche (the Porsche of gas grills) parked on my deck. I find myself almost polishing it after each use!
Date published: 2019-06-27
Rated 5 out of 5
by
JJohnson
from
Great Example of Quality
I bought this grill about 2 months ago and to say I am pleased is a understatement. It cooks even. It lights when you push the button. The steak shearing station works very well. ( better than I thought it was going to) Very easy to assemble. The grease drip pan helps keep the grill clean under the burners. I am 62 years old and have owned many grills, for some reason resisted buying a Weber grill. After this experience I could kick myself for waiting.
Date published: 2019-06-25
Rated 3 out of 5
by
Doubler
from
Side burner disappoints
We use the side burner often in place of cooking inside. Mainly for things that make a mess (frying) or stink up the house (fish). This side burner is so close to the main grill that a couple of our large pans (i.e. wok) won't sit directly over the flame. This was not a problem with our old Weber as the side burner was much further away from main grill. Also, our old one had fold out tables and this one doesn't. Not sure why you'd take a feature away.
Date published: 2019-06-19
Rated 5 out of 5
by
adrianalba3
from
Absolutely Incredible!!!
Bought this around 5-6 months ago. Decided I got tired of getting (and having to setup) a new grill every few years. So I decided to finally get what I really wanted and I did and don't have a single regret! Living in south Louisiana I am sooooo glad I went with stainless and also the stainless grill grates!!! Cooks perfectly, so easy to put together, and looks absolutely "grill sexy" on my back porch!!! If you're looking, look no further this is definitely where it's at!!!!!
Date published: 2019-06-11
Rated 1 out of 5
by
mjhhog
from
Poor quality control
Bought from Amazon and product delivered without any hardware needed to assemble. Took 11 days to get replacement package and still missing certain parts.
Date published: 2019-06-14
Rated 5 out of 5
by
Mike215
from
Absolutely Top Notch Grill
My father bought me and my fiancé this grill for our engagement gift last month. This grill is simply amazing. The all stainless steel look is flawless, the 3 burner is just the perfect size for just us two and some guests. The searing burner works great. I love the propane tank measurement system. I have the handle light attachment and it's perfect for nighttime grilling. I do have the iGrill3 but haven't used it yet but I do love that it also tells you how much propane is left. The grill heats fast and evenly and we have had nothing but great food on it since we got it. We've done burgers and dogs to pizza and steak & potatoes and each meal is delicious and cooked to perfection. The 10 year warranty is also a major plus in us choosing Weber. Thanks for making a great product!
Date published: 2019-07-08
Rated 3 out of 5
by
Not happy camper
from
Not working correctly
Payed a lot of money for a grill that doesn't light correctly. Lowes was no help. Email to you got no response. Finally with phone call I can work on my 3 week old grill myself. Do I subject a bill for my labor?
Date published: 2019-06-21
Rated 5 out of 5
by
Happy Griller 06824
from
Great Grill- Glad I Went Big
I received this as a Father's Day gift, but was able to select the model myself. Glad I chose this large grill, rather than a smaller model. While there are usually only 2 of us at home, cooking a few steaks, some corn on the cob, and a few dozen clams quickly fills up the grill top. Plus, it's nice to have a lot of room for flipping. Love the sear station! I christened it with a few tomahawk ribeyes (also nice to have the large grill to fit them with the top closed) and they came out as well as at a top steakhouse (and at about $50 each less expensive!). Love this grill. Well worth the price. Picked it up my my local True Value hardware store. They delivered it, fully assembled, the same day!
Date published: 2019-10-01
Rated 5 out of 5
by
Hector C.
from
Great Grill Great Quality
I bought the Weber Genesis II S-335 over the weekend and I put it together myself, I don't like let the big box stores put it together for me, beside it was very easy to follow the instructions using BILT app and took a couple of hours. The grill started on the first try, all the burners lit as expected. I preheat the grill for 10*15 mins to burn off anything on the grill, grates etc. I never had a grill heat up so fast (700º plus). I've owned many grills and the quality of the part to do not come close to Weber grills. The steel is much thicker, the powder coating is better as well as well as the stainless steel, I expect this grill last at least 10 years. I cooked some steaks on the grill and turn out fantastic, the steaks were cook evenly and the grill marks were picture perfect.
Date published: 2019-07-24
Rated 2 out of 5
by
Lkll
from
Had to return
I bought this grill from Lowe's and had it built and delivered. Are used it three times and an able to get left side to ignite and then eventually the other two burners would not turn past low.
Date published: 2019-06-12
Rated 5 out of 5
by
Joedufour1158
from
Simply Incredible
This is by far the finest grill I've ever owned. It's not just the rugged design, but also the actual design. By that, the funneling off of the grease into the drip tray is revolutionary. I don't worry about uncontrollable flames as in other grills. Also, the ability to bake is awesome. I've baked a turkey, and multiple whole chickens. I simply use the outside burners and then insert a thermometer to monitor the internal temperature of the bird and when it reaches the correct heat, remove and serve. The chickens look as if they have been cooked on a rotisserie. A chicken baked in this fashion is far superior to one cooked in a traditional oven. The cleanup is easy and it looks great every time I uncover it.
Date published: 2019-10-14
Rated 5 out of 5
by
johnob
from
Weber Genesis II S-335 Grill (LP)
Very pleased with this grill. This replaces a Vermont Castings grill that I had for about 15 years, and this grill is sturdy, attractive, well designed, and heats up incredibly fast. The sear station is great for, well, searing. The side burner is great for grilling some onions or other. The doors underneath are excellent for storing things and keeping them out of site and clean. The side mounted tank saves space under the grill. The iGrill is really neat, and allows for precision grilling of steaks. I've very pleased with this grill, and would definitely recommend it.
Date published: 2019-07-13
Rated 5 out of 5
by
Matx3
from
Solid Grill even better warranty
So I'll be honest I would have never bought this grill at $1,100 but I found it in the clearance section of a retail store for $180!!!! Brand new but the box was in bad shape Anyways it was very simple to put together following the app, it helps that you can spin the diagram around to ensure you are getting the pieces right. Once put together this is a very solid grill and heats very well, steak sizzles on top because the heat flows nicely inside. The lid had a dent so I had to go through the warranty and after a few pictures they sent me a new one (the lid probably costs more than what I spend on the grill). I can understand why this grill is expensive, but you do get what you pay for. Extreme quality!
Date published: 2019-10-03
bvseo_sdk, dw_cartridge, 16.1.1, p_sdk_3.2.0
CLOUD, timer 144ms, 0ms
reviews, product
bvseo_sdk, dw_cartridge, 16.1.1, p_sdk_3.2.0
CLOUD, getContent, 0ms
reviews, product
Keep Exploring
Genesis® II Series

Genesis® II E-310 Gas Grill

Genesis® II Series

Genesis® II E-310 Gas Grill (Natural Gas)

Genesis® II Series

Genesis® II S-310 Gas Grill

Genesis® II Series

Genesis® II S-310 Gas Grill (Natural Gas)

Genesis® II Series

Genesis® II E-315 Gas Grill

Genesis® II Series

Genesis® II E-315 Gas Grill (Natural Gas)

Genesis® II Series

Genesis® II E-330 Gas Grill

Genesis® II Series

Genesis® II E-330 Gas Grill (Natural Gas)

Genesis® II Series

Genesis® II E-335 Gas Grill

Genesis® II Series

Genesis® II E-335 Gas Grill (Natural Gas)

Genesis® II Series

Genesis® II S-335 Gas Grill (Natural Gas)

Genesis® II Series

Genesis® II E-410 Gas Grill

Genesis® II Series

Genesis® II E-410 Gas Grill (Natural Gas)

Genesis® II Series

Genesis® II E-435 Gas Grill

Genesis® II Series

Genesis® II E-435 Gas Grill (Natural Gas)