Q Electric Series
ALWAYS ROOM FOR GRILLING
Weber
Weber® Q 2400 Electric Grill

Dark Grey
Image for capacity demonstration purposes only.
Actual product model and features may vary.
Host a downtown party lit by the city. Surrounded by sky-scrapers and best of friends. Clanking cups, and toasting to your backyard balcony. There's always room for grilling with the Q 2400 electric grill.
Part #55020001

Free Shipping & Returns on Weber.com Orders $50+
Free Standard Ground shipping on small parcels and grills <70 lbs. via FedEx, with delivery within 5-8 business days, expedited options available. Free 30 day returns. Shipping Information & Return Policy
Dimensions - Lid Open (inches)

26"H x 31.5"W x 25.1"D

Dimensions - Lid Closed (inches)

14.5"H x 31.5"W x 19.5"D

Primary cooking area (square inches)

280

Total cooking area (square inches)

280

Fuel type

Electric

Power

1,560 WATTS/120 VOLTS

Features

Porcelain-enameled, cast-iron cooking grates

Cast aluminum lid and body

Glass-reinforced nylon frame

Removable catch pan

Infinite heat control settings

6-foot grounded cord

Aluminum heat retention liners

Cookbox

5 years, no rust through/burn through (2 years paint excluding fading or discoloration)

Lid assembly

5 years, no rust through/burn through (2 years paint excluding fading or discoloration)

Stainless steel burner tubes

5 years, no rust through/burn through

Porcelain-enameled cast iron cooking grates

5 years, no rust through/burn through

Plastic components

5 years (excluding fading or discoloration)

All remaining parts

2 years

WARNING: This product can expose you to chemicals including nickel, which is known to the State of California to cause cancer. For more information go to

www.P65Warnings.ca.gov

.



Image for capacity demonstration purposes only.
Actual product model and features may vary.
Porcelain-enameled, cast-iron cooking grates

Cast aluminum lid and body
---
---
---
Capacity of theQ 2400
Compact to fit on most any patio with a large enough cooking grate that's ideal for entertaining your closest friends or feeding immediate family. All you need to do is plug in, throw on some food, and grill on.
Image for capacity demonstration purposes only.
Actual product model and features may vary.

Serves 3-4 people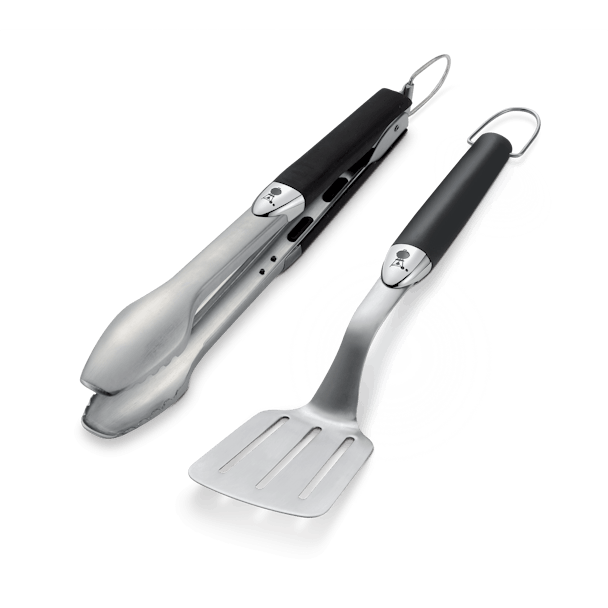 Grill on the go with
A TRAVEL SIZED TOOL SET
The travel size Premium Tool Set fits perfectly in your backpack and can go with you on any adventure. Whether flipping burgers in the deep woods or turning salmon on the shore, be equipped with the best tools.
Explore the tool set
Weber® Q 2400 Electric Grill is rated out of 5 by 324.
Rated 5 out of 5
by
DanZ
from
This grill really works!
Live in a restricted HOA, so it's an electric grill or nothing. Replaced an older George Forman with the Q. This grill works as well as a Weber Gas Q - if you follow the directions. We grill almost every night. Made a flameless smoke pack (dry Weber wood chips, not wet, wrapped in a pack of tinfoil with one small pin hole to let the smoke out). put pack on grill bars during the 20 minute heat up period. It starts smoking, and gently flavors whatever you grill as well as any charcoal grill. Don't discount this grill as a viable option for grilling. A little technology and innovation will get the job done with surprisingly good results. Have even grilled a smoked pork roast. Works well and highly recommend it.
Date published: 2018-02-11
Rated 3 out of 5
by
Floridagriller60
from
Didn't have a great first few months
I am not sure about this grill after owning it 6 months. I have cooked boneless chicken and steak on it many times and after heating for the first 15 minutes (as others have said let it heat up) the food is well cooked and tastes great. Why am I not sure then? Well after only 4 months of light use (mayb 10 times used) it would not turn on. I have received the replacement part and have installed it. I then cooked some steaks and they came out great. I will give it 3 stars now and let you know in another few months if it truly performs like a Webber.
Date published: 2018-06-10
Rated 5 out of 5
by
DCGriller
from
A savior of apartment grilling!
I was thankful to have landed an apartment with a patio for my Genesis and thrilled when the salesguy told me it was permitted. DC had other rules, though, and it was eventually nixed. I searched for electric salvation and found this grill. For not being propane, it did a great job. Really seared the meats. Much better than any other option. Took some time to learn its rhythms and temps - but it's great. Now I'm back in a house but don't yet have a safe home for my Genesis. So the Q still gets wheeled out of the garage a few times a week. I'd definitely buy it again.
Date published: 2018-01-12
Rated 5 out of 5
by
Josecolon29
from
Very portable not to big not to small just perfect
I can't stop grilling so easy to clean. We grilled vegetables with steak pork shoulders fish shish kebabs salmon with grilled potatoes asparagus the list goes on and on
Date published: 2018-07-16
Rated 5 out of 5
by
Brian815
from
Worth every penny!
This is an excellent grill for apartment dwellers like myself. Its compact size makes it easy to store and use on a small terrace. What is most amazing, though, is how well this grill works. I'll admit I was skeptical about using an electric grill after having to give up my trusty old 22-inch Weber kettle because our new place does not permit gas or charcoal grills, but this grill has by far exceeded my expectations. The food tastes every bit as good as if it were prepared on a gas grill. If you're considering buying this barbecue, then I think you should!
Date published: 2018-03-09
Rated 5 out of 5
by
Fratello
from
Electric Grill Q2400
Used to cook out on charcoal or wood grills. As we are parttime living here in AL now in Condo where no other than Electric Grills are allowed we decided to buy this grill. As somebody who likes to do a fire and strongly believe in such grills we were very skeptical about an electric one. After about 1 month using this Q2400 I can say - very very happy with the product and the results. Following the instructions which came with the grill you get a great steak with a great flavor. Considering to get such a grill for a quick cookout at home of course in addition to the smocker.
Date published: 2018-05-21
Rated 4 out of 5
by
Rayzor3
from
Best electric grill around!
I live in a condo and cannot have a gas or charcoal grill on my balcony, per fire code. However, I love to grill and decided to try this one due to the Weber name. My first couple of try's were somewhat disappointing. The food was over cooked. Then, I went back and REALLY read the directions. Results have been very good since then. Even if you've been grilling for 50 years (like me), you can't grill the same on an electric grill as you do on charcoal or gas. If you explicitly follow the directions, I think you will be pleased with the results.
Date published: 2018-01-12
Rated 4 out of 5
by
Vicki
from
Good electric grill for condo living.
This model grill is the larger one and ample size for several items such as large steaks and chicken breasts. We bought a grill plate for vegetables which is also a good size while sharing the grill space. They grill gets hot enough to cook steaks and chicken breasts crispy on the outside while leaving them tender and juicy on the inside. We love it. The only downside is that there are no side shelves for plates, utensils, condiments or spices which are needed during cooking. You will need to use a separate stand which takes takes up more space than might be available.
Date published: 2018-03-07
Rated 5 out of 5
by
heartfreepeople
from
Great for Flameless Grilling
I had to give up my gas Weber when I moved to my current condo complex. I suffered without a grill for a long time until I made this purchase. I'm sorry I waited. This grill allows for great patio grilling. However, I feel I get a better result pan frying my steaks (in a cast iron pan) because I can't get a hot enough sear on the grill. But everything else I've tried has come out great! (Salmon, veggies, ribs, chicken & sausage/hot dogs.) If your HOA doesn't allow flame grills, this is the best solution. Weber is top of the line. (I purchased the rolling cart too.)
Date published: 2018-08-03
Rated 5 out of 5
by
bridgeman
from
Great grill, but room for improvement.
This is my seventh Weber grill, one charcoal, a gas Q and this electric Q are still in service. This grill is great for a condo or apartment with wood decks. It can stand some changes to make it perfect. 1) Add a thermometer in the lid. I have measured 704F with an infra red gun. 2) Make twin tables available like on my same size gas Q. 3) Brighten the indicator light on the control so it can be read in sun. 4) Add a smoking tray that just clears the heat element with no danger of shorting out or damaging the element.
Date published: 2018-01-05
Rated 5 out of 5
by
Grill Fanatic
from
Great for Grilling Steaks!
Our condo complex sent out a notice that we could no longer use gas or charcoal grills on our decks or patios due to our local fire district regulations. My husband is a fanatic about grilling steaks and many of the reviews we read on other electric grills simply did not measure up to what we needed to grill steaks. This grill does! We read great reviews about the Q2400 and purchased it. The very first thing my husband did was grill steaks! They were fabulous! The other great feature about this grill is that it is so easy to clean up when you are done grilling. Once it cools down, you can take it apart to clean up in the kitchen sink. We love it!
Date published: 2019-06-12
Rated 5 out of 5
by
Willow
from
Just What I Wanted
Bought the Q2400 in March 2017. Although I do not grill a great deal, this has proven to be the ideal grill for me. Steaks, chops, asparagus - all have cooked beautifully and tasted just as good if not better than on a gas grill. You need to follow the directions and let it heat up first. It is compact (but has plenty of grilling area), easy to clean and, for me, so much better than worrying about propane. I also bought the stand which makes the grill the ideal height and easily moved if needed.
Date published: 2018-01-12
Rated 3 out of 5
by
Clk1
from
Not hot enough
We have a Weber gas grill that grills to perfection. We chose to buy the electric grill for our Florida condo to use on a terrace. The grill looks nice and is easy to use. The main problem is that the grill does not heat up enough to properly barbecue anything larger than a hamburger, hot dog or boneless chicken breast. Forget about anything larger or denser. The barbecue flavor is not achieved. We have preheated the grill as recommended but still not effective.
Date published: 2018-01-12
Rated 5 out of 5
by
Suec
from
Love our Weber Electric Grill
We have now used the electric grill several times and are very pleased with it. It is easy to use and to clean and it keeps smoke from grilled foods out of our kitchen. It is small enough to wheel in and out of our sunroom to keep it out of storms and high winds. If you don't have adequate ventilation fans in your kitchen, using an outside electric grill is one solution. The grill can also be kept clean by using a Grillmaster Grill Mat and throwing the mat in the dishwasher. Good product! Would buy again!
Date published: 2018-06-04
Rated 4 out of 5
by
Walt76
from
Great alternative
Bought this a couple of months ago at BMR Griffintown. Given condo restrictions we are limited to a electrical bbq. I was sceptical of its effectiveness at first but after a couple of uses I was not left disappointed. Don't get me wrong, propane or gas powered bbqs are more efficient but this little guy is perfect for small parties and meals. Easy to use, easy to maintain and doesn't take up too much real estate! The only reason I did not rate it a 5 is because there's likely room for improvement in terms of power/ temperature. Also it is a bit pricey compared to propane bbqs so wait for a sale. Enjoy!
Date published: 2019-07-01
Rated 2 out of 5
by
bramur
from
Not nearly hot enough
I bought this a few months ago to make it easier for my wife to grill when I'm out of town. It barely gets hot enough to cook burgers and hot dogs. I even bought GrillGrates to try to increase the surface temp. Didn't help. I spoke with Weber customer service who said all they can do is send me a new heating element since it's under warranty. It's not a parts issue. It's simply that it doesn't get hot enough. Now I'm stuck with a $350 electric grill that can't cook anything. Plus, I bought the side tables, portable cart, and grill cover separately, which brought my total well over $400. And Weber seems to only be willing to send me a new element, which isn't the issue anyway.
Date published: 2019-07-26
Rated 5 out of 5
by
GeoinPeabody
from
Best Electric Outdoor Grill on the Market
Excellent Quality and Exceptional cooking ability from an electric grill. Good bye propane! Wanted to grill on my second floor deck, just outside the kitchen and this was the answer. I was concerned weather it would heat up to high temperature enough to sear steak. Well all my worries are gone. This will sear any meat and then some. Key is to heat the grill 20 mins to 30 mins before use and cook with the lid down. Even when you lift up the grill lid it might lose 10 to 20 degrees or so, but after closing it goes back up rather quickly. I keep the temperature setting on max. I've hooked up a remote temperature gauge and when heated for 30 mins it can get up to 590 degrees. I have always preferred a steak on a cast iron pan. Not only does cast iron steak taste better, it keeps the grill clean. Guess what, I've been cooking my steaks in the cast iron pan inside this electric Weber. Just insert your cast iron at the start of heating and away you go. I'm truly pleased with this electric Grill and highly recommend it. Your getting a Weber, which is Quality and " It Works". I also recommend getting the Weber add on's: Q Mobile Cart, Q full cover, Q side shelves. Also an internal temperature probe to remotely watch your temperature. Weber should really made this with a thermometer on the hood.
Date published: 2018-06-30
Rated 4 out of 5
by
Fordy
from
Very good replacement for my old Weber
After moving into a condo unit and realizing that we could not have a propane or natural gas weber this was a great alternative. We have been slowly learning what the 2400 can do for us. We barbecued lamb last night and it was delicious. We have done shrimp, fish tacos, steak, sausage, and burgers they have all been very good. My only criticism is it really needs a side tray . I understand the reasoning however there should be a kit that we can purchase at least to be able to put our tools to one side. In a condo space is limited and the site trays are very important. Also a thermometer is required as you cannot tell the internal temperature of the unit.Those are really my only major criticisms.
Date published: 2019-06-03
Rated 5 out of 5
by
modlfrek
from
Surprise! Surprise!
I purchased this about a month ago to use on my screened-in back porch because of the weather this time of year (February). I can honestly say I don't know if I will ever go back to my old gas grill. This grill heats up great (if you keep the lid closed as instructed) and cooks a 1.5 - 2 inch ribeye as well if not better than my gas grill. Grilled baby back ribs last night and they weren't so good, but I am still learning how to grill on the "Q". Pork chops were delicious, moist and tasty with little seasoning. Clean up is about as easy as you can get, take both grill plates to the kitchen sink and use a non-metallic scrub pad. I alway coat the plates with olive oil after washing and before returning to the grill. I haven't had issues with food sticking to the grill and I believe this helps.
Date published: 2018-02-19
Rated 5 out of 5
by
BeeJTee
from
Perfect Grill For Our Lanai
We recently downsized & needed a smaller grill. Also we were building a new house so I was able to have the electrician install a 220 volt outlet near where I put my grill. Therefore I didn't need any extension cords to grill. So far we have had chicken, lamb chops & steak grilled to perfection. I like having the light on the thermostat to let me know when the grill is ready. The only thing I would like to have is a shelf that I could attach to one side so I can keep my grilling tools close.
Date published: 2019-01-16
Rated 4 out of 5
by
LLongo
from
good grill, expected more from Weber
I purchased this Q2400 grill a month ago. I am a Weber veteran, owning several gas & charcoal grills from them over the years. It's a reliable electric grill, but desperately needs an update to include fold-down side-shelves to place trays/food, and most of all it needs a temperature gauge, like their gas models. Also purchased the cart that goes with this model, and it is disappointingly unstable and flimsy - honestly surprised Weber markets a product like that. You can do so much better.
Date published: 2018-07-12
Rated 5 out of 5
by
JimNJ
from
Love the Weber 2400!
After the condo association wouldn't allow gas grills on the decks I was lost because I couldn't grill like I normally do three or fours a week. I hesitated so long to buy an electric grill expecting the food to taste flat or just not right. I decided to go for it, research the different suppliers on the web, review all the comments, etc. I narrowed down to Weber because they have a well respected brand. Excellent choice! The Weber 2400 works great, takes about 20 minutes to warm up, the overall area burns the same/evenly (don't have to worry about the food cooked differently), and cooks like a gas grill. I've cooked chicken, burgers, steaks and everything has been great. So far so good, I recommend this product
Date published: 2019-12-28
Rated 4 out of 5
by
Al Z.
from
Easy to use. Easy to store and move around.
I live in a condo and can easily move it to an area outside my screened in porch to cook. I needed some shelving and ordered the 2 shelf unit that resolved my problem of not having a place to place my food before cooking it. There are 3 things that I wish the grill had. 1. Thermometer to let me know how hot it is in the cooking area. 2. I'd like to see 2 sets of heating coils so you can regulate some indirect cooking heat 3. Speedier warm up of the coils. Right now it takes about 20 minutes and I have no idea if they're hot enough to cook on. It's like trial and error.
Date published: 2019-06-13
Rated 4 out of 5
by
Joe D
from
Good but could be Better
I owned a small Weber propane grill for many years and loved it. When we moved into our condo we remained loyal to Weber but this time bought the electric. It works fine but I'm very disappointed that this model does not come with the fold out tables on either side of the grill. They were very useful and I miss them. I also purchased the stand for this grill and the picture on that box shows a grill with the fold out tables, which added a measure of anger to my disappointment.
Date published: 2018-06-17
Rated 5 out of 5
by
Ronnie S
from
Great news for apartment dwellers!!!
Apartment rules brought an end to my using my charcoal Weber kettle or even a gas grill. I expected an electric grill to be a slow outdoor oven that would bake a flavorless, thin shoe-leather steak. The Q2400 is FAST!! The cast iron grates capture, retain and transfer heat superbly. I place wood chips in aluminum foil to produce a delicate smoke flavor. I can cook a 1 inch thick NY strip to medium rare with 3 minutes cook time per side with perfect grill marks. That's compound butter that you see in the center of the steak. Juicy and flavorful. Also very easy to clean.
Date published: 2019-09-30
Rated 5 out of 5
by
Hoop
from
Perfect grill for Condo
After researching and reading reviews of electric grills for a condo unit which doesn't allow open flames on the deck, we ended up choosing the Q2400. weve had it for a month and love it! It gets hot and stays hot and perfect for searing meats for great juicy steaks, burgures, and chicken. Temperature control is easily adjustable and plenty of room to grill up enough chow for 4-6 people. The additional grill plate we ordered in addition is perfect for fish and veggies.
Date published: 2018-03-06
Rated 5 out of 5
by
Hali
from
i have the rolling cart with mine and I love it!
I got this I from my kids as a gift and I love cooking on it. Everything I have grilled comes out juicy and tasty, even those experimental recipes! You would think the food was grilled on a gas grill. The convenience of cleaning the grill is easy. I never have to worry about running out of gas, dragging a tank up to the deck or worry that I didn't connect it right. This would also be great for those who live in condos that have balconies but aren't allowed gas grills.
Date published: 2018-01-13
Rated 4 out of 5
by
Nogasgrillr
from
Grilling with Electricity definitely a great idea
I bought this grill for my apartment where gas grills are not allowed. Has all the features of the Weber Gas grills including porcelain grilling grates, ease of cleaning and quality construction. The grill heats up quickly and does a great job on steaks,chicken, chops and burgers. Temperature control is easy, although I wish it had a thermometer like my Weber Gas grill. Sometimes a little bit of a guess on where to set the temperature, but with a few trial runs i have it figured out. Add some of your favorite wood chips in a smoker box and you're a gril master.
Date published: 2019-01-17
Rated 5 out of 5
by
Kim Savage
from
Awesome Grill!
I bought this grill because I moved out of my house and downsized to small place. It works perfect on my small patio and the food I cooked on it was amazing. Just very handy to have and love the portability. Best money ever spent.
Date published: 2018-06-30
Rated 3 out of 5
by
DSMB
from
Weber Q2400
This grill is OK but is not a substitute for a charcoal. The grates don't get hot enough to burn off food from the previous use and are hard to clean. That said, it will handle a butterflied chicken, small steaks, hot dogs and hamburgers. I have not been able to make it smoke wood chips to get smokey flavor. Seems to be the best electric grill on the market, but it could use more heat. This seems to be more of an apartment style grill.
Date published: 2018-06-19
bvseo_sdk, dw_cartridge, 16.1.1, p_sdk_3.2.0
CLOUD, timer 131ms, 0ms
reviews, product
bvseo_sdk, dw_cartridge, 16.1.1, p_sdk_3.2.0
CLOUD, getContent, 0ms
reviews, product
Keep Exploring
Q Electric Series

Weber® Q 1400 Electric Grill