Q Electric Series
PLUG IN AND GRILL OUT
Weber
Weber® Q 1400 Electric Grill

Dark Grey
Image for capacity demonstration purposes only.
Actual product model and features may vary.
It's a sunny day in the city, ideal weather for dining out. Open your balcony door, plug in the grill, and enjoy the ambiance without leaving home. An urban barbecue is no longer wishful thinking with a Q 1400 electric grill.
Part #52020001

Free Shipping & Returns on Weber.com Orders $50+
Free Standard Ground shipping on small parcels and grills <70 lbs. via FedEx, with delivery within 5-8 business days, expedited options available. Free 30 day returns. Shipping Information & Return Policy
Dimensions - Lid Open (inches)

23.5"H x 27"W x 20.5"D

Dimensions - Lid Closed (inches)

14.5"H x 27"W x 16.5"D

Primary cooking area (square inches)

189

Total cooking area (square inches)

189

Fuel type

Electric

Power

1,560 WATTS/120 VOLTS

Features

Porcelain-enameled, cast-iron cooking grates

Cast aluminum lid and body

Glass-reinforced nylon frame

Removable catch pan

Infinite heat control settings

6-foot grounded cord

Aluminum heat retention liners

Cookbox

5 years, no rust through/burn through (2 years paint excluding fading or discoloration)

Lid assembly

5 years, no rust through/burn through (2 years paint excluding fading or discoloration)

Stainless steel burner tubes

5 years, no rust through/burn through

Porcelain-enameled cast iron cooking grates

5 years, no rust through/burn through

Plastic components

5 years (excluding fading or discoloration)

All remaining parts

2 years

WARNING: This product can expose you to chemicals including nickel, which is known to the State of California to cause cancer. For more information go to

www.P65Warnings.ca.gov

.



Image for capacity demonstration purposes only.
Actual product model and features may vary.
Porcelain-enameled, cast-iron cooking grates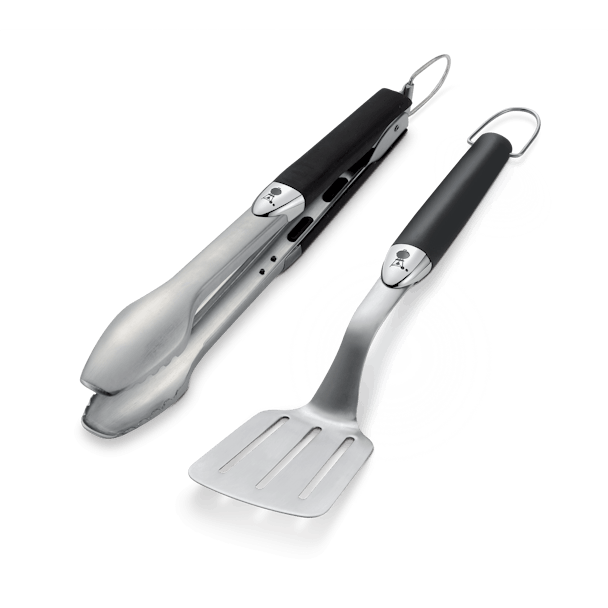 Grill on the go with
A TRAVEL SIZED TOOL SET
The travel size Premium Tool Set fits perfectly in your backpack and can go with you on any adventure. Whether flipping burgers in the deep woods or turning salmon on the shore, be equipped with the best tools.
Explore the tool set
Weber® Q 1400 Electric Grill
is rated out of
5
by
300
.
Rated

4

out of

5
by
L Dennis
from
A reliable electric grill - at last!
After decades of using Weber charcoal and gas grills, space availability caused a shift to a small electric grill. This grill gets the job done, but for some reason, sticking to the grilling surface is more problematic than I've experienced with other Weber products -- despite spraying with olive oil, etc. The most annoying feature is that the handle conspicuously blocks a clear view of the temp control. Still, it does a great job once you adapt and learn how to use this product.
Date published: 2018-02-12
Rated

5

out of

5
by
Hawkeye in Paradise
from
Service After Sale is Outstanding
This is my second Weber electric grill and I couldn't be more satisfied. My original grill was the smaller version, and after 4 years of occasional use, I started having problems with the GFI built into the electrical cord. Despite this issue, I decided to stay with Weber for my next grill because it worked so well for my application. After I had already placed an order through Home Depot for the replacement, I decided to write Weber to let them know about the problem. To my surprise, they sent me a replacement cord at no charge. A very pleasant surprise! I greatly admire companies that take care of their customers. Thank you Weber.
Date published: 2020-01-12
Rated

5

out of

5
by
Happy wife...
from
Love it!
Perfect grill for our use. There are only two us us that I am cooking for and I was tired of fussing with charcoal for two hamburgers, so we bought the Weber 1400 electric grill. It's easy to use, heats up easily, I followed the directions. As mentioned, I usually only cook two hamburgers at a time, but could easily do six at a time if we had friends over. My husband says they are the best hamburgers I've made. I've also cooked fish, worked really well for that too. Great purchase, we are very happy with it. And, my husband built a cool table to put it on.
Date published: 2018-07-22
Rated

2

out of

5
by
Merl
from
Not up to Weber standards
First of all I've been using Weber grills for 55 years and been very happy. I had the utility company in Indy extend a natural gas line to a huge permanently installed grill on our patio. We used one in the mtns when living in CO. Two nights ago I grilled steaks on a charcoal Weber. That said I don't like the electric grill. We like our steaks charred on the outside and the Weber doesn't do that. Didn't like the chicken either. Probably OK for hot dogs and burgers but ours is stashed away in garage storage.
Date published: 2018-01-12
Rated

4

out of

5
by
D-it'sme
from
Perfect for our needs!
Bought this for our small condo winter home. Have the propane model at home, but did not want to deal with that, so decided to try the electric model. Looked at another electric grill from a different company, but the reviews were not as good as Weber's. Easy to put together, works very well. A bit of a learning curve, but I haven't ruined anything yet! Heats up quicker than I expected (instructions say 20 minutes, but it's ready in probably 10 minutes). One thing I'm not clear on yet is how to remove the inner liner for cleaning when we're done for the season. But, doesn't look too complicated.
Date published: 2019-01-26
Rated

5

out of

5
by
Aggiered
from
The Best Substitution for Gas or Charcoal Cooking
This is my second Weber electric grill. The national fire codes changed to allow electric grills on condominium balconies, 200 sq inch grill only. So this grill was perfect. Positive changes include a circuit cord with safety breaker. My first grill did not have this feature. With age this grill's cord and grill plug showed weakness and eventually shored out. This new enamel coated cast iron grills are much easier to clean. If you follow instructions and let the thing heat up you can sear steaks or any meat with temperatures of about 600 degrees. Unlike any other electric grill you cannot tell the difference between the many gas grills. I do have a portable gas Weber as well for camping. This is perhaps the best electric grill on the market.
Date published: 2018-03-03
Rated

5

out of

5
by
RichardG
from
Weber Electric Grill
A very well built grill using quality materials and parts. This is the reason I bought this Weber grill and not a less expensive other name grill. I clean it after each use so that it stays as new looking as possible and will last a very long time. However, I cannot bring myself to using the wire brush that Weber says is okay to use. To me, it is too harsh. I use a scrub sponge once the grill has cooled. This works well but never soak the grates, just a dampened sponge will do the job just fine. This is possible the best electric grill on the market, look no further, this grill is well worth the money and will last a long time as long as it is cared for.
Date published: 2020-03-04
Rated

5

out of

5
by
The Kid5
from
Great Size for Our Needs
The grill is easy to use, though the (Optional) cart set-up instructions are not easy to follow. Cleaning is the same bit of a job as cleaning any grill, but I solved the problem by using a bucket of hot water outside. It would be great and not too costly if Webber placed a GFI plug at the end of the cord. I bought a short GFI cord and this works. It would also be helpful to have heating temps on the dial instead of hash marks. All in all, this is a perfect grill for those that don't want a charcoal and/or gas grill. For us that don't-this grill is it! Webber customer service is excellent!
Date published: 2019-06-24
Rated

4

out of

5
by
vroadrunner
from
Works great for us so far
After reading lots of reviews on different websites, we decided this grill will be the right fit for our little balcony. It takes some time to get used to it and figure out the correct temperature. Reason why I gave it only 4* is because it does not have the option to add the trays on the sides to hold utensils even though it has the holes to potentially to add some, but they are not available. Also it drips moisture with oil on the floor when the lid is opened, so don't expect to keep the balcony clean around the grill. We only had for two months now, so hopefully it will last for a long time.
Date published: 2019-08-26
Rated

4

out of

5
by
Bobinindy
from
It's not gas but it's fine
We moved from a house to a second floor condo. Our Weber gas grill was not allowed to make the trip so I bought the Weber Q 1400 electric. It took some getting used to, but I'm liking it more and more. Reading the directions helped with expectations, i.e., cook with the top down and it works like a convection oven. I do wish it had two separate heating elements so I could cook different things at different temps at the same time. I also bought the stand. It could use a side tray. But overall, the electric grill is fine and this one seemed to be to be superior in its class.
Date published: 2018-07-05
Rated

4

out of

5
by
Dr. Bob
from
Great 2-person grill.
Very convenient. Stumbled on to this last summer when renting a studio located in wine country in France. Grilled lamb, chicken, and more and our results were as good as any charcoal/gas grill used at home. Easy to clean! Recently retired and now living in costal N.C. in a condo where the only type of grill they allow on the porch balconies are electric. This was a perfect option so we purchased the Q 1400 soon after our return to the states and now use it often. I even built a grill table(from Pinterest). Very happy with this purchase and although the price was a little more than similar smaller electric grills the quality certainly justifies this. Pictures--the red grill is the French version, the black one on the blue table is ours in N.C.
Date published: 2019-02-01
Rated

5

out of

5
by
Jack34
from
Surprisingly hot
I just sold my 15 year old Weber gas grill because I moved to an apartment where fire is not allowed. So far I am very pleased with the 1400 electric model. It gets hot enough to sear and cook a steak very well. It is nicely designed and built as expected with a Weber product. This grill is ideal for apartment dwellers BUT Unfortunately Weber does not offer a suitable stand for it. Only a foldable portable beach stand. Who takes an electric grill to the beach? .
Date published: 2018-03-23
Rated

2

out of

5
by
Moby Dick
from
Built like a tank
But with cheap interior parts that rust and fail way too soon for such a pricey grill. The heating coil should also last more than a year or two. Better to buy a cheap grill where you expect to have to replace it in a year or two. PS.... don't use on windy days...it won't get hot enough to cook a hamburger. I am told that you need to buy the bigger one if you want more heat.
Date published: 2018-06-22
Rated

5

out of

5
by
Sal!
from
A little powerhouse!
We live in an apartment and used to own a big weber grill but since we moved to a place where gas grills are not permitted, i chose this grill and wow!!!! Not only is it a great grill, i think i like it better than my ild gas one. Even cooking, constant hear, easy prep. 1 1/2 inch steaks take 12 min in high for medium hot pink centers. Cools 4 strip steaks easily or 2 large rib eyes. Chicken is perfect and so are vegies. A big plus is no flare ups. Worth every penny. If you cant use gas or only need a small grill, this is a great grill.
Date published: 2019-06-27
Rated

3

out of

5
by
The barbqutioner
from
Love everything except...
I bought this because we are not permitted "open flame" grills on our condo balcony. Everything about this grill is perfect except that no matter how long I preheat it simply does not get hot enough to grill. It basically bakes.
Date published: 2018-01-12
Rated

5

out of

5
by
SIRich
from
Great Grill for Condo Bacony
I got this grill as a gift along with matching stand and cover. It was easy to assemble. The condo I own allows electric grills under 200 square inches on the balcony, in accordance with state law. I also have another Weber Grill which is gas, at another property, so I know their track record. I have cooked on it five times with no problem. It heats up fast and cools down quickly when shut down. My only con comment is that the electric cord could be a bit longer. If you need a longer cord, a 14 guage AWG UL indoor/outdoor cord would work (consult Weber and electrician). I have been able to make due with existing cord. All things considered a great grill that does what I want it to do.
Date published: 2019-01-29
Rated

5

out of

5
by
xprsmn
from
Great electric grill
I've had Weber grills for over 25 years, charcoal, gas and now electric.. The condo we live now doesn't allow gas or charcoal grill. This is 2nd Weber electric grill and I grill at 3-5 times a week. Highly recommend this grill...
Date published: 2018-01-12
Rated

4

out of

5
by
Angie51
from
Angie BBQ
This is my third electric BBQ Product in 3 yrs and The Weber Product is the Best. To clean, ( Liner removable) size to store,Heats fast , Great value for your money
Date published: 2018-01-12
Rated

1

out of

5
by
maggio
from
Don't Spend your money on this
This grill does not get very hot which makes it so everything you cook takes a long time. For a Weber very disappointing.
Date published: 2018-01-08
Rated

5

out of

5
by
Tess66
from
Easy to use!
We like the compact size. The grill is simple to use and heats up within 15 minutes. We have cooked chicken, hamburgers, hot dogs, veggies, kabobs, and steak with great results. This size will easily cook food for 3-4 people. I find the grill easy to clean with a stainless steel scrub brush. The bowl can be removed as well and scrubbed clean. I would suggest purchasing the stand designed to go with the 1400 grill. The grill fits perfectly and is a good height. The stand does not have side shelves or places to put utensils. Overall, a great purchase for us, no hassle with gas or charcoal.
Date published: 2019-07-25
Rated

2

out of

5
by
MikeK
from
Broke before it's a year old
I love the way this grill worked. Bought it because I had the propane version that I also liked. Unfortunately, it appears that the burner coil has failed. I get power through the cord, but the electric coil no longer heats up. Very disappointed. Will only recommend if I'm able to get it repaired under warranty.
Date published: 2018-01-12
Rated

4

out of

5
by
RVer
from
Convenient and Reliable
I use it every day for cooking outside our RV. No coals or propane to hassle with and the food tastes the same as a regular grill. I never have flare ups. The only reason I didn't rate a 5 star is because sometimes it's hard to fit the food in where the cover is rounded at the edges. And I wish I didn't have to remember to hit the "reset" button on the electric cord to activate the electricity.
Date published: 2018-01-12
Rated

5

out of

5
by
Barefoot
from
Great Grill for cond balcony
As we are not allowed to use gas or charcoal grills on our balcony, I purchased the Weber 1400 Electric grill. I was concerned that an electric grill would not produce the heat that I like for grilling steak. I have been surprised that this grill does get hot enough to sear steak to my satisfaction. Just preheat per instructions and you will be pleased. Also grill make easy clean up as well. obviously I would prefer to have my Weber Performer charcoal I use at home, but this is a good replacement.
Date published: 2018-01-12
Rated

4

out of

5
by
Viking
from
Easy to use!
I have always wanted a Q grill for the portability factor. Ever since I purchased the unit last June, my wife has taken it over as her grill! It is very efficient and easy to clean, my only complaint is the faulty electrical control assembly which was recently replace, thankfully it was covered under the manufacturers warranty. I am A big fan of the Weber products, I currently own a performer kettle grill and a summit propane grill. How about a free large tee shirt to promote the product? :-)
Date published: 2018-07-16
Rated

5

out of

5
by
terri610
from
I LOVE My Weber 1400
Had a large gas grill and my husband was too lazy to turn it on for just the two of us and I am afraid of propane. So, I purchased this fabulous little Weber which is perfect for us. I have made dinner for 6 on it but 99% of the time, it is just for us. Am thrilled with the cooking time, the taste, the grill marks and everything about it. 100% recommended.
Date published: 2018-07-22
Rated

5

out of

5
by
Snowbird Mike
from
All the heat one could ask for
If you are in a multi unit condo or other situation where a gas grill is not permitted, this may be the grill for you. I read reviews on various electric grills and had concerns about adequate temperature and fast temperature drop when the cover was up. well, the folks at Weber must have really put some good minds on those issues. Steaks, salmon, chicken? I have had great success first time out with each of these. It is easily large enough to cook for six people. I popped for the Weber grill stand ($79) too. It is nice the way the grill latches securely onto the stand.
Date published: 2019-11-20
Rated

5

out of

5
by
Rowe
from
Great for condo
We bought a condo which only allows electric grills. After researching all electric grills, I chose the Weber & have not regretted it for a moment. Heats up almost as fast as my Weber gas grills & gives perfect grill marks. I miss being able to move food to indirect heat, but found that placing it on heavy aluminum foil after searing/cooking is an adequate alternative. That also allows me to tent the food after grilling which keeps food moist & tender. Weber grills are great!
Date published: 2018-08-08
Rated

5

out of

5
by
educounselor
from
\Fantastic Grill!
Living in a condo, I really missed grilling. Never thought an electric grill could do the job. Boy was I wrong! Everything I have cooked on my new grill is awesome! I've cooked fresh fish, chicken, burgers, and steaks! Yes-it sears steaks. The key is to keep grill clean and let it fully preheat. I'm so glad I bought this!
Date published: 2018-04-08
Rated

5

out of

5
by
Grill Master48
from
Ideal product for the serious griller.
I purchased our Q1400 Grill in September 2018. I have been grilling for the better part of 30 plus years, using propane, charcoal, and electric. If you are looking for the ideal grill I can assure you that you won't have any regrets after spending your hard earned dollars on the Weber Q1400 . Followed the enclosed instructions which come with your grill or on the Weber web site, and you will never have to throw away another morsel of food " as long as you both shall live ".
Date published: 2019-01-17
Rated

5

out of

5
by
New Jersey Guy
from
Best Option for a Gas Grill
Moved into a condo where I am limited to using an electric grill. Bought a less expensive grill and was sorely disappointed. Bought the Weber Q1400 and I am thrilled . The pleasure of properly grilled food is back. Burgers, chicken, roasts, all choices are perfectly grilled. The grilling guide that is included is spot on. I followed it to the letter the first time I grilled chicken breasts and they were done to perfection. Comparatively expensive, but well worth it.
Date published: 2019-01-20
bvseo_sdk, dw_cartridge, 16.1.1, p_sdk_3.2.0
CLOUD, timer 134ms, 0ms
reviews, product
bvseo_sdk, dw_cartridge, 16.1.1, p_sdk_3.2.0
CLOUD, getContent, 0ms
reviews, product
Keep

Exploring
Q Electric Series

Weber® Q 2400 Electric Grill