Q Electric Series
PLUG IN AND GRILL OUT
Weber® Q 1400 Electric Grill

Dark Grey
It's a sunny day in the city, ideal weather for dining out. Open your balcony door, plug in the grill, and enjoy the ambiance without leaving home. An urban barbecue is no longer wishful thinking with a Q 1400 electric grill.
Part #52020001
Dimensions - Lid Open (inches)

23.5"H x 27"W x 20.5"D

Dimensions - Lid Closed (inches)

14.5"H x 27"W x 16.5"D

Primary cooking area (square inches)

189

Total cooking area (square inches)

189

Fuel type

Electric

Power

1,560 WATTS/120 VOLTS

Features

Porcelain-enameled, cast-iron cooking grates

Cast aluminum lid and body

Glass-reinforced nylon frame

Removable catch pan

Infinite heat control settings

6-foot grounded cord

Aluminum heat retention liners

Cookbox

5 years, no rust through/burn through (2 years paint excluding fading or discoloration)

Lid assembly

5 years, no rust through/burn through (2 years paint excluding fading or discoloration)

Stainless steel burner tubes

5 years, no rust through/burn through

Porcelain-enameled cast iron cooking grates

5 years, no rust through/burn through

Plastic components

5 years (excluding fading or discoloration)

All remaining parts

2 years

WARNING: This product can expose you to chemicals including nickel, which is known to the State of California to cause cancer. For more information go to

www.P65Warnings.ca.gov

.



Porcelain-enameled, cast-iron cooking grates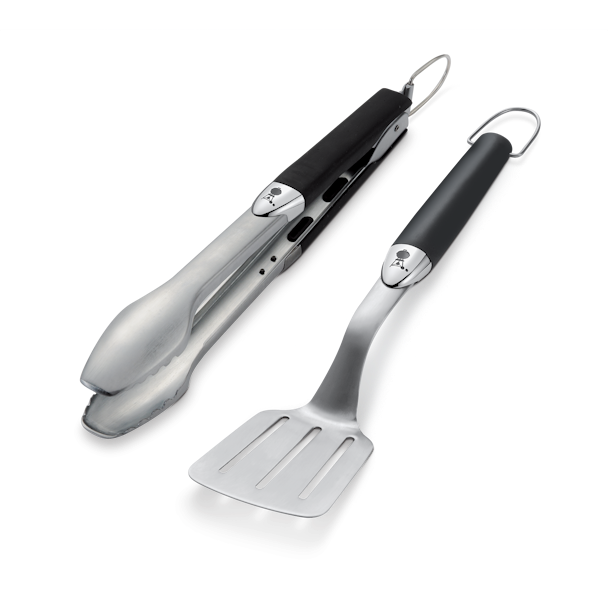 Grill on the go with
A TRAVEL SIZED TOOL SET
The travel size Premium Tool Set fits perfectly in your backpack and can go with you on any adventure. Whether flipping burgers in the deep woods or turning salmon on the shore, be equipped with the best tools.
Explore the tool set
Weber® Q 1400 Electric Grill
is rated out of
5
by
112
.
Rated

5

out of

5
by
Happy wife...
from
Love it!
Perfect grill for our use. There are only two us us that I am cooking for and I was tired of fussing with charcoal for two hamburgers, so we bought the Weber 1400 electric grill. It's easy to use, heats up easily, I followed the directions. As mentioned, I usually only cook two hamburgers at a time, but could easily do six at a time if we had friends over. My husband says they are the best hamburgers I've made. I've also cooked fish, worked really well for that too. Great purchase, we are very happy with it. And, my husband built a cool table to put it on.
Date published: 2018-07-22
Rated

5

out of

5
by
Aggiered
from
The Best Substitution for Gas or Charcoal Cooking
This is my second Weber electric grill. The national fire codes changed to allow electric grills on condominium balconies, 200 sq inch grill only. So this grill was perfect. Positive changes include a circuit cord with safety breaker. My first grill did not have this feature. With age this grill's cord and grill plug showed weakness and eventually shored out. This new enamel coated cast iron grills are much easier to clean. If you follow instructions and let the thing heat up you can sear steaks or any meat with temperatures of about 600 degrees. Unlike any other electric grill you cannot tell the difference between the many gas grills. I do have a portable gas Weber as well for camping. This is perhaps the best electric grill on the market.
Date published: 2018-03-03
Rated

5

out of

5
by
Jack34
from
Surprisingly hot
I just sold my 15 year old Weber gas grill because I moved to an apartment where fire is not allowed. So far I am very pleased with the 1400 electric model. It gets hot enough to sear and cook a steak very well. It is nicely designed and built as expected with a Weber product. This grill is ideal for apartment dwellers BUT Unfortunately Weber does not offer a suitable stand for it. Only a foldable portable beach stand. Who takes an electric grill to the beach? .
Date published: 2018-03-23
Rated

4

out of

5
by
Bobinindy
from
It's not gas but it's fine
We moved from a house to a second floor condo. Our Weber gas grill was not allowed to make the trip so I bought the Weber Q 1400 electric. It took some getting used to, but I'm liking it more and more. Reading the directions helped with expectations, i.e., cook with the top down and it works like a convection oven. I do wish it had two separate heating elements so I could cook different things at different temps at the same time. I also bought the stand. It could use a side tray. But overall, the electric grill is fine and this one seemed to be to be superior in its class.
Date published: 2018-07-05
Rated

2

out of

5
by
Merl
from
Not up to Weber standards
First of all I've been using Weber grills for 55 years and been very happy. I had the utility company in Indy extend a natural gas line to a huge permanently installed grill on our patio. We used one in the mtns when living in CO. Two nights ago I grilled steaks on a charcoal Weber. That said I don't like the electric grill. We like our steaks charred on the outside and the Weber doesn't do that. Didn't like the chicken either. Probably OK for hot dogs and burgers but ours is stashed away in garage storage.
Date published: 2018-01-12
Rated

4

out of

5
by
Angie51
from
Angie BBQ
This is my third electric BBQ Product in 3 yrs and The Weber Product is the Best. To clean, ( Liner removable) size to store,Heats fast , Great value for your money
Date published: 2018-01-12
Rated

5

out of

5
by
xprsmn
from
Great electric grill
I've had Weber grills for over 25 years, charcoal, gas and now electric.. The condo we live now doesn't allow gas or charcoal grill. This is 2nd Weber electric grill and I grill at 3-5 times a week. Highly recommend this grill...
Date published: 2018-01-12
Rated

4

out of

5
by
petepez
from
My experience with the Q 1400
We purchased it in April 2018. We grill chicken and burgers. It was difficult to judge the cooking time. Should you leave it open or closed. No thermometer and no flame makes for a lot of guessing. In July, the electric controller failed. However, after one call to WEBER customer service to explain my situation, new controller was shipped to me in two days! WOW! The new controller gets hotter and is more consistent. My cooking experience now is better. More like a gas grill. Hope this continues. I live in an apartment complex and the fire code prohibits gas grills on decks.
Date published: 2018-09-07
Rated

3

out of

5
by
The barbqutioner
from
Love everything except...
I bought this because we are not permitted "open flame" grills on our condo balcony. Everything about this grill is perfect except that no matter how long I preheat it simply does not get hot enough to grill. It basically bakes.
Date published: 2018-01-12
Rated

4

out of

5
by
Sunny61
from
I love the small size
I bought this because I'm sick of the larger grills catching on fire. I found myself having to clean the grease , under the grates, i think the old grills with lava rocks or brickets are much cleaner and better. So I settled for this small grill that can still fit 6 burgers . Maybe more. It's easier to clean, heats up well too and never runs out of gas, we are 55 and 60 loving it wish it had end flip table like the gas version
Date published: 2018-01-13
Rated

4

out of

5
by
RVer
from
Convenient and Reliable
I use it every day for cooking outside our RV. No coals or propane to hassle with and the food tastes the same as a regular grill. I never have flare ups. The only reason I didn't rate a 5 star is because sometimes it's hard to fit the food in where the cover is rounded at the edges. And I wish I didn't have to remember to hit the "reset" button on the electric cord to activate the electricity.
Date published: 2018-01-12
Rated

2

out of

5
by
Moby Dick
from
Built like a tank
But with cheap interior parts that rust and fail way too soon for such a pricey grill. The heating coil should also last more than a year or two. Better to buy a cheap grill where you expect to have to replace it in a year or two. PS.... don't use on windy days...it won't get hot enough to cook a hamburger. I am told that you need to buy the bigger one if you want more heat.
Date published: 2018-06-22
Rated

4

out of

5
by
Brent
from
Excellent and predictable
I have used the grill at a condo on a 2nd floor deck in Florida. The grill gets much hotter than I anticipated, and like all Weber grills I have owned (mainly propane) it is very predictable and cooks the items exactly as I want. The reasons for not giving 5 stars are removing the electric control from the grill is awkward and there is no temperature gauge.
Date published: 2018-01-12
Rated

5

out of

5
by
educounselor
from
\Fantastic Grill!
Living in a condo, I really missed grilling. Never thought an electric grill could do the job. Boy was I wrong! Everything I have cooked on my new grill is awesome! I've cooked fresh fish, chicken, burgers, and steaks! Yes-it sears steaks. The key is to keep grill clean and let it fully preheat. I'm so glad I bought this!
Date published: 2018-04-08
Rated

5

out of

5
by
DR57
from
Simple,easy to cook and clean. Great
I bought this a year ago and I love it. I don't do charcoal or propane grills. That was my husband's thing. I'm by myself now and this is so simple to use and the food IS GRILLED. Love the clean up. And size is so easy to store unit away when not in use.
Date published: 2018-01-13
Rated

5

out of

5
by
Barefoot
from
Great Grill for cond balcony
As we are not allowed to use gas or charcoal grills on our balcony, I purchased the Weber 1400 Electric grill. I was concerned that an electric grill would not produce the heat that I like for grilling steak. I have been surprised that this grill does get hot enough to sear steak to my satisfaction. Just preheat per instructions and you will be pleased. Also grill make easy clean up as well. obviously I would prefer to have my Weber Performer charcoal I use at home, but this is a good replacement.
Date published: 2018-01-12
Rated

4

out of

5
by
Viking
from
Easy to use!
I have always wanted a Q grill for the portability factor. Ever since I purchased the unit last June, my wife has taken it over as her grill! It is very efficient and easy to clean, my only complaint is the faulty electrical control assembly which was recently replace, thankfully it was covered under the manufacturers warranty. I am A big fan of the Weber products, I currently own a performer kettle grill and a summit propane grill. How about a free large tee shirt to promote the product? :-)
Date published: 2018-07-16
Rated

5

out of

5
by
Redhead
from
Love this grill
I've always had a Weber gas grill, but it was time to replace it. I couldn't decide between another gas or the electric grill. Couple of friends bought the electric and I decided to buy one also, because the propane tank is getting to hard for me to lift. The electric grill is fabulous. Took me two times grilling with it to get use to it, because it cooks really fast after preheating. It takes up a lot less room and the food taste like it came off of a gas grill. Very happy with my electric grill.
Date published: 2018-01-15
Rated

5

out of

5
by
Global
from
No more green canisters!
We have enjoyed the electric grill. Switched from gas grill when buying and safely disposing on the green gas canisters became a hassle. Takes longer to heat up, but is actually more versatile as far as foods you can heat and eat.
Date published: 2018-01-13
Rated

2

out of

5
by
MikeK
from
Broke before it's a year old
I love the way this grill worked. Bought it because I had the propane version that I also liked. Unfortunately, it appears that the burner coil has failed. I get power through the cord, but the electric coil no longer heats up. Very disappointed. Will only recommend if I'm able to get it repaired under warranty.
Date published: 2018-01-12
Rated

5

out of

5
by
Rowe
from
Great for condo
We bought a condo which only allows electric grills. After researching all electric grills, I chose the Weber & have not regretted it for a moment. Heats up almost as fast as my Weber gas grills & gives perfect grill marks. I miss being able to move food to indirect heat, but found that placing it on heavy aluminum foil after searing/cooking is an adequate alternative. That also allows me to tent the food after grilling which keeps food moist & tender. Weber grills are great!
Date published: 2018-08-08
Rated

5

out of

5
by
BGRED3
from
Love the convenience
I bought this grill at the recommendation of a friend and glad we did. We have used it several times and I love it. It is sturdy, but easy to move around. I am glad to have gone to an electric grill after getting tired of the small propane bottles as any decent wind was affecting the flame. Just turn this, let it preheat a couple of minutes and ready to go. There is a lot to clean if you want to keep it looking new, but all the parts remove easily to wash in the sink.
Date published: 2018-08-21
Rated

1

out of

5
by
maggio
from
Don't Spend your money on this
This grill does not get very hot which makes it so everything you cook takes a long time. For a Weber very disappointing.
Date published: 2018-01-08
Rated

5

out of

5
by
Skyhawk
from
Great Product
I actually bought the grill on a whim. I was jaywalking around Lowe's one day and came upon the Weber 1400. I'd grown tired of my gas grill (too big and wasteful for just my wife and me) and rarely used my charcoal grill. So, I purchased the Weber 1400 grill and have been more than pleased with my decision. The grill is perfect for two or three people and it does a great job with any kind of meat we've tried so far. I wish I had discovered the grill sooner.
Date published: 2018-01-13
Rated

5

out of

5
by
Foodie
from
Great Tasting Food
I have had this grill for a year now and it has been the best purchase. We live in a condominium where charcoal and gas grills are not allowed on the patio so we got this electric grill and I was skeptical as to how the food would taste having always used the conventional grills. Surprisingly the grill not only performs great but the food tastes like it was cooked on my old conventional grill.
Date published: 2018-08-09
Rated

5

out of

5
by
Will72
from
Electric grill as good as most
I bought this grill in the spring of 2017. My wife and I were both a little leery about an Electric grill but as we live in a condo. we gave it a try. Well we were pleasantly surprised on how well it grilled. It's as good as any gas grill. We preheat our grill for 10 minutes and it cooks our food as quick as our previous gas grill. If your thinking about getting an Electric grill, Go For It.
Date published: 2018-01-05
Rated

4

out of

5
by
Vegas Ace
from
New grill!
I bought this a month ago when I moved into an apartment and had to give my 17 year old Weber Genesis grill that had been overhauled and like new away. The first thing is that 1400 does a great job. I was surprised at how well it did. We had chicken the other night and it was done perfectly. It warms up quickly and is easy. If you want a grill that's going last and a great job, get a Weber.
Date published: 2018-05-24
Rated

5

out of

5
by
Bob F.
from
Perfect size1
We purchased this grill to replace a Weber gas grill. I was skeptical about getting the same flavor of grilled meat, but I was wrong, we still get that smokey grilled taste. The heat control is very precise, and everything we've grilled so far has turned out perfect. One improvement suggestion, the index mark is hard to see, it would be good to paint it white to make it more visible.
Date published: 2018-08-19
Rated

5

out of

5
by
Bill f
from
Handy durable grill
This is my second time buying this same exact grill. I've had the other Weber for 12 years and it's has been an excellent grill for camping and tailgating at the Redskins games. It's taken alot of abuse from me and it still works great. Just purchased another one because the other one was looking a little grimmy. I will use this one at the house for small meals for the wife and I.
Date published: 2018-06-17
Rated

5

out of

5
by
terri610
from
I LOVE My Weber 1400
Had a large gas grill and my husband was too lazy to turn it on for just the two of us and I am afraid of propane. So, I purchased this fabulous little Weber which is perfect for us. I have made dinner for 6 on it but 99% of the time, it is just for us. Am thrilled with the cooking time, the taste, the grill marks and everything about it. 100% recommended.
Date published: 2018-07-22
bvseo_sdk, dw_cartridge, 16.1.1, p_sdk_3.2.0
CLOUD, getContent, 9ms
reviews, product