Summit® Charcoal Grill Series
THE EVOLUTION OF CHARCOAL GRILLING
Weber
Summit® Charcoal Grilling Center 24"

Black
Image for capacity demonstration purposes only.
Actual product model and features may vary.
Experience the evolution of the iconic Kettle where charcoal grilling meets low-and-slow smoking. With a push of a button, coals are lit and the smell of barbecue will soon embrace the neighborhood. Whether smoking, grilling, or even baking, the Summit® Charcoal Grilling Center is the answer to any craving and the ultimate backyard kitchen.
Part #18501001

$40 Shipping & Free Returns on Weber.com Orders
Grills 70+ lbs. ship by freight carrier with delivery by appointment within 2-5 business days. $40 Standard Delivery. Free 30 day returns. Shipping Information & Return Policy
Dimensions - Lid Open (inches)

62.2"H x 56.6"W x 35"D

Dimensions - Lid Closed (inches)

47.7"H x 56.6"W x 35"D

Diameter (inches)

24

Primary cooking area (square inches)

452

Total cooking area (square inches)

452

Fuel type

Charcoal with gas ignition (disposable cylinder sold separately)

Swivel locking casters

2

Durable all-weather wheels

2

Tool hooks

3

Char-Basket charcoal fuel holders

2

Features

Gourmet BBQ System stainless steel hinged cooking grate

Snap-Jet individual burner ignition system

Porcelain-enameled bowl and lid

Built-in lid thermometer

Stainless steel tabletop

Open cart design

Heavy-duty steel cart frame

Bottom wire rack

Removable, high-capacity, aluminum ash catcher

Stainless steel One-Touch cleaning system

Briquette measuring cup included

Rapidfire lid damper

Air-Insulated double-walled porcelain-enameled lid and bowl

Stainless steel hinged diffuser plate

Two-position fuel grate

Smoke / low and slow vent setting

Easy open lid hinge

Stainless steel tabletop

Stainless steel wire basket

Diffuser plate storage area

Bowl, and lid assembly

10 years, no rust through/burn through

Stainless steel cooking grates

5 years, no rust through/burn through

One-Touch cleaning system

5 years, no rust through/burn through

Plastic components

5 years, excluding fading or discoloration

All remaining parts

2 years

Combustion by-products produced when using this product contain chemicals known to the State of California to cause cancer, birth defects, or other reproductive harm.



Image for capacity demonstration purposes only.
Actual product model and features may vary.
Snap-Jet individual burner ignition system

Durable all-weather wheels

Removable, high-capacity, aluminum ash catcher

Stainless steel wire basket

Heavy-gauge steel charcoal grate
---
---
---
CAPACITY OF THESummit® Charcoal Grilling Center
This charcoal grill and smoker with a gas ignition was made to feed everyone. Grill a bunch of ribs, take it low-and-slow, or be creative by using a GBS insert. Place serving trays on the side table, charcoal in the bin, and tools from the hooks so that everything you need is at your fingertips.
Image for capacity demonstration purposes only.
Actual product model and features may vary.

Serves 6-8 people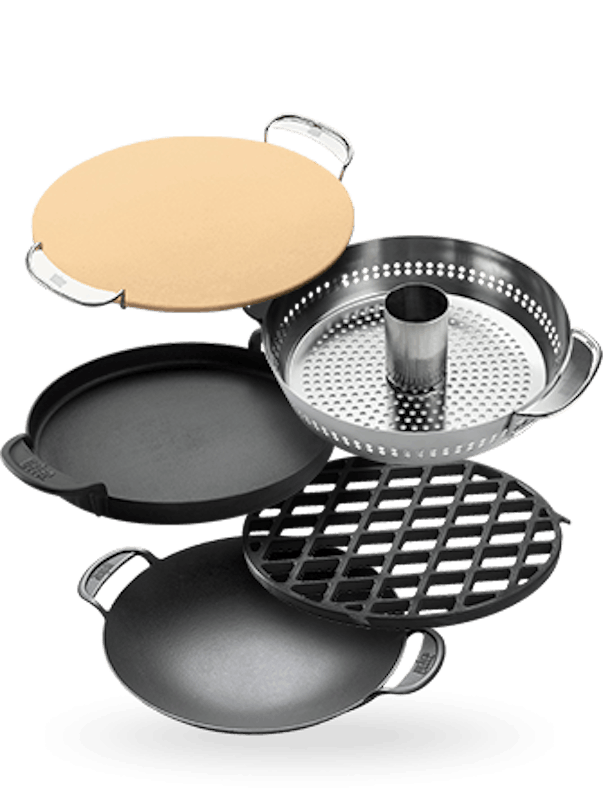 One system, endless opportunities
GOURMET BBQ SYSTEM
Explore endless grilling possibilities with the Gourmet BBQ System. The array of GBS inserts, such as a pizza stone, wok, and griddle, open up a new world of opportunities to perfect dishes you would have never imagined creating on a grill.
Explore GBS
Summit® Charcoal Grilling Center 24" is rated out of 5 by 149.
Rated 5 out of 5
by
New England Brisketeer
from
Insulated grill area
We both this in the fall with the expectation we could grill in the winter. Well we were very pleasantly surprised! Being able to grill in temperatures at or below zero is fantastic! Grilled a turkey for Thanksgiving at 4 above zero F was a great test! We grill out a couple of times a week and although we use more charcoal, it is worth it! Everything about this grill rocks! The only negative is the igniter system. It can be finicky and in the super cold you have to start the charcoal on the lower grate and then move it up for direct heat. This is the last grill I plan on buying and don't have one regret!!!!!!!!!!!!!!!!!!!
Date published: 2019-01-19
Rated 5 out of 5
by
KonaLance
from
Love my Weber Summit Charcoal Grill
I have owned this about 6 months now and I have been very impressed with the quality and ability to keep the heat a very steady temperature. I have several Weber grills, and I hate to say this out loud, but I actually sold my 22 Smokey Joe - this grill is that good. I have to tell you how effortless it is to keep the temp stable. I only have one complaint - the charcoal starter is useless. I am looking at adding a side burner on it, just to light my Weber chimney with.
Date published: 2018-01-12
Rated 5 out of 5
by
msches
from
The last grill that you'll ever own
I've been quite impressed so far from grilling beef tenderloins to smoking brisket and baby backs. Having previously owned 2 WSM (small and large) and a performer, this grill combines all of those great features into one. The best thing other than precise temperature control and outstanding results, is the ease of cleanup. I didn't have that convenience with the WSMs. The only modifications I would recommend is putting adhesive pads under the Charcoal container so it prevents surface scratching when moving to and from its storage location. Also, I believe there is a better engineering solution to make the ash catcher container easier to remove when it needs to be emptied.
Date published: 2018-04-09
Rated 4 out of 5
by
davidj
from
Great grill
I've had this grill for about a month now having had the performer for almost 10 years. Still has many features of the performer that I didn't like....the difficulty in attaching the propane tank, the ash catcher. I like the stainless steel platform attached to it, a lot easier to maintain the temperature, the ignitor works so far, (had three on the performer, finally gave up and just used a match to light the propane.) Overall, I'm satisfied with this grill despite the high cost. I have some recipes I want to try with the smoker. I'll be doing that before the end of summer.
Date published: 2018-07-17
Rated 5 out of 5
by
Newman
from
A pleasure to cook almost anything on it.
I have owned my Weber Summit Charcoal Grilling Center for a year now. Is the most versatile and steady charcoal BBQ and grill I've ever used. It holds temp in any weather and can be set up to cook almost anything. Set up for BBQ it will easily run 8 hours without tending to the coals no matter the weather. The ability to store everything on the cart and have the mobile work service make it a complete cooking system all on it's own is fantastic. The all stainless grate system, improved air control with the gasket and better vents, and air insulated design should be an excellent set up for decades to come.
Date published: 2018-01-29
Rated 5 out of 5
by
The Real Mr. T
from
Weber's Best Kept Secret!
This grill is amazing! It encapsulates all that is great that you have come to expect from Weber, and so much more! The double wall air insulation works much better than you would believe! You get a bigger grill, and use less fuel! Everything about this grill is high quality, and well thought out design. The snap-jet ignition works great with the charcoal grate on either level. There is storage for everything you need. The rapid fire lid damper is truly a work of art! It allows you to preheat the grill at the same time as your charcoal is getting going, so it cuts down the time to get to grilling. Try pizza with the diffuser plate installed, open the rapid fire lid damper, and watch it get to 700+ degrees in no time. Pizzas will be done in less than 3 minutes, and it will change your life! It is an excellent value, you will love it as much as I do!
Date published: 2020-03-11
Rated 5 out of 5
by
Stl Grillmaster
from
Great beyond expectations.
Loving the grill. Find myself using my Traeger less and less. Love the heat retenion and conrol features. Gives you a little more involement with your cook instead of the set it and forget it style. Make cooking personl without much hassel.
Date published: 2018-09-27
Rated 5 out of 5
by
Donmc1
from
Incredible company
I have owned Weber grills and smokers since 1969. This has included the Weber kettle charcoal grill, the Genesis gas grill, a 22" Smokey Mountain smoker, the Performer charcoal grill, and the 24" Summit charcoal grilling center. I've owned the Summit for 2 years and have used it extensively. It is by far the best Weber product I have owned and I enjoy using it as much as possible. The Summit is very well made and is extremely easy to use. I use it as a grill, but most of my cooking efforts revolve around smoking cuts of beef and pork. The Summit's ability to hold a relatively constant temperature over a long period of time makes things so much easier. Very impressive product!
Date published: 2019-07-14
Rated 4 out of 5
by
Frank M.
from
Grill of a Lifetime!
Bought this and put it together/easy. Smoked some Butts, Racks of Ribs, and a Brisket so far. Works super great. Love the GBS and diffuser plate. Would have given a 5 star rating but the fit & finish of the door that accesses the propane tank was a bit crooked on both the horizontal and vertical plane. I have to see if that can be adjusted. Otherwise I love it. Temperature is easy to control & easy clean-up. At $2,000+, I think it's overpriced. Should be in the $1K to 1.3K range. For the higher price, accessories should come with the Summit Charcoal Grilling Center. The Charcoal bin is a little cheesy and has cheap feel. The lid does not provide a good seal and the bowl, used as a scoop, should actually be a scoop versus a bowl. It's kind of flimsy. Should include a tool for lifting the diffuser plate when hot or for lifting the hinged sides when hot to add fuel or wood chunks/chips.
Date published: 2018-05-26
Rated 5 out of 5
by
Sparkey
from
Love it
After 40 years of Weber grilling (always charcoal), I rewarded myself with this beautiful Weber Summit. It is the Rolls Royce for me. And with the propane starter the days starting the charcoal with a buddy burner and newspaper are behind me. This grill, with the double wall construction and thermostat allows the griller greater control in keeping temps consistent. I purchased this beauty in August, and everything has turned out beautifully including my Thanksgiving turkey.
Date published: 2018-01-13
Rated 5 out of 5
by
Ridgefieldcooker
from
A little more work ... a LOT more flavor and fun
I've had a Weber gas grill for what seems like forever and always loved it. But it felt like a good time to elevate my game and try some new things like low and slow smoking. After researching options, the Summit had everything I wanted: nice big cooking service, the ability to light the charcoal quickly with the ignition system, quick cleaning, and - of course- the way it holds heat. Yah, it takes a few more minutes to load up the charcoal and get things good and hot but it's so worth it. Everything I've cooked on it tastes amazing. Took a try or two to get the slow cooking down pat, but once I did it's now a breeze. All in all, couldn't be happier with the choice. Lives up to Weber standards!
Date published: 2019-06-13
Rated 5 out of 5
by
Red Dirt BBQ
from
Best equipment I have owned
Being a outdoor cooking enthusiast I have tried nearly every type of grill and smoker on the market including pellet, gas, and charcoal varieties. The Weber - Summit Charcoal is the first unit I have owned that is fully capable of using hot & fast and low & slow.cooking styles equal to the best of breed grills and smokers in each class. The insulation and adjustable fuel shelf are key attributes that enable precise adjustments for smoking and grilling styles. This is by far the best grill I have owned.
Date published: 2018-05-21
Rated 5 out of 5
by
Ronald
from
I love this grill
Replaces a Weber Performer Premium I was already happy with. This grill is amazing in it's ability to maintain temperatures using a limited amount of fuel. You have to be an addict to grilling/smoking to pay this much for a grill but to me it is worth it. I have smoked the best Prime Rib ever for Christmas using this machine. I converted the lp tank I have from the Performer and I wish that Weber had provided a connection to allow this since getting a custom connection was fairly expensive.
Date published: 2018-01-12
Rated 4 out of 5
by
fiveoh018-8
from
One minor issue.
I bought it about 4 weeks ago. The grilling versatility is out of this world. Between the the smoking, indirect, and direct options it's awesome. I smoked a brisket last week, held it's temperature with ease and clean up was a snap. The grill space is awesome. I always ran into issue with my old performer when grilling multiple items, no issues with this beast. My one minor issue with grill is the quick starter. I have found on windy days, particularly when using the charcoal baskets, the charcoal often won't ignite. I have had to resort to using the lighter cubes to get my fire going. A little annoying but a minor issue, until I unknowingly run out of the cubes.
Date published: 2019-09-23
Rated 5 out of 5
by
Old George
from
Wow!
This was my sixth Weber grill over the last 50 years and the best by far! It combines the taste of charcoal with the convenience of gas and the fact that it's also a great smoker is an added bonus. My son is now enjoying my Smokey Mountain Cooker and the gas grill that served me well for many years is now being used by the migrant workers at one of the local farms. It will serve them well, as it did me, for many more years. You knocked it out of the park with this one!
Date published: 2019-04-02
Rated 5 out of 5
by
cabernetnut
from
Easily the best grill I've ever owned
I've smoked beef briskets and pork shoulders, grilled steaks and chicken on my Summit Charcoal and can say with confidence this is the best grill I've ever owned. It can do a low and slow smoke (brisket was on the grill for 12 hours at 250 degrees) or I can get it really hot to put a great sear on a bone-in ribeye. Don't know how it could be improved? I've owned everything from a Weber Kettle to a Weber Genesis gas grill and this Summit Charcoal is the best!
Date published: 2018-01-12
Rated 4 out of 5
by
KRoh
from
Pretty good grill. Little expensive but good
I've had this grill for a couple months now and smokers and grilled on it several times. The easy light quick starter works well when you are smoking but is useless when you have the grill higher for grilling. It really does a nice job. The heat diffuser plate and the grill grates that open up make it easy to adjust charcoals. I keep having an issue with air leakage around the gasket where the lid and the bowl meet. Ive repacked the gasket already and it still had the problem. I don't know how to fix it at this point. The smoke leaking out is good enough that I think it's an issue trying to control burn. If anyone has suggestions I'd like to hear. Still don't have a fix for it. Thanks.
Date published: 2019-09-22
Rated 4 out of 5
by
CharlieSMP
from
Good Grill but not Perfect
Grills and Smokes great. Like all grills there is a learning curve to get used to as the Summit Charcoal cooks slightly different then the classic kettle. Why a 4 and not a 5 My initial usage of the grill was delayed as I needed to wait for the axle rod to get shipped (missing from original packaging) and the kettle had some scratches near the grill grate area. Still is has cooked a great turkey, ribs, pulled pork, steaks...starting to get hunrgy:)
Date published: 2018-01-12
Rated 5 out of 5
by
BBQ John 52
from
Well thought out grill
I purchased the Weber Summit Charcoal Grilling Center about 3 weeks ago. I am amazed at how much thought went into this grill. You can do low and slow with the charcoal grate in the lower position with the diffuser plate in position or hot and fast with the charcoal grate in the upper position. Everything I have grilled or smoked on the grill has turned out excellent. The two fixed position wheels would work better for me if they turned and the charcoal starter will probably never get used (I like the Weber charcoal chimney) but other than that, no complaints and many Kudos to the Weber team!
Date published: 2019-09-27
Rated 5 out of 5
by
NOLA Grilling
from
Best Grill Ever
I own three different Weber kettles and own or have owned several gas grills including Weber's but also TEC, Genairre, Charbroil and others. I also own a Primo Ceramic grill and have experience grilling on Big Green Eggs. The Weber Summit combines the best of all of them. Easy to light and use. Low maintenance and uses real charcoal. It can get hot quickly and hold temperatures just like an Egg. It easily bests the ceramic Komodo's when you need to reduce temperatures. And cleanup is seamless with Weber's ash dispensing system. The lid is easy to open and close with a heavy duty hinge that makes the lid feel sturdy but light weight to use. This is by far the best grill I have owned or used. It actually makes me want to grill more. Did a Turkey at Thanksgiving and again at Christmas. Family is asking for a Turkey during Super Bowl. Love this grill.
Date published: 2018-01-15
Rated 4 out of 5
by
grillman1
from
Nice grill !!!!!
Nice grill!!! Bought this to replace a performer grill I had for 20yrs. Have issues with thermometer steaming up and also smoke coming from igniter tube(when smoking ) gumming up gas orifice . Plugged up numerous times. Overall a nice grill !!
Date published: 2018-01-19
Rated 5 out of 5
by
Scooter007
from
Excellent cooking temperature
I got this as a. Birthday gift, couldn't be happier! It lights very easily and holds temp during smoking or cooking extremely well, very little fluctuation. Lots of room and the table, ignitor and charcoal holder is a great added feature.
Date published: 2018-04-15
Rated 5 out of 5
by
Hey bo
from
Does everything Great
Since the day Weber introduce this grill of a life time, I wanted one.Did my first long cook, grill was rock solid on temps for 10 hrs,air dampers are sensitive which is good once its dial in its there..Plus it looks good on my deck
Date published: 2018-08-19
Rated 4 out of 5
by
Padlcnu
from
Nice Grill....
I love this thing and I love Weber. It will do everything and has a good amount of cooking space. With that said there are a few things that could be improved. The drawer does not work well. The ash system spreads ash all over the bottom shelf every time you use it. Too many fancy nooks and fancy to clean easily. A pass through hole in the base for temperature probes. A little easier way to add charcoal during a cook. A better thermostat. All in all though I is an awesome grill and I am glad I got it.
Date published: 2018-01-12
Rated 5 out of 5
by
Big Joey G
from
Really is the "Grill of a lifetime"
Gotta say I love everything about this grill. Smoke, grill direct or indirect..does it all..beats the Egg like it's Sunday Breakfast! Only problem I have is now my other Webers feel left out :(
Date published: 2018-10-10
Rated 4 out of 5
by
Wild-thing-cpl
from
It does everything really well
Overall I'm extremely happy and proud of what Cam be done on this grill/smoker. Fantastic versatility and very well thought out design. I was a newbie charcoal guy looking to start smoking meats when I made the plunge 18 months ago. In addition to smoking I wanted to grill over charcoal weekends. Well I found it's really not that long to get the grill heated and ready and the charcoal taste is so much better I have not used my gaser more than twice in over a year. Issues: - gass assist stopped working 2 months in. I know weber will work with me and ultimately take care of it. I've been lazy because using weber cubes is super easy. enhancement requests: - Casters design pools water above the wheel where it connects to the legs. 1 weel is starting to rust. - Make all 4 wheels casters not plastic. Plastic wheels seem sturdy enough but the optics of plastic look cheaper than what is the overall value of this grill
Date published: 2018-01-13
Rated 5 out of 5
by
Cindy 61
from
Love this grill
Cook on it every night since we got it. It was an Anniversary gift we got together. Been married 23 years
Date published: 2018-07-24
Rated 5 out of 5
by
Grillbert
from
Perfection
I've had mine for a little over a year. Bone-in prime rib on Christmas is the new tradition!
Date published: 2018-01-12
Rated 3 out of 5
by
CurtP
from
Too many corners cut for the price
It is a great grill, but at this price point, I didn't expected higher standards. The drawer should be on ball bearing slides, the plastic wheels look completely out of place and having the charcoal bin scrape across the painted shelf is unacceptable.
Date published: 2019-06-12
Rated 2 out of 5
by
Louis
from
Multiple functions, but not a good smoker.
This is a good grill but not good for smoking. It is not able to hold temperatures below 250 degrees unless there is a very sparse amount of fuel, in which case fuel must be added frequently. And adding fuel while cooking is inconvenient to say the least as the lid has to be opened(affecting temperature) to do so and in spite of features designed to allow adding fuel with out disturbing the food, it is not easy to do so. I smoked on it once and sold it. I suggest a Weber grill or a smoker, but not this product to do both.
Date published: 2018-02-12
bvseo_sdk, dw_cartridge, 16.1.1, p_sdk_3.2.0
CLOUD, timer 138ms, 0ms
reviews, product
bvseo_sdk, dw_cartridge, 16.1.1, p_sdk_3.2.0
CLOUD, getContent, 0ms
reviews, product
Keep Exploring
Summit® Charcoal Grill Series

Summit® Charcoal Grill 24"