Smokey Mountain Cooker Series
FOR THE LOVE OF BARBECUE
Weber
Smokey Mountain Cooker Smoker 18"

Black
Image for capacity demonstration purposes only.
Actual product model and features may vary.
Do it for the love of classic barbecue. For tender meat falling off the bone and the first savory bite that makes taking it low- and-slow, in your Smokey Mountain Cooker smoker, worth every moment.
Part #721001

Free Shipping & Returns on Weber.com Orders $50+
Free Standard Ground shipping on small parcels and grills <70 lbs. via FedEx, with delivery within 5-8 business days, expedited options available. Free 30 day returns. Shipping Information & Return Policy
Dimensions - Lid Closed (inches)

41"H x 19"W x 21"D

Diameter (inches)

18

Primary cooking area (square inches)

481

Total cooking area (square inches)

481

Fuel type

Charcoal

Glass-reinforced nylon handles

1

Rust-resistant aluminum dampers

4

Features

Plated steel cooking grates

Heavy-gauge steel charcoal grate

Built-in lid thermometer

Porcelain-enameled bowl, lid, center section, and water pan

Charcoal chamber

Silicone temperature grommet

Rust-resistant aluminum fuel door

Rust-resistant aluminum heat shield

Cover included

Bowl, lid, and center ring

10 years, no rust through/burn through

Plastic components

5 years, excluding fading or discoloration

All remaining parts

2 years

Combustion by-products produced when using this product contain chemicals known to the State of California to cause cancer, birth defects, or other reproductive harm.




WARNING: This product can expose you to chemicals including nickel, which is known to the State of California to cause cancer. For more information go to

www.P65Warnings.ca.gov

.



Image for capacity demonstration purposes only.
Actual product model and features may vary.
Plated steel cooking grates

Rust resistant metal legs

Rust-resistant aluminum dampers

Glass-reinforced nylon handle

Porcelain-enameled water pan

Heavy-gauge steel charcoal grate
---
---
---
CAPACITY OF THESMOKEY MOUNTAIN COOKER 18"
Taking it low-and-slow has never tasted so good. The big cooking area easily executes a large roast that'll feed the family for days.
Image for capacity demonstration purposes only.
Actual product model and features may vary.

Serves 4-6 people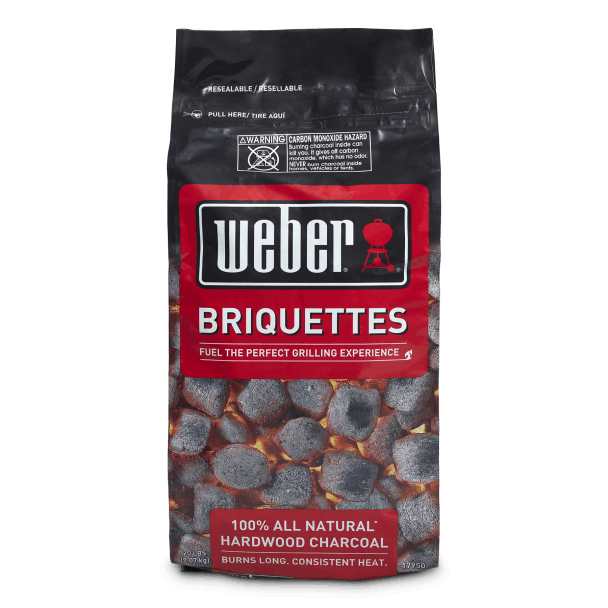 Don't forget
The most important ingredient
Grill longer and more confidently with Weber 100% natural briquettes. Made from all natural hardwood, the briquettes have no added chemicals to taint the taste of your delicately grilled salmon. Just focus on the warm ambiance that is charcoal grilling.
Explore Charcoal Accessories
Smokey Mountain Cooker Smoker 18" is rated out of 5 by 337.
Rated 5 out of 5
by
KornhuskerJ
from
Can't Believe I Waited So Long To Purchase!!!
I have been contemplating purchasing this WSM 18" for the last three years. I finally bit the bullet (pun intended) and I can't stop kicking myself for not purchasing it three years ago! I prefer charcoal smokers to electric smokers. Up until now I have been using my 22" Weber Kettle Charcoal grill with indirect cooking to smoke food. Besides the great taste, I love the "tending" to the smoker that charcoal smokers require. However, I have to say that the WSM is great at holding temp once you get to the temp you desire and then close the bottom dampers to approx. 25%. This is what I love most about this product. Plus in my experience, there is no better quality in grill products as Weber.
Date published: 2018-08-04
Rated 5 out of 5
by
GrumpyBear7357
from
Absolutely Awesome!
We had a smoker from another manufacture for many years, It did smoke meat, but required constant attention as it would never stabilize the temperature very well. We bought the WSM 18 a month ago and have smoked meat twice since. First smoke we did two 6+ lb Pork Shoulders for a July 4th gathering. The WSM held 255 deg with very little attention. 12 hours after the meat went on, the internal meat temps were 200 deg. Text book cook, and delicious pork. Second smoke was country ribs and chicken thighs. Again the WSM excelled. The ribs are a new favorite meal for us! The chicken went to a church social were they received praise from everyone. Love this smoker.
Date published: 2018-07-21
Rated 5 out of 5
by
TXN68
from
Solid
I've owned my 18" smoker for roughly 10 yrs now and have used the heck out of it. The faults are minimal and can be easily overcome with a bit of patience. Initially when bought, the middle section was out of round, Weber immediately shipped a new section and also included a new lid and water pan without question. I've not been disappointed at all. I think that the issues of it being out of round or a few missing parts is to be expected when you consider how many of these things are built and shipped yearly, I was okay with the minor flaws. This thing works like nobodies business and I just bought a slightly used 22" to add to my collection.
Date published: 2019-04-22
Rated 5 out of 5
by
Birder
from
Even an amateur smoker can get good results
I've had a charcoal smoker before and the Weber is much better. I stopped using the older smoker because it was hard to regulate. The Weber is simple to setup, easy to add charcoal to and easy to control the temperature. Cleaning is easy because of the multi part structure. The cover keeps it clean and the porcelain finish is one of the best on this product. The first smoked product I made was bacon. I took a 9lb piece of pork belly, cured it in a salt, brown sugar and bourbon brine for seven days. When I smoked it I used apple and hickory charcoal and chips. It took about 4 hours and came out excellent.
Date published: 2018-01-12
Rated 5 out of 5
by
Chillin-N-Grillin
from
Wicked awesome smoker
I have had this smoker for a lil over a year now and has never let me down I have smoked all types of meats and being in Boston I have smoked in all types weather from making a pork loin and chicken wings in February during the super bowl to smoking corned beef of ST Patty's Day to a smoked Turkey on thanksgiving and all kinds of different stuff over the summer this smoker is easy to maintain temp wise and cleaning wise a perfect fit for me into my grilling family I also own kettle grill and a propane grill but must say the flavor this smoker adds to the meat is outstanding make sure u use Webber flavored wood chunks unsoaked for ultimate flavor Thanks
Date published: 2018-08-12
Rated 4 out of 5
by
slick50
from
not a bad smoker 18.5
Good product. I have owned this for about a month now. I have only used it twice. (ribs 7hr cook and pork butts 11hr cook) No problem with temp control for me. I have used a kettle grill for 20+ years now. This is the 1st smoker that I have owned. The only 3 bad things I can say about it and there kinda minor. 1 wish I bought the 22 instead. my fault 2 It would be nice if the bottom grate was accessible somehow other then taking off the top grate. Not a deal breaker thou. 3 It would be nice if the top grate sat 2 inches lower or so. That way you could add a second temp probe grommet above the top rack. 1 for the lower rack and 1 for the top rack.
Date published: 2019-07-25
Rated 5 out of 5
by
BigSteve1230
from
A Great Smoker
I bought this smoker after careful thought and much research and I am very happy with it. This smoker has many reviews out in YouTube and videos on how to use it properly. Some of the reviews are by true BBQ pit masters who do competition BBQ smoked ribs and brisket. I like the idea of a charcoal smoker because you truly are doing BBQ versus the electric wood pellet smokers. This was my primary reason to go with this grill. I love the smoke and entire process of this grill. This grill does exactly what it was built to do and then some. I new to smoking foods but after a few YouTube videos I smoked my first two rack of beef back ribs and they came out great!
Date published: 2019-12-11
Rated 4 out of 5
by
swjones87
from
Incredible!
Worth every penny and very easy to use! Wish I bought this last year before wasting my money on a cheap offset smoker! Definitely recommend for first timers such as myself.
Date published: 2018-05-28
Rated 5 out of 5
by
Migleone
from
Amazing Smoker
I received my WMS last year for Christmas. My family and I have become much closer now. They can't wait for the weekend to see what I smoke next. I love the double rack which allows for meat to smoke. Amazing Smoker! Every house needs one.
Date published: 2018-01-12
Rated 5 out of 5
by
NickerLSB
from
Amazing Food
I bought this smoker having never smoked anything before. It took me a few times to learn how to control the temp, and I'm probably still learning the finer points. But the results are just incredible! I've smoked a few chickens, a couple of racks of ribs, and a nice chunk of salmon. Never had better food, anywhere. And I've been traveling extensively and eating in restaurants weekly for almost 19 years. The smoker is easy to set up, easy to clean, easy to add smoking chips, and gives great food. It's opened me up to a brand new world of cooking. Weber has been the name in grilling since Kingsford sold his first bag of Mr. Ford's charcoal. Wish I had bought one of these sooner.
Date published: 2019-06-27
Rated 4 out of 5
by
rickspeed
from
Overall pleased, but needs refinement
Great overall build quality as expected from Weber. But surprised that after a while on the market, there apparently has been little effort at refinement as most organizations dedicated to excellence would do. For example, the cheapo door that doesn't curve to contour of the barrel. no provision for storing the top close by as I like to work quickly when basting or turning the meat (aftemarket has several options such as hinge). I wish there was a removable ash pan. And Handles on the sides of the main barrel. For one, I would pay an extra $100 or so for those features. which would still keep it under $500. But no compalints on the huge capacity and great cooking results!
Date published: 2019-12-05
Rated 5 out of 5
by
Eddy !
from
Excellent Smoker ! It joins my Weber collection !
I purchased the 18" Smoky Mountain Smoker recently after reading all the reviews and various recipes on the Weber website . I am very pleased with the unit and have used it for country style pork ribs and pulled pork regardless of the winter weather we have had here in Connecticut. Both events were successful and the results were very enjoyable. Looking forward to warmer weather and more different things to smoke, Brisket is next !
Date published: 2018-02-21
Rated 5 out of 5
by
Sellis
from
Perfect Smoker
Got this for Father's Day (I have an awesome wife). I this replaced my old Brinkmanship smoker, what a difference! The Weber holds it temperature perfectly and only used the original load of lump charcoal to smoke a shoulder that took about 11 hours. Well built and made of heavy gauge metal with a beautiful baked on enamel finish. Also has a huge water pan and two large grates for lots of room for whatever you need to cook. The side of the smoker has a silicone insert that you can insert temperature probes through, I use a Bluetooth dual probe set up, one for the ambient temp and the other for the meat. This is a very well thought out piece of cooking equipment and I highly recommend it.
Date published: 2018-07-05
Rated 5 out of 5
by
Edogva
from
Great Smoker!
I purchased this WSM 18" new and it became my 6th Weber. I love the how easy it is to use and clean. Once the WSM is fired up and smoking, it will pretty much run on autopilot all day long! I love it! I recently got into Competition BBQ and my first and second competition both got 5th place Ribs using my Webers! Great smokers, great grill, great customer service and I look forward to many more years with Weber!
Date published: 2019-06-12
Rated 2 out of 5
by
Eview326
from
Somewhat Satisfied
My Smokey mountain has been great, I've made everything from pork butts to brisket to beef ribs, all being fantastic. Temperature control and ease of use have exceeded my expectations. Now I have been a Weber owner my whole life and just recently I have become a bit disconcerted with the quality of other Weber products I have bought. For example I have a Spirit grill that is almost unusable due to rust on the bottom and frame, something I have never experienced before with any Weber product. All in all the Smokey mountain has been a joy to use, my Spirit however has let me down.
Date published: 2018-07-13
Rated 5 out of 5
by
Boy Wonder
from
Dinner's on me!
Have been grilling for 20+ years (pretty darn good at it) and finally decided to jump into smoking meats. Oh boy. First smoker I bought was impossible to control temp. The bullet has been a dream come true! So easy to control the temp and keep a "low and slow" burn. Smoked a 4lb pork butt yesterday for 7 hours using the minion method - outstanding taste and incredibly moist. With a remote temp gauge and a helpful cookbooks/recipes, I'm well on my way to the bbq my inner Neanderthal craves.
Date published: 2018-07-29
Rated 5 out of 5
by
Wesm
from
Love it!
I'm still happy I decided to go with this smoker over the others that I was looking at. It hold temps perfect. Iv done some upgrades that like the lid hinge, handles on the middle section, latches in the bottom section, lid and door gaskets. I have a Boston butt thawing as I'm weighting this to smoke tomorrow. Looks good sitting beside my Weber performer. I'm a Weber fan for life! Iv recommended to anyone talking about buying a smoker. Only thing is I wish I had bought the 22.5 sometimes.
Date published: 2018-01-12
Rated 5 out of 5
by
TPayne
from
Great smoker for the money!
Having been using two WSM 18's to compete in KCBS backyard competitions in the Mid Atlantic with a bunch trophies and plaques to sho for it! A lot of people that start smoking with charcoal water smokers start with inferior brands do to the cheaper cost. By going with these cheaper brands they get frustrated because they are to hard to control the temp and they end up hating there experience! Yes the WSM's are more expensive but they are worth the cost. Weber design these for proper airflow control so that they are pretty much set it and forget it. I was one of those people who got frustrated using other brands and am glad I made the switch. The WSM has restored my passion for smoked meat and that is why I now compete!
Date published: 2019-06-12
Rated 5 out of 5
by
WinnipegBoy
from
Easy To Use with Maximum Results
Bought this about 4 months ago to replace my electric smoker and i haven't looked back. It's so simple to use and operating costs are much smaller then the pellet smoker. Once you get it dialled in with the vents it pretty much hits 225-250 degrees and stays there for the entire cook. I live in Manitoba and have used this in -35 Celsius without issues. Cleanup is a breeze with the way the smoker breaks into 3 main pieces. Great item by Weber
Date published: 2019-04-02
Rated 5 out of 5
by
blando 24
from
Believe the hype!
I've had a few cheaper smokers and had decent success with smoking. I did a lot of research on charcoal smokers before I bought this one. This smoker had excellent ratings. This smoker is a lot more solid than the cheaper smokers I've owned in the past. With the design and solid construction, this smoker makes it easy to keep the temperatures I like for smoked foods. Now I don't have to constantly check the temperature and add charcoal all the time. My opinion is it is well worth the extra money, and I can't wait for spring so I can fire this baby up more!
Date published: 2018-03-25
Rated 5 out of 5
by
Wackieworld
from
Inexpensive but Great
I've had my smoker about a year now and I have smoked spare ribs, beef ribs, brisket, duck, pork loin, lamb leg, sweet potatoes, chicken breasts, and turkey thighs. My WSM is so simple to use and it does a great job.
Date published: 2018-01-07
Rated 4 out of 5
by
Tipper26
from
Great smoker
This is my first smoker. I did a lot of research over the winter to finally decide what type of smoker I wanted to pull the trigger on. You can't beat the taste of charcoal with wood chunks in my opinion. The dampers will keep you busy at first but once you get it dialed in, it will hold a temperature for hours on end. This thing is very efficient when it comes to burning fuel. I often have charcoal left over even after a 6/7 hour slow and low cook. It would be nice if it came with a lid hinge from the factory. I got sick of trying to find somewhere other than the ground to set the lid. There's a couple company's that are making money selling hinges and other aftermarket parts for the WSM. Don't know why Weber doesn't capitalize off this.
Date published: 2019-06-14
Rated 5 out of 5
by
CrazyKenny
from
my NEW TOY
WSM Been smoking for years but on a gas grill with smoker with chips. That be my 2004 Summit Platinum That's still going strong. Welp Been wanting a Charcoal smoker for a number of years Wasn't planning on. Whelp Went out to get New grill sense wife said there was only 10 yrs left on old warranty well long story short LOVING my charcoal smoker. My grills both came assembled to me. So No Headaches.
Date published: 2019-05-19
Rated 5 out of 5
by
Frank J.
from
Great Smoker!
I bought this item mid-summer and began smoking meat right away after the initial break-in. I've done whole chickens and quarters, Beef Brisket, many racks of baby back and St. Louis style pork ribs, Pork Shoulders for pulled pork, Bacon and a few sausage fatties. Everything came out wonderful, tasty and juicy. I did buy an aftermarket stainless steel door and latch though from cajunbandit which actually enhanced the overall operation of this unit. I've never had to add more charcoal during a cook and I've done 10+ hour cooks. Amazing unit!
Date published: 2018-01-12
Rated 5 out of 5
by
CoffeeJoe
from
Good Product, Great Price
Received as a Christmas gift, I have used this weekly, even in sub-zero northern Kansas temps. I had never smoked anything before this, and was a marginal griller; but negotiating the WSM was simple! There are a plethora of on-line videos that give you the right information, enabling a newbie to make a great smoked (fill-in-the-blank) the very first time. I know you are asking yourself, "if he got this as a gift, how does he know the price is 'great'?" Well, glad you asked! It is because I know the ordinary MSRP of this model, and I compare it to the ceramic egg-type smokers that my family had promised to buy for me. I cannot imagine that the egg-type smokers are any better than the Weber Smokey Mountain ... and at a fraction of the cost!
Date published: 2018-01-16
Rated 5 out of 5
by
Jmall
from
Best in between
I bought this for a Father's Day present for myself. These smokers are incredibly efficient on wood and charcoal. With my last smoker I'd be adding wood frequently. With this one, 3 fist sized chunks last for hours! It holds temperature consistently and just flat out does what it needs to do very well!! It's also heavy. You can tell weber wasn't screwing around with this. Amazing smoker!!
Date published: 2019-08-31
Rated 5 out of 5
by
rc124
from
Awesome Smoker
I bought this in June and have used it almost even week since then. I was undecided between the 18" and 22" but since using the 18 I've had no problems making 10LB pork butts, ribs (some of the ribs I do need to cut in half if they are super long) and a bunch of other things too. Super efficient with charcoal I can fit a whole bag in it and that'll last an entire 8 hour+ cook at 225 - 250.
Date published: 2019-12-14
Rated 4 out of 5
by
PitmasterFL
from
World Class Championship Smoker
Bottom Line: PRO: The WSM 18.5 is an easy and reliable smoker to use to create Championship and Backyard BBQ. The SMOKER is easy to maintain and clean. Learning to control heat temperature is very easy for the new person learning to BBQ various meats. There are plenty of support forums for the WSM. CON: The only problem you'll have is figuring out which one to buy. Regardless which of the three models you choose, You will not be disappointed. I have both the 18.5 and 22.5 and enjoy using both of them.
Date published: 2018-01-12
Rated 3 out of 5
by
Uminchu
from
A few problems
I bought this to supplement my WSM 22'. First problem was that the water barrier pan and holes drilled around the rim. Weber customer service verified that it should've had these holes. During the first use I found that the temperature gauge was reading 100 degrees lower than actual temperature. Most unfortunate. If it weren't for this, I would've rated a 5. Temperature monitoring is critical for successful results. I would recommend this product with the caveat to use your own trusted method of monitoring temperature.
Date published: 2019-07-15
Rated 5 out of 5
by
Bumpa
from
Glad I bought it!!
I've owned my 18.5" WSM for a few months now. I have cooked a couple large pork butts, a few racks of ribs and a Tri-tip roast. I am learning as I go and have been extremely pleased. My first smoker was the gift of a gas smoker. That got me hooked but temperature fluctuation was a nightmare. I have been impressed with how easily this maintains a temp. I really prefer charcoal to other fuels I have experienced. Clean up after each cook is super simple. It fits like a glove on my patio with my three other Webers.
Date published: 2018-06-05
bvseo_sdk, dw_cartridge, 16.1.1, p_sdk_3.2.0
CLOUD, timer 144ms, 0ms
reviews, product
bvseo_sdk, dw_cartridge, 16.1.1, p_sdk_3.2.0
CLOUD, getContent, 0ms
reviews, product
Keep Exploring
Smokey Mountain Cooker Series

Smokey Mountain Cooker Smoker 14"

Smokey Mountain Cooker Series

Smokey Mountain Cooker Smoker 22"