Performer Series
IGNITE THE FLAME
Weber
Performer Deluxe Charcoal Grill 22"

Black
Image for capacity demonstration purposes only.
Actual product model and features may vary.
Ignite the flame and pass your tongs to the new generation of charcoal grilling. With a push of a button, your coals are glowing and food sizzling. All that's left is to sit back and watch your Performer Deluxe charcoal grill in action.
Part #15501001

$40 Shipping & Free Returns on Weber.com Orders
Grills 70+ lbs. ship by freight carrier with delivery by appointment within 2-5 business days. $40 Standard Delivery. Free 30 day returns. Shipping Information & Return Policy
Dimensions - Lid Closed (inches)

43.5"H x 48"W x 30"D

Diameter (inches)

22

Primary cooking area (square inches)

363

Total cooking area (square inches)

363

Fuel type

Charcoal

Glass-reinforced nylon handles

1

Swivel locking casters

2

Durable all-weather wheels

2

Tool hooks

3

Rust-resistant aluminum dampers

1

Char-Basket charcoal fuel holders

2

Battery type

AA, AAA

Batteries

3

Features

Gourmet BBQ System plated steel hinged cooking grate

Heavy-gauge steel charcoal grate

Electronic Touch-N-Go gas ignition system

Porcelain-enameled bowl and lid

Built-in lid thermometer

Painted metal work table

Open cart design

Heavy-duty steel cart frame

Bottom wire rack

Lid handle with heat shield

Tuck-Away lid holder

Removable, high-capacity, aluminum ash catcher

Aluminized steel One-Touch cleaning system

Removable backlit LCD cook timer

Weather-protected CharBin storage container

Uses disposable LP cylinders (sold separately)

Bowl and lid

10 years, no rust through/burn through

One-Touch cleaning system

5 years, no rust through/burn through

Plastic components

5 years, excluding fading or discoloration

All remaining parts

2 years

Combustion by-products produced when using this product contain chemicals known to the State of California to cause cancer, birth defects, or other reproductive harm.



Image for capacity demonstration purposes only.
Actual product model and features may vary.
CharBin storage container

Electronic Touch-N-Go gas ignition system

Removable backlit LCD cook timer

Durable all-weather wheels

Removable, high-capacity, aluminum ash catcher
---
---
---
CAPACITY OF THE Performer Deluxe
Plenty of space for grilling up a bunch of steaks or a burger for anyone who stops by. The convenient side table is perfect for workspace prep or placing serving dishes and spices, while tongs and spatula hang from the tool hooks.
Image for capacity demonstration purposes only.
Actual product model and features may vary.

Serves 4-6 people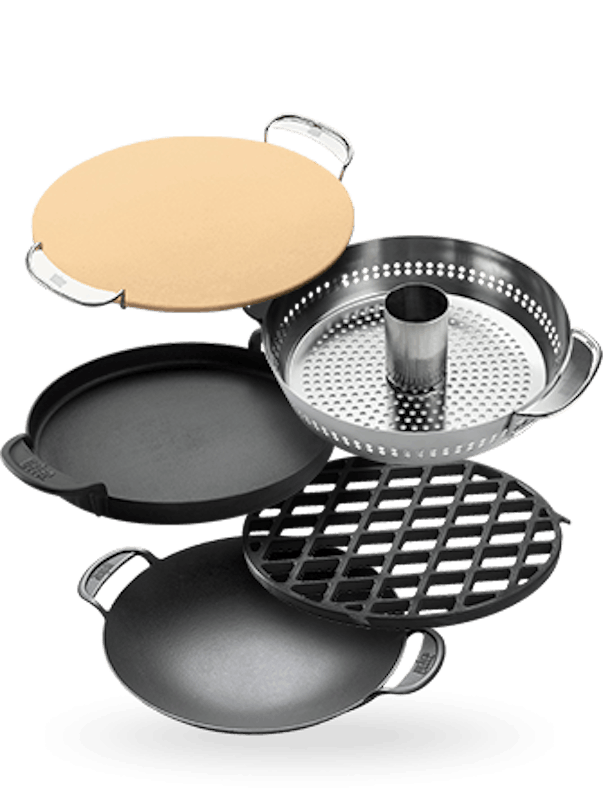 One system, endless opportunities
GOURMET BBQ SYSTEM
Explore endless grilling possibilities with the Gourmet BBQ System. The array of GBS inserts, such as a pizza stone, wok, and griddle, open up a new world of opportunities to perfect dishes you would have never imagined creating on a grill.
Explore GBS
Performer Deluxe Charcoal Grill 22" is rated out of 5 by 510.
Rated 5 out of 5
by
copper kettler
from
only way to kettle!!
I have a Genesis E330 in copper so when I decided to get a Performer I thought it'd be cool to have matching grills, I think they look pretty cool as a pair. I like as much work space as possible when cooking so the performer over just a kettle was a no brainer for me. I had a performer years ago (actually my first grill) and I like that they upgraded the table to steel which allows something hot to be put there without damaging the table. I have been mastering the art of low and slow with this thing and the results have been amazing!! Thanks Weber for making good products we can enjoy!
Date published: 2019-07-05
Rated 5 out of 5
by
Buckeye Griller
from
Get It!
I bought this as an additional grill to my gas grill as I wanted the option of a charcoal grill. I am so glad I chose this Performer Deluxe as the propane starting option is wonderful. This is my first kettle grill since growing up as a kid and I wish I hadn't have waited so long. The cleaning mechanism is clean and simple and the cooking is perfect. I have enjoyed adding optional grates to the grill and I smoked a turkey on a grill this past thanksgiving for the first time and it was perfect! I even went and replaced my gas grill with a Weber 330 and love them both! If you're on the bubble about buying this I highly recommend this or any Weber as the quality and customer service are second to none!
Date published: 2018-01-12
Rated 4 out of 5
by
Backyard Chef Ron
from
Great grill in every way but one!
This is an excellent performing grill in every way but one. Otherwise, I cannot fault this grill as it does just about everything exceptionally well. The one thing I would love to see changed is the one most important thing that would put this grill over the top. That is a nice hinged cast iron grill like its completion uses. The grill that this one comes with is just plain cheesy. Hollow tubes with handles that break off after some use is disappointing. Weber should at a minimum, equip this unit with the gourmet version. Would still like cast iron though and might just get a replacement cast iron grill from Napoleon. Then it will be perfect.
Date published: 2020-02-24
Rated 5 out of 5
by
Kelli
from
My birthday present to myself
I have long admired my brother in laws Performer Deluxe Grill and finally decided to make the purchase. Absolutely NO regrets!! This is not a gas grill, so it does take more effort and time...but it is SO worth it. The things I can do on this grill, the flavor is amazing...THE best grilled food I've ever made. Nothing compares. And the ease of use of the gas start to light the charcoal is fabulous, never had a problem so no need for a charcoal chimney. If you're reading this then you already know you want one, the don't go on sale so just go buy it. Wish I had bought it sooner.
Date published: 2018-01-06
Rated 5 out of 5
by
Dataranger
from
Long-Time Weber Loves New Performer Deluxe
Bought this grill two months ago to replace a regular 22" stand-alone model. It was time to go all out on features. I've used every one of the Performer's features and conveniences and found all of them to be easy to use and well-designed. The optional copper color is very handsome and a classy change from the basic black. Everything down to the sturdiness of the legs and wheels, the quick lighting of the coals without lighter fluid, the charcoal bin, the timer, and very handy hangers for grill tools and even a slot from which you can hang the food grill itself - everything is well designed and a joy to use.
Date published: 2018-08-14
Rated 5 out of 5
by
Cornbread Red
from
Most Versatile & So Many Features and Accessories
After extensive research and almost purchasing a big stick burner smoker I decided to go this route because of the versatility this grill offers... you can smoke, bake , grill , wok , griddle or whatever you can think up with this kettle.. it is the most versatile I've found with all the accessories offered... mind you have limited space but I'm not usually cooking for more than 10 people at a time so it works great for me. Awesome grill that you can roll anywhere and not have to worry about plugging in like a pellet grill... just fire and grill skills is all that's required and with the Webber apps and cook books you can't go wrong on your cook!!
Date published: 2019-06-27
Rated 5 out of 5
by
Carri
from
I love this BBQ!!!
I've had the Performer deluxe Charcoal Grill 22" for about 10 years now and I absolutely love, love, love it! It's the best of both worlds. Easy to ignite and that wonderful taste of real charcoal BBQ. It's been a work horse too as I use it 3 to 4 times a week when the weather is warmish; and in California, it's warm a lot. I just ordered more charcoal baskets (which are indispensable) and a new safer grill brush. I don't put the cover on it like I should and it still is standing up to the elements and my abuse! if you like the taste of real BBQ but don't like the hassle of lighting charcoal, this is the BBQ for you. Thank you Weber!
Date published: 2019-03-20
Rated 5 out of 5
by
jamesgraham
from
A good product made better.
I had the previous version of this grill for about ten years and was pleased with its features and performance. Moving to a new house -in a different state- prompted me to retire and replace the old machine. The newer model has a better battery powered ignition system (my old one's flint spark stopped working after about five years,) an improved ash catching bucket, a center removing grill option and a better thermometer. It also has a timer which is kinda lame and I don't use it. Otherwise it's the same cooker I knew and appreciated, and I expect to get at least 10 years of great grilling out of it.
Date published: 2018-05-24
Rated 5 out of 5
by
Doug253
from
high quality grill with great features
I first bought a Weber Genises II Natural gas grill and am extremely satisfied. I prefer the taste of charcoal when I do steals and burgers so I first bought a charcoal grill online from a major retailer and after assembling it I was not happy with the quality, so flimsey it probably would not make it through the summer so I returned it and bought the Weber. It was easy to assemble and so heavy duty with great features like the propane charcoal lighter, the bin to store the charcoal, etc. I cook out a lot and it looks like these grills will last a very long time. The charcoal is very easy to light and not problem adjusting the heat.
Date published: 2019-06-27
Rated 5 out of 5
by
';lkjhuyiol,jikl;,l
from
Great grill refined even more
I have a five year old Performer Deluxe and I needed to buy another grill. It was an easy choice because of the versatility and easy lighting. I got another Performer Deluxe and was delighted to see several refinements. The shield on the handle keeps it (a little) cooler. The removable grill piece in the middle is really nice! I use a round charcoal holder for indirect heat and putting the charcoal in the middle and removing the middle of the grill is perfect. The hinged cover over the lighter is aggravating and the timer is useless, at least for me. A probe thermometer would be genuinely useful. Anyway, Weber - Keep up the good work! You are absolutely my favorite grill maker.
Date published: 2018-07-24
Rated 4 out of 5
by
Tim Thismynickname
from
Upgrade from my previous Weber
I purchased the Performer Deluxe model after seeing it on sale a while back. My previous grill was also a Weber but the grill only version on legs. I had wanted to buy something with a table/tray surface and this worked out really well for that. I'd never used a propane starter assist on a grill before and it's pretty awesome. I prefer charcoal for flavor but the propane makes lighting the charcoal super easy. My wife liked it so much that she started cooking some of the burgers/other items too (for 10+ years it was mainly me). On a side note - I had some damage on delivery from a big box store and Weber quickly replaced all the items and it looks great now.
Date published: 2018-06-07
Rated 5 out of 5
by
Kent..
from
Good upgrade
Bought this at end of the season sale at Lowe's. I've had a Weber kettle for nearly 20years and love it. Upgrade was the table ash catcher and gas start. Also the center of the cooking grate is removable making it easy to clean. All these features were worth the $$. But adding the igrill Bluetooth temperature probe really makes this an easy and fun grilling experience. Did my first brisket yesterday using a snake of coals for 6hours. Watching the probe temp and kettle temp gave me a lot of confidence and the proof was in the fork tender brisket we had for lunch today. I'm a happy camper!
Date published: 2018-09-25
Rated 5 out of 5
by
Maine
from
Propane Knob
I love my new grill and the auto-light feature. The only problem I have is turning the propane knob off hard enough to close the valve off completely ( I have arthritic hands). I have lost 2 full bottles to this problem because of the leaking of propane. It's easier for me to remove the bottle each time. I would buy this grill regardless of my weak fingers. I have wanted this model for years because of the auto-light.
Date published: 2020-04-01
Rated 5 out of 5
by
Farmer Newfie
from
The King of Charcoal Kettles
I bought this grill two months ago and use it about four times a week . I've done everything from rotisserie turkey,prime rib roast, low and slow ribs,burgers ,steaks and cant forget my signature chicken breast burgers for twelve guests.. There is pleny of room on this grill to entertain a large crowd . I love the ash clean out system. I would change the coal bucket so it stays closed when moving the kettle around though.. I just use it for all the kettle accessories couldn't resist buying to step up my game a little further
Date published: 2019-12-19
Rated 5 out of 5
by
Johnny D
from
Awesome grill
I have cooked on gas grills my entire life and have used a charcoal grill a couple of times, but was never really impressed with charcoal grills. I have had a Weber gas grill for 20 years and thought it was the only grill I ever needed. When I bought the Performer Deluxe Charcoal Grill I thought it would be fun to have something different to cook on once in a while beside my gas grill and my smoker. I have had the Performer for 4 month's and I haven't cooked on anything else since, the ease of operation, flavor it adds to food and fantastic job it does cooking is incredible.
Date published: 2018-01-10
Rated 3 out of 5
by
Sporich
from
Not quite built like the old ones.
I've had this grill now for almost a year, replacing one of the original performers that lasted me such a long time. Still a great concept, and I had high hopes for the switch to the small coleman style propane tanks from the mini OPD refillable tank. However, when I turn off the flame, there continues to be a small amount of gas coming from the bottle to the burner, not enough to keep the flame alive in the kettle, but enough to keep a small flame alive in the gap where the safety clip is positioned. Weber sent me a new set of parts when I alerted them about this, but even with the new parts, the same thing happens. I have to remove the bottle from the grill after every use. Not catastrophic, but annoying.
Date published: 2018-01-12
Rated 5 out of 5
by
Charles DC
from
Best BBQ
I have this charcoal grill for the past 3 years. First year was an adjustment as previously had a propane BBQ, we had a lot of burnBQ as the learning process. All parts are easy to find, I already change the bottom and top grill and basket has they have almost melted. We cook a large range of food from anytime of meat, seafood, pizza... I only use wood lump, I even do BBQ in the winter and never had problem getting to the right temperature even in -30 Celsius.
Date published: 2018-05-24
Rated 5 out of 5
by
W9OD
from
Best 22" I have ever had
I love my Performer. The gas lighting feature is great. I used to use the the chimney, after emptying it some sparks would land on the driveway. I usually have shoes on, a friend of mine didn't, ouch. I usually use the charcoal baskets when I use the grill. It sears and cooks steaks to perfection. Indirect heat is a simple process. I enjoy cooking with charcoal, I do add some smoking pellets on occasion to enhance the flavor of what I am grilling. I have gone full circle starting with the standard 22" to a gas grill and back to the Performer. I will never be without a Weber Grill. Also really enjoy your Weber Grill Restaurants. Keep up the good work.
Date published: 2019-06-27
Rated 5 out of 5
by
JordiPorgie
from
Convert for life!
I have been propane for 30 years - most of the time Genesis Silver family. Finally decided to try charcoal, and all I can say is what was I waiting for. About the grill. Easy to assemble and use, gas light makes it a breeze. The charcoal trays are nice for indirect - did the most juicy beer can chicken ever! One thing, purchase the Weber rapid fire chimney - its a breeze with that and the gas light - fill chimney, light with gas for 5 minutes, turn off gas, let coals go anther 25 minutes and perfect coals every time!! The only downside to this purchase is the wife has been asking for alot more stuff grilled :)
Date published: 2019-08-09
Rated 5 out of 5
by
Stephen F
from
Love it!
I appreciate the table and gas light. So convenient! I've made so many good things!
Date published: 2018-02-13
Rated 5 out of 5
by
Nomad
from
I love the grill, I love the features
I bought this grill this spring and probably use it about 3-4 times a month. I love the table, it was fairly easy to assemble, I like the rollers, and really like the charcoal storage. The thermometer in the lid along with the charcoal trays and center ring in the grate make lighting and grilling different styles very easy. My only disappointment is the auto start feature. Mine quit working. I can use a match and the propane will light it, but the piezo doesn't work. I will call customer service, that seems like a simple fix that they should take care of, if not I'll be dropping the rating down a notch.
Date published: 2019-01-09
Rated 4 out of 5
by
Munchygut
from
Upgraded from a kettle.
I bought the Performer Deluxe with my airline miles and am glad I did. I love the gas starting, no more paper ashes in my grill. I still use the chimney but it gets going in about ten minutes instead of thirty. The side table, tool hangers, and coal storage let's me keep all of my grilling gear in one place. One downside I noticed is that the slot for hanging the grate, when I need it off, is on the back. Not a handy location the way my patio is laid out. Also, not a fan of the two piece grate that came with it. Too much fiddling around to remove it when hot. I'm using the grate from my old grill.
Date published: 2019-12-03
Rated 5 out of 5
by
Smokin' D
from
We replaced our Performer Deluxe with another one
Its my second Performer Deluxe. We live on a saltwater bay, so corrosion is a universal problem. The WEBER I bought nine years ago still performed, but the rust eventually caused us to buy a replacement. The only grill we considered was the newer model of the one we enjoyed for so many years.
Date published: 2020-03-31
Rated 4 out of 5
by
Sslaayer
from
Great kettle but.....
I am a Weber enthusiast, the performer deluxe is my latest addition. I have had several kettles over the years and currently use a ranch kettle, a performer, this performer deluxe, a little joe and genesis 2 lx. I use them all, each for different things. Webers warranty can not be beat, I have had several problems with the new one being the grate flaked and exposed copper underneath and started to corrode in under 6 cooks, the warranty replaced it. Another problem I have and there is no other way too say it but the caster wheels are junk, cheap plastic, even on my ranch kettle, cheap plastic that does not last, Weber really needs to invest in something a little more durable for their product. Even with that said, I would not buy any other kettle.
Date published: 2019-08-12
Rated 4 out of 5
by
vanishingpoint1
from
Third one!
Had a Classic Performer with the stainless steel top. It rusted out and i bought a second gen version with the composite top. Now I've purchased a third Performer. A Gen III. This one has all the bells and whistles. Timer, bin and two piece top grate. Though I just bought this a couple of weeks ago, I've gone through an entire bin of charcoal already! Bought a nice vinyl cover on eBay for it, and will be purchasing the vegetable insert for the grate next. Only bummer about the newest version is a formed steel top that replaced the composite top. Looks like it will dent easily and perhaps rust with time. It's not the cool stainless top as the Gen I. Still, it is the best one I've owned yet!
Date published: 2018-08-22
Rated 3 out of 5
by
Bummer
from
Some good, some bad
The gas lighter feature is top notch. Gone are the fluid and chimney hassles. Now, the ash catcher is a total failure. I have arthritis in my hands, and I cannot easily empty the ashes. I called Weber, and they sent me a "new and improved" ash catcher assembly, but is was the exact same as the one that came with the product. I'll have to figure out some other way to capture the ashes, as I cannot work the existing assembly. MAJOR disappointment Weber. You need to fix this. It's the only thing that is holding this product back.
Date published: 2019-06-12
Rated 5 out of 5
by
Lager Dawg 27
from
Couldn't Be Happier
I have spent the last couple of years researching charcoal bbq's and always came back to the performer deluxe model. I really like the propane burner to get the charcoal started without having to use any other forms of chemical fire starters. As this is my first Weber and still quite new, I can't yet comment on the long term quality. As of now, I'm very happy with this purchase. Other family members and friends have shown interest in also purchasing the same model after seeing mine and tasting the results. Thanks Weber
Date published: 2019-05-14
Rated 4 out of 5
by
BBQ Bob
from
Nice barbecue
Nice but it should have come with the same setup as the master touch with a warming rack. Also the center removable part of the grill needs to be designed to lock into place with a twist so the whole grill grate can be removed as a unit when you redesign this send me a test unit for the suggestion.
Date published: 2018-04-07
Rated 5 out of 5
by
Joebrinduse
from
Love the color
This is number 10 and my Weber collection. My first blue one
Date published: 2018-07-10
Rated 5 out of 5
by
Tate
from
Exceeded My Expectations
I had been using a gas gill(not a Weber) for years and just wasn't happy with the overall flavor and lack of results. I decided to switch back to a Weber Kettle and to be honest was a little worried that I might not be happy with the process of setup, lighting and even cooking due to not just being able to just turn a dial to control temps. I had been loosing my passion for grilling for a few years and decided to pulled the trigger on the 22" Performer and am I happy I did!!! First the just the flavor of cooking on charcoal is simply amazing, it's been a long time since I've eaten food cooked this way! I have been shocked at the versatility of the grill with multiple cooking zones and even been able to do Low N Slow/smoking. I've been able to make some incredible Brisket(I've heard this is not easy on a Kettle) and Pulled Pork. My family is loving the food as well and is encouraging me to do more and more with it! I've now purchased a 18' Jumbo Joe, 14" Smokey Joe with plans to add the 24" Charcoal Summit by the end of this year. Purchasing the Kettle has reignited my passion for cooking and grilling and I'll be a die hard Weber user from know on out!!!
Date published: 2019-08-30
bvseo_sdk, dw_cartridge, 16.1.1, p_sdk_3.2.0
CLOUD, timer 141ms, 0ms
reviews, product
bvseo_sdk, dw_cartridge, 16.1.1, p_sdk_3.2.0
CLOUD, getContent, 0ms
reviews, product
Keep Exploring
Performer Series

Performer Charcoal Grill 22"

Performer Series

Performer Premium Charcoal Grill 22"