Performer Series
EXPAND UPON THE CLASSIC
Weber
Performer Premium Charcoal Grill 22"

Black
Image for capacity demonstration purposes only.
Actual product model and features may vary.
Venture to the backyard, where your mood will gently change. Finish mixing salad on the side table while grates heat in preparation for the main course. Once all is done, and the timer sounds, take in the warm feeling of serving company amazing food. Charcoal grilling meets everyday life with the Performer Premium charcoal grill.
Part #15401001

$40 Shipping & Free Returns on Weber.com Orders
Grills 70+ lbs. ship by freight carrier with delivery by appointment within 2-5 business days. $40 Standard Delivery. Free 30 day returns. Shipping Information & Return Policy
Dimensions - Lid Closed (inches)

43.5"H x 48"W x 30"D

Diameter (inches)

22

Primary cooking area (square inches)

363

Total cooking area (square inches)

363

Fuel type

Charcoal

Glass-reinforced nylon handles

1

Swivel locking casters

2

Durable all-weather wheels

2

Tool hooks

3

Rust-resistant aluminum dampers

1

Char-Basket charcoal fuel holders

2

Battery type

AAA

Batteries

2

Features

Gourmet BBQ System plated steel hinged cooking grate

Heavy-gauge steel charcoal grate

Porcelain-enameled bowl and lid

Built-in lid thermometer

Painted metal work table

Open cart design

Heavy-duty steel cart frame

Bottom wire rack

Lid handle with heat shield

Tuck-Away lid holder

Removable, high-capacity, aluminum ash catcher

Aluminized steel One-Touch cleaning system

Removable backlit LCD cook timer

Weather-protected CharBin storage container

Bowl and lid

10 years, no rust through/burn through

One-Touch cleaning system

5 years, no rust through/burn through

Plastic components

5 years, excluding fading or discoloration

All remaining parts

2 years

Combustion by-products produced when using this product contain chemicals known to the State of California to cause cancer, birth defects, or other reproductive harm.



Image for capacity demonstration purposes only.
Actual product model and features may vary.
Removable, high-capacity, aluminum ash catcher

CharBin storage container

Removable backlit LCD cook timer

Durable all-weather wheels
---
---
---
CAPACITY OF THEPerformer Premium
Plenty of space for grilling up a bunch of steaks or a burger for anyone who stops by. The convenient side table is perfect for workspace prep or placing serving dishes and spices, while tongs and spatula hang from the tool hooks.
Image for capacity demonstration purposes only.
Actual product model and features may vary.

Serves 4-6 people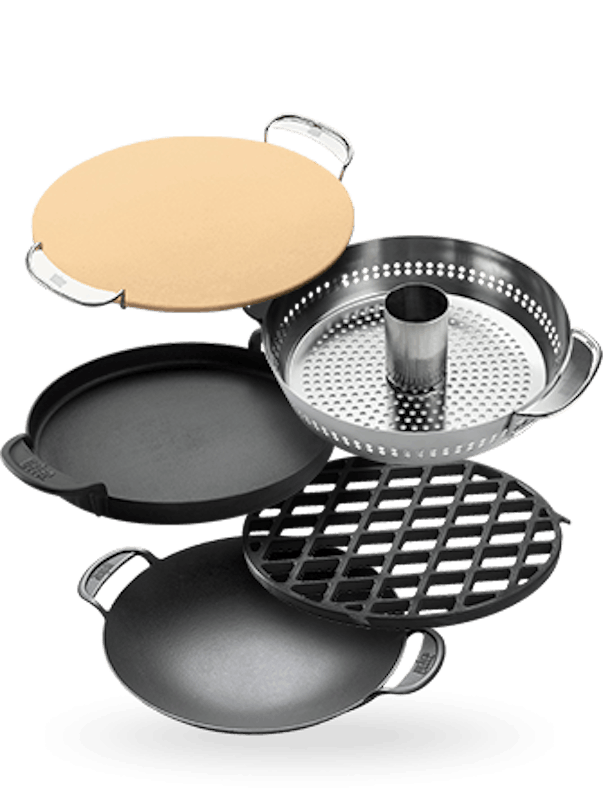 One system, endless opportunities
GOURMET BBQ SYSTEM
Explore endless grilling possibilities with the Gourmet BBQ System. The array of GBS inserts, such as a pizza stone, wok, and griddle, open up a new world of opportunities to perfect dishes you would have never imagined creating on a grill.
Explore GBS
Performer Premium Charcoal Grill 22" is rated out of 5 by 182.
Rated 5 out of 5
by
Cmack
from
Most versatile cooking device EVER!
My kids bought me this Performer for Father's Day and in the last 6 months I've not ever started a fire in my big offset stick burner or my hibachi. I've cooked steaks, butts, briskets, burgers, chicken, meatloaf and a zillion other things. I added a Slow N Sear the day I got it and it's simply been amazing.
Date published: 2018-01-13
Rated 5 out of 5
by
Lee80
from
Love my new grill
I love cooking out. I have already have a Weber Smoky Mountain smoker 22 inch, so I knew Weber is quality. Weber's customer service is top notch too. Got this grill after my old grill died. Still learning on this grill. My first cook was some Prime New York Strip steaks. I had to guess how long to cook them because the steaks were so thick. I used an instant read to make sure I didn't over cook them The steaks turned out great. Also got a Vortex attachment and plan on getting a Gaby's grill Santa Maria attachment. That is what I really like about this grill, there is a lot of different options you can do with it.
Date published: 2019-07-11
Rated 4 out of 5
by
ReRobo
from
Looks high end until you see the pathetic wheels
I picked this up at the local Home Depot and it is an exceptional grill in most aspects other than just one. The wheels suck. They just look cheap being plastic and the with the casters especially it is just a matter of time before they break. Come on Weber there is reason people are able to find your grills that are 40 years old and fix them up. It is because they aren't made of plastic. Bring back the steel wheels with white walls. I changed my wheels out to steel lawn more wheels and found some quality casters with a 3/8 inch stem that screwed right into the existing holes. I just wish I wouldn't have had to.
Date published: 2019-06-21
Rated 5 out of 5
by
Tazgirl49
from
Love it!!
We love our grill. We take it up north with us and use it all summer long then bring it home in the fall and use it at home the rest of the year!! I guess we should invest in another one so we don't have to drag it back and forth. Using this grill has been fun...we are trying all kinds of new things out. We make breakfast with our cast iron pans, pizza, and all sorts of things we have never tried before. We are looking as purchasing some of the accessories that are sold for this grill. We do prefer the flavor of food cooked over the coals rather than gas so everything has been so tasty! Love it and would highly recommend it. This grill is put together very sturdy and it's easy to move around as well.
Date published: 2018-01-12
Rated 4 out of 5
by
Harvey9s
from
Great memories
I've owned a performer grill since around 1998. I've only had to replace them because I moved internationally and couldn't take it with me. I have only two issues, the table absorbs stains and can be difficult to keep clean. Two, I have a large family so, I wish the performer came in different sizes, I.e. 26". Actually there is one other thing, as I get older removing and replacing the ash can is getting more difficult to use. I'm in the market for another grill and I will more then likely buy another Webber whether or not it's another performer or a plan 26" kettle I'm not sure, but I am positive it will be a Webber. Thank you guy's for a life time of great food.
Date published: 2019-11-08
Rated 5 out of 5
by
krobinson268
from
Nice features, a step up
I bought this last summer as a supplement to my 20 year old platinum model. The old model had an overhanging plastic table with the grill at one end. What I like about this model is the table is metal, and is supported almost to the end of the table by the leg framework. The timer is removable from it's frame so I don't have to stay within earshot of the timer. But when done grilling it goes back into it's frame for the next time. The ash catcher I found to be a bit more difficult to remove than the older model's rotating release, but with time I suppose it will get easier
Date published: 2018-01-15
Rated 5 out of 5
by
tbauer320
from
Awesome Grill
I've wanted a charcoal grill for the past 20 years. Used a gasser all that time. Never liked it although I paid over a grand for it (not a Weber). I've used this grill several times now and am having a great time getting back up to speed on charcoal grilling. Smoking a turkey tomorrow using a Weber recipe found at: https://www.youtube.com/watch?v=KJfYyw8Cbm8 The build quality and easy of use plus the super portability of this cooker make it a 5 point winner. The cart/work surface is an example of extremely well though out durable engineering. I'm expecting many years of fun grilling experience from it.
Date published: 2018-10-27
Rated 5 out of 5
by
Mark B
from
I 'stepped up' and am delighted
I decided to upgrade to the 22" Performer Premium Charcoal Grill and wonder what I didn't do so years ago...seriously....I've had my gas grill for decades ( Yes decades ) and a kettle too. I got tired of using TV trays around the kettle to place items so 'changed up' my charcoal game to this model. What a delight to use. Well designed, ergonomically comfortable to use and does a 'funtastic' (intentional spelling of fun and fantastic blended together) job. Did the Thanksgiving Turkey on it with Cherry chunks for smoke...no leftovers, it was incredible.
Date published: 2018-01-12
Rated 4 out of 5
by
Lump charcoal purist
from
Time for another Weber grill!
We have bought several of these grills. They last about six years. One wears out, we get another one. But the price is getting up there. The charcoal bin is a waste....I throw it out. The new two piece top grate is heavy, annoying and hard to use ...much prefer a single piece grill. The grill top arrived damaged. Weber did replace it quickly but it was not packed very well. Somewhat disappointed this time.....too expensive with unneeded features. I do like top table area though, but even that feature has been changed from a nice composite material to powder coated stamped metal piece - cheap!!
Date published: 2018-10-12
Rated 4 out of 5
by
Wimp Lo
from
Great, really great but with an important issue
While I love this grill, it is not as heat proof as I would like. It could very well be my fault but these things are supposed to be able to take it. The other day I was using both charcoal with firewood and the rollers where the lid rest, which are made of plastic, melted. The bin on the bottom right where you can put your charcoal or use as a trashcan, also melted from one side. Needless to say, I removed the rollers and always remember to remove the bin before I start cooking. I make everything on this, from all sorts of meat to teppanyaki to wood fired pizzas with a kettle pizza pro. As I said, this could very well be my own fault but I never expected any part of a weber grill to melt due to using charcoal combined with wood. Still, their support is something else and they sent me a new bin. I love Weber.
Date published: 2018-01-12
Rated 5 out of 5
by
GenoM
from
It's a Weber, What Else is There To Say!!!!!!!!!!!
I have been purchasing Weber Grills since 1985. My first was the new version of the 22" with one touch handles. Then replaced my father-in-laws with new one touch. Purchased Little Joe and 18", then another 22" for another property. I was looking for the original version of this grill with the stainless steer door for the side table, and refrained from purchasing the version after that with all of the plastic which my friends said was junk. 3 of us purchased this version recently and while I prefer the original one with the Stainless Steel Door, this one appears to be excellent construction.
Date published: 2019-06-21
Rated 3 out of 5
by
JimAM
from
The grill is great.......but
After two full days of grilling, literally 2 full days, I may have a winner. Temperature is easily controllable and the tabletop comes in handy as well. My problem was assembly. It appears that the frame was "twisted" during shipment to store or something. I was able to easily get a replacement for the bottom part of the frame ( it was too far gone to assemble). When I got to the shelf top, I was only able to get two of the screws in due to "the twist". At this point, I just wanted it done, so i proceeded. two holes stripped, I'll make it work. Grilling is great and easily manageable. I just have those two holes staring at me. I'm glad I don't have OCD. When I ordered the first replacement part, Customer Service was great. no hassles.
Date published: 2018-03-23
Rated 5 out of 5
by
Spuds and Steak
from
Size Matters
My wife bought me a new Weber for Father's Day. I have been cooking on Weber Grills for 40 years. I cook on Charcoal and nothing else. If I wanted to cook on gas I would use my kitchen stove. This new grill has everything I want and need. I have used a grill for a long time and have cooked just about everything on it. My problem is that at my age and the kids gone the grill is just to big. I know I should downsize but the feeling of rolling out my new grill is just plain fun. I can't help myself. Thanks Weber. Spuds and Steak
Date published: 2018-01-13
Rated 5 out of 5
by
doug
from
all about Weber
I really enjoy the Weber grills. I have a Genesis gas grill, but, i love my Performer charcoal grill. There's some about charcoal that can't be beat. This product is very high quality and versatile...I owned a Performer several years ago and love this one, too. I wish Weber would consider a charcoal grill that had a similar body of a gas grill...rectanglular. With their quality and perfection, this would give a very, very versatile charcoal grill that no one could compete with. WEBER, thank you for your products!
Date published: 2018-01-12
Rated 5 out of 5
by
SmokingJacket
from
Very Versatile for Grilling or Smoking
This is a very versatile grill. If I don't feel like I can spark up my Weber Smokey Mountain Grill, I can use the Weber Performer instead. As far as grilling goes, the Weber Performer give me plenty of options. I can easily do a long grill with by using an indirect heating method, or do a fast sear over hot coals. My Weber Perform is fantastic for both regulating an maintaining heat. I can keep a high temperature on the grill for hours without having to continually feed the flames. I've really enjoyed how easy it is to keep clean, as I am using it every weekend so far this summer.
Date published: 2019-06-12
Rated 5 out of 5
by
Dave211
from
impressive grill
Cooks great. You can really control the temp within 10 degrees by opening or closing the damper just a little. Amazed at how little charcoal it needs. So far ribs turned out great, a whole chicken feel apart so tender, burgers and dogs are a breeze. Gonna do a boston Butt next weekend..I'm sure it will do great as well. Planning on getting a warming rack to increase cooking space. Charcoal stays dry in storage. Timer is a nice touch. LOVE the large prep space on the side. Most grills are way to small but this one has plenty of space for a cookie sheet plus. Easy clean up,too...I love it
Date published: 2018-08-27
Rated 5 out of 5
by
bc8993
from
Top Qualitu
I had no intention of getting a new grill. My 2002 Weber Performer was still on excellent condition. A testament to the quality of Weber Grills. As an avid bbq'er and KCBS member, I grill at least once a week in the winter, ang 3 to 5 times a week the rest of the year, so my grill gets plenty of use. I was able to sell my 2002 Performer after receiving my new one for Christmas. my new Performer exceeds my expectations, as I would expect from Weber. I cannot wait to add a Weber Smokey Mountain to my Weber collection soon. Performer for Grilling, Smokey Mountain for Smoking.
Date published: 2018-01-29
Rated 5 out of 5
by
Bob9819
from
Stands the Test of Time
I bought my Performer in 2004 and it is still going strong. In fact, with a good scrub and a couple of user error repairs, it looks almost brand new. My first mistake was parking it on the backyard grass and one of the legs rusted out. The part is actually a C shaped tube with a caster at each end. The second mistake was lifting the unit by the prep surface which, in those days was not metal. It cracked. Not enough to ruin it but a bit unsightly. A call to Weber customer service helped me locate the right parts — a new metal work surface and front leg complete with casters. They also sent me detailed instructions to do both repairs. And everything fit perfectly. And my 12 year old Weber (at that time) looked as good as new.
Date published: 2019-02-23
Rated 3 out of 5
by
Anne
from
Not as good as older model
The ash collector is a cheaper metal than our previous one and harder to remove the ash. The grill is harder to clean because the center portion of the grill easily falls out and it is not one single grill. The directions were not real clear on how to assemble it and it took a couple of days to assemble and a lot of expelitives. I love Weber kettles but I wish they weren't cutting costs by using cheaper materials.
Date published: 2018-01-14
Rated 2 out of 5
by
hookbender
from
Good cart, the hole in the grill however...
After I bought this Weber Performer Premium I was very disappointed with the hole in the grill "feature" I bought the grill to grill on, not cook cakes, stew, bread or whatever else the marketing department came up with to put in the hole in the grill. Tried to trade the "hole in the grill" in for the normal grill, nope Weber said I'd just have to buy that! There is a feature on the cart to hang the grill. What happens when you hang the grill on that feature, the grate in hole in the grill falls out!
Date published: 2018-01-23
Rated 5 out of 5
by
Zackattack
from
An iconic brand that's still #1!!!!
I bought this grill for my dad for Father's Day he would call me every other day telling me how amazing it was and all the features. I just got the same one for my wife and I. We love it so much, In my opinion this brand has brought my family and friends closer it's so much more than a grill to me. Weber you guys rock!!! Thanks, Zack and Mary from Austin TX
Date published: 2019-01-31
Rated 5 out of 5
by
Bobby R
from
What a wonderful, new hobby I've found
My Performer Premium was my Father's Day gift and other than the little hand made widgets my kids would give me through there younger years, this tops any prior gift. This thing has such well thought out features from the lid support, to the charcoal bin, to the ash clean out can. And the way the kettle is engineered, no wonder this kettle has been the grill design others try to measure up to. Best burgers we've ever cooked on the grill. I've now moved beyond just burgers and smoked some ribs. Turned out great. Thanks Weber
Date published: 2018-06-28
Rated 5 out of 5
by
TheSS73
from
Just awesome!
My wife bought this for me and I love it. I love having the small counter next to the grill and the charcoal holder. Even though this replaced my other Weber kettle, I'll still wheel that one out when I need to do some serious grilling. If this came with the 26", I bet a lot would sell. A little extra real-estate with the counter would be nice.
Date published: 2018-01-06
Rated 5 out of 5
by
skyhawk615
from
Outstanding Grill
This is my 4th Weber and by far the best. The kettle is excellent (as usual) but it is the integration with the table that makes the difference. With the built in Charcoal bin, adding charcoal throughout the grilling process very easy. The added space from the fixed table make preparation, grilling and serving a breeze. Outstanding system.
Date published: 2018-03-05
Rated 5 out of 5
by
NorthernSmoke
from
Excellent Unit
Great unit, built to last! Living in Wisconsin we see a lot of varying temperatures and conditions. This grill handles them all, still hitting high temps for steaks in the middle of winter and rolling long low temp coals for indirect summer cooking. I do believe this grill will be on the deck for every bit of 20+years!!
Date published: 2018-05-20
Rated 4 out of 5
by
Mrcpb
from
It's not the grill, it's me!
I do like the grill. A lot. My husband has a gas grill but I've always wanted a charcoal, Food comes out great. Very tasty. My 2 problems, and I won't let my husband help, I want to learn myself: It takes at least an hour and a half get the temperature up and even then only half the briquettes are gray. I have the vents on the lid & the vent on the bottom both open. Second thing is I can't get the bottom ash holder attached except on one side. Other than that, I love the grill and I'll soon get it right.
Date published: 2019-09-23
Rated 5 out of 5
by
miked73
from
Nice grill
Purchased this grill to replace a previous model I left when I relocated. Really like the tabletop compared to the previous one which was plastic. The only feature I didn't realize this grill didn't have that the other one had was the gas starter, this feature was what really sold me on the first purchase and the weber name. This was not realized till a week after purchase as that's when it was un-boxed. I really like the new cooking grate with all the options that you can use to use different cooking methods.
Date published: 2018-08-09
Rated 5 out of 5
by
Bajo Bob
from
Weber - Performer Premium Charcoal Grill
Purchased from a local retail dealer, assembly was straight-forward and relatively simple. Liked how the side bucket holds a medium-size bag of briquettes. Lights easily, holds heat well, have not tried using anything else but the briquette side compartments for indirect heat. Trusted the Weber name and chose this brand because of the Weber reputation. Have owned the grill since March 2017, used sparingly. Will be sure to inaugurate the spring grilling season once the snow clears from the back patio.
Date published: 2018-01-12
Rated 2 out of 5
by
Johnny5000
from
For Beginners
This grill achieved high ratings on every website that was selling it and every forum that reviewed it. I must have missed the part where it said it was for people learning how to grill. The quality is great, there are plenty of accessories to accomplish different types of cooks, but it's design lends to a lot of wasted charcoal and pigeon holes you into cooking the way "Weber" wants you to. I'm sure it's great for the average griller. This is not a great grill for the already initiated.
Date published: 2019-08-05
Rated 5 out of 5
by
BenT
from
I am a Weber Guy
I have had a Weber grill since I left my Dad's home many years ago. We have always been a grilling family (My dad and 5 sons). One of my brothers crossed over to the dark side of ceramic grills and my wife thought I should also and bought me one but after using it (alongside my weber) I finally sold it and bought myself a new Weber with an attached table. In my mind there is no substitute for the quality, ease of use and consistency of a Weber not to mention the recipes and tips available.
Date published: 2018-01-13
bvseo_sdk, dw_cartridge, 16.1.1, p_sdk_3.2.0
CLOUD, timer 153ms, 0ms
reviews, product
bvseo_sdk, dw_cartridge, 16.1.1, p_sdk_3.2.0
CLOUD, getContent, 0ms
reviews, product
Keep Exploring
Performer Series

Performer Charcoal Grill 22"

Performer Series

Performer Deluxe Charcoal Grill 22"