Original Kettle Series
LET'S TOAST TO ORIGINALITY
Weber
Original Kettle Charcoal Grill 22"

Black
Image for capacity demonstration purposes only.
Actual product model and features may vary.
Immerse yourself in the sound of crackling briquettes and the rich, inviting smell of smoke. Stay true to the modern version of the kettle that started it all - the Original Kettle. Invented by Weber's founder, and loved around the world. This is the essence of charcoal grilling.
Part #741001

Free Shipping & Returns on Weber.com Orders $50+
Free Standard Ground shipping on small parcels and grills <70 lbs. via FedEx, with delivery within 5-8 business days, expedited options available. Free 30 day returns. Shipping Information & Return Policy
Dimensions - Lid Closed (inches)

39.5"H x 22.5"W x 25"D

Diameter (inches)

22

Primary cooking area (square inches)

363

Total cooking area (square inches)

363

Fuel type

Charcoal

Glass-reinforced nylon handles

2

Durable all-weather wheels

2

Rust-resistant aluminum dampers

1

Features

Plated steel cooking grate

Heavy-gauge steel charcoal grate

Porcelain-enameled bowl and lid

Bottom wire rack

Lid handle with heat shield

Angled lid hook inside grill lid

Removable, aluminum ash catcher

Aluminized steel One-Touch cleaning system

Spring clip/push pin leg assembly

Bowl and lid

10 years, no rust through/burn through

One-Touch cleaning system

5 years, no rust through/burn through

Plastic components

5 years, excluding fading or discoloration

All remaining parts

2 years

Combustion by-products produced when using this product contain chemicals known to the State of California to cause cancer, birth defects, or other reproductive harm.



Image for capacity demonstration purposes only.
Actual product model and features may vary.
Removable, aluminum ash catcher

Plated steel cooking grate

Lid handle with heat shield

Porcelain-enameled bowl and lid

Aluminized steel One-Touch cleaning system
---
---
---
EXPLORE THE CAPACITY OFTHE Original Kettle
Ignite the coals and grill for the entire family on this classic charcoal grill. Plenty of space for grilling up a bunch of steaks or a burger for anyone who stops by.
Image for capacity demonstration purposes only.
Actual product model and features may vary.

Serves 4-6 people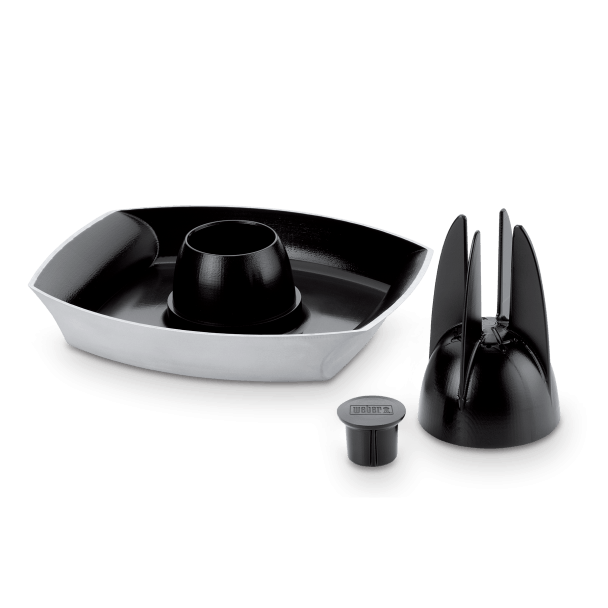 Think beyond the name
NOT YOUR AVERAGE POULTRY ROASTER
Create mouth-watering chicken enhanced with flavors only produced in a grill, or take this accessory to the next level. Prepare anything from nachos, chocolate fondue, or even a luscious cake. We'll leave it up to you, your imagination, and midday craving.
EXPLORE POULTRY ROASTERS
Original Kettle Charcoal Grill 22" is rated out of 5 by 225.
Rated 4 out of 5
by
Snn5
from
Great basic grill
Why Weber over a kettle at half the price? Because parts are readily available locally. Generic brands are tossed after rusted grates and legs fail. I'd rather buy parts than a new grill every however often. Why the basic over the premium? Wasn't worried about a large ash catcher, I have no issue with the ash pan. Didn't need a lid thermometer since those aren't accurate. I know how to arrange charcoal for zones, so didn't need separators. I have mitts so didn't need a top grate with hinges. Wheels and legs seem a little weak and lid isn't air tight. For about $110, as long as the lid and kettle don't rust and grates are easy to find locally, I'm satisfied.
Date published: 2019-07-14
Rated 5 out of 5
by
Wabash holiday griller
from
Great upgrade features.
This is not my first Weber Kettle. I had my last one so long it was time to get another one. I really love the upgrade Weber did with the legs. The clips that you insert into the legs have a button that snaps into place when connecting it to the kettle. This is important for me because I have to move the kettle up the steps from my basement to the patio. Sometimes the legs would fall out. Not any more. The assembly booklet was very helpful. There is an online video if you want to use it. Registration of the product is also online. My Memorial Day grilling was memorable. Thanks for the improvements.
Date published: 2019-06-13
Rated 5 out of 5
by
Burulu
from
Nothing beats the real thing
Have had the big box store gas grills, only to rot the burners in 3 yrs. The infrared block arm hair cincher is ultra expensive and practical but a pain to clean and replacement of one burner cost as much as 3 of these grills. This is only our second Weber in 32 years, gave the other one to our son. Once you master the chimney for starting the coals and get the baffle for indirect heat and the rotisserie kit and basket, you can do it all. Aftermarket stainless rod grill grates are my best update and highly recommend them, buy once and be done with cheap plates steel parts. Lump charcoal from B and B or Royal Oak as good as bags of others costing double. Can't say enough about how good the Weber is. Enjoy !!!
Date published: 2019-06-12
Rated 5 out of 5
by
Steeevo49
from
Back to Charcoal
After using a gas grill for a couple of years I missed the flavor and versatility of a charcoal grill. My birthday was fast approaching and my wife asked me what I would like for the occasion. She talked about a couple of things that I had mentioned would be nice to have, but finally I said that I wanted to get back to grilling with charcoal and suggested a Weber Kettle. So that's what she got me, and I couldn't be happier. I use it 3 - 4 times a week and it's a success every time. (I'm thinking I may have to put my gas grill in mothballs). Whether I grill direct or indirect that flavor is always there. I have not ventured into smoking anything, but plan on going there soon. The bottom line is that I love my Weber Kettle.
Date published: 2019-08-24
Rated 5 out of 5
by
Madtiger73
from
Grillin n Smokin
Another one to the collection. Decided the framework of the last grill was perhaps weakened and needed to be upgraded. Didn't get rid of the previous one however since we like to grill and smoke at the same time. Just made one of the most amazing smoked pork butts ever. Ten hours of smoking and some follow on tricks and it was so amazingly delicious that you would do it a horrific injustice adding sauces or seasongings. Beautiful smoke ring I might add. We've smoked briskets and ribs in them as well. Falling off the bone and delirious. Love my Weber's!
Date published: 2019-03-28
Rated 5 out of 5
by
Jonny Zags
from
The Standard of Charcoal Grilling
When I moved away my parents bought me this as a Christmas Gift. It was my first barbecue ever as well as my first experience grilling with charcoal. It took a while for me to get the hang of it, but I am hooked and never going back. I was amazed at just how versatile this grill is, from a quick burger grill to nice long smoking sessions this baby can handle it all. I would recommend maybe gowing up to the premium or master touch series though to get the grill grates or Gourmet system, but you can always just buy replacement grills for it if need be.
Date published: 2019-08-16
Rated 5 out of 5
by
MACHAPMAN422
from
Great Basic Charcoal Grill
This is my second 22" Original Kettle Grill. My last one (Which was over 10 years old when I got it from a neighbor who was moving) was given away to a neighbor when I won a new Kingsford Charcoal grill at out Neighbor Night out back in 2015. It's cast iron grates rusted out and finish started to bubble and rust after 3 years under a covered patio. It was a cheap replacement and my family bought me another new 22" Original Kettle Grill this year for Fathers Day with a cover. I loved my original grill and sure this one will get tons of use.
Date published: 2018-08-12
Rated 5 out of 5
by
Al Blues
from
Just what i wanted
This is what a grill should be. I bought this grill to upgrade from a cheap plain 18 inch square grill i had been using and i'm so glad that i did. This 22 inch kettle is the perfect size for cooking for my family and has enough room to cook for a small gathering as well. The grill heats quickly and holds heat at steady temperatures. Once you learn to control the vents even low and slow cooking is possible. I've cooked whole chickens, racks of ribs, and more at a steady 250 degrees and the quality of the food was amazing. I add wood chunks to the coals and it works great as a smoker as well as just a grill. I would give it more stars if i could, as i can't find anything to really complain about. I love it and use it on average of five times a week.
Date published: 2018-08-18
Rated 3 out of 5
by
Nick Danger
from
22" Weber Grill ~ No Frills
I've used it twice since I purchased it in the summer. It works fine for what it is, but it's not anything beyond a normal grill. I decided to use lump charcoal, not briquettes. I found the bottom grate was too wide and the lump charcoal would fall through to the ash holder. I went and purchased a second bottom grate, placed it 90 degrees offset and used safety wire to hold it. The cross hatch pattern that holds the lump charcoal is tight enough to keep the smaller parts from dropping down, but still provides enough air to keep the lump charcoal burning. I recommend this to any that decide to use lump charcoal and not briquettes. Outside of that I have no problems with the grill, it's just not that spectacular. Hopefully it will last a long time.
Date published: 2018-01-06
Rated 5 out of 5
by
JeffY
from
Long lasting
We were given one of these as an wedding gift. Although I replaced the charcoal grate several times the unit lasted us 30 years and would probably be still using had it not fallen off the back of a truck. We cooked our Thanksgiving turkey on this grill several times. We gave the same type Weber to others as wedding gifts, since we were so pleased with ours. Unfortunately we replaced our Weber with a different make gas grill which has lasted only five years. Now on a fixed income my Weber days are over. Great products though
Date published: 2018-05-26
Rated 5 out of 5
by
Eclectic Griller
from
Still The Same
Years earlier I owned a kettle. Many great meals were prepared with that old one. I got modern and went to gas grills, but was never satisfied. Upon purchasing the new 22" original kettle, I couldnt help but notice that there were changes. The 3 daisy wheels were replaced by a scraper/damper system.The wooden handle was now thermoplastic. The legs inserted in a different fashion. But I can assure you of one thing. The grill itself still cooks the same great food! Never going back to cheap gas grills again.
Date published: 2018-01-12
Rated 4 out of 5
by
Poppa
from
Okay Replacement
Although I like this WEBER replacement for the one I had of same size for many, many years, it doesn't appear to be built of the same quality as my previous Weber grills. The interior brackets holding the grill, as well as the more flimsy material used for the grill itself leaves much to be desired; it doesn't sit well and is easily misplaced during grilling. Apparently WEBER has gone the way-of-the-world and skimmed on thickness of materials, etc. That said, WEBER is still my choice for grills...
Date published: 2018-01-12
Rated 1 out of 5
by
BRUE
from
Not the quality I was your grills are
I bought this grill last year, 2018, got it out for the first time this year. 6/16/2019and the bowl had rust, and a lot of it, and the cooking grate on top, had rust on it too. This grill was stored in a new shed, close off to all weather conditions. It was bought at Lowe's. Very disappointed in this weber product, we like to grill without tin foil, guess that won't happen for father day. Very Disappointed Bruce
Date published: 2019-06-16
Rated 5 out of 5
by
The Gong
from
Old faithful
My Weber kettle finally broke. I owned it for 28 years and used it about every other week. It travelled with me from South Africa to CA to AZ to MI. No parts had been replaced. The only repairs were the addition of screws to prevent the legs from detaching. Cooking on the grill was a pleasure. Heat was distributed evenly over the surface and easily regulated. The 22" was perfect for my family. The welding on the handle has failed. The rust is starting to get under the paint so I will replace it.
Date published: 2019-09-09
Rated 5 out of 5
by
Graysailor
from
Cooks anything much better than big box gas grills
I have a big box gas grill I use when I don't have time to get charcoal going, but with a charcoal metal pipe starter, it's pretty easy to get charcoal going. I actually used webers years ago but then go the big box gas grill - it was easy but everything I cooked was overdone or underdone. The webers shape and your ability to control the air flow makes it the best cooker by far, makes all of your food taste so much better sometimes I decide NOT to cook out if I don't have time to use the Weber.
Date published: 2019-08-04
Rated 5 out of 5
by
GA Dave
from
Glad to be part of the community
The best part of owning a Weber kettle is filling the neighborhood with the aroma of "someone's eating steak tonight". I couldn't ask for a better grill that is so easy to use.
Date published: 2019-07-19
Rated 4 out of 5
by
JudyR1951
from
Great flavor
I bought this grill as an addition to the natural gas Weber grill we have had for many years. I missed the charcoal flavor. This original grill is easy to use but I haven't yet used enough charcoal. I am using natural charcoal not briquettes and can't get it through my head that you have to use substantially more due to the irregular shape. I do wish Weber made a high quality hinged grate for this grill to make it easier to add more charcoal during cooking.
Date published: 2019-07-21
Rated 5 out of 5
by
SaabGriller
from
Charcoal is renewable.
My 22" kettle is my buddy during the weekend and some days of the week. I use the chimney starter to get everything going, and get all the vegetables and bread ready to toss on when the time is right. Sometimes I sous vide the meat prior to grilling, but my 25 year old Weber usually knows how to do the rest. I recently got a grill pad to place on the grill, so asparagus won't fall through. The grill accessories from Weber are really perfect for this as well.
Date published: 2018-08-04
Rated 5 out of 5
by
Kenosha Comic Con
from
grill has lost a feature since the last time
I miss the cool handle on the grill lid for the top vent. I really wanted to justify buying the red kettle model but it was cheaper to buy this one and get a few extra's to make it as nice, bought the charcoal briquet holders (mine were about 20 years old) and the hinged cooking grates. I had a meat thermometer. My old grill cooked hotter on one side. So far I'm not having this problem. I think it may have been the surface I had the old grill on.
Date published: 2018-12-09
Rated 4 out of 5
by
Mr. Cub
from
Basics are good
This grill was given to my wife and me as a house warming gift. We have a Weber gas grill, but our friends wanted us to learn to appreciate charcoal grilling. They came up, and showed me how to seer, and indirect cook, etc. I just have to get past the ease of just turning it on. The Weber grill cover needs to have two velcro straps. The cover flies off in strong winds. I think the grill does a fine job of grilling, when I take the time to use it.
Date published: 2019-09-14
Rated 3 out of 5
by
Drew56
from
Like the simple Weber Kettle. Customer service,meh
I've been enjoying grilling with my first-ever purchased grill, the Weber Kettle. Good construction with the exception of the nuts used to fasten the handle to the lid. One pair just absolutely wouldn't tighten without stripping or coming off. Called Weber twice for a replacement part or handle kit, and twice they sent me the wrong part. I'll just try to find replacement nuts at a hardware store -they'd be better than the ones Weber is using.
Date published: 2019-02-01
Rated 4 out of 5
by
No nickname Scott
from
Lowes vs bargain hunt quality
I bought one from lowes. Loose lid when in cooking position. Bought another from bargain hunt. That one the lid is way loose and the bottom vent handle is wrong from factory. It vents when handle is in closed position. I have owned the 18" grill for 14 years. I am a weber fan but the grill from bargain hunt was defective
Date published: 2018-01-13
Rated 5 out of 5
by
GrillSgt603
from
20+ years and still going strong!
I bought this grill 20 years ago as a young Airman in NM. I've moved five times and it's survived. I've had to replace the grates twice (I don't clean them). The amount of seasoning that has built up over the years while smoking meat or direct cooking has been phenomenal. Great for smoking turkeys, crown roasts, roasts, and Boston butts!! In one photo I have a tray to catch strays embers because I'm renting this house...
Date published: 2020-01-02
Rated 4 out of 5
by
Adamcxs
from
I love my Kettle
I received the 22" kettle as a Father's Day gift from my wife in 2018. I love the grill and it's performance, and how easy it is to use. There are only two items I would change that just for ease of use. 1. I would have the wing racks included with every grill, I love to smoke on mine. 2. I would include a second handle on the kettle for when moving is required. Outside of that I love it and wouldn't trade it for the world.
Date published: 2019-06-27
Rated 5 out of 5
by
V.O.
from
Why did I wait so long?
I am not show why I waited so long to purchase a kettle but, WOW! I love this baby! I used to use my offset barrel smoker for grilling but it was such a paint to clean and took a lot of coals to get it up to temp. The Weber kettle has non of the downfalls of my previous charcoal grills had and tons of added benefits! This grill is a BIG performer in a small package. Thank you Weber! I'm a life long fan now.
Date published: 2018-03-28
Rated 5 out of 5
by
Thad
from
No Comparison
I love this thing!! I was gifted a barrel grill a couple of days after I bought the the Weber kettle.. I tried to use the barrel but it does'nt in no way perform like the Weber.. The temperature is so much easier to control than any other charcoal grill that I've used.. And the support is awesome, whether it be from the company itself or from the Weber kettle users around the world.. There's no comparison..
Date published: 2018-01-13
Rated 5 out of 5
by
TechDad
from
Great Addition to My Patio
Of course I researched, with so many resources who doesn't spend hours and hours reading about something you're about to purchase, and in the end I made the perfect choice for me. I chose the Original 22" Weber Kettle, and I am very happy with my choice. The perfect size for my patio and for the amount of cooking that I do. By the way, it was easy to put together with easy to follow instructions.
Date published: 2019-06-25
Rated 5 out of 5
by
foster child 27
from
Amazing Kettle Grill
no leaks meaning it seals nicely and that is extremely important I have found because it stabilizes the temperature which makes it the ideal kettle to cook a wide variety of foods great size great price for the quality and reliability great product warranty easy to assemble easy to clean convenient size for going mobile or storing great accessory options and overall a joy to own.
Date published: 2019-06-12
Rated 5 out of 5
by
NickD
from
Versatility
I bought this grill recently due to previous reviews of how well it works. I have in the past month bought 2 more because I love it so much. You can use it as a smoker, roaster, grill etc. Plus the add ins you can use make this thing the Honda of grills. Weber is known for quality products so I'm sure I will have this grill for years and years. Definitely recommend this product.
Date published: 2018-05-18
Rated 4 out of 5
by
Haychip
from
Replacing a 30 year old Weber
Replacing a 30 year old same model. All good except the grill is lighter gauge steel and smaller diameter, when you brush the grill or use a spatula to mover meat the whole grill moves about 3/4 to 1" inside kettle. Not a deal breaker but I don't like the entire grill moving around. I'm going to try and do something to sung it up. Grill should really be about 1" larger diameter
Date published: 2019-12-02
bvseo_sdk, dw_cartridge, 16.1.1, p_sdk_3.2.0
CLOUD, timer 219ms, 0ms
reviews, product
bvseo_sdk, dw_cartridge, 16.1.1, p_sdk_3.2.0
CLOUD, getContent, 0ms
reviews, product
Keep Exploring
Original Kettle Series

Original Kettle Charcoal Grill 18"

Original Kettle Series

Original Kettle Premium Charcoal Grill 22"

Original Kettle Series

Original Kettle Premium Charcoal Grill 26"