Original Kettle Series
CHARCOAL GRILLING IN ITS PRIME
Weber
Original Kettle Premium Charcoal Grill 22"

Black
Image for capacity demonstration purposes only.
Actual product model and features may vary.
The authenticity of grilling with charcoal, classic design recognized by all, and the taste loved around the world. The Original Kettle Premium charcoal grill stays true to the backyard icon while taking it up a notch with an upgraded cleaning system.
Part #14401001

Free Shipping & Returns on Weber.com Orders $50+
Free Standard Ground shipping on small parcels and grills <70 lbs. via FedEx, with delivery within 5-8 business days, expedited options available. Free 30 day returns. Shipping Information & Return Policy
Dimensions - Lid Closed (inches)

39.5"H x 22.5"W x 27"D

Diameter (inches)

22

Primary cooking area (square inches)

363

Total cooking area (square inches)

363

Fuel type

Charcoal

Glass-reinforced nylon handles

2

Durable all-weather wheels

2

Tool hooks

2

Rust-resistant aluminum dampers

1

Features

Plated steel, hinged cooking grate

Heavy-gauge steel charcoal grate

Porcelain-enameled bowl and lid

Built-in lid thermometer

Bottom wire rack

Lid handle with heat shield

Angled lid hook inside grill lid

Removable, high-capacity, aluminum ash catcher

Aluminized steel One-Touch cleaning system

Spring clip/push pin leg assembly

Bowl and lid

10 years, no rust through/burn through

One-Touch cleaning system

5 years, no rust through/burn through

Plastic components

5 years, excluding fading or discoloration

All remaining parts

2 years

Combustion by-products produced when using this product contain chemicals known to the State of California to cause cancer, birth defects, or other reproductive harm.



Image for capacity demonstration purposes only.
Actual product model and features may vary.
Removable, high-capacity, aluminum ash catcher

Plated steel, hinged cooking grate

Lid handle with heat shield

Porcelain-enameled bowl and lid

Aluminized steel One-Touch cleaning system
---
---
---
EXPLORE THE CAPACITY OFOriginal Kettle Premium
Ignite the coals and grill for the entire family on this classic charcoal grill. Plenty of space for grilling up a bunch of steaks or a burger for anyone who stops by.
Image for capacity demonstration purposes only.
Actual product model and features may vary.

Serves 4-6 people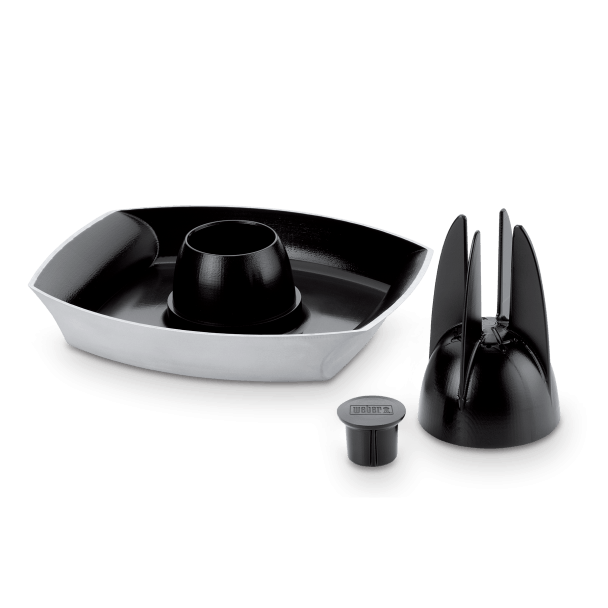 Think beyond the name
NOT YOUR AVERAGE POULTRY ROASTER
Create mouth-watering chicken enhanced with flavors only produced in a grill, or take this accessory to the next level. Prepare anything from nachos, chocolate fondue, or even a luscious cake. We'll leave it up to you, your imagination, and midday craving.
EXPLORE POULTRY ROASTERS
Original Kettle Premium Charcoal Grill 22" is rated out of 5 by 709.
Rated 5 out of 5
by
Donnie D
from
My Daughter's Good Idea
I have had nothing but gas grills for years. Had a weber so long ago I almost forgot and I liked it, used it a lot. Well, we needed a grill for the house, I was looking at gas of course when my daughter stepped in and said "get a Weber" you will love it. Reminded me of the time when I had one and the success I had cooking on it so I bought the Original Kettle Premium Charcoal Grill 22. Love it! Easy to use, easy to clean up, cooks just as well if not better than the one I had years ago. Glad I bought it. It has encouraged the daughter to cook on it too. I would recommend it for anyone that wants a top notch charcoal grill. You won't be sorry.
Date published: 2019-06-27
Rated 5 out of 5
by
Tallman
from
Best wings ever
I'd forgotten how good food tastes on a Weber. I'm seeing 600 degrees when I cook a batch of wings, crisp skin and juicy meat is easy. We had a lamb breast the other day, picture spare ribs made out of lamb. Cooked it indirectly, it was incredible. Speaking of ribs they're great too. I paired them with a chicken, indirect for the ribs for an hour, then wrap in foil and put the chicken over the coals. What's really cool is I get consistent results with the Weber grilles. That's why I bought two. One for home and one for the cabin.
Date published: 2018-01-12
Rated 5 out of 5
by
Mrjaaay
from
From an Old Guy
When I was younger, all the older cooks that were interested in cooking more than hot-dogs and burgers had a Weber. Now I'm the old guy with the Weber. I've had it for about a month. I've cooked everything from burgers to steak, pizza and chicken Parmesan (in a cast iron skillet) on this grill. Follow the directions in the owners guide for charcoal quantities, pre-heating, vent settings, and cook time and you won't go wrong. If this is going to be your only grill, I would buy the larger unit. Two large cast iron skillets won't both fit on the 22" at the same time. I would recommend this product no matter your level of outdoor cooking experience.
Date published: 2019-07-03
Rated 4 out of 5
by
Dehler55
from
Almost a forever grill
I debated on getting this model, or the master touch. The master touch only comes in black and I already have a black weber in the back yard. But I really wanted the copper color for the front porch. Please make a master touch in other colors. They are slightly higher and have the bailer. Also have a handle on the vent cover. I sacrificed the options for the color. I know.... why.... but I was drawn to the color since I already had a black one in the back. I was torn. Otherwise it's still a GREAT grill!!!! Great quality. Great design, but you will notice other options for slightly more expensive models with only one color.... black.
Date published: 2019-06-29
Rated 5 out of 5
by
Tina L
from
Invest in it; you won't be dissappointed
I love this grill! Prior to buying I looked over the reviews and decided to take a chance. I couldn't be more satisfied. Assembly was simple, although it took the most time to align the legs. Used it on Memorial Day for a cookout. I smoked ribs for the first time ever, and grilled multiple other meats. Everything came out perfectly. Adding charcoals is no longer a chore. Clean up was amazing with the ceramic surface. I have never had a charcoal grill that functions as well as this one does and don't think that I will ever go back to gas or a cheaper model ever. Also, download the Weber instructions for helpful tips on grilling the perfect meat. Thanks Weber.
Date published: 2019-06-14
Rated 5 out of 5
by
Shawnk02
from
Quality manufaturing
I finally decided it was time to upgrade from an 18" classic kettle from the 90s. It was a hand me down that still had years left of grilling, but I decided I needed a larger cooking surface and some updated features. Weber was the only charcoal grill I would even consider. The quality is top notch. Weber sets the standard in charcoal grills. The fit and finish is great and I love the updated dampers and ash pan. I expect to be using this grill for years to come making memories with family. When the time comes I will hand it down to my son for his first grill, as he continues our family tradition of Weber grills.
Date published: 2018-08-21
Rated 5 out of 5
by
Mdojeda
from
Best grill I own!!
How some guys like buying cars I like buying grills. In my backyard i currently have four grills. Not including my new Weber ( first Weber I ever purchased by the way). I love to sit out side and grill. I was going through grills and looking a reviews trying to find that perfect grill for me. About two months ago I purchased the original kettle premium grill and downloaded the Weber app. The grill was easy to assemble and I wanted to grill chicken quarter legs. I pulled up the app and it told me how to set all my setting and how long to grill it for and it came out perfect and looks pretty darn good in my backyard. Best and only grill I'll purchase!!! TRUE STORY!!
Date published: 2019-06-12
Rated 4 out of 5
by
tbjoe
from
Great update to an already great product!
I recently bought a new 22" Kettle as a replacement for my old Weber kettle as I did not want to move the old grill. As my last kettle was over 8 years old, I noticed several improvements made on the new model: The heat shield on the lid handle, integral thermometer - don't have to add one myself!, the ash catcher is much easier to remove and replace. Overall a great product! The reason for only 4 stars (and 3 stars for design) is due to the placement of the lid catch. On prior models, this was placed in line with the lid handle. My new one is now perpendicular, which makes it a bit awkward to latch the lid on the side of the kettle when checking/basting/turning.
Date published: 2019-06-27
Rated 4 out of 5
by
ingavar
from
Fairly easy to control heat
Works pretty good. Holds heat well and fairly easy to control the temp. Looks good. One problem so far. Installation of the ash catcher/legs. Had a LOT of trouble putting the legs onto the kettle portion with the ash catcher tabs in place. Had to remove the ash catcher tabs to install legs and put them back in place after leg install. It appears there is not enough room to put the legs on with the ash catcher with the tabs inserted. Still haven't got the tabs back in for a snug fit but will keep trying. All in all a very good kettle. This is my second one as my used one I bought has died after 25+ years.
Date published: 2018-07-22
Rated 5 out of 5
by
chrisyoung
from
Great grill with a great support team
My old (non-Weber) grill bit the dust on a windy day when it fell over and the ash collector broke off, so I picked this one up as a replacement. Much easier to use, much better quality and it just seems like a great product. Wish I would have bought this one in the first place. After relocating across the country for work, I had lost some parts to the leg assembly (not the fault of the grill construction, just had gotten knocked around a bit in the moving truck). After contacting Weber, they sent out the replacement parts free of charge - talk about awesome customer support! Even if this grill does bite the dust one day, I'm sure I'll replace it with another Weber.
Date published: 2019-02-17
Rated 5 out of 5
by
Anonymous
from
A simple charcoal grill...but so much more.
I have had my eye on the Weber kettle as long as I can remember but the cost always left me apprehensive. I was recently surprised when I found a previous year model on clearance and the offer was too good to pass up. I owned the smaller version for years and while I have zero complaints overall it's not something you can cook for a crowd on. The 22" Original Kettle Premium has enough elbow room (more specifically wings, legs and thighs) to cook for family and friends. The biggest surprise out of the box was the heft and build quality of the components. I expected lightweight materials and flimsy legs, handles, etc.. What I got was a heavy duty, ruggedly built grill that will last a lifetime. There is a reason that Weber has the reputation it does. It's quality. The 22" size is perfect for offset cooking so cuts that require low and slow can get the perfect cook you are looking for. Toss in a chunk of wood every now and then and you essentially have a smoker. While my electric smoker has the ease of 'set it and forget it' it doesn't hold a candle to the authentic smoked character that the Weber provides. Charcoal adds flavor that you just don't get in other cooking methods. If you have been on the fence with a Weber Kettle of any size or model I would enthusiastically encourage you to do so. I never thought a simple charcoal grill would have so much impact on my day to day grilling and help me to become a better pit master in such a short time. Try it! You'll love it too!
Date published: 2019-06-12
Rated 4 out of 5
by
ReRobo
from
Good value, but could use some small improvements
The product has a great set of features and after having the new removable ash pan design it really is hard to go back to anything else. The grate with the flip up sides is also a great addition. Given that it is the "premium" I really would have liked to see some kind of plastic tab on the top vent though. It is something that would have cost pennies to add and is a real safety issue as it will get super hot during a cook. The vent control also really needs to have some kind of indicator that tells you how far the vents are open or closed. I plan on fixing this at some point with grinding some symbols on it so you can actually see if they are open, closed, or half open.
Date published: 2019-06-27
Rated 5 out of 5
by
Tim in Syracuse
from
You won't regret it!
I love my Weber Kettle grill! The quality is top notch and there is nothing better than enjoying a beer and smelling great tasting food cook on the kettle. I don't even use my propane grill anymore. I really like how Weber has focused on finer details to improve the experience with the premium kettle series. The hand guard on the lid, handles with hooks for utensils, ash bucket for no mess cooking and cleanup plus the overall design makes this the best charcoal grill for me. My only grip with this grill is the size and quality of the wheels. While they get the job done, I think that customers would benefit from larger and higher quality wheels for transporting the grill.
Date published: 2020-03-12
Rated 5 out of 5
by
JSeymour81
from
Best Grill I've Ever Owned!
I received my copper Original Kettle Premium as a Christmas gift from my father-in-law in 2016. I've always been a year round griller, but had traditionally been using gas for years. I must say, I'm extremely impressed with my Kettle! It has since replaced a (non-Weber) gas grill and a propane box smoker on its own. Steaks, burgers, brats, and chicken are so much better on the Weber! It's been easier to control the heat, and the smokey flavor really ads to food. Plus, the 22" cooking surface offers tons of space to cook for plenty of people. And learning to smoke.... easily the best ribs and pork shoulders I've ever made! I'm pretty sure my neighbors get jealous when they smell the smoke from firing it up! Not only is operation and cooking so easy, but so is clean up. The one touch system makes clean up a breeze, and keeps the Kettle operating consistently. And given the quality of how it's made, I'm sure this is going to be a gift I'll have for the rest of my life. Couldn't be happier with my Weber Kettle!
Date published: 2018-01-13
Rated 4 out of 5
by
Grubbo
from
Some problems with the paint
We have owned numerous grills over the years ..love the company, but was a bit disappointed this time when buying my new kettle. The bottom half had a large paint run, I called customer service and another one was sent out. They were more than helpful and pleasant . It also had a drool in the paint but I am going to live with it. I like to scrape down my grill after doing wings. Lots of powder spices makes a mess. Just hoping I don't catch the run in the paint and create a bare spot. Never saw this problem before. But all in all, will always go with Weber, in fact just got a new Spirit II this week!
Date published: 2018-06-22
Rated 5 out of 5
by
blowtorch
from
quality product
This is the 2nd weber I' ever owned. My 18" is 17 years old this year and it's in my camper now. Quality is superb. I've tried other brands years ago but always end up with rotted bottoms. Steal is thick, weatherproof and tight on closure which keeps cooking temp even. No hot spots or cold spots, just perfect ribs and briskets. I bought the 22" My lid had a weird dent when I bought it brand new. Called weber and kindly asked for paint. They didn't even bother with the hassle, they just sent me a new replacement lid in the mail the next day. omg how nice. Thank you for continuing to make great products. I wish the rotisserie accesory wasn't so expensive. I want it.
Date published: 2018-09-23
Rated 5 out of 5
by
bbqApprentice
from
My go to grill!
I purchased my 22" original kettle grill almost a year ago and started filling and smoking with it in the dead of winter! Yes, you read right I have and do smoke meat with my Weber grill. The construction is solid. It was a snap to assemble. The cooking real estate is immense. I can easily grill several hamburgers, hotdogs, and chicken breasts all at the same time and feed everyone. No one has to wait for what they want as other things are being grilled. Smoking is not an issue with the Weber either. Set up for an offset cook, add a couple lumps of smoke wood, mind your temp, sit back, and you will be rewarded with smoked meat that will melt in your mouth. I can't say enough about my Weber grill and will be adding to my collection in the near future!
Date published: 2020-01-08
Rated 5 out of 5
by
Crystal River
from
Great Product
I finally replaced my 18" Weber with this one. The added room is great. I really like the thermometer and the ash holder. The hinged grill makes it easier to add coal if needed. I'm still getting used to the larger size but so far the results have been good. I think I'll always have a Weber charcoal grill because of the great flavor and the fact that you can grill almost anything. At lower temps it's great for smoking and it gets plenty hot for steaks and pizza. The only negative thing is that the top vent doesn't seem to fit right and is loose so I can never really shut it off completely.
Date published: 2019-07-27
Rated 5 out of 5
by
Proctorvillephil
from
Awesome grill!
Awesome grill! Been wanting a good charcoal grill for quite while now, you can't beat this one. Built to last and it gives such a better taste than cooking on a gas grill. Would highly recommend!
Date published: 2020-03-27
Rated 2 out of 5
by
splatthunts
from
Faulty Manufacturing
I was excited when I purchased a new premium Weber grill and opened the box and everything looked beautiful. It took me about an hour to put everything together and upon completion, I set the cooking grates inside and one of the grate brackets was like 2" off, which made the whole grate unstable. Unfortunately, I had to disassemble, return it to the store, and come to find out, they don't sell them anymore! So a lot of hassle and in the end, no grill. I am sure it was a fluke, but other than the bracket being off, the materials looked really nice. Maybe one day I'll be able to get another one.
Date published: 2019-06-27
Rated 5 out of 5
by
BSwisher
from
Weber is AMAZING!!!
I had a older Weber kettle for many years but it finally had to be retired a few years ago. Since then I have used gas grills, offset smokers, drum smokers etc. I recently saw the Copper Kettle Premium and decided it was time to go back to the basics and I am SOOO happy that i did. I have 6 other outdoor cookers but haven't used a single one of them since i got my new kettle. I had a minor issue with the lid on the kettle when i got it but I contacted Weber and within 5 minutes the support staff resolved my issue well beyond my expectations. Weber has a loyal customer for life at this point..
Date published: 2018-11-08
Rated 4 out of 5
by
Anonymous
from
Leaky and low but good
This is my first ever Weber and I love it. The one-touch system makes using it a breeze. It's the first charcoal grill I've ever cleaned every cook. I use it mostly as a smoker and, after some trial and error, I'm getting used to controlling the temp well enough to seldom have to raise the lid. But the lid is very leaky on mine. That may be because I bought a display. Also the legs seem oddly low, even for a short guy like me. Finally the Bottom vent is hard to see because it's on the bottom of the grill. All that said though I love it. Having a great time and turning out great food.
Date published: 2019-06-27
Rated 5 out of 5
by
Ruckus1973
from
This is the titan of grilling.
This grill lives up to the legend. It is easy to use and versatile beyond my imaginings. I can grill, sear, slow-smoke, direct cook, indirect cook. My Weber does it all. It is feature packed, with hinged food grate, the one touch cleaning system and a thermometer in the lid that, while not a deal breaker if it was not there, is handy. I grill without fear now. Secure in the knowledge that when I need a part or accessory, I can find them with ease at my local hardware stores... like all of them. Pick one, they have it. And charcoal is everywhere, anytime. Even at the all-night convenience store, if I were ever to find myself in dire need. Get one. Don't look back You will not regret it.
Date published: 2019-06-28
Rated 5 out of 5
by
TanDaMan99
from
A Grill You Buy For Life
What can I say, the legends are true. There maybe dozens of grills that look just like it (I've had many) but they are merely facades of the venerable Weber Kettle Grill. This thing holds up the elements like no other. I don't baby my tools, and this grill is no exception. A big part of the value is in the ceramic coating. Nothing gets through it so it holds up spectacular against regular use. I'm a function over form, brand name, etc. kinda guy, and this brand (or at least product) has proven themselves. Total worth the initial investment rather than cycling through bad products.
Date published: 2018-01-12
Rated 5 out of 5
by
gm825
from
Brisket or Burgers?
This is my first Weber Grill and now I can see what the fuss is all about! It works so much more efficient than my gas grill and has so many more cooking options due to it's design and high quality of materials. We have sauted veggies on it in a cast iron skillet, cooked an 8 lb brisket, and cooked burgers. Everything tastes great! The brisket was by far the best experience over my old gas grill with a side box. I only had to add charcoal once at the 3 hour mark and the grill kept the temp at 225 for 6 hours!
Date published: 2019-01-31
Rated 3 out of 5
by
chadgrad2016
from
Not made in USA like my original
Two issues I had with my new 22" copper kettle.... The assembly was quite difficult as it takes a good bit of strength to get the legs in place and they feel cheaply made like they'll bend in half during installation. Comparing this new kettle to my original 18" kettle that was MADE IN THE USA, the new one falls short. My original kettle still works great and is heavier duty than the new improved larger kettle. Some people may not agree but I personally would be willing to pay a good bit more money for a USA produced model. I do like the ash catcher and thermostat on the new model.
Date published: 2019-05-06
Rated 5 out of 5
by
Kettlehead85
from
Kettle#5
Got the crimson weber 22 and it's my fifth kettle, it sure looks nice hanging out with it's family on my back porch.
Date published: 2018-03-11
Rated 5 out of 5
by
Chuck .
from
Great grill and customer service.
I had a Weber charcoal grill many many years ago and changed to a gas grill. I never like the gas grill. This fall i went back to the good old 22" Weber charcoal grill. It had quick shipment and easy assembly. I did not buy a cover at first. about 2 weeks after it was sitting outside. I noticed one little rust spot on one of the handles. I took pictures and sent them into Weber. I just wanted it documented so that in case it got worse, it was already on file. With no hesitation, Weber sent out a new bowl immediately. Great grill and great customer service. Highly recommend Weber.
Date published: 2019-10-16
Rated 5 out of 5
by
LarryPfromPA
from
Great Size
This is the second 22" I have purchased recently, I bought this one to use at the family beach house. The size allows it to be used for direct and indirect grilling. It has the capacity to feed a crowd and also produces excellent results for a smaller group as well. Using a chimney starter for the charcoal has been a key to producing consistently good results. All of the Weber products that I have owned are typically very durable and high quality. I have used many different types and brands of grills and the Weber products are typically designed and manufactured better.
Date published: 2019-08-18
Rated 5 out of 5
by
JohnBean
from
Amazing Grill!!!
I bought this over the summer, and I'm so glad I did! It is so versatile and does great at both smoking and grilling. I loved it right out of the box, but have added a few accessories (which is another nice thing, there's tons of things available to add if you want). My only regret is if I had to do it over again I'd buy the Master Touch since it comes with the charcoal baskets (which I've already purchased) and the upgraded grate (which I'll prob get before next summer) which pretty much make up the cost difference and then there's the additional height, lid holder, and upgraded wheels which I don't miss but would be nice to have. Still though I'm so glad I bought a Weber kettle and the premium is fantastic!!!!!
Date published: 2019-10-18
bvseo_sdk, dw_cartridge, 16.1.1, p_sdk_3.2.0
CLOUD, timer 95ms, 0ms
reviews, product
bvseo_sdk, dw_cartridge, 16.1.1, p_sdk_3.2.0
CLOUD, getContent, 0ms
reviews, product
Keep Exploring
Original Kettle Series

Original Kettle Charcoal Grill 18"

Original Kettle Series

Original Kettle Premium Charcoal Grill 26"

Original Kettle Series

Original Kettle Charcoal Grill 22"