Master-Touch Series
MASTER THE ART OF CHARCOAL GRILLING
Weber
Master-Touch Charcoal Grill 22"

Black
Image for capacity demonstration purposes only.
Actual product model and features may vary.
The menu has been planned and the details considered. It's time to light the briquettes, pour drinks, and anticipate the sound of sizzling meat placed on a hot cooking grate. The ritual of charcoal grilling meets the innovative features and wow factor of the Master-Touch charcoal grill.
Part #14501001
Dimensions - Lid Closed (inches)

42"H x 24"W x 29.5"D

Diameter (inches)

22

Primary cooking area (square inches)

363

Warming rack area (square inches)

80

Total cooking area (square inches)

443

Fuel type

Charcoal

Glass-reinforced nylon handles

2

Durable all-weather wheels

2

Tool hooks

2

Rust-resistant aluminum dampers

1

Char-Basket charcoal fuel holders

2

Features

Gourmet BBQ System plated steel hinged cooking grate

Heavy-gauge steel charcoal grate

Porcelain-enameled bowl and lid

Built-in lid thermometer

Bottom wire rack

Lid handle with heat shield

Tuck-Away lid holder

Removable, high-capacity, aluminum ash catcher

Aluminized steel One-Touch cleaning system

Spring clip/push pin leg assembly

Bowl and lid

10 years, no rust through/burn through

One-Touch cleaning system

5 years, no rust through/burn through

Plastic components

5 years, excluding fading or discoloration

All remaining parts

2 years

Combustion by-products produced when using this product contain chemicals known to the State of California to cause cancer, birth defects, or other reproductive harm.



Image for capacity demonstration purposes only.
Actual product model and features may vary.
Glass-reinforced nylon handles

Lid handle with heat shield

Durable all-weather wheels

Porcelain-enameled bowl and lid

Aluminized steel One-Touch cleaning system

Removable, high-capacity, aluminum ash catcher

Rust-resistant aluminum damper

Gourmet BBQ System hinged cooking grate
---
---
---
EXPLORE THE CAPACITY OFTHE MASTER-TOUCH
Ignite the coals and grill for the entire family. Plenty of space for grilling up a bunch of steaks or a burger for anyone who stops by.
Image for capacity demonstration purposes only.
Actual product model and features may vary.

Serves 4-6 people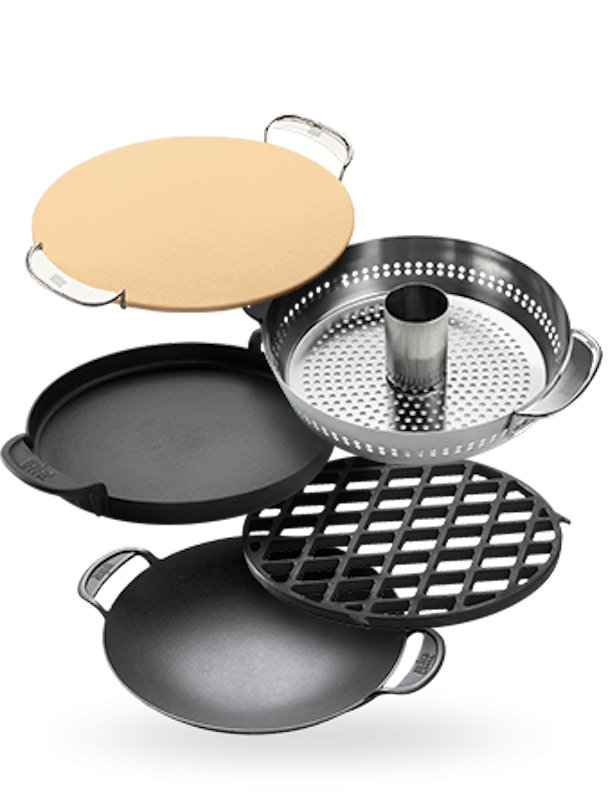 One system, endless opportunities
GOURMET BBQ SYSTEM
Explore endless grilling possibilities with the Gourmet BBQ System. The array of GBS inserts, such as a pizza stone, wok, and griddle, open up a new world of opportunities to perfect dishes you would have never imagined creating on a grill.
Explore GBS
Master-Touch Charcoal Grill 22" is rated out of 5 by 303.
Rated 4 out of 5
by
Anonymous
from
I love the grill
I love this grill.. I purchased the pizza stone and sear plate as well. I've used the pizza stone more than anything! I did have a huge chip in the paint upon delivery. Customer service was amazing in shipping a replacement ASAP. I honestly would've chosen a different color had real photos of the grills were used on the Weber website. The generic photos did absolutely no justice to the actual colors available. They looked cartoon like so I went with the ivory. It's nice in all but the green and blue would've been my choice. The grill maintains temp nicely and does not waste coals when you're done with your meal. I would recommend this product
Date published: 2019-06-26
Rated 5 out of 5
by
Steve1234
from
Great charcoal grill!
I originally had the basic 22" Weber kettle grill for over 10 years until my wife sold or gave it away because "it was getting kinda old"! It still worked great! So I knew I would like the Master-Touch, but didn't know how much! It is wonderful! All of the extra features are great! It is so easy to clean out and controllable, you can fine-tune the temperature to wherever you want and when you're done grilling, you can shut it down and put the fire out very quickly, which saves any charcoal leftover that you can use on your next fire! I've used it several times now, since I bought it about a month ago and really enjoy grilling on it. You will not regret buying this Grill!
Date published: 2018-06-16
Rated 4 out of 5
by
BBQ Willie
from
Honesty
I love my Weber master Touch I bought it about a year ago and it works great I only have two issues with it but they don't affect the performance of The Grill at all number one issue is that the painting enamel or a little thin around the One Touch Ash weeping system where the grill connects to the ash catcher also the little warming rack that comes with it I don't know what to do with it I don't utilize it like a warming rack I use it as a spice rack and I have a some ribbits that went a little too deep on the bottom bowl and there's divots on the other side and there is discoloration on the bottom Bowl as well but overall 9.9 out of 10
Date published: 2018-01-12
Rated 5 out of 5
by
Bob BQ
from
Master Touch... grate grill!!!
I've owned my Master Touch grill for just over a year. I could be happy with the Original Kettle, or the Original Kettle Premium, but I'm extremely happy with the Master Touch! What attracted me the most to the MT is the added height. Those extra couple of inches truly make a difference for me (I'm 6' 3"). The fact that the grill comes with the GBS grate, the warming rack, charcoal baskets, and better quality, rubber wheels is just a bonus. If you've got the extra bit of cash (the MT is typically about $50 more than the cost of the Original Kettle Premium), it's well worth it.
Date published: 2018-01-12
Rated 5 out of 5
by
brewtownbeatdown
from
Thanks Weber...for giving US more color!!!
Been wanting an Ivory for quite awhile. Never pulled the trigger on a Canadian, or Euro version. Glad that I procrastinated long enough for Weber to offer more color options in the US. In all honesty, as much as I like all the MT colors, I bought the Ivory mainly to have a patriotic patio. Weber quality & design is still tops. I really like addition of the "P" shaped bowl dampers. My only complaint is about the aesthetics of the wheels. The gray hubcaps have always seemed like an afterthought to me. So, I decided to go the custom route, and ordered some Gen.2 Performer wheels when I ordered it. I now have "my perfect Ivory".
Date published: 2019-07-05
Rated 5 out of 5
by
LifeLongSeeker
from
Best Grill I have ever purchased
I can't believe it took me this long to "discover" this grill! I have been grilling for a long time, and never purchased a Weber. This grill has been the culmination of a lifelong search (if only I had known about this before now). Now, I can have slow-cooked food, "on-the-spot" grilled burgers and hotdogs, all on the same unit. The air flow control is phenomenal as well. If I could change one thing, however, it would be in the assembly instructions. Pictures alone just don't do it for me. Overall, I give it 5-stars, but the assembly instructions made me drop the assembly rating.
Date published: 2018-06-30
Rated 4 out of 5
by
Markinfargo
from
Great grill
I bought this grill as an upgrade foot my 18" classic Weber. I'm very happy with the purchase for the most part. The accessories available are great... however why are some accessories only available overseas? That's dumb! Mostly I use my kettle as a smoker, and it really shines in that regard. The grill could be a little better fitting between the lid and kettle, but it works well enough. The main reason I bought the Master Touch is I wanted the color. Is it really worth the extra money for the color and included accessories? I'm not sure, but I paid the difference. Great grill, you won't be disappointed...
Date published: 2019-06-12
Rated 5 out of 5
by
TikiMan
from
Does It ALL
I own a BBQ spice company and have always used a side box barrel smoker for smoking ribs, thighs, pork butts etc. I grew up using my families weber (The same one for over 25 yrs by the way) and only used it for direct grilling like burgers, hot dogs etc. I hardly use my barrel smoker for personal use anymore. This Weber Master truly is a master cooker. I love how I can move the charcoal around in different spots without moving the meat and how long I can get the charcoal to burn. Holds heat well. Charcoal catcher is such a great feature. Unless you are keeping this thing in the garage, go buy the cover for it and take pride in owning this grill. Thanks Weber!!!
Date published: 2019-06-13
Rated 5 out of 5
by
Pa Murphy
from
Improved features
I purchased the Master-Touch Charcoal Grill 22" a year ago and I my very pleased with it and its additional features that were not on my previous Weber Grill. This model has a temperature gauge and a bracket to hold the cover. I like the feature that will hold the ashes in a attached container. The container makes it easy to remove the ashes. The container is made to hold either hot or cool ashes. This is my third Weber. They are built to last. It would still be my second grill in thirty years if I didn't move. I use it as a smoker as well as a grill. Excellent in both cases. It is the only product in my era that is worth purchasing for its durability and performance.
Date published: 2018-01-12
Rated 5 out of 5
by
Cliu91
from
Hands down the best BBQ at ANY price point
I love this little Weber Master Touch BBQ. It is absolutely awesome. This grill is so versatile and is able to take on any meat on a challenge to grill some great tasting food. Smoke, grilled, direct, indirect, and the plethora of accessories that I've not able to try yet. I have so much fun every time I start this kettle up. I would recommend joining some Weber Kettle Facebook groups to get help and inspiration if needed. Getting a chimney starter helps a ton in getting nice and hot and even coals to start your grilling process. Definitely would recommend the Master Touch edition as it comes with upgrades that are worth more than the price difference of a Kettle Premium.
Date published: 2019-05-27
Rated 4 out of 5
by
Jockomo
from
A Good Grill
I received this grill (my 1st Weber) as a gift, and have used it several times to both grill and to smoke foods. Maintaining lower temperatures for smoking is taking some time to master, but I am not ready to give up just yet. Overall, it's a good heavy-duty grill that was fairly simple to assemble. Hopefully, it will serve my grilling and smoking needs for many years to come.
Date published: 2018-03-10
Rated 5 out of 5
by
Nerdypiddler
from
Best grill ever!
Don't hesitate to buy this grill, forget about all the hype about the over priced green eggs and their knock off's, this grill makes the best food I have ever had on a grill. I have used several grills, gas grills, char grill, for many years and this one is hands down the best. Bigger and more expensive doesn't mean it's better! We are a family of 9 and this grill was priced right and is plenty big enough for us and guests. Close off the vents when you're done grilling and you can save your charcoal for the next time! This grill makes the juiciest hamburgers I have ever had, Salmon on this grill is better than any restaurant. I am telling you, if you want the best flavor buy this grill.
Date published: 2018-05-26
Rated 5 out of 5
by
BurningBushBBQ
from
Weber quality!
I'm a long time user of Weber products, specifically the kettle 22". This is my 4th Weber kettle and have never had an issue with a single one. I've always ended up giving them to friends that couldn't afford one or who just started trying out charcoal grills. I'm an award winning competition bbq cook who loves to use the kettle for searing steaks, chops, and duck. Nothing like cranking the kettle full of coals and getting it piping hot to finish off my cooks for that perfect sear! I also use them for quick and hot cooks after work. You just can't beat the savory flavor of cooking over charcoal.
Date published: 2018-01-12
Rated 5 out of 5
by
Mango
from
Great Features
Finally bought the Master's Touch grill and boy am I glad I did! It wasn't too hard to assembly and it really looks fantastic. It holds temp quite well (475+) and is easy to adjust down to lower temps. With all the extras included in this model I think it is Weber's best buy. I really love this charcoal grill well done Weber!
Date published: 2019-05-23
Rated 5 out of 5
by
GenoinNH
from
Great grill
Made the transition from gas to charcoal several weeks ago and chose the Weber based on reputation, quality, and advice of friends. Was not disappointed. With a bit of homework I was able to use this grill flawlessly to impress my guests with more than just burgers coming off the grilll. (Smoked beer can chicken). There was a minor issue with a bent cooking grate out of the box which whas swiftly corrected by the outstanding customer service team. I did get the accessory pan for beer can chicken and the Igrill, which I also recommend. They are definitely the correct tools for this job!
Date published: 2018-07-23
Rated 5 out of 5
by
Rob889
from
Love using my Master Touch!!
I used to think grilling with charcoal was messy and time consuming. I was used to using a propane gas grill. Light it up, warm it up, throw on some steaks or burgers...done. A few of my buddies recommended purchasing a charcoal grill. I was hesitant at first, but glad I did! I absolutely love cooking on my Weber Master Touch 22". The flavor and versatility of cooking with charcoal is amazing. I've only owned my grill for about two months now, and I've already used it a dozen times. Also, the Weber customer service and warranty is fantastic. One of the legs arrived a little scratched (probably during shipping to retail store). Weber replaced the legs no questions asked. They shipped new ones to my home in about a week. So, not only am I a fan of my new Master Touch. I'm a fan for life of Weber! I don't see myself purchasing any other brand when it comes to grilling.
Date published: 2018-09-27
Rated 5 out of 5
by
Poreda1292
from
Best Charcoal Grill
So glad we included this on our wedding registry. By far the best grill I've used. So easy to control the temperature with the damper. Simple cleaning out the ash using the one touch cleaning, plus the charcoal baskets retain heat and help avoid the mess. Love the grates having the hinged sides to allow for easy charcoal addition on longer, indirect cooks. Big fan of the lid holder, making it easy to quickly remove and replace the lid while cooking. So far have grilled burgers, steaks, kebabs, and a beer can chicken without trouble. Would highly recommend this charcoal grill to anyone.
Date published: 2019-06-20
Rated 4 out of 5
by
Anonymous
from
A great overall product
My only complaints (and they're minor) is that the sweeping arm that moves the ash into the holes above the ash collector could be a little more efficient. It seems to take a lot of swiping back and forth to clean out the ashes and it also makes a "nails on chalkboard" sound which gets irritating. The ash collector can also be fussy to remove. Also, the plastic foot on the third leg cracked almost immediately. Especially if you move it around. Overall it's a wonderful grill and would easily recommend it.
Date published: 2019-04-02
Rated 5 out of 5
by
MartyE
from
No one makes kettle charcoal grills like weber
This is your typical high quality Weber Kettle BBQ. It was a snap to assemble and all parts fit perfect, except one wheel cover that had two broken studs. I have contacted customer service and have no doubt they'll come through with a replacement. This grill is great to cook on. My 18" Weber Kettle was a bit to small for my family of 4 as we tend to cook different meats and veggies when we bbq. The "22 kettle is the perfect size and I can throw on a variety of meats and veggie with room to spare as well as heat corn or bread on the included rack that comes with the Master-Touch.
Date published: 2018-06-11
Rated 5 out of 5
by
Old Smokey
from
Everything you need.
Been a few years since I have grilled, family harassing me about getting a new grill did a lot of research and decided just a hold over, Weber Master Touch would do for the summer "damaged box" great price, read reviews everyone seems to love it lotta hype after receiving quality eye opening and versatile features. Have to admit was going to look for another grill during the winter NOT I'm a believer now for sure, photos 1st time out no doubt once heat control is perfected I'll be able to make outstanding BBQ with this grill, on the fence just do it. PS 1st Weber I've owned.
Date published: 2018-07-05
Rated 3 out of 5
by
Zantos
from
A little dissappointed...
I have used Weber grills for years. I bought this one and was looking forward to using it. I had a party that I was going to smoke some pork shoulders and was going to use this grill. I watched my temperature with the thermometer and kept it at a steady 250 degrees for 14 hours. When I took my shoulders out, they were not even cooked. Apparently the thermometer was not working properly. I sent Weber an email and they replaced the thermometer. It seems to be working properly now.
Date published: 2018-01-12
Rated 5 out of 5
by
Gary777
from
Great grill
Master touch is definitely the way to go if you're going with the stand alone kettle,the extra features are well worth it. I really like a couple of the subtle changes ,the ash catcher seems easier to remove on the new colored kettles and I like the holes in the ring that holds the ash catcher to know where the vents are set. the charcoal baskets,lid holder and the extra height are my favorite features on the master touch. If you're on the fence about getting one don't be these are made to last and are very versatile you can grill and smoke low and slow in these things
Date published: 2019-06-10
Rated 5 out of 5
by
Bigjim78
from
Why settle for second best
Growing up my dad always had a Weber kettle. Then he bought one of the first smoky mountain bullets. Now that I'm a dad my wife had gotten some fancy gas grills, that's what she grew up on. This year I turned 40 and I never get myself treats. Finally I went to the store and bought the master. Why? It's a couple inches taller and being 6'7" it makes a difference. The versatility of a Weber is second to none. Why settle for the in the mean time. Don't be cheap just cause the kettle look alike is on sale for $39.99. It's not worth it. The ash catcher is a no brainer too.
Date published: 2018-08-24
Rated 1 out of 5
by
MC90
from
Great Grill. Not so great Customer service
I bought this grill in February and it has smoke leaks everywhere. It also has a loose damper, so I called customer service and they told me it's suppose to be loose like that it's part of the design. This is my first time owning a Weber, I bought the grill because everyone says it's the best charcoal great out there and has the best customer service but I am disappointed that I spent almost $300 dollars and it leaks more than my $35 expert griller from Walmart
Date published: 2019-06-12
Rated 5 out of 5
by
Aaron
from
Fantastic purchase !
The best money I have spent on a grill. The grill is very well designed and does an outstanding job with everything I have made on it so far. The gourmet cooking system is a great feature as well ! Very happy with the purchase
Date published: 2018-07-28
Rated 5 out of 5
by
Busychild
from
The little grill that will
I got this grill for Fathers Day and have lived with it for almost 2 years now. I also have the big S-670 Summit and the Smokey Mountain Smoker. This grill sees the most use. It is simple. Easy to start. Food always tastes great. Cooks extremely well. If it's been a few years since you had a charcoal grill and you don't like waiting for the coals or don't want to deal with lighting, no worries. I use the lighter blocks and the chimney and it is crazy simple and fast to light. The cleaning system below makes getting rid of the ash a snap. This grill has never made a bad meal. Temp control is as simple as my gas grill. The coals can easily be set up for direct, indirect or even a combination for cooking multiple foods at different temps.
Date published: 2019-01-13
Rated 5 out of 5
by
Mike20
from
Excellent grill
I love it!! I use it 4 days a week and use my performer with the rotisserie attachment. I got the rotisserie for Christmas 2017
Date published: 2018-01-05
Rated 3 out of 5
by
Charlie789
from
The grill as is advertised.
Pros: I like the charcoal baskets, temperature gauge, the lid holder, and the left-up edges of the grill itself. Cons: Flimsy lightweight aluminum gill legs will require replacement long before the grill itself. The removable center of the grill makes cleaning the grill more difficult and I don't like cook meet over it. I purchased the lighter weight grill without the removable center. Unless you place on purchasing the add-on equipment to place in the removable center, you will probably be as happy with the less expensive 22" kettle grill.
Date published: 2019-06-12
Rated 5 out of 5
by
Brent67
from
Great Grilling Experiences
We have had our the Master-Touch 22 for about a month now and are very pleased with it. It's not our first Weber (had traditional, gas and small ones) but we haven't grilled for a couple of years (long story...) and needed a new one. The bi-level grills are great for cooking vegetables while searing meat, or keeping things off the direct heat and cooking multiple kinds of food at the same time. The temperture gage is key in doing this. Also, the indirect charcoal bins are wonderful for things like cedar plank fish, or beer can chicken. Have done both and they were great! Being able to tilt the lid back and store it is a very nice feature and handy for managing the wind a bit. Looking forward to year-round grilling. Overall, a great grill!
Date published: 2018-08-06
Rated 3 out of 5
by
Chris D.
from
Wrong item in the box and still not corrected.
I received the grill as a gift and didn't realize that the grill in the box was not the same as the picture or the model number. I contacted Home Depot about the problem and the said it sounded like Weber's problem as they (HD) don't package the grill. So I contacted weber and the said they would correct the problem, that was 10/03/17. So far no correction. So the grill does work well, I just didn't receive what my wife paid for.
Date published: 2018-01-19
bvseo_sdk, dw_cartridge, 16.1.1, p_sdk_3.2.0
CLOUD, timer 5ms, 0ms
reviews, product
bvseo_sdk, dw_cartridge, 16.1.1, p_sdk_3.2.0
CLOUD, getContent, 0ms
reviews, product