GENESIS E-325s with WEBER CRAFTED Griddle (Natural Gas)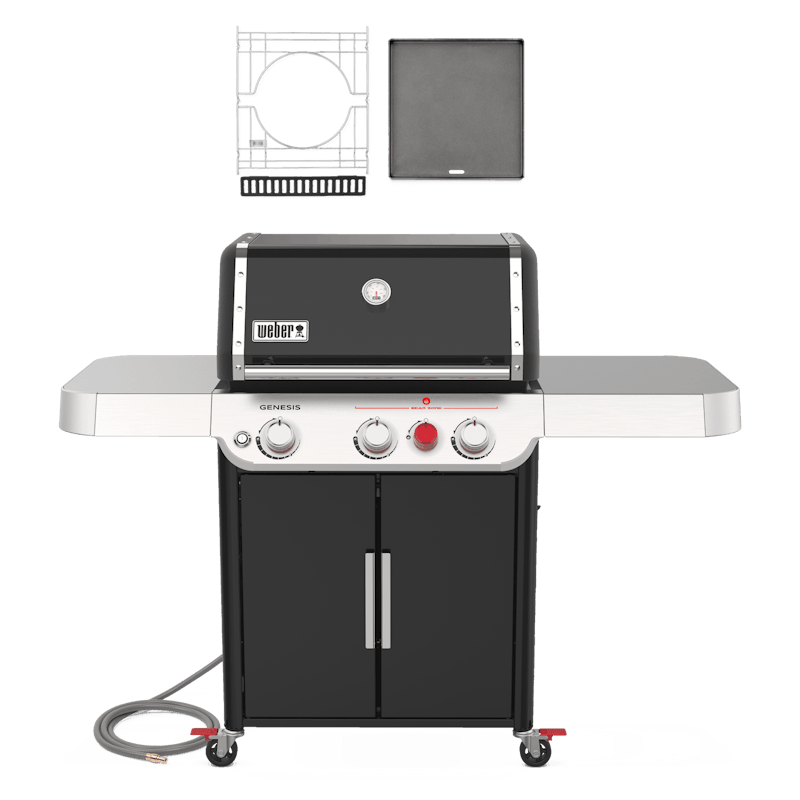 Introducing the newly designed GENESIS grill that allows you to prep, sear, and serve everything outside, where the party is. It features our largest and hottest sear zone, and expandable top cooking grate for two levels of grilling capacity. WEBER CRAFTED Outdoor Kitchen Collection compatibility provides limitless culinary possibilities, enabling you to cook food never thought possible on the grill. The WEBER CRAFTED Griddle is included to make anything from pancakes and eggs, to fajitas. Once food is ready, easily transfer it to the large prep & serve table, making for a seamless prep-to-serve grilling experience.
• Sear multiple steaks at once on the extra-large sear zone
• Expandable top cooking grate creates a second level of grilling
• WEBER CRAFTED Griddle, grates and frame kit included
• Extra-large prep & serve table
• New and improved pull-out grease tray
Complete the Set

Premium Grill Cover – GENESIS 300 Series

Drip Pans - WEBER Q, PULSE, WEBER TRAVELER, SPIRIT, SPIRIT II, 2022 GENESIS 300/400, GENESIS II 200/300, GENESIS

Grill Brush - 18" Three-Sided
Carousel containing list of product recommendations. Please use left and arrows to navigate.
GENESIS E-325s with WEBER CRAFTED Griddle (Natural Gas)

Extra-large prep & serve table

Extra-large sear zone

Expandable top cooking grate

High-performance PureBlu burners

WEBER CRAFTED porcelain-enameled, cast iron cooking grates

WEBER CRAFTED frame

Side burner

Extra-large grill locker

WEBER CONNECT smart grilling technology

NIGHTVISION LED grill lighting

Remote control knob lighting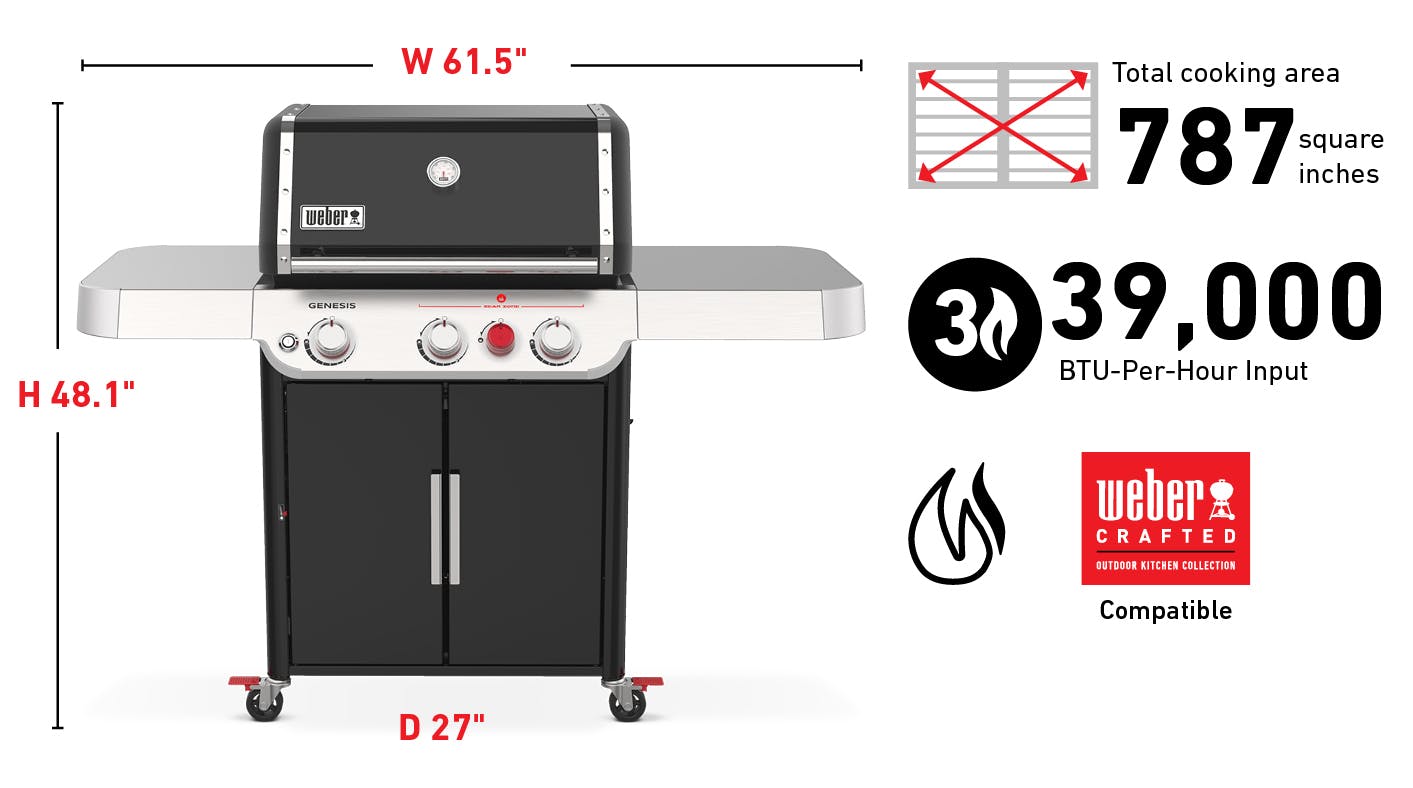 Main burners: BTU-per-hour input

39,000

Sear Zone burner: BTU-per-hour input

13,000

Dimensions - Lid Open (inches)

63" H x 62" W x 31" D
Dimensions - Lid Closed (inches)

48.5" H x 62" W x 27" D

Top grate (square inches)

274

Primary cooking area (square inches)

513
View All Specifications
Warranty Information
Frequently Asked Questions
A sear zone is basically three burners that are closer together than the other burners on the grill. What this does is create a zone on the grill that can get hotter much faster than other areas, which is great for speeding up the time it takes to get the grates hot enough for searing.
When the arrow points at the propane tank icon, your tank is full. When the arrow is pointing at the narrow end of the scale, your tank is close to empty. Select LP models only.
Meat up to 10" in diameter can be used on the rotisserie unit without having to remove the grates.