This course teaches you how to use the Weber way of cooking to open up a world of possibilities on your barbecue. As well as covering of key skills such as lighting and temperature control, you'll be learning how to perfect steaks, roasts, pizzas and even desserts!
Suitable for those who want to learn to cook food other than the standard barbecue fare of burgers and sausages, the Essentials Course shows how to use Weber's renowned "lid-on" barbecue technique to grill, roast, smoke and bake! During the 3 hours you and your classmates will prepare a variety of different dishes under the guidance of an expert chef. Using a combination of charcoal and gas barbecues you'll be taught skills from lighting techniques to controlling temperature and knowing when your food is perfectly cooked. You'll receive a demonstration from the chef on how to cook the perfect steak and we'll ask you to get hands-on with some dough and create your own stone baked pizza!
Highlights
Soy Sauce Chicken cooked low and slow, to achieve succulent juicy tenderness.
Wagyu Beef imported from Australia grilled to perfection on a brioche toast.
Cook more than just savory food, bake your very own chocolate brownie in the Weber Grill.
---
5 Course Menu
Course Venue
Weber Store (Grill Academy)
463, Joo Chiat Road, 427675, Singapore.
Telephone: +65 6348 8313
Email: SupportAsia@WeberStephen.com
Getting There By Car:
•ECP From City Exit 10B, turn left at the Marine Parade Public Library, turn right at Joo Chiat Road.

•ECP from Changi Airport Exit 10B, turn left at the Marine Parade Public Library, turn right at Joo Chiat Road.
Getting There By Public Transport:
By MRT
•Paya Lebar MRT EW 8 CC 9, transfer to bus services: 43, 135, 197

By BUS
•East Coast Road No. 10, 10E, 12, 14, 14E, 32, 40
•Joo Chiat Road No. 16
•Marine Parade Road No. 15, 31, 36, 43, 48, 135, 196, 197, 966
Maximum capacity of people in the Grill Academy is 12. The space is designed to enjoy the maximum experience of the barbecue, has a closed preparation area equipped with everything necessary to carry out grilling workshops several times a week.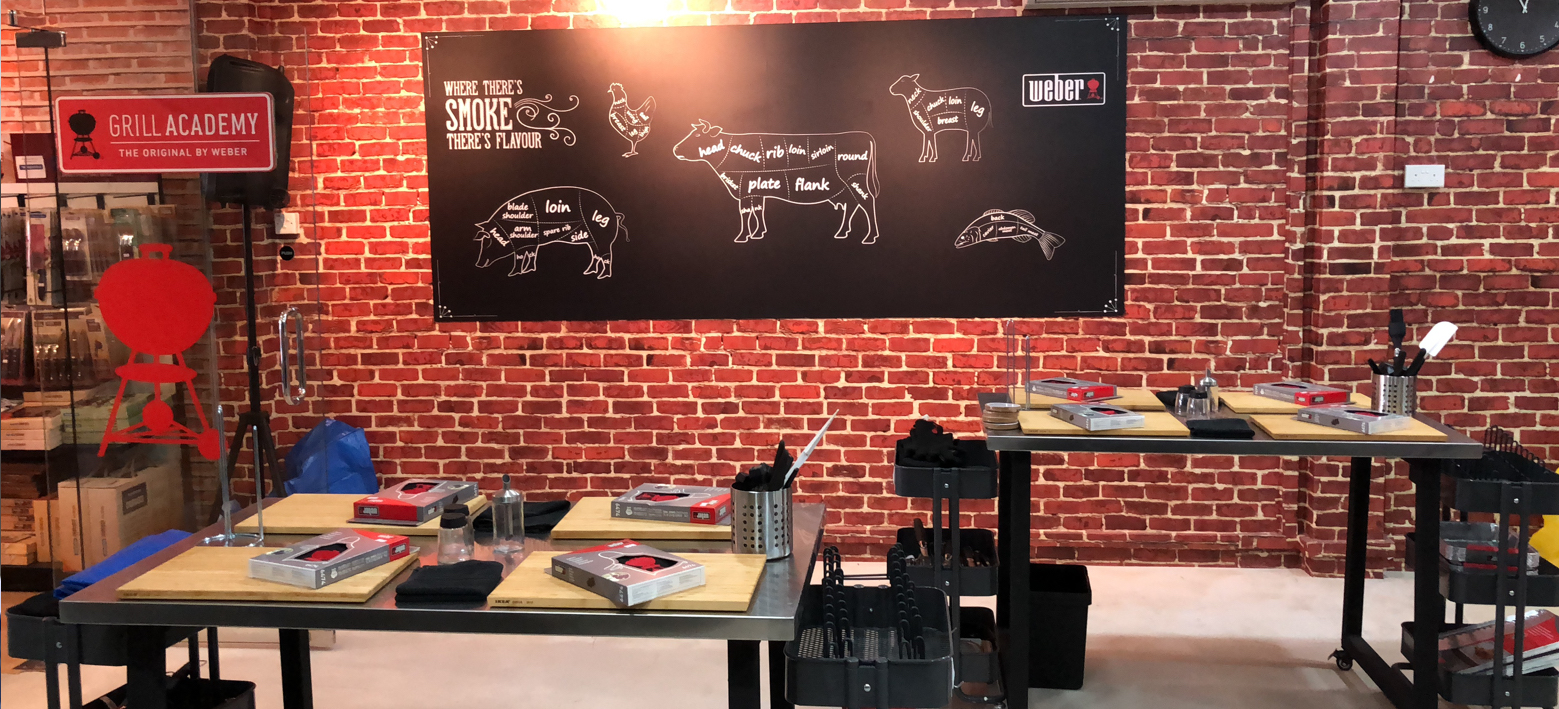 Our Grill Academy team will make sure you live one of the best experiences of your life. Our staff, accompanied by our Grill Master will guide you through these 3 hours of course and your only task is to make sure that you pass it excellent.
Please read our ... Grill Academy Terms & Conditions.