70th Anniversary Edition Kettle Charcoal Barbecue 57cm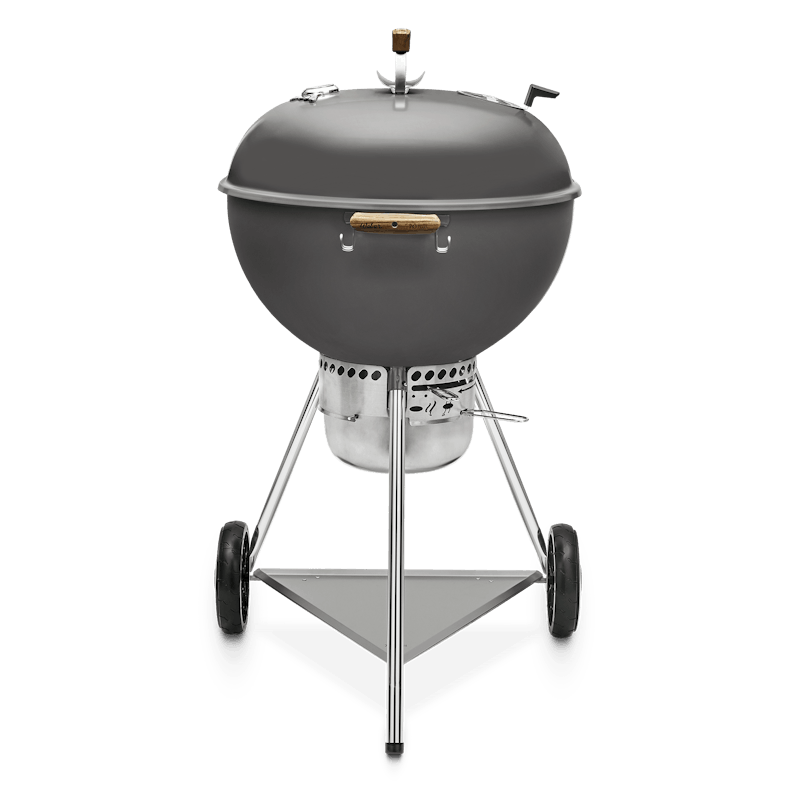 Price reduced from

NZ$849.00

to
NZ$764.10
The limited-edition 70th Anniversary Kettle is a high-quality Weber kettle you've come to expect combined with nostalgic and modern features. Nods to different eras of Weber's history can be found throughout its thoughtfully detailed exterior. Hand-enameled Hollywood Grey, is reminiscent of classic films from the 1950s era when the kettle originated. Other retro features include a solid bottom utility tray for storage, a '50s hood-ornament themed lid thermometer, white-walled wheels, and wood-like nylon handles. All of it comes together to create a barbecuing experience worthy of celebration.
• Hollywood Grey exterior is a nod to '50s black and white films
• Store your tools in the utility tray, last featured in 1950s kettles
• Features a stylish '50s hood ornament-inspired lid thermometer
• Wood-like nylon handles resemble those on '80s and '90s kettles
• White-walled wheels commemorate the kettle era, 1952-2022
• Includes stainless steel diffuser plate and porcelain-enameled char-ring
Each kettle comes with a limited-edition, retro-themed metal sign and bottle opener.
Complete the Set

Rapidfire Chimney Starter
Price reduced from

NZ$69.95

to
NZ$62.95

Charcoal Rake
Price reduced from

NZ$45.95

to
NZ$41.35

Weber Briquettes
Price reduced from

NZ$18.95

to
NZ$17.05

Drip Pans
Price reduced from

NZ$29.95

to
NZ$26.95

Grill Brush
Price reduced from

NZ$29.95

to
NZ$26.95

Precision 3-Piece Grill Set
Price reduced from

NZ$94.95

to
NZ$85.45

Premium Digital Thermometer
Price reduced from

NZ$199.95

to
NZ$179.95
Carousel containing list of product recommendations. Please use left and arrows to navigate.
70th Anniversary Edition Kettle Charcoal Barbecue 57cm
Price reduced from

NZ$849.00

to
NZ$764.10
Available in Four Heritage Colours
Dimensions - Lid Open (centimetres)

118cm H x 65cm W x 78cm D

Dimensions - Lid Closed (centimetres)

107cm H x 65cm W x 72cm D

Diameter (centimetres)

57
Total cooking area (centimetres)

2342 cm²

Fuel type

Charcoal

Rust-resistant aluminium dampers

1
View All Specifications
Warranty Information
Frequently Compared

70th Anniversary Edition Kettle Charcoal Barbecue 57cm

Price:

Price reduced from

NZ$849.00

to

NZ$764.10

Dimensions - Lid Open (centimetres):

118cm H x 65cm W x 78cm D

Dimensions - Lid Closed (centimetres):

107cm H x 65cm W x 72cm D

Diameter (centimetres):

57

Total cooking area (centimetres):

2342 cm²

Master-Touch Plus Charcoal Barbecue 57 cm

Price:

Price reduced from

NZ$779.00

to

NZ$701.10

Dimensions - Lid Open (centimetres):

118cm H x 65cm W x 76cm D

Dimensions - Lid Closed (centimetres):

107cm H x 65cm W x 72cm D

Diameter (centimetres):

57

Total cooking area (centimetres):

2342 cm²

Original Kettle Premium Charcoal Barbecue 57 cm

Price:

Price reduced from

NZ$569.00

to

NZ$512.10

Dimensions - Lid Open (centimetres):

92cm H x 65cm W x 78cm D

Dimensions - Lid Closed (centimetres):

107cm H x 65cm W x 67cm D

Diameter (centimetres):

57

Total cooking area (centimetres):

2342 cm²