Weber Grill Academy
The Jolly Gardeners
First and foremost they are a Pub. The kitchen is headed up by former Masterchef winner Dhruv Baker. They offer a casual and informal dining space but with no compromise on quality of food.
Since they began their journey in September 2014, the Jolly Gardeners has gained huge support and loyal followers of which they are very proud off. They are also passionated about BBQ. As well as running Grill Academy courses we have a dedicated out door BBQ kitchen and menu.
Course can take a maximum of 16 participants

Indoor preparation area with the Pub

External garden Barbecue deck area

Situated in a busy Pub shop in a city location
Book a course now
The Team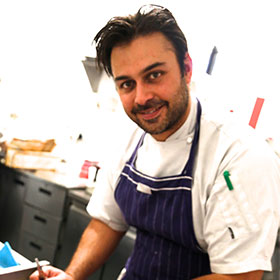 Dhruv began his career in food after winning MasterChef 2010. Born in Mexico and raised in India prior to moving to the UK in 1989, he was fortunate enough to be exposed to a myriad of culinary influences from an early age. After a 10 year career as a sales director he has finally pursued his dream of a career in food. Dhruv has worked in some of the UK's finest restaurants including Le Gavroche, The Kitchin and Helene Darroze at the Connaught. A regular at the BBC Good Food Shows, he is also a presenter on Waitrose TV, a regular contributor for numerous publications and a brand consultant. Dhruv has also completed his first book, which is being published by Orion and due for release in July 2014.
Getting there by car

Street parking is available but some streets are metered and often only a maximum three hours stay is permitted.
Getting there by public transport

Earlsfeild Over Ground Railway station is the closest station and about an 6 minut walk away from the Jolly Gardners. Earslfeild has good links and is only 20 minutes from London Waterloo.