Weber Grill Academy
The Food Hub
The school is set on a working farm, in the heart of the Suffolk countryside. Housed in a converted cow byre its source most of our ingredients from the surrounding farm and kitchen garden. Our approach is relaxed and informal, allowing you to learn new skills, techniques and most importantly, how to make the most of seasonal ingredients. The school is equipped with state-of-the-art facilities so whether you are an amateur cook or a food enthusiast let our courses inspire you.
It has a 'produce to plate' philosophy using meat and vegetables produced from their farm. They produce Longhorn beef, rare breed pork and lamb as well as a range of vegetables from their own kitchen garden and have chickens too.
Course can take a maximum of 16 participants

Indoor preperation kitchen set in Kenton Hall Estate

External Barbecue area

Countryside location
Book a course now
The Team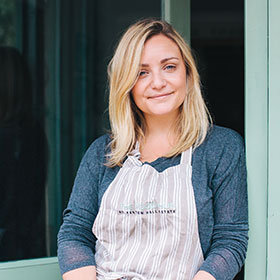 As well Wedding and venue co-ordinator, happy glamper and foodie! Emily's passion for barbecuing has creted the Grill Academy partership with the food Hub. Together with her chef Mark the duel will teach you all there is to know about Grilling the Weber way.
Getting there by car

The Food Hub is situated on Kenton Hall Estate, however it has a seperate entrance via Bellwell Lane. There is no access via the Kenton Hall entrance. 'The Food Hub's sign has an image of a Longhorn cow on, so you'll know what to look for.
Getting there by public transport

Stowmarket is the closes railway station around 25 minutes away from the cookery school. If traveling by train, it is advisable to take a taxi from the station rather than busses.