Charcoal Briquettes and Accessories
FUEL THE PERFECT GRILLING EXPERIENCE
Weber
Weber Briquettes
Give your perfect cut of meat the best fuel. With the Weber Briquettes you're off to a good start with fast and easy ignition and they burn long and strong. Being 100% natural with no added chemicals, all you will taste is pure food.
Part #17591
17591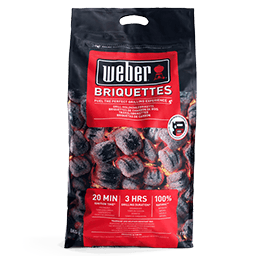 Receive a 2kg bag of briquettes for free with every 8kg bag purchased. Limited time only, while stocks last.
Out Of Carton Dimensions

64.5cm H x 17cm W x 28.3cm D

Individual Carton Dimensions

64.5cm H x 17cm W x 28.3cm D

Material

Wood

Features

8kg

Ready to use in 20 minutes

Made from waste wood and DIN and TÜV certified

3 hours burning time

100% natural
When should I use briquettes?
Briquettes are a great all-round fuel. They burn slowly and evenly, offering easy temperature control and will keep going for hours. If you're roasting, baking or grilling for over 1 hour, briquettes are the perfect choice.

HOW OUR BRIQUETTES ARE BORN
It all starts with sawdust. Hardwood sawdust, to be exact, that we cook in airtight ovens and mix with all-natural starches, before compacting it under huge pressures into our unique, fast igniting, slow burning pillow shapes. You might notice that we like to keep things chemical-free. That's because, when it comes to BBQ, every ingredient matters.
Keep

Exploring
Charcoal Briquettes and Accessories