Weber Grill Academy
Cooks Academy
Cooks Academy is Dublin's leading cookery school.
Centrally located in the thriving and bustling heart of Dublin's"Creative Quarter" on South William Street, Cooks Academy is just a stone's throw from Grafton Street.
The school offers a broad range of culinary programmes, short courses and wine courses geared for both enthusiastic amateurs and aspiring culinary and hospitality professionals. Cooks Academy numbers many of Ireland's top companies as clients who avail of the school's unique facilities, reputation and location to entertain staff or clients.
Cooks Academy was founded in 2005 and delivers more cookery lessons to more participants than any other cookery school in Ireland. From its world class facility and with a large resource of professional cookery tutors and guest chefs, the school does not lose sight of its core principals which remain reputation, relevancy and continuous improvement together with a focus on positive customer experience.
City Centre Location

External rooftop barbecue area

Indoor preperation kitchen

Courses can take a maximum of 20 participants
Book a course now
The Team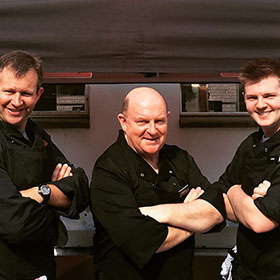 Tim Greenwood is the Co-founder and Managing Director of Cooks Academy Dublin. Tim is inspired by good, natural and seasonal produce. When he gets the chance, because most of the time he is so busy running the Cookery School. He likes nothing better than to fish, forage and cooking on the Barbecue. Along with chefs Jack O'Keeffe and Cormac Murphy these boys are briming with barbecue knolage and enthusiasum.
Getting there by car

Cooks Academy is located in the heart of Dublin. There are two carparks situated in the street directly behind the cookery school. Drury street car park & Drury Street underground car park.
Getting there by public transport

There are several ways to travel to Dublin City centre; Lewis, Dublin bus, Mainline rail, suburban, rail, taxi, Dublin bike and mainline bus are some of them.