Summit® E-670 GBS Gas Barbecue
Availability:
This item is currently not available
Become the envy of the entire neighbourhood and exceed their expectations. From burgers on the grate to crispy chicken on the rotisserie, or even adding a touch of smoke to your favourite dish. The six burner Summit E-670 gas barbecue will redefine your perception of the classic barbecue.
Complete the Set


Precision 3-Piece Barbecue Set



Carousel containing list of product recommendations. Please use left and arrows to navigate.
Summit® E-670 GBS Gas Barbecue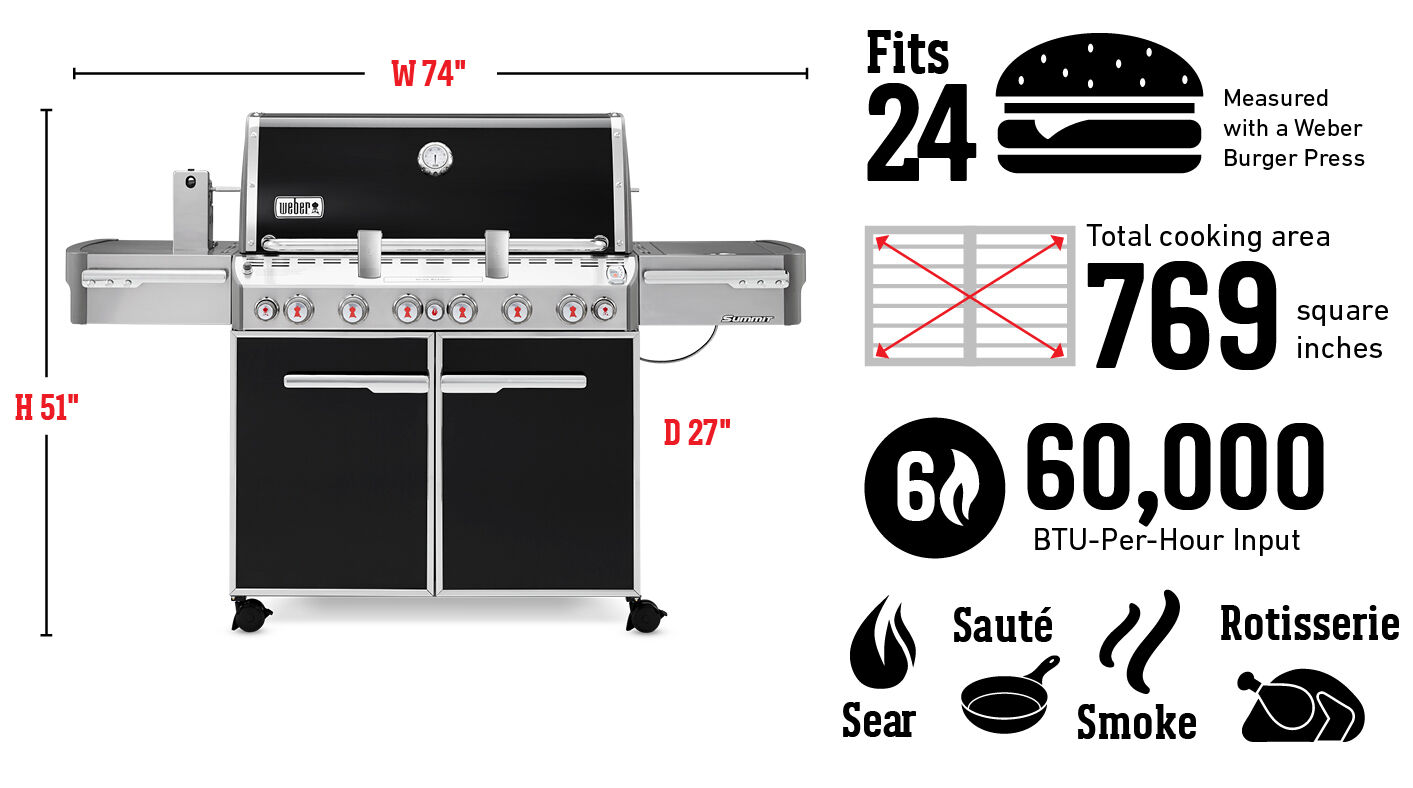 Main burners: kW

17.58

Sear Station burner: kW

3.11

Stainless steel smoker box and smoker burner: kW

1.99
Side burner: kW

3.52

Rear-mounted, infrared rotisserie burner: kW

3.11

Dimensions - Lid Open (centimetres)

145.1cm H x 188.3cm W x 76.2cm D
View All Specifications
Warranty information
Frequently Compared

Summit® E-670 GBS Gas Barbecue

Price:

Main burners: kW:

17.58

Sear Station burner: kW:

3.11

Stainless steel smoker box and smoker burner: kW:

1.99

Side burner: kW:

3.52

Summit® S-670 Gas Grill

Price:

Main burners: BTU-per-hour input:

60,000

Sear Station burner: BTU-per-hour input:

10,600

Stainless steel smoker box and smoker burner: BTU-per-hour input:

6,800

Side burner: BTU-per-hour:

12,000

Summit® E-470 Gas Grill

Price:

Main burners: BTU-per-hour input:

48,800

Sear Station burner: BTU-per-hour input:

10,600

Stainless steel smoker box and smoker burner: BTU-per-hour input:

6,800

Side burner: BTU-per-hour:

12,000