HERE'S TO YOUR FIRST UPGRADE
Weber
Spirit II E-310 Gas Grill (Natural Gas)

Black
Image for capacity demonstration purposes only.
Actual product model and features may vary.
Step up your grilling game with the Spirit II E-310 gas grill. This three-burner grill has a spacious grilling area, convenient side tables for holding serving trays, and tool hooks for hanging your tongs and spatula. With the powerful GS4 grilling system and iGrill capability, you're already set up for BBQ success.
Item #49010001
Main burners: BTU-per-hour input

30,000

Dimensions - Lid Open (inches)

57"H x 52"W x 26"D

Dimensions - Lid Closed (inches)

44.5"H x 52"W x 27"D

Primary cooking area (square inches)

424

Warming rack area (square centimetres)

105

Total cooking area (square inches)

529

Weight (pounds)

114

Stainless steel burners

3

Fuel type

Natural Gas (gas supply hose included)

Side tables

2

Durable all-weather wheels

2

Tool hooks

6

Battery type

AA

Batteries

1

GS4 Grilling System

Infinity ignition

Stainless steel burners

Porcelain-enamelled Flavorizer bars

Grease Management System

Features

Porcelain-enamelled, cast-iron cooking grates

Porcelain-enamelled lid

iGrill 3 compatible (accessory sold separately, not included)

Built-in lid thermometer

Fold-down left side table

Open cart design

Stainless steel heat deflector

Panel frame

Left table down width - 42 inches

All Parts

10 Years (excluding normal wear and tear and subject to additional terms and conditions in the warranty)
Image for capacity demonstration purposes only.
Actual product model and features may vary.
Porcelain-enamelled Flavorizer bars

Durable all-weather wheels

Porcelain-enamelled, cast-iron cooking grates
---
---
---
CAPACITY OF THEE-310
The perfect size to grill up a couple of burgers for everyone in the family, or to switch it up with chicken and steaks. With side tables for placing serving trays and spices, the Spirit II adds convenience and simplicity to everyday life, and nobody is left hungry.
Image for capacity demonstration purposes only.
Actual product model and features may vary.

Serves 5-7 people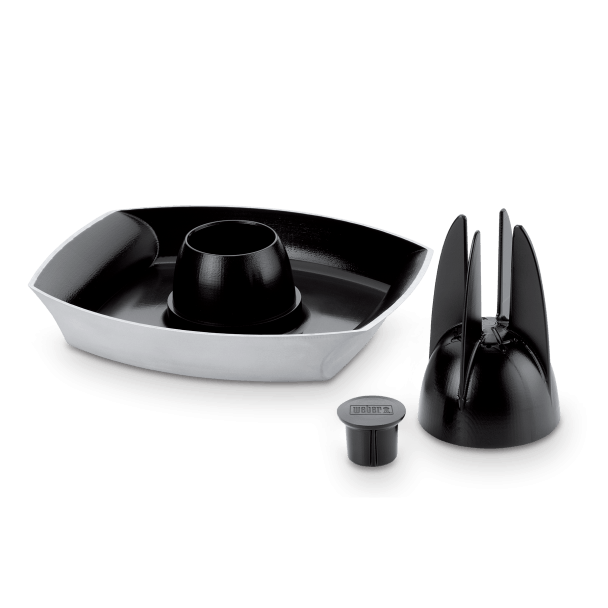 Think beyond the name
NOT YOUR AVERAGE POULTRY ROASTER
Create mouth-watering chicken enhanced with flavours you can only achieve on the grill, or take this accessory to the next level. Prepare anything from nachos to chocolate fondue or even a luscious cake. We'll leave it up to you and your imagination.
EXPLORE POULTRY ROASTERS
Spirit II E-310 Gas Grill (Natural Gas) is rated out of 5 by 588.
Rated 3 out of 5
by
Me too please
from
A bit disappointed
The last barbecue I purchased was an inexpensive natural gas barbecue from Canadian Tire which we used 9 years. Heading into retirement I invested a good amount of money for the Spirit II thinking it will be my long term barbecue that I'll enjoy for years. This unit is little and just barely reaches the 500 degrees recommended by the manufacturer for preheat. The heat loss is substantial whenever I momentarily lift the lid. I was hoping the cast construction would contain more heat than it does. My hope is that the Spirit II will last at least as long as the less expensive unit I previously owned even with the fewer functions I use to enjoy.
Date published: 2019-05-29
Rated 5 out of 5
by
kari5274
from
Wonderful Grill!
We got this grill after we got married and bought a house that had a natural gas hookup! We LOVE it! We love the amount of cooking area it has, the even cooking on all areas, the tempurature guage, the ability to add the internal temperature monitoring...everything! We did have it put together by a professional, which I think was the best decision! It looked like the directions were quite lengthy and it may have taken us a long time to get assembled. We noticed a small crack on the lid, contacted Weber and they shipped us a new one as soon as we got them photos to verify it. What wonderful Customer Service! Thank you for a great grill!
Date published: 2018-08-09
Rated 3 out of 5
by
JK jr
from
No flames!!! Help Weber.
I bought mine 2 weeks ago, had it hooked up and turned on and initially was hard to tell if the flames were even there. We tested it a bit and it heated so didnt use it until tonight! Well that was a cluster. Went to cook some chicken thighs and even with all 3 burners on high the best temp I could muster was 400 degrees. It was like baking chicken. I dont know if it wasn't put together properly or if the plumber who hooked it up missed something but this thing is very disappointing so far. I even left it on after dinner to see how hot we could get it, again topped out at 400, never gonna be able to cook steaks on it like this...help Weber!!!
Date published: 2019-06-30
Rated 1 out of 5
by
L Ray
from
Big Disappointment
I am a long time customer/user of your products. I was very satisfied w/your outstanding grills for over 30 years until now. Why? Because my recent purchase of said grill is a product of poor quality materials. The gauge of the metals used in my recent purchase is NOT the same of my 3 previous grills. My new grill will NOT get any higher than 475/490 degrees! This was 1st noted during the initial burn off as recommended on page 12 of the owner's manual. My family and friends have commented that my outstanding presentation is NOT the same as the past, especially my steaks...the grill does NOT get hot enough for that charred look/taste! Even my hamburgers are not the same!
Date published: 2018-08-07
Rated 5 out of 5
by
Tmitch
from
Glad I stepped up to Weber
I've owned several grills and always looked at the Weber grills but didn't make the leap. My old grill was falling apart after five years of use and I was looking at more replacement parts and expense. Bought a Weber which was a little smaller and am very happy with it. The 10 year warranty on parts was the kicker. I can tell it is high quality and everything works so well the burners are even and the grill surface makes nice marks. I have also gone the the site and got grilling tips that have worked really well. The cowboy cut ribeye turned out perfect. My only regret is I didn't buy the bigger one but this one meets our day to day needs very well
Date published: 2019-06-13
Rated 5 out of 5
by
Grill Meister
from
Love unlimited natural gas
I've had several inexpensive LPG grills in the past and got tired of running out of propane at the wrong time. I got a plumber install a gas line extension to outside my home and now I'm in BBQ heaven. The Weber grill itself is the best grill I've owned so far. The heat is well distributed and easy to control. I also bought the iGrill 3 bluetooth thermometer and I love it. No more guessing when my steak or chicken is cooked to perfection. The grill is very easy to clean and the drip pan is easy to remove and clean. I use aluminium foil in addition to the basket for easy cleaning and avoid having to replace it. I'm very please with my purchase.
Date published: 2019-06-12
Rated 4 out of 5
by
andrewt168
from
Great fast heating bbq
I've been eye-ing this bbq for quite a while and when the right promo came up, I took the plunge. A lot of headaches getting it to my place (nothing to do with Weber, but my mistakes). I bought a propane instead of gas. Delivery drivers had mixed up orders. But it was worth the wait!! Got it set up and wow!! Hit 500 degrees in no time and cooking was so fast! Made short ribs and sausages the first time and so delicious! So happy I went with Weber and it's very eye catching. Also bought the utensil set and the bbq cover all from Weber and no disappointments yet. First Weber and looks like I'll be Weber for a long time. Great job!!
Date published: 2019-07-13
Rated 5 out of 5
by
WeberWest
from
Great engineering and design
My first Weber Genesis Silver B was still running great after 20 years and we sold it to another Weber fan before we moved several states away. So another Genesis was a no-brainer when we finished our new house and started shopping for a new grill. What makes the Weber Genesis series work is the great engineering for the price. Its a great design with solid materials, looks great, has accurate heat control, durability, and ergonomics. We bought it assembled from the store, took it home and connected it to the gas supply and were grilling immediately. No problems. I expect this one will last as long as the previous one.
Date published: 2018-06-13
Rated 5 out of 5
by
DaddioMN
from
Sear-in' and Smokin' on the Nat Gas 310...
I'm glad I bought the 310! I was thinking the 210 was the better value, but... I'm a month into it, grilled 6 meals so far. I mostly cook for 2, but also cooked for 30 for an event. (I cooked 7 full loads of large chicken wings and drummies.) The 3rd burner and a few more cubics inches under the hood let's me smoke and keep the temp at 265, then I light em' all and switch over to full sear on ribeyes. I can't hit 600 degrees, but 550 works ok. So far, I'm very happy with the Natural Gas 310. Oh yeah, my local HW has free delivery and assembly. It's the ONLY WAY TO GO! The 310 comes out of the box more like an IKEA project than a unboxing an iPhone... ;-)
Date published: 2019-06-30
Rated 3 out of 5
by
NotGiving
from
Delivery Parts Missing
I have used the grill several times and it cooks nicely. When I received the grill and was constructing it, there were three problems. 1. the larger of the two end frames was bent. 2. there were only two bottom cross stabilizing pieces instead of four. 3 there was another piece missing that if I remember correctly was part of the lower back that supports the grill. Conversation with your employee, who was extremely helpful, allow me to have the missing parts shipped to my home. From a cooking prospective I would recommend the grill. From a manufacturing quality control prospective it leaves a lot to be desired.
Date published: 2018-06-28
Rated 1 out of 5
by
Dusty805
from
Frustrating
After owning a Genesis Silver for over a decade, I decided to get a new Spirit II S-310 (Stainless version from Orange Depot). Not in stock so had delivered to my work. Once arrived I carted home and up 2 flights of stairs to my deck. Opened the box to see a huge dent in the lid (even though no evidence of damage to the box). Called customer service and they promptly had it picked up and a new one on the way. It arrives a week later and guess what... another one with the lid dented. Called customer service at Orange Depot but not much they could do other than send a 3rd one. I called Weber and they didn't seem to care. Guess I'll skip the BBQ for 4th of July... Thanks Weber!
Date published: 2018-06-29
Rated 4 out of 5
by
Geoburd
from
So far so good.
I owned a Weber 3 burner Silver Spirit for over 20 years and loved it through several repairs. The E-310's vertical configuration is taking some getting used to after spending so much time with the Silver's horizontal pattern. I miss the side pull-up shelf for extra holding space. The E-310 seems to heat up more quickly but that my be relative to the placement of the thermometer. I find that I have to cook at higher temperatures and use more direct heat. I am still in the learning curve and look forward to years of productive use. I am confident that I will adapt to the changes and expect it will live up to its name.
Date published: 2019-08-24
Rated 4 out of 5
by
LAZAHNI
from
Mostly positive experience
I had 4 gas grills before and am glad that I finally bought a Weber. It works good, is built good and I expect it to last for a long time. Easy to assemble and to clean, nice accessories and so much more. Why 4 stars only? It heats up quickly and evenly. After 15 minutes, as I throw my meat on the grill, (it shows max temperature of 600+), I don't get the famous sear marks. And if I do get the 1st marks, I don't get them after I flip the meat. Tried to preheat 30 minutes, oiled the meat and the grates, cleaned the grates. In any case, the meat tastes good, but the grates are not as hot as I think they should be.
Date published: 2019-06-25
Rated 5 out of 5
by
Markski
from
Very happy
I hesitated to get a gas grill because I wasn't sure if it would get hot enough to sear. It is definitely hot enough with temp up to more than 600 degrees. And the reversible grills are so functional along with using variable heat in order to cook one item at a higher temp and other items at lower temps. I find I am using this Weber more than I used other grills in the past because of the heat factor and versatility of this grill. Bonus is the excellent customer service! Highly recommend! My son-in-law (who has 2 different gas grills) is impressed and envious!
Date published: 2018-05-26
Rated 4 out of 5
by
RWC5
from
Great grill
Its a 5 star for grill and grill results Grill preheats quickly to high temperature to sear meats Grill heat is very uniform over grill surface and easily controlled With 3 burners, you have good flexibility for direct or indirect heat Get very tasty results Very solid feel to grill body and hood. I gave it 4 stars for a couple of design features I would prefer the enclosed base as in the previous version instead of open shelf I would prefer that both side shelves could be dropped down instead of just one shelf.
Date published: 2018-08-18
Rated 5 out of 5
by
Nixby
from
Love this grill!
Love, love, love this grill! Cooks better than any grill I've ever owned.
Date published: 2020-01-17
Rated 5 out of 5
by
Importnut
from
Best Grill I've ever used!
I bought this to replace a grill that never cooked food well. The difference in performance was astounding! Flare-ups are minimal and food is cooked to perfection with little effort. The overall quality of this grill is top notch assembly was very easy. The burner assembly is preinstalled which is a nice touch. My only minor gripe is the folding shelf. It is on the side you need to grab to move the grill on its wheels. I would have preferred a fixed version. That minor detail aside, I'm very pleased with this grill.
Date published: 2019-01-18
Rated 5 out of 5
by
Bob's
from
Easy year round use
I purchased this grill last summer and used it all through the Michigan Winter and now back to summer use. When we build our new house I added a natural gas outlet for the grill. It works great. The grill heats up quickly and evenly. This was a problem in my last grill. The starter works the first time every time. This was also a problem I had with previous grills. I couldn't be more please with how this grill works. We plan to do a lot of grilling this summer with the igrill feature that we are adding after a recommendation from a friend who loves it. I will let you know how it works
Date published: 2019-06-12
Rated 4 out of 5
by
KJFOELL
from
GAS HOSE AND DROP SHELF
I would like the option to buy a 20 foot hose and would like the stationary shelving on the end opposite the wheels so that when you pick up the grill to move it you have something solid to hang on to.
Date published: 2018-03-24
Rated 5 out of 5
by
Ryan S.
from
What a great grill!
I have only had this grill for a month but grill at least 3 times a week so it has gotten used enough to write a review. First off, I assembled it myself and the instructions were easy to follow. I ran into a problem with one of the cooking grate corners being broken and called the customer service line and they were very helpful and a replacement grate was sent and my grill was registered. I am very impressed that 50 degrees Fahrenheit outside temperature, this grill heats up to 550 in 5 minutes. I actually timed it the first few times I used the grill. The grill cooks evenly and I have not had flare ups. The grates are easy to clean. I prefer stainless steel grates but these ones are pretty nice.
Date published: 2019-12-18
Rated 5 out of 5
by
Old cook!
from
GOOD COOKING!
Only just received the grill and this is not outdoor time so only one meal so far but that was a complete meal - meat, veg, potatoes roasted. This 3 burner grill is larger than the one I am replacing but it heats up quickly and cooked as asked. Once I've had it a while and many uses, I'll add more. I am using natural gas....going to be heaven not lugging propane tanks. The easy connect/disconnect is a big plus and with the long hose that came with the grill, I can have some flexibility in moving it around. I've used my Webber charcoal grill for years so sold on their products.
Date published: 2019-12-07
Rated 5 out of 5
by
lazyluke
from
Brother's recommendation
When I decided it was time to replace my old grill of a different maker, my brother highly recommended Weber. Was looking at cheaper brands but saw this grill on sale. Man am I glad I decided to pay a little more. You get what you pay for. Great quality and the 10 year warranty sure helped my decision. My criteria was that it had to be natural gas, have 3 burners being left, center, right, so I can leave one off for indirect heat, and we'll built. This great grill checks all the boxes. It gets heated up quickly and does a great job searing burgers and steaks. Looks great too!
Date published: 2019-08-03
Rated 5 out of 5
by
JJ57
from
Just what we needed
I've owned Weber grills for many years. We gave away our Genesis propane grill when we moved to TX as a conversion from propane to natural gas wasn't recommended. We down sized to a Spirit II since we didn't need the larger size for only 2 people. I think the natural gas model burns hotter and more consistently than propane. In fact, I rarely cook on "high"...most always on "medium" heat. Except when I want to sear. There are other brands that are fancier and higher priced, but there is nothing like a Weber. All my neighbors have Weber grills as well. Enough said.
Date published: 2019-10-17
Rated 1 out of 5
by
#scottsdaleproblems
from
color options NOT offered!
I was very excited to see that this model received high ratings from Wirecutter and friends alike and I am so excited to get my own; however I find it completely ridiculous that Weber will not accommodate a request to get a Natural Gas grill in the Saphire color offered in the exact same model, but for propane gas.
Date published: 2018-05-21
Rated 5 out of 5
by
GrillMaster84
from
Love the convenience of natural gas
This was an early Father's Day gift for me. It's already received a lot of use and so far so good. It's really nice to have the even heating surface. My last grill had horrible hot and cold spots. So far, my only minor complaint is that it only has the 2 wheels. It would be nice to have the 2 large wheels and then 2 small wheels like the genesis grill has. Moving it can be a bit cumbersome but I was unwilling to pay the $400 more for just a bit more surface area and 2 extra wheels. It would be great if the the Spirit II 3 burner was ~$50 more and came with 4 wheels.
Date published: 2019-07-13
Rated 4 out of 5
by
Jaxson
from
Great grill
The Weber Spirit II E-310 grill is awesome. He said quickly. Even heat crossed the grill. Everything that you would expect in a weber product. The only reason I gave it four stars instead of five Is that ome type of handle should have been incorporated into the grids on the opposite side from the wheels so that you could pick it up and move around easier. As it is, even though it has wheels, it's not very easy to move. I don't need to move far, ust a few places on my deck but without a handle, it's more difficult than it should be. Otherwise it's a great group
Date published: 2018-07-01
Rated 4 out of 5
by
Sausage Boy
from
Nice But Not Perfect
I've had numerous Weber grills since my very first Kettle decades ago, including a couple Smokey Joe's for picnics and camping, more Kettles, a propane, and my last natural gas which finally went on the blink-after over 15 years of constant use and little-or no-upkeep. I've been using my new Spirit ll over the last month or so pretty much two or three times a week-for burgers, steak, hot dogs and other BBQ fare. So far works just like the old one, except nice, new and shiny! Really a joy to cook on! While it functions pretty much like my other Weber natural gas grill, the new one does have a couple things I'm not too happy about. For one-and probably my biggest complaint is it has no wheels on the left side and seems 20% larger than my old one. It's very cumbersome to move around. I like to position on my patio for cookouts and roll out of the way when not in use. The fact there is no convenient way to grip the side table along with the fact there are no wheels (not even little ones) and-that it is so heavy and bulky-makes for a less then pleasurable experience. The lid is not as thick as my old one. I'm sure this is a cost cutting measure. I assume it works just as well, but it feels "cheap". Also the nice wood slats and handle (which were going strong on my old one even after being left out in the weather multiple seasons) have now been replaced with plastic. Not a biggy, but wood was so much nicer. The drip tray is not positioned very stably and easily just falls out if inadvertently bumped but since it's on the bottom mostly out of the way this only happens if I'm fumbling with something on the bottom shelf. Still it can be messy if a tray full of grease spills on the patio. Now let's talk about the stainless steel side tables and knob dash. While it looks great with my black Weber this make no sense at all! It is a constant chore to keep even the tiniest stains at bay, the stainless smudges easily and is a constant hassle to keep looking good. It easily scratches and I can see if I don't cover, it will quickly becoming an eyesore. I hate the stainless steel shelves. A constant chore to keep looking clean-and impossible to keep from scratching. Terrible choice by Weber although I suppose they did some market research and figured everyone wants Stainless! I DO NOT! I also wish that the grill was a bit more streamlined. Even though the actual grilling space is identical to my old three burner- the body of the SPIRIT ll is like a Cadillac. An unnecessarily big footprint. I still like grilling on it though. After covering the stainless shelves with some contact paper, wiiring down the drip tray and just figuring I really can't move this thing too easy, I'm basically happy, but there is definitely room for improvement. A note about assembly: I am normally totally incompetent when it comes to such things but gave it a try. I used the "BILT" app that is included with the owners manual which made it super easy (great for people that never read the instructions-and totally clear to understand). With a screwdriver and a couple taps with a rubber mallet (to attach the feet) I had this grill from the box to the patio;in less then 2 hours. Very easy to assemble and satisfying to know I did it all by myself! I also want to add, I probably will never buy another brand grill because of Weber's stellar reputation and solid 10 Year Warranty! looking forward to many years of grilling and BBQs!
Date published: 2018-05-30
Rated 4 out of 5
by
Rose Marie2
from
Weber Spirit 11
Love the cooking aspect! Do not like the stainless sides as they scratch easily! Would not have bought grill if I realized that. Have had Weber grills for 18 years!
Date published: 2018-06-20
Rated 5 out of 5
by
DGHHI
from
Surprisingly Excellent Grill
Have used Weber charcoal grills since the early 80's. Great product. Was convinced that was the way I was going to go when we moved to a "new" house. Home had a 20+ year old NG grill that was leaning but still functional. Made a few meals on it and liked the convenience. My smarter half suggested that I look at a Weber NG grill. Did lots of research and the reviews were pretty good so I went for the Spirit II E-310. Have been using it about a month and really like it. Gets hot enough to sear and also to brown (~550F). Starts perfectly, heats quickly and the burners seem to be pretty even in their heat distribution. Got a Weber SS grill basket for vegetables which is really great. Highly recommend and certainly up to the Weber standards!
Date published: 2018-08-20
Rated 1 out of 5
by
cindw
from
Weber Grill
Grill does not heat up past 300 degrees and I cannot get customer service to help me out - will most likely return
Date published: 2018-07-31
bvseo_sdk, dw_cartridge, 16.1.1, p_sdk_3.2.0
CLOUD, timer 152ms, 0ms
reviews, product
bvseo_sdk, dw_cartridge, 16.1.1, p_sdk_3.2.0
CLOUD, getContent, 0ms
reviews, product
Keep Exploring
Spirit II Series

Spirit II E-210 Gas Grill

Spirit II Series

Spirit II E-310 Gas Grill

Spirit II Series

Spirit II E-210 Gas Grill (Natural Gas)