FOR A LOOK AS BOLD AS THE FOOD
Weber
Spirit II E-210 Gas Grill (Natural Gas)

Black
Image for capacity demonstration purposes only.
Actual product model and features may vary.
Open the door to the world of grilling with the sleek Spirit II E-210 gas grill. This two-burner grill is built to fit small spaces and packed with features such as the powerful GS4 grilling system, iGrill capability, and convenient side tables for holding serving trays. Welcome to the Weber family.
Item #48010001
Main burners: BTU-per-hour input

26,500

Dimensions - Lid Open (inches)

57"H x 48"W x 26"D

Dimensions - Lid Closed (inches)

44.5"H x 48"W x 27"D

Primary cooking area (square inches)

360

Warming rack area (square centimetres)

90

Total cooking area (square inches)

450

Weight (pounds)

103

Stainless steel burners

2

Fuel type

Natural Gas (gas supply hose included)

Side tables

2

Durable all-weather wheels

2

Tool hooks

6

Battery type

AA

Batteries

1

GS4 Grilling System

Infinity ignition

Stainless steel burners

Porcelain-enamelled Flavorizer bars

Grease Management System

Features

Porcelain-enamelled, cast-iron cooking grates

Porcelain-enamelled lid

iGrill 3 compatible (accessory sold separately, not included)

Built-in lid thermometer

Fold-down left side table

Open cart design

Stainless steel heat deflector

Panel frame

Left table down width - 38 inches

All Parts

10 Years (excluding normal wear and tear and subject to additional terms and conditions in the warranty)
Image for capacity demonstration purposes only.
Actual product model and features may vary.
Porcelain-enamelled Flavorizer bars

Durable all-weather wheels

Porcelain-enamelled, cast-iron cooking grates
---
---
---
CAPACITY OF THEE-210
The perfect size to grill up a couple of burgers for everyone in the family, or to switch it up with chicken and steaks. With side tables for placing serving trays and spices, the Spirit II adds convenience and simplicity to everyday life, and nobody is left hungry.
Image for capacity demonstration purposes only.
Actual product model and features may vary.

Serves 3-4 people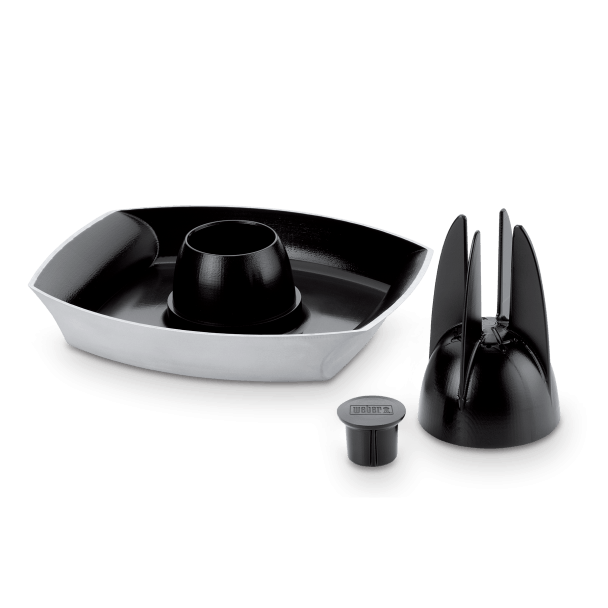 Think beyond the name
NOT YOUR AVERAGE POULTRY ROASTER
Create mouth-watering chicken enhanced with flavours you can only achieve on the grill, or take this accessory to the next level. Prepare anything from nachos to chocolate fondue or even a luscious cake. We'll leave it up to you and your imagination.
EXPLORE POULTRY ROASTERS
Spirit II E-210 Gas Grill (Natural Gas) is rated out of 5 by 428.
Rated 5 out of 5
by
Bear18
from
Wonderful new addition
We had a Weber gas grill for the past 13+ years and it was perfect for us we used it almost everyday, so when it was time to replace it we ordered this new Spirit II E-20 with natural gas. It was easy to assamble and easy to move in to place and thus far we have cooked several meals of chicken and salmon on the grill and have been very pleased. We would recomend this grill for anyone who uses a Natural Gas connection and love to cook outdoors.
Date published: 2018-04-03
Rated 4 out of 5
by
Bperez1574
from
Love the grill, but there's room for upgrades!
The grill is easy to use and setup. Food cooks great and it's easy to clean as well. Only issue I have with it is moving it around. The tires were placed opposite to the side shelve that retracts for storage. Instructions state not to lift from that side as it could mess up the grill. It becomes difficult to move the grill around; better if that tilting shelve was on the other side in order to use the steady one to grab and move the grill.
Date published: 2019-08-19
Rated 4 out of 5
by
Big Johnnie
from
Very happy
I had an old square-frame Weber natgas grill for 20+ years and it got crushed by a tree limb - sayonara old friend. So I purchased this grill, and while I was a little skeptical of the thinner construction of the frame at first compared to the hardy construction of the old one I am very pleased. Once I completed the assembly it was solid. And it is performing flawlessly. And with the 20 year warranty this grill will outlast me!
Date published: 2019-01-17
Rated 5 out of 5
by
GrillQueen
from
No Husband, No Problem!!
I'm 53 and recently divorced. I was never allowed to partake in the grilling activities, so I was a bit hesitant, but really missed my favorite backyard delicacies. I am so glad I purchased this little Spirit II. This excellent machine makes it so easy and enjoyable to recreate all the grilled delights that I was missing so much. I'm much better at this than I ever dared hope. HA! And I don't have to fear getting worms!
Date published: 2018-07-10
Rated 3 out of 5
by
Barby
from
Great Quality
I have only used it once and it worked very well as I knew it would because I've had a Weber grill before. I do have two issues with the grill 1. I wish both sides went-down because I bought a small 2-burner grill because of space and I like the smaller grill cover better. Only 2 wheels instead of 4 makes it hard to move because the wheels seem to be on the wrong end to move and nothing to hang onto to move it easily.
Date published: 2019-06-14
Rated 5 out of 5
by
Rick68
from
Excellent temprature control
This will be the second Weber gas grill that I have owned. I have found the product to be exceptional and I have cooked everything from burgers, to pizza and a turkey on my previous Weber gas grill. When it came time for a new grill it was an easy choice. I thoroughly enjoy and I am very impressed with my new Weber Spirit. The temperature control is excellent and anything I cook on the grill comes out perfect.
Date published: 2019-09-30
Rated 5 out of 5
by
DeepBayWoodGuy
from
Love this BBQ
We've had this grill for almost a year now, using it in all seasons. It lights easily, heats evenly, and cooks without excessive flaring. Grill grids are easy enough to clean by high temperature and a wire brush. The compact size of the grill is not a detriment, at all, as we can cook 16 hamburgers easily on its surface. This is our fourth Weber BBQ in over 40 years and I won't buy any other brand.
Date published: 2019-04-06
Rated 5 out of 5
by
Mckenna G.
from
The perfect Grill for Us.
There is just the two of us now and we don't entertain much so this is the perfect size grill for us. It has a 10 year warrantee which tells me that it is going to last longer than lesser grills. This is unusual for a grill that lives out doors all year. The flavorizers are now well seasoned and we are enjoying everything we grill. Our grill operates on natural gas so it is always ready to go.
Date published: 2019-08-18
Rated 4 out of 5
by
KEEE
from
Good Grill
I bought this grill a few months ago and so far everything has been working well. My only complaint is the knobs are easily bumped out of the off position. The first time it happened when I was putting the cover on and smelled gas when I came out of the house. I must have bumped the knob while putting on the cover. I now double even triple check the knobs whenever I do anything around the grill.
Date published: 2019-01-17
Rated 4 out of 5
by
HappyTJ
from
Great size!
Finally Weber came out with a smaller natural gas bbq! It works great! Has very good cooking space and heats up quick! Couple things for Weber to consider..the right side table should fold down to me this is a negative about this product..also it only comes in Black or Stainless steel ( if you can find one anywhere)..I really wanted Red!! Why not make them in other colours? Thank you Weber!
Date published: 2019-06-29
Rated 5 out of 5
by
JOEY DEUCE
from
HANDLE
THE GRILL IS FINE IN EVERY WAY. BUT IT WOULD BE NICE IF IT HAD A HANDLE TO LIFT BY WHEN MOVING IT AROUND LIKE MY OLD WEBER DID. I.E. ON THE OLD ONE THE LEFT HAND SHELF WAS SECURED TO THE FRAME, MAKING IT EASY TO LIFT UP. ON THIS NEW ONE, THE LEFT HAND SHELF WHEN LIFTED WILL COME OFF. SO I HAVE TO REACH UNDER AND LIFT IT UP BY THE FRAME. OTHER THAN THAT, I AM VERY HAPPY WITH THIS GRILL.
Date published: 2018-08-09
Rated 4 out of 5
by
Robert W.
from
Lights every time
I love my first Weber grill! It heats evenly, the temperature gauge seems accurate and it lights first click every time. I wanted white but was told they only had black in natural gas. The only thing I would improve would be a bigger veggie shelf. The drip pan is removable from the front and centered to catch well. I hope to repair when needed and keep this grill for at least 10 years!
Date published: 2019-06-12
Rated 5 out of 5
by
erosie
from
Perfect Natural Gas Grill!
I've had this grill just over a month and I love it! It's super easy to ignite and regulate the temperature. Food comes out perfectly every time. The two-burner is the perfect size for me--it actually can cook quite a bit of food at one time--and it is easy to handle and move around. It cleans up well and doesn't take up a lot of space on my patio. It's really a perfect grill so far!
Date published: 2019-08-25
Rated 4 out of 5
by
Timmy G
from
The perfect outdoor addition!
Read title again! Going through a major remodel at my 'burbCAVE including all new kitchen appliances I purchased the Spirit II E-210 Gas Grill (Natural Gas) so I could eat with my kitchen out of commission. Funny thing now that the kitchen is all back in working condition, I'm STILL cooking out doors with Natty Gas and don't see that coming to an end any time soon. Nuff Said!
Date published: 2019-07-16
Rated 4 out of 5
by
Doni
from
Great little machine.
I purchased this grill last May and use it a lot during the summer months. It is the perfect grill for two people I.e. empty nesters. I have always had the larger grills when we had family at home, but this size is best for us now. The only complaint I could have is holding a low temperature for ribs. It is difficult to keep below 250 deg. F without holding the lid partly open.
Date published: 2019-04-12
Rated 5 out of 5
by
jdsmetx
from
Easy to Use!
We bought this grill to replace our old one and it has been great! We wanted a simple grill to cook dinner after coming home from work and this fit perfectly. We have used it to cook ribs, brisket, steaks and others and always cooks well. My wife and daughter like it because of how easy it is to light and clean up. This has been a good buy for us and I would recommend it!
Date published: 2019-01-18
Rated 5 out of 5
by
JuIia
from
Easy to use and perfect every time!
We have owned this grill for 4 months now and we love to use it because we are able to make delicious meals easily and quickly. We had a little bit of trouble initially finding the right part to connect it to our gas line, but once we figured that part out, it's been great! The table in the manual that shows cooking times has been very helpful. Highly recommend this grill!
Date published: 2019-06-14
Rated 5 out of 5
by
dap47
from
Weber Spirit II Natural Gas Grill
After securing a replacement part from you we were able to assemble our Spirit Natural Gas Grill. It looks great and I really appreciate your helpfulness in getting us a replacement side panel. The original had a folded over corner. We have not yet hooked it up to our gas line, but we're looking forward to getting it all set up soon and grilling some hamburgers on it.
Date published: 2019-09-17
Rated 5 out of 5
by
wbmc
from
Best one yet
I have had a lot off grills and have paid a lot for some of them, but this is the best built grill L have ever owned. The frame , the firebox, all components are in my opinion top drawer. To top that you have a 10 year warranty on everything. I was pleasantly suprised when it was delivered that the natural gas conversion was included in the purchase price. Great value!
Date published: 2019-07-17
Rated 5 out of 5
by
Garmr
from
Very Happy
I'm very happy with this grill. Putting it together was a chore, but well worth it. It's sturdy, well made and I'm sure I'll get many good years of service from this grill. It has excellent heat control - I've made French Fries and hamburgers at the same time. I've even grilled a pizza! Natural gas allowed me to slow cook pork ribs for hours without running out of gas.
Date published: 2019-06-12
Rated 5 out of 5
by
BenzBob
from
Best Gas Grill I Have Ever Owned
I purchased this natural gas grill several months and it is the best gas grill I have ever owned (I have owned 4 other brands). Before purchasing this grill, my wife never wanted me to grill out as the previous grills did produce a result that she enjoyed eating. With the Weber grill she loves eating grilled food and is always asking for me to grill out our dinner.
Date published: 2019-06-13
Rated 5 out of 5
by
Vinonuss
from
Big things can come in smaller packages!
My wife and I are crazy about our new Weber grill it is amazing! The speed in which it gets up to 550 and 600 degrees is incredible. We have done steaks, shrimp, salmon and hamburgers each time the grill marks are perfect not to mention how perfectly cooked; really makes me look like a grill master! Thank you Weber for putting out such a fantastic grill... !!! :)
Date published: 2019-08-19
Rated 5 out of 5
by
Corona
from
Paying attention to details
Just had my natural gas line run to accommodate my new deck. Ordered a new Weber Spirit 11 E-210 natural gas grill to fit my deck. The grill is fantastic and quality all the way. The cover with the wide ban velcro straps is the best especially with the wind we have. Thank you who ever decided to design that which compliments the best grill on the market.
Date published: 2019-10-16
Rated 5 out of 5
by
KLOS
from
Small, but perfect for our needs.
This is a replacement for an older Spirit Grill and I made the right decision again! I've read some comments about it being hard to move around. Possibly, but there's no need to move it in my mind. On my older grill, I had to move it away from the porch wall to open the lid. Not on this new one. Plenty of room to spare and no need to reposition the grill.
Date published: 2018-07-11
Rated 5 out of 5
by
djefla50
from
Great grill for small family!
We bought this grill several months ago when we moved to a house that has natural gas. We hooked the grill to gas service and have been grilling ever since. There is plenty of room to have boneless chicken grilling on our Weber grill pan and baking potatoes on the other side. It is easy to use and keep clean. We will always have Weber grills from now on.
Date published: 2019-06-11
Rated 4 out of 5
by
Ginger
from
Dependability
I bought this about a month ago, I have had Weber gas grills for the past 20 years or so, and would not consider buying any other brand of gas grill. However, I am sorry I did not spend more money and bought a 3 burner grill instead of the 2 burner one. After all the years of cooking on a 3 burner, it is taking me a while to get used to the 2 burner.
Date published: 2018-06-20
Rated 4 out of 5
by
Dwain's grill
from
Weber gas grill
I have been using this Weber grill for about 2 months. It heats evenly and quickly. What I don't like is that it does not have charcoal grill flavor in the cooked meat. Also, the grill easily collects charcoal coating. My previous grill had the ceramic briquets that collected flavor and added this to the meat. No problem in even and quick cooking.
Date published: 2019-06-12
Rated 1 out of 5
by
mkbsr
from
sorry
unfortunately we have not been able to get our grill started and have not been able to get any assistance to do so
Date published: 2018-07-27
Rated 5 out of 5
by
Blaise
from
Love my Weber!
I recently relocated and needed a grill at my new place. Having come from a home that had a 52" stainless grill that I could barely lift the lid for, I needed a grill that I could handle. I love the ease of all the features - lighting, cleaning, and the light cover too! I don't struggle to lift it! As thought it were custom made just for me!
Date published: 2019-06-20
Rated 4 out of 5
by
Al1970
from
Great Bbq.
Bought this Bbq in the spring and have been using it at least a couple times a week. Has been everything I expected from Weber. Robust quality materials. Cooks great, The only complaint I can make and the reason I only give 4 stars is that I wish there was an option for 4 casters so that I could move it around more easily on my small balcony.
Date published: 2019-06-30
bvseo_sdk, dw_cartridge, 16.1.1, p_sdk_3.2.0
CLOUD, timer 185ms, 0ms
reviews, product
bvseo_sdk, dw_cartridge, 16.1.1, p_sdk_3.2.0
CLOUD, getContent, 0ms
reviews, product
Keep Exploring
Spirit II Series

Spirit II E-210 Gas Grill

Spirit II Series

Spirit II E-310 Gas Grill

Spirit II Series

Spirit II E-310 Gas Grill (Natural Gas)