FOR A LOOK AS BOLD AS THE FOOD
Weber
Spirit II E-210 Gas Grill (Natural Gas)

Black
Image for capacity demonstration purposes only.
Actual product model and features may vary.
Open the door to the world of grilling with the sleek Spirit II E-210 gas grill. This two-burner grill is built to fit small spaces and packed with features such as the powerful GS4 grilling system, iGrill capability, and convenient side tables for holding serving trays. Welcome to the Weber family.
Item #48010001
Main burners: BTU-per-hour input

26,500

Dimensions - Lid Open (inches)

57"H x 48"W x 26"D

Dimensions - Lid Closed (inches)

44.5"H x 48"W x 27"D

Primary cooking area (square inches)

360

Warming rack area (square centimetres)

90

Total cooking area (square inches)

450

Weight (pounds)

103

Stainless steel burners

2

Fuel type

Natural Gas (gas supply hose included)

Side tables

2

Durable all-weather wheels

2

Tool hooks

6

Battery type

AA

Batteries

1

GS4 Grilling System

Infinity ignition

Stainless steel burners

Porcelain-enamelled Flavorizer bars

Grease Management System

Features

Porcelain-enamelled, cast-iron cooking grates

Porcelain-enamelled lid

iGrill 3 compatible (accessory sold separately, not included)

Built-in lid thermometer

Fold-down left side table

Open cart design

Stainless steel heat deflector

Panel frame

Left table down width - 38 inches

All Parts

10 Years (excluding normal wear and tear and subject to additional terms and conditions in the warranty)
Image for capacity demonstration purposes only.
Actual product model and features may vary.
Porcelain-enamelled Flavorizer bars

Durable all-weather wheels

Porcelain-enamelled, cast-iron cooking grates
---
---
---
CAPACITY OF THEE-210
The perfect size to grill up a couple of burgers for everyone in the family, or to switch it up with chicken and steaks. With side tables for placing serving trays and spices, the Spirit II adds convenience and simplicity to everyday life, and nobody is left hungry.
Image for capacity demonstration purposes only.
Actual product model and features may vary.

Serves 3-4 people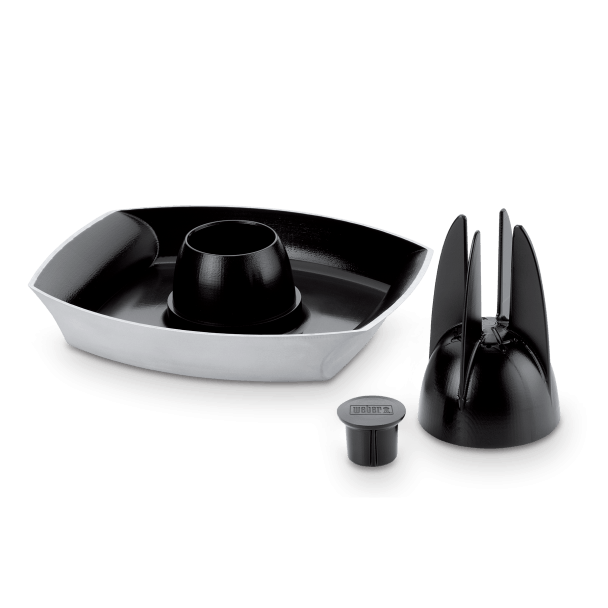 Think beyond the name
NOT YOUR AVERAGE POULTRY ROASTER
Create mouth-watering chicken enhanced with flavours you can only achieve on the grill, or take this accessory to the next level. Prepare anything from nachos to chocolate fondue or even a luscious cake. We'll leave it up to you and your imagination.
EXPLORE POULTRY ROASTERS
Spirit II E-210 Gas Grill (Natural Gas) is rated out of 5 by 428.
Rated 5 out of 5
by
Larz
from
Quality product
I erroneously bought the natural gas version and didn't realize it until I assembled it...After some regret, we accepted the idea of a natural gas barbeque, and had the natural gas hookup installed. This hookup would be an asset for our house when we eventually sell. The barbeque is very high quality. The assembly was straight forward with quality parts that fit together beautifully. We have only used it a couple of times, but it heats up quickly and the food was done just right. I also appreciate the manual that comes with the bbq to suggest cooking times and temperatures for many different foods. 10 year warranty is great too.
Date published: 2019-06-06
Rated 5 out of 5
by
jbrosseau
from
Fantastic Grill - Great Quality, Ease of Use and P
I bought this grill 2 months ago. Originally, I was looking to spend less $$, and wasn't planning on purchasing a Weber. Once I told the sales associate I needed a natural gas grill (as I have a natural gas line run to my deck for grilling), most of my options went out the window, as there are not many natural gas grills available. I selected the Weber Spirit E-210, and am so glad I did. Having assembled it myself, I was very pleased with the build quality, fit and materials. It fired right up on the first try, and have not had any issues so far. With a 10-year warranty, that gives you some peace of mind as well. Couldn't be happier with my purchase
Date published: 2019-06-14
Rated 2 out of 5
by
CBinGeorgia
from
Expected better from a Weber
Major complaint is that left table disengages when trying to move the grill. I find it necessary to push down on the table near the grill while lifting at the opposite end which is awkward and inconvenient. Pictures in the instruction manual say otherwise. Weber did replace the table at my suggestion, but this hasn't helped. Second major complaint is that it takes WAY too long to cook a couple of hot dogs. I pre-heat for 10 minutes on high and still, after 25 minutes the dogs will not char. I have this grill in addition to 18" and 22" Weber kettle grills in order to save time and effort for things like hot dogs that really don't benefit from charcoal. This purchase has proven to be an expensive disappointment.
Date published: 2018-10-06
Rated 4 out of 5
by
Jay32
from
Good overall
I moved to a new home and left my old Weber for the purchaser. Bought this grill a few months ago, so far it is great except for two items. 1. The shelf that folds down doesn't hook in very well and it is the handle when you need to move the grill. The shelf slips out and is tricky to connect back together. The shelf on the wheel side should be the foldable shelf. 2. Bought the Weber brand cover for this device and it has small Velcro straps that don't work very well. In higher winds the cover falls off. My old Weber cover had a long Velcro strap on each side that was easily tightened down and it never came off.
Date published: 2019-02-01
Rated 5 out of 5
by
Mummzy
from
OMGrillinggg!!!!
Needed a barbeque and was not even thinking I would gravitate towards a WEBER ( I have always wanted one) but it was meant to be as this one was on sale and perfect for our family of 3....I absolutley LOVE it and it has brought joy back to barbequeing! I am even going to ask for the thingamajig temperature gauge item for my upcoming birthday. Oh, and my family is thrilled too as we are having so many different food items cooked to perfection....mmmmmm can't wait for today's dinner...beef tenderloin medallions, fresh grilled asparagus and a medley of baby potatoes, onions, peppers etceyc. Followed by grilled fresh pineapple with a yogurt/brown sugar dip! Thank you WEBER!
Date published: 2019-06-21
Rated 5 out of 5
by
Fishmonger
from
Perfect size for the two of us, and simply great!
We bought this grill about a month ago, based largely on good ratings from several sources. We've likely used it 10 times since then, and can't say enough about how good a rig it is. Perfect size for us seniors, even though many people would consider it on the small side for an outdoor grill. It is difficult to burn anything on it, very good in that way. The other night we had a mixed veggie grill, chicken drumsticks and rhubarb pie on it all at once (see photo). The veggies and chicken took about 30 minutes on direct heat at medium setting; the pie about an hour of indirect heat. Simply great. Experimenting with all kinds of grilling again, with excellent results. Good on ya Weber for a great product! Highly recommended!
Date published: 2019-07-16
Rated 5 out of 5
by
Casual Cook
from
Perfect Size
I use my Weber grill mostly for quick and easy dinners. It fits a somewhat small space by the natural gas outlet, where a larger grill would get in the way. I started by considering the even smaller Weber Q1200, but I was sold on the possibility of hookup to natural gas. My typical usage is to come home from the gym around 9 PM, turn on the grill, change clothes, and return to grill a hamburger or something similar in size. In a few minutes, dinner is ready. It couldn't be more convenient. The TrueValue store where I purchased it delivered the grill completely assembled, a very nice service.
Date published: 2019-06-27
Rated 5 out of 5
by
Karl
from
Great performance
Moved to a new place with NG hookup and didn't need my larger LP Weber Genesis grill anymore. The Spirit II fit the bill. Easy to assemble for me, grilled 6 large steaks, 2 different levels of doneness, to perfection. It also have a great warranty.
Date published: 2018-06-03
Rated 3 out of 5
by
North Texas griller
from
Pricing went up for less features.
I bought one 2 years ago and it is a stainless steel grill with fully enclosed bottom with a stainless door. The cart had 4 wheels. I believe I only paid $350 for it. Love the grill as it is built into a cooking station with my 26" Weber kettle. Great for just the wife and I for quick weekday meals. Use mine 3-4 times a week and the kettle on weekends. Great products, never a problem. Just think the pricing is getting higher for less features.
Date published: 2018-10-31
Rated 5 out of 5
by
Papaman
from
Spirit II E-210 Natural Gas Grill
I bought this grill to replace a Char-Broil Infrared grill I had for 11 years. I have not been disappointed. I loved the simplicity of putting the grill together. I grill several times a week for just my wife and I. The size of this grill is perfect, yet when I have my grandchildren around it is large enough for grilling for them also. It is easy to use, to clean, and to move from place to place. I would highly recommend this grill.
Date published: 2019-06-12
Rated 5 out of 5
by
The Grill Guy
from
Best Value Gas Grill
After owning numerous makes and models of gas grills over the years, I am learning again 'that you get what you pay for'. I have purchased other name brands that offered more features than this grill, but lacked the quality of my Weber Spirit II E-210. I spent considerable time researching different grills before deciding to purchase this one. I assembled the grill myself so I got to see how the grill was designed, engineered and manufactured before the final product was finished. I was impressed with the quality of materials used in manufacturing this grill. I believe it truly represents the best value in this segment of the gas grill market. Time will tell if my review is accurate. I expect this grill to outlast all the others.
Date published: 2018-07-06
Rated 5 out of 5
by
Dr Dave 5
from
ANOTHER Great Weber Grill
Over the years, I have bought more than a few Weber Grills (both Gas & Charcoal). Every single Grill has been a quality, lasting, product! About every 5-6 years I usually replace my Grill with a new model. The newest model I purchased (Spirit 200 series) is the smallest model I have owned in a Natural Gas model, but I just love this little 2 burner model. It's built like a BRICK S...H.... Put one of these together yourself, and you will know what I mean. For the money, you can't beat this little gem. Good size cooking area, great heat, and even looks cool. For a family of 3-4, this grill will do just about anything you want in an outdoor BBQ grill. Get a cover for it when your not using it and it should last you 5 or 6 years of hard use.
Date published: 2019-09-27
Rated 5 out of 5
by
Into Blue
from
Working as Advertised
I try and use the BBQ once a week and it's a joy to fire up and cook on. Very easy start up, heats up fast and cooks evenly. Installing and using the natural gas version was the right choice. Schelping propane tanks to and from the store has always been the downside of cooking on a BBQ...now with a simple flip of a valve you're cooking. If you're a senior (like me), why wouldn't you go natural and avoid that heavy metal tank. My only criticism was, oddly enough...color. The propane models of this BBQ have a choice of colors for the lid. Nice display of these lids in the store where I purchased so I chose blue only to learn that black is the only color offered in natural gas version. I don't see any difference? Obviously color has no impact on the cooking.
Date published: 2019-06-27
Rated 4 out of 5
by
southern senior
from
Finally, no more propane tanks
We moved to a new house with a natural gas tap for the grill. Could not convert our old Weber Spirit so I bought the E-210. It is the perfect size for our smaller home and works as well as our old grill. The grill comes with a brass quick disconnect fitting (this was not clear from the description) which allows you to store the hose on the shelf under the grill and move the grill to store it. Only required a couple of inexpensive pipe fittings to connect the quick disconnect fitting to the natural gas supply line.
Date published: 2018-12-09
Rated 5 out of 5
by
EnchiladaBonito
from
Fast and even heat, as expected!
This is my second Weber barbecue - I had to retire my Genesis after 18 years of reliable service. This new Spirit is great - smaller footprint but it's all I need. Heats up FAST and the two grate sizes are great for grilling veggies alongside proteins. Temp is steady and it was easy to put together. I won't buy any other brand. Wish the NG came in fun colours like the propane, but that's a minor gripe. Got the lightweight cover to go with it - it's easy to put on and the Velcro is strong. Highly recommended!
Date published: 2019-08-04
Rated 5 out of 5
by
Martha18
from
Great size for small patios
This is my second Weber grill will not purchase any other brand! Weber has quality product and stand behind after years of use. I grill at least 3-4 times per week all year and having on natural gas is the best! The natural gas had to be ordered but worth the wait. Why did I purchase a new grill the old the enclosed cart was rusting and doors would not stay shut (after 12 years) all internal parts were fine. I prefer the porcelain cooking grids over the cast iron but just a personal preference.
Date published: 2018-06-04
Rated 5 out of 5
by
TheClacker1984
from
Great grill!
I love my Weber Grill. This is the first grill I've owned myself, but it is so easy to use. I've had it a month and use it about twice a week to grill burgers, steak, chicken, pork, and vegetables. Plus, it looks great on my porch!
Date published: 2018-07-21
Rated 3 out of 5
by
Crink
from
uneven heat
I always wanted a Weber grill because they seemed to be the best. But I am disappointed in my new grill. It does not seem to heat up evenly or get and stay hot enough. Sorry but disappointed.
Date published: 2018-08-09
Rated 2 out of 5
by
GoldMt.
from
Struggling to get it going
We bought the grill over a month ago and still are unable to use it. I know from word of mouth Weber grills are solid but as soon as I started assembling the frame noticed the part was wrong. Customer service was great but it took several days to receive the correct part. The hose doesn't have the standard connection for a propane tank and I've struggled trying to unlock the nut to switch out the line. While I'm also there (able to use the grill) it's been a bit of a headache.
Date published: 2019-06-23
Rated 4 out of 5
by
Jackie58
from
Great for small spaces
I've owned Weber grills since 2001 and have yet to be disappointed. After speaking to a Weber support person, I bought the Spirit II E210 in June 2019 because it was the model that got my needs. It cooks evenly, and the product quality is better than any other brand out there. The only complaint I have is I wished both side tables folded down or with one fold down table the wheels need to be switched. It's hard to move the grill with the fold down on the same side. Thanks Weber!
Date published: 2019-07-14
Rated 5 out of 5
by
Thegeneral
from
Great condo sized barbecue
I bought this barbecue to fit on my condo balcony which has s natural gas outlet. Easy hookup and works great. Would buy again.
Date published: 2019-04-17
Rated 4 out of 5
by
Chicagotheo
from
Overall very good
This a great grill for our condo balcony. Is two small if you are cooking for more than just a couple of people. The cover that you can buy for it is a bit awkward and really have to ensure it is on so not to blow away. Great that there are trays on both sides. A little tough to move it on its wheels by grapping the tray since they fold down. Lastly I have accidently turned grill on when putting cover on. To be safe I now turn the grill off at the main switch.
Date published: 2018-06-10
Rated 5 out of 5
by
BobStarr
from
Quality Natural Gas Grill
After using other Brand X natural gas grills which rusted out into pieces of junk after just a couple of years, it is nice to have a quality product with a great company that stands by their product! Natural gas in a small portable grill is getting harder to find and I am disappointed that Weber is discontinuing their natural gas versions of the Spirit II. Glad I got mine before they go away. Please Weber keep these Spirit II natural gas models in you catalog!!!
Date published: 2019-09-25
Rated 3 out of 5
by
Millie
from
Grease spill
I really like this grill. The size is great for a small family. It heats up quickly and doesn't take up much space. Easy to clean. My problem is the grease catch pan is too small to cover the whole grill. I have to check it each time to make sure it didn't slip away from the little collector pan and I still end up cleaning grease from the bottom slats and my lanai floor. I don't understand why there is a 3 inch space at the back of the grill that is not covered.
Date published: 2019-05-20
Rated 5 out of 5
by
Hat-Trick Hero
from
Great performing grill.
The Spirit II E-210 (Natural Gas) is the best grill I have ever owned. The build quality is top notch and the grilling performance continues to exceed my expectations. With the (NG) model, the necessary (NG) hose was included. None of the other grills I looked at did this. The Weber website continues to impress me with it's informative videos along with tips, tricks and recipes. I am a first time Weber customer and this grill has made me a proud Weber owner.
Date published: 2019-10-14
Rated 5 out of 5
by
CoyoteJohnC
from
This little grill is fantastic and a great value
We bought this grill because we needed something that was small enough to create a negligible footprint on our backyard deck, but large enough to grill food for several people. This grill fits the bill. It heats evenly, the components are easy to clean, it rises to temperature very quickly, and it has a very solid look and feel. We also purchased a WEBER cover for it since we are in Seattle and we get a lot of rain through the winter. We love this grill. I clean it after every use and it's very easy to clean. I like the big control knobs and the easy to read thermometer on the cover. All in all, it's a fantastic little grill and a good value for the money. I would recommend this to anyone contemplating a good all around grill. It doesn't have a lot of bells and whistles but it gets the basic job done and done well!
Date published: 2019-06-27
Rated 4 out of 5
by
Lexsc05
from
natural gas 2 burner
Bought this natural gas grill 1 month ago. It was very difficult to have the quick connect connect to the gas line. We had to put quick connect together and then screw it onto gas line and get the seal. Guess I won't be disconnecting this any time soon. But at least that means the seal is good. This is a 2 burner and it grills best in the back of the grill. Front is not same temp as back seems to be. Otherwise nice grill that I do plan to use for a long time.
Date published: 2018-06-06
Rated 4 out of 5
by
Zulu
from
Great BBQ, BUT
Grills well & lighter always fires the natural gas BUT, the flame deflectors rust badly, would not expect that after 1 year. The folding shelf on the left side of the grill hinges. If I want to move the grill, it is so awkward to fold down that shelf, then grip the grill on the grey frame legs to wheel it into position. Didn't you try that out when the grill was made? That left shelf is too flimsy to lift up the weight of the grill to wheel it around.
Date published: 2019-04-03
Rated 4 out of 5
by
Anonymous
from
Really nice grill
I have used Weber grills for many years. I downsized this year from a 3 burner to a 2 burner and switched from propane to natural gas. I really like everything about the grill with one exception. The fold-down table does not have a secure locking system. When I lift the end of the grill to roll it across the deck, the table pops loose. I have to grab the grill frame to lift that side then move the grill. The locking pens need some re-engineering.
Date published: 2019-06-28
Rated 4 out of 5
by
Byronius
from
Heat Consistency
I do like the way the bbq maintains the desired heat re. temperature and It's easy to clean on the outside. The inside is a little difficult to keep clean and I do heat it up before and after use, I use the steel brush, grate solution and grill scrubbing pads (which do not stay on the holder well) but I don't quite get the desired cleanliness I want but I may expect to much. if you have any hints to cleanup after doing chicken wings, let me know.
Date published: 2019-08-23
bvseo_sdk, dw_cartridge, 16.1.1, p_sdk_3.2.0
CLOUD, timer 147ms, 0ms
reviews, product
bvseo_sdk, dw_cartridge, 16.1.1, p_sdk_3.2.0
CLOUD, getContent, 0ms
reviews, product
Keep Exploring
Spirit II Series

Spirit II E-210 Gas Grill

Spirit II Series

Spirit II E-310 Gas Grill

Spirit II Series

Spirit II E-310 Gas Grill (Natural Gas)