WE'VE MASTERED THE FLAME FOR THE PERFECT STEAK
Weber
Genesis® II E-315 Gas Grill (Natural Gas)

Black
Image for capacity demonstration purposes only.
Actual product model and features may vary.
An exclusive world-class grilling engine, three powerful burners that are guaranteed to ignite every time, and iGrill 3 smart technology compatibility, all backed by the Weber 10-year lid-to-wheels warranty. This is the new standard in gas grilling.
Item #66015001
Main burners: BTU-per-hour input

39,000

Dimensions - Lid Open (inches)

62"H x 59"W x 31"D

Dimensions - Lid Closed (inches)

47"H x 59"W x 29"D

Primary cooking area (square inches)

513

Tuck-Away warming rack area (square inches)

156

Total cooking area (square inches)

669

Stainless steel burners

3

Fuel type

Natural Gas (gas supply hose included)

Side tables

2

Swivel locking casters

2

Durable all-weather wheels

2

Tool hooks

6

Battery type

AA

Batteries

1

GS4 High Performance Grilling System

Infinity ignition

High-performance burners

Stainless steel Flavorizer bars

Grease Management System

Features

Porcelain-enamelled, cast-iron cooking grates

Porcelain-enamelled lid

iGrill 3 compatible (accessory sold separately, not included)

Built-in lid thermometer

Stainless steel side tables

Grill cabinet

Painted steel doors

Welded tube frame

Infinite control burner valves

3-metre flexible hose (NG model)

Stainless steel heat deflectors

All Parts

10 Years (excluding normal wear and tear and subject to additional terms and conditions in the warranty)
Image for capacity demonstration purposes only.
Actual product model and features may vary.
Stainless steel Flavorizer bars

Porcelain-enamelled, cast-iron cooking grates

Stainless steel side tables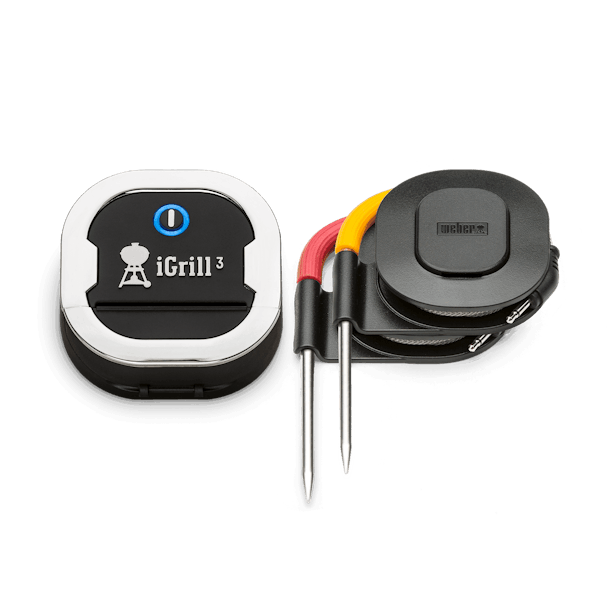 Infinite possibilities
WITH THE IGRILL 3 APP-CONNECTED THERMOMETER
Open up a new world of grilling possibilities with the iGrill 3 app-connected thermometer. iGrill 3 monitors food from beginning to end and notifies you once it has reached the perfect serving temperature. Each Spirit II and Genesis II comes to you iGrill compatible.
EXPLORE IGRILL 3
Genesis® II E-315 Gas Grill (Natural Gas)
is rated out of
5
by
68
.
Rated

5

out of

5
by
Dant
from
Exceptional Cooking experience
My first experience with this being my first Weber was cooking for 36 people. I cooked sausages hamburgers but not before cooking a full grill of zucchini's and eggplants. The distribution of heat on this grill is amazing. Everything cooked evenly and much faster with flipping each item one time only. I have a few friends who have had Weber's for years and they always told me they would never go back to any other BBQ brand I wish I had taken the advice many many years ago Great experience excellent BBQ Looking forward to our next big cookout. Thank you
Date published: 2019-09-29
Rated

4

out of

5
by
BigRob
from
Wow... What a grill!!!
I love my new grill. It has a lot of power to easily sear steaks. The grill was easy to put together. With my wife's help we were done in under 2 hours. We used it for a party on the 4th of July and everything from corn to burgers to hot dogs were done perfectly. I am looking forward to getting more familiar with the grill (it seems to have a lot more power compared to the grill it replaced, My only concern is that the lid arrived dented. I haven't reached out to Weber yet, but I'm confident that they will make it right.
Date published: 2019-07-17
Rated

5

out of

5
by
Brian43206
from
Easy to setup and fantastic improvements
My first (and only other) grill was a Weber Genesis II purchased in 2002. I replaced the cast iron grates, drip pan and burner covers a few years ago and it had continued to work great. As my wife and I were about to move into a new home with an option for natural gas, we felt it was about time to upgrade to a new grill from the 17 year old trusted one. We thus choose to stay with Weber, and in fact the same model grill, with the Genesis II E-315. I could not be happier with this new grill. The quality of construction is excellent and the improvements with an insulated lid, easy start button, and even easier to replace battery (when necessary) are second to none. Weber has been a trusted name in grills for years and I will continue to advocate for them to all my family and friends.
Date published: 2019-06-15
Rated

5

out of

5
by
Shoe
from
Excellent Weber Natural Gas Grill
I purchased this Weber Natural Gas Grill about 2 months ago after doing research about what to transition to from my old Weber Charcoal Grill. I am very pleased with the performance of my new grill. It lights up without any problem. I like the enclosed doors to hide items and the grease pan. Having a natural gas hook-up is very convenient, so I never run out of gas. I love the way the food comes out of the grill. I am mastering my grilling technique. The 3 burners is perfect for our needs.
Date published: 2019-06-13
Rated

5

out of

5
by
Duff1
from
Perfect match for our needs
I bought a Weber Genesis 315 Grill about 3 months ago. It is a great product, well designed, sturdy and functional. Does a great job on all types of foods, including steak, hamburgers, sausages, fish and veggies. For some foods I like using the indirect method and having the 3 burners makes that easy to do. I also like hooking it up to our natural gas line to avoid having to manage LP tanks. Bought the Weber grill cover and am glad I did. It fits perfectly and appears to be sturdy.
Date published: 2019-06-12
Rated

5

out of

5
by
Newport Jeff
from
Consistently Weber
This is my third Weber over the past 25 years. Each one has been an excellent purchase. And each one has had just a few more very welcome features. The only issue I have is that delicate food items like fish seem to stick to the porcelain coated, cast iron grates. Even after using the Weber spray. Although they last longer, I might switch to the stainless steel grates I had in my previous grills.
Date published: 2019-11-05
Rated

5

out of

5
by
apaul90529
from
Love my Genesis II E315 Natural Gas Grill
These days it is harder to buy a natural gass griil because so many retailers do not want to stock them. Tried to get a less expensive grill but ultimatlet went with a Weber E-315 and I am glad I did. It fires up so quietly, and keeps the exact temperature I set it to. The grill cleans easily and the 10 year warranty is far better then any other manufacturer. it may be more expensive, but over the next 10 years, it will cost me much less.
Date published: 2019-06-12
Rated

3

out of

5
by
Avis
from
Frustrating
This is my second Genesis Grill. When we moved the new buyer wanted our existing natural gas Genesis. Once moved into our new home we bought a new one. My frustration is it has the same problem as our first. The left side burner takes repeated tries to get it to ignite. We've had a plumber check the gas line, the valve and the hard gas line he found no problems. It's frustrating to need to repeatedly click it off and on.
Date published: 2019-10-29
Rated

5

out of

5
by
The Mayor
from
amazing
After owning a number of less expensive and what I thought were good quality grills I now realize what a difference owning a Weber Grill is. For a few hundred dollars more than what I have spent in the past on grills I love how quickly the Weber cooks. In lieu of standing over a hot grill for too long by my poolI now cook the same amount of burgers, hotdogs ,chicken or steaks much quicker and therefore tastier.
Date published: 2019-06-27
Rated

3

out of

5
by
Jillian
from
Genesis
Great at heating The way the grease pan is placed will constantly place grease on the top inside shelf The cover is cheap The side shelves are pretty and stainless but preferred the plastic heavy duty shelves on my older Weber Overall I like the grates and the cooking Would have liked a little more cooking area- The next model up with the larger cooking area was also a very very large grill
Date published: 2019-06-12
Rated

4

out of

5
by
ChiefWidget
from
Very happy with a small exception...
I bought this grill over a month ago and couldn't be happier with the results. It's hard to cook a bad meal on this thing. It heats up FAST and is a treat to cook on. It wasn't easy to find the natural gas version but I'm glad I did, no more propane tank refills! The only thing I can complain about is what appears to be an issue with the frame. I bought the version with doors, which looks awesome and finishes it nicely. However, the frame doesn't seem to be square, as the doors look lopsided. In fact, the left-hand door scratches quite hard against the underside of the frame (see pictures). Obviously, this doesn't affect the quality of the grill results but is disappointing given the price point. There doesn't seem to be a way tor rectify this and I'm not inclined to dissemble the entire thing. Other than that, very happy with the grill. Bought the Weber grill utensils and vegetable basket as well and am very happy with those items.
Date published: 2019-05-20
Rated

5

out of

5
by
Anonymous
from
Same quality as my 15 year old Weber Grill,
LOVE the grill, My previous Weber grill was over 15 years but was still working when I handed it down to my Niece. Only thing I really was disappointed about was the lack of a paper cookbook like the one in my older model.I know the information is on line, but being a 72 year old I feel more comfortable with a book than a digital copy.
Date published: 2019-03-03
Rated

5

out of

5
by
Hcu1diver
from
Weber Genesis II
We bought our Genesis about a month ago and have used it five or six times to mostly grill a steak. Heats up quickly and does a nice job on the steak. Very pleased with it. Assembly just takes time and there are a few times when you do need a second person to help. Very pleased with our purchase.
Date published: 2019-11-02
Rated

5

out of

5
by
LizinVA
from
A Great Grill
We've had many of versions of this grill over the years. We keep coming back to the Weber because it's intuitive, consistent and delivers reliable results. My only complaint, as a short person, is that when I open the grill, I have to reach way out and over my head--directly overt the grill surface.
Date published: 2019-09-12
Rated

4

out of

5
by
Sandra K
from
Compact and Convenient
We purchased our Genesis II E-315 natural gas grill to replace a prior model that had served us well for over a decade. This unit is smaller but meets the needs of just my husband and myself. My only complaint: the 2 stationary wheels (don't rotate) that makes moving this grill difficult.
Date published: 2019-09-12
Rated

5

out of

5
by
OG659
from
Very nice grill!
Love my new grill. Easy set up and it cooks exactly as I expected. Nice features and looks great as well. Purchased through Lowes which provided free assembly and delivery. Updated from my old LP grill to new house with natural gas. Distributes heat evenly and makes cooking a breeze.
Date published: 2019-07-29
Rated

5

out of

5
by
rougeau69
from
Love it!
I bought the NG Genesis II E-315 3 weeks ago and am in love with this BBQ. No hot spots (flare ups), steady even heat, up to temperature in 8-10 minutes. Literally, cooking everything on it. Even thick steaks cooking in no time at all. Cooking on it 3-4 times a week!! Great purchase.
Date published: 2019-08-08
Rated

5

out of

5
by
Patton66
from
Just overall great grill
Should have bought this grill before i purchased five other grills that broke
Date published: 2019-11-06
Rated

5

out of

5
by
Speedo
from
Outstanding value
Bought this grill a month ago and have used it almost daily. Like the solid construction of the unit. Heats up quickly and maintains temperature well. Ignition system first rate. Couldn't be more pleased with the way it cooks. Highly recommend this grill. Built to last.
Date published: 2019-07-23
Rated

5

out of

5
by
SteveieR
from
Super Grill
I had a Weber grill that was 13 years old. It worked fine but I thought it was time to upgrade. This new grill is terrific. It provides high temperatures for nice grill marks and I don't get anything sticking to grill surface. I am very pleased with my purchase.
Date published: 2019-09-04
Rated

5

out of

5
by
RichieGoodtimes
from
Well Built Barbeque!
I was tired of purchasing cheap bbq's that don't last. After our local purchased the Genesis for the firehall, I knew I had to have one for home. With its well built design and ability to hold desired temperatures, this BBQ is a must have and money well spent!
Date published: 2019-10-10
Rated

5

out of

5
by
The Dom
from
Best Grill ever
My backyard get together have never been so much fun. My grill has become the center of attraction. What I have cooked so far has exceeded my expectations. Heat centrals are reliable and grindingll temperatures seem to be consistent all over.
Date published: 2019-06-12
Rated

5

out of

5
by
HikingLee
from
What A Grill Should Be!
We have always had a Natural Gas grill and needed one at our new house and didn't think for a minute about buying anything but a Weber...has been my "Go To" brand for decades (only two grills in 30 years) since their quality is exceptional.
Date published: 2019-06-28
Rated

5

out of

5
by
Marcfromsturgeon4
from
Great features, nice controllable heat
Best grill I have ever had. I feel with the right tools a person can do a better job....I now feel like I can cook like a pro. Specialy with the addition of the Weber grilling app. This is by all measures a professional grill.
Date published: 2019-08-17
Rated

2

out of

5
by
Quayzar
from
No customer support
The grill only hears to 400 defrees and it takes 45 minutes to get that hot. I have emailed customer service numerous times and get no response. Its probably a good grill but they must not care once you have bought it.
Date published: 2019-07-13
Rated

4

out of

5
by
King of the Q
from
Weber Wonder
Been using it for a short time now and just love it! It takes less than 5 minutes to get up to 500 degrees! Also both the rotisserie attachment but would have liked it to be mounted high for larger roasts and chickens!
Date published: 2019-05-31
Rated

5

out of

5
by
Backyard cooker
from
I like this grill
I owned the Weber grill that this one replaced for 25 years and it served me very well. This grill is far and above the old one. I am very pleased with the new Genesis II and plan to use it for many many years.
Date published: 2019-09-29
Rated

5

out of

5
by
Bob-L
from
Best on the market
Excellent design, great functionality and very well built and, although pricy, is the best gas grill on the market. Even heat distribution and good temperature control provides fast, excellent grilled foods.
Date published: 2019-06-12
Rated

5

out of

5
by
LeawoodMike
from
Weber even covers my own stupidity!
I made a mistake during installation. I didn't read the directions and therefore ruined the hose connecting the grill to the natural gas valve. Weber covered it anyway and quickly sent a replacement.
Date published: 2019-06-24
Rated

5

out of

5
by
DHD21
from
Love it!
I decided to buy a new Weber as my last one was 15 years old and finally showing signs of age. My new one looks great and is easy to start and has even heat at any settings. My new best toy!
Date published: 2019-08-01
bvseo_sdk, dw_cartridge, 16.1.1, p_sdk_3.2.0
CLOUD, timer 164ms, 0ms
reviews, product
bvseo_sdk, dw_cartridge, 16.1.1, p_sdk_3.2.0
CLOUD, getContent, 0ms
reviews, product
Keep

Exploring
Genesis® II Series

Genesis® II E-310 Gas Grill

Genesis® II Series

Genesis® II E-310 Gas Grill (Natural Gas)

Genesis® II Series

Genesis® II E-315 Gas Grill

Genesis® II Series

Genesis® II E-330 Gas Grill

Genesis® II Series

Genesis® II E-330 Gas Grill (Natural Gas)

Genesis® II Series

Genesis® II E-335 Gas Grill

Genesis® II Series

Genesis® II E-335 Gas Grill (Natural Gas)

Genesis® II Series

Genesis® II S-335 Gas Grill

Genesis® II Series

Genesis® II S-335 Gas Grill (Natural Gas)

Genesis® II Series

Genesis® II E-410 Gas Grill

Genesis® II Series

Genesis® II E-410 Gas Grill (Natural Gas)

Genesis® II Series

Genesis® II E-435 Gas Grill

Genesis® II Series

Genesis® II E-435 Gas Grill (Natural Gas)

Genesis® II Series

Genesis® II S-435 Gas Grill

Genesis® II Series

Genesis® II S-435 Gas Grill (Natural Gas)

Genesis® II Series

Genesis® II CE-330 Gas Grill