Summer is synonymous with some good old-fashioned backyard barbecuing. Between gathering friends and family outside, feeling the heat of the grill, and enjoying the great taste of barbecue, grilling is one of my favorite activities in the warmer months. In fact, according to a recent survey by Smithfield, 81% of Americans feel that grilling is one of the best parts of summer, and a whopping 89% of Americans rank grilling as a great American pastime. After all, who doesn't love putting their skills to the test and digging into a job well done?
As Smithfield's corporate chef, I have some tips and tricks of my own for perfecting your BBQ this summer. But if you're up for the challenge, you can show off your skills at the grill in the inaugural Smithfield Hog Wild Throwdown. Now through August 11, pork fans nationwide can grill, vote and play for the chance to win one of two new 2016 Ford F-150 XL pickup trucks and take home the title of the Smithfield Hog Wild Throwdown champion.
Barbecue lovers can enter as either a "Pitmaster Pro" or a "Backyard Barbecuer" and submit their original recipes showcasing how to "grill pork like a steak." The winners will get the chance to throw down in front of award-winning celebrity pit masters Moe Cason and Tuffy Stone and Weber Grillmaster Kevin Kolman. Additionally, fans can vote on their favorite recipes and play the daily instant win games to increase their chance of winning an F-150. See if you have what it takes to drive home in the "ultimate pig-rig" at www.SmithfieldThrowdown.com.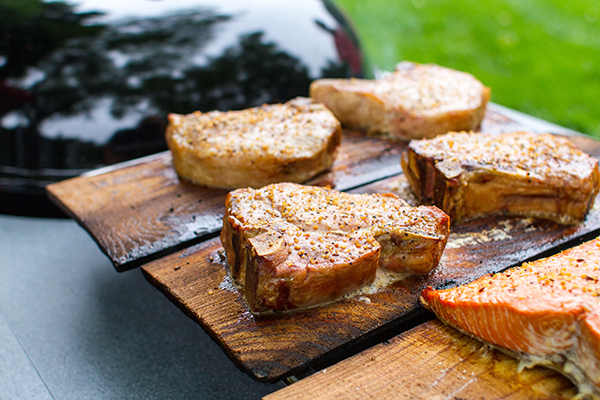 To make the most of your summer grilling season, a few of these tips and tricks will ensure everything you grill is pit master perfect.
Know how long to marinate. As a general rule of thumb, the thicker the cut, the longer it needs to be seasoned. Pork shoulders should be seasoned overnight but cuts like ribs should be marinated about one hour before grilling, and tenderloins only need about 30 minutes.
Apply sauce at the end of the grilling process. Most people think it's best to apply sauce as they're grilling, but it winds up burning and can really affect the finished product.
Know your cooking temperature. Pork should be cooked to an internal temperature of 145°F, and the best way to check this is by using a meat thermometer. Instead of slicing into your meat to assess doneness, a meat thermometer will help it remain as tender and juicy as possible.
Allow meat to rest when finished. This helps redistribute juice back into the meat and create a more tender product. Smaller cuts only need to rest for five to seven minutes, but bigger cuts should rest anywhere between 15 and 30 minutes.
Now get out there, fire up your grill, and make this the best summer yet.