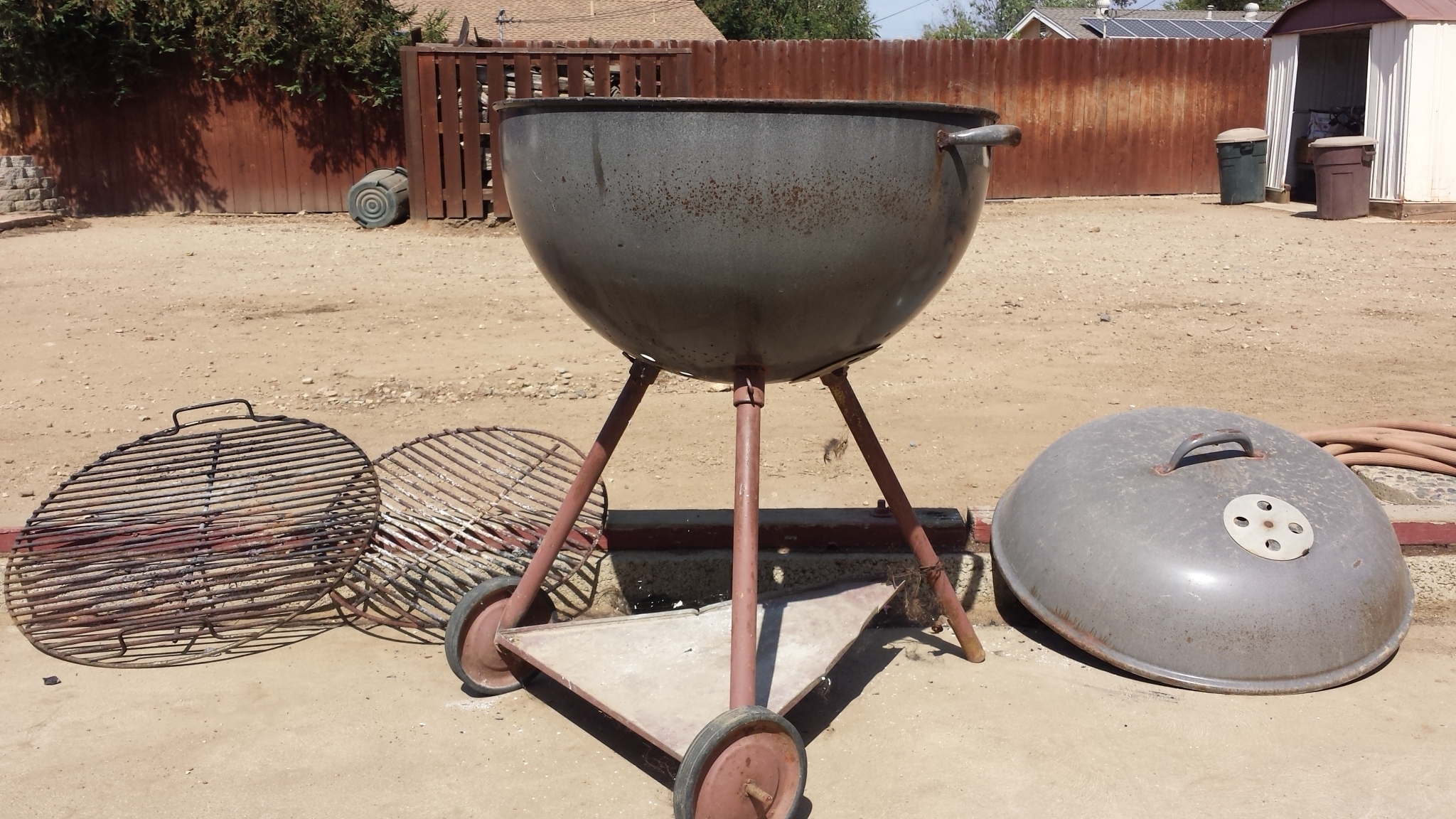 Paul
Hi all,

Just wanted to say hello and give/get some info.

I was about to commit a crime today, when I pulled back from the brink and Googled and found this site.

The picture above is of a Weber kettle that has been in my family for many, many years. In fact, this kettle has traveled more miles all over the world than most people ever will in a lifetime. I believe it was purchased by my father in Texas in the late 1950's. It first traveled to Ankara, Turkey with us in 1965 and went on to Tehran, Iran and the Wiesbaden and Kaiserslautern areas of West (at the time) Germany. It has traveled around the States and currently resides at my home in Southern California.

I have used it over the years, but sparingly as many other newer grills have come and gone with higher WAF values of quicker light/cook times and easier clean up. Many evenings with kids and homework etc. there just wasn't time to mess with charcoal - I'm sure I'm not alone here. So it fell into only occasional use. It is in poor shape - stand is kind of rickety, bottom metal tray no longer connects to leg, vents falling off as rivets let go, etc. So it sits there looking forlorn and useless most of the time.

I bought a Green Egg and started getting back into slow charcoal cooking again on weekends. One weekend I gave the Kettle a try and it got too hot and over cooked the tri-tip. I was resigned to letting the wife have her way and getting rid of it. Yesterday after moving it once again I mentioned to the wife on our evening dog walk that I was going to put it out for recycling as long as I could buy a new one. Today, as I carried it out to the street I got all the way to the curb and couldn't do it. I started thinking about all those years and miles, and started rationalizing how I could fix some of its issues with some time, effort and TLC, and brought it back to the back yard, took some pics and decided to see what fellow Kettle owners would say - a stay of execution if you will.

What says the collective? What would you do? What do I need to refurbish this unique piece of family history? How do I do it? What resources does Weber have to help - manuals or sales brochures so I can determine the lugs, legs, tray and wheels are the original color?