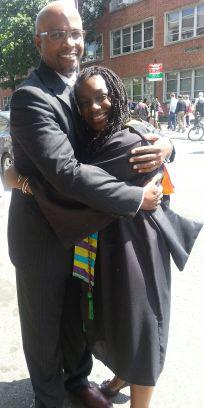 Joivonnah
Ron is the best father in the world. And no that's not a bias statement, it's a fact. Imagine a young man living a fast, carefree lifestyle. Then he receives the call that would have most men running for the hills: "I'm pregnant". He has two options: either man-up and take care of his responsibilities or run away. Thank God he chose the former.

My father traded his fast lifestyle for changing diapers and emotionally unpredictable tiny humans. But he did it with ease and finesse. Over the years, my dad has been my superhero, chef, disciplinary, driving instructor and cheerleader. And because of his love and support, I was able to graduate from the University of Pennsylvania a week ago.

With all that my father sacrificed, he's finally about to do something he loves. Him and my mother are opening a soul-food restaurant called Rhema Soul in Arizona. It's honestly the happiest I've ever seen my dad whenever he talks about it. That's why my dad needs to come grill with Kevin: it will give him the motivation to kick start the restaurant. Plus my father is the biggest Kevin Kolman fan. He is consistently on the Weber website when I'm trying to get his attention. So Kevin, you owe me this!

I know you will have a bunch of kids sending in their reasons why their father deserves this. But you will never find a man more deserving than Ron. And the facts never lie.