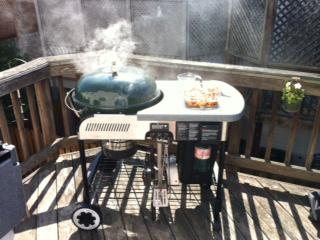 stephen
My relationship with the Weber brand and family of products formed during the summer of 2002 with the purchase of a Genesis Gold C. Since then my Weber family grew with the acquisitions of a Performer charcoal grill and the WeberQ. I even plan to purchase a Smokey Mountain Cooker to start a new Thanksgiving family tradition this year.

There is not a day that goes by where I don't marvel in the simplicity in design and overall feel of quality that your products provide. The same sentiment can be said regarding the level of customer service the Weber company provides. I wish all companies would adopt the standard of excellence that Weber has adopted.

Over the years I can't begin to tell you how many memories and delicious flavors have been realized with the push of the igniter button or lighting of a charcoal chimney.

I'm eternally grateful for all that the Weber company provides. You have a devoted customer for life. My life, my family, and my friends' lives are richer (and smokier) knowing that you are around. I thank you from the bottom of my heart.