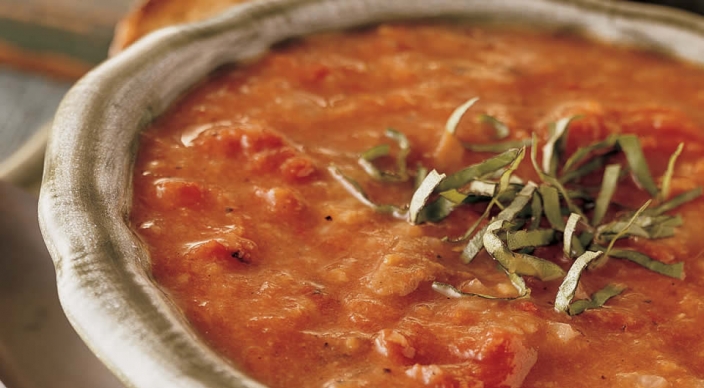 Serves: 6 to 8 // Prep time: 20 minutes, plus 45 minutes to simmer the soup | Grilling time: 8 to 12 minutes
Ingredients
4 cups chicken broth
2 slices day-old Italian bread, each ½-inch thick
½ small red bell pepper, cored and seeded
25 plum tomatoes, halved, cored, and seeded
1 medium onion, peeled, cut in ½-inch slices
Extra-virgin olive oil
¼ cup lightly packed basil leaves
1 rib celery, chopped
1 garlic clove, minced
½ teaspoon kosher salt
¼ teaspoon freshly ground black pepper
Instructions
Prepare the grill for direct cooking over medium heat (350° to 450°F).

In a large stockpot combine the chicken broth and bread. Set aside while you prepare and grill the vegetables.

Flatten the pepper half with the palm of your hand. Brush the pepper, tomato halves, and onion slices with oil. Brush the cooking grates clean. Grill the vegetables over direct medium heat, with the lid closed as much as possible, until lightly charred, turning once. The pepper and tomatoes will take 6 to 8 minutes and the onion will take 8 to 12 minutes. When the pepper and tomatoes are cool enough to handle, remove their skins. Roughly chop all the grilled vegetables.

Add the grilled vegetables, the basil, celery, garlic, salt, and pepper to the stockpot and simmer over low heat for 45 minutes, stirring occasionally. Serve with crusty Italian bread, if desired.