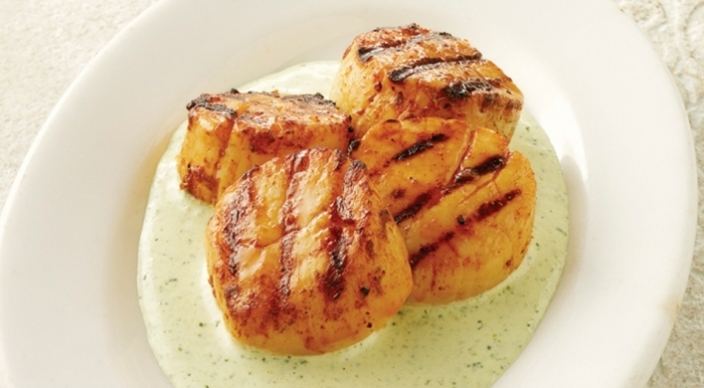 Serves: 4 to 6 // Prep time: 20 minutes | Grilling time: 7 to 11 minutes
Ingredients
Sauce
3 long Anaheim chile peppers
3 scallions, root ends discarded, all the rest roughly chopped
¼ cup lightly packed fresh cilantro leaves and tender stems
1 small garlic clove
½ cup sour cream
½ cup mayonnaise
Finely grated zest and juice of 1 lime
¼ teaspoon kosher salt
Rub
1 teaspoon pure chile powder
1 teaspoon paprika
1 teaspoon kosher salt
½ teaspoon ground cumin
½ teaspoon dried oregano
¼ teaspoon freshly ground black pepper
---
24 large sea scallops, each about 2 ounces
Vegetable oil
Finely grated zest and juice of 1 lime
Instructions
Prepare the grill for direct cooking over high heat (450° to 550°F).

Brush the cooking grates clean. Grill the chile peppers over direct high heat, with the lid open, until they are blackened and blistered in spots all over, 3 to 5 minutes, turning occasionally. Remove the chiles from the grill. When cool enough to handle, remove and discard the stem ends. Using a sharp knife, scrape off and discard nearly all the blacked skins. Roughly chop the remaining parts of the chiles and drop them into a food processor or blender. Add the scallions, cilantro, and garlic. Process to make a coarse paste, scraping down the sides once or twice. Add the remaining sauce ingredients and process for a minute or two, to create a smooth sauce. If it seems too thick, add a little water and adjust the seasonings.

In a small bowl mix the rub ingredients.

Rinse the scallops under cold water and remove the small, tough muscle that might be left on each one. Place the scallops in a large bowl and add enough oil to coat them lightly. Add the rub, lime zest, and lime juice. Mix well to coat the scallops evenly.

Grill the scallops over direct high heat, with the lid closed as much as possible, until slightly firm on the surface and opaque in the center (check one by cutting it open), 4 to 6 minutes, turning once. Remove from the grill and serve warm with the sauce.