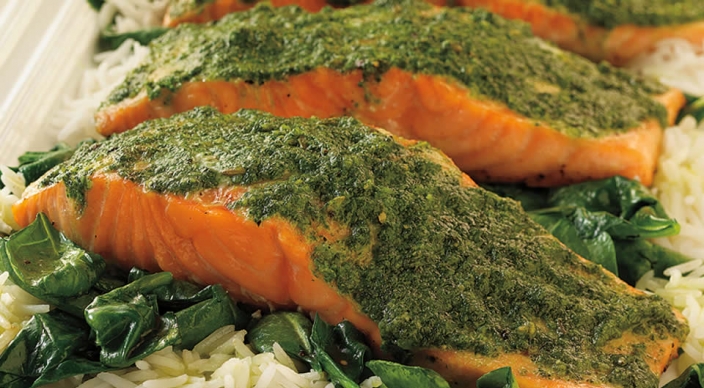 Serves: 4 // Prep time: 20 minutes | Grilling time: 10 to 15 minutes | Special equipment: spice mill, 12-by-7-inch sheet pan
Ingredients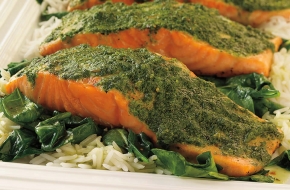 Butter
½ teaspoon fennel seed
12 ounces fresh baby spinach leaves, divided
6 tablespoons (¾ stick) unsalted butter, diced
4 scallions (white and light green parts only), finely chopped
3 tablespoons roughly chopped fresh tarragon leaves
2 tablespoons finely grated Parmigiano-Reggiano® cheese
4 teaspoons anisette liqueur
3 garlic cloves, roughly chopped
½ teaspoon white wine vinegar
½ teaspoon kosher salt
½ teaspoon freshly ground black pepper
---
4 skinless salmon fillets, each 6 to 8 ounces and about 1 inch thick, pin bones removed
½ teaspoon kosher salt
¼ teaspoon freshly ground black pepper
---
Instructions
In a spice mill finely crush the fennel seed. Pour the crushed seed into a food processor along with ½ cup packed spinach leaves and the remaining butter ingredients. Whirl until the spinach and scallions are finely chopped and the butter is well blended, scraping down the sides of the bowl often.

Prepare the grill for direct cooking over medium heat (350° to 450°F).

Season the fillets on both sides with the salt and pepper and arrange them on a 12-by-7-inch sheet pan lined with aluminum foil. Spread 2 to 3 tablespoons of the butter over the top of each fillet. Reserve any butter not used for cooking the remaining spinach.

Brush the cooking grates clean. Cook the fillets on the pan over direct medium heat, with the lid closed, until cooked to your desired doneness, 8 to 12 minutes for medium rare (do not turn). Transfer the pan with the fillets to a heatproof surface. Remove the fillets from the pan and reserve the buttery juices. Keep the fillets warm while preparing the spinach.

Add any reserved butter and the remaining spinach to the sheet pan. Use tongs to coat the spinach with the butter. Place the pan over direct medium heat, close the lid, and cook until the spinach is wilted, 2 to 3 minutes, turning occasionally. Remove from the grill.

To serve, spoon rice onto individual plates. Top with spinach and a salmon fillet.