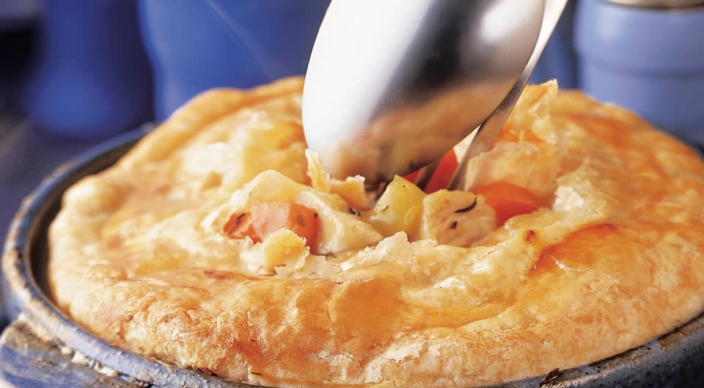 Serves: 6 to 8 // Prep time: 40 minutes | Grilling time: 40 to 50 minutes | Special equipment: ovenproof 10-inch skillet or deep 10-inch pie pan
Ingredients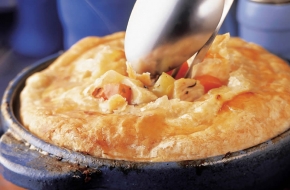 Vegetables
2 tablespoons unsalted butter, divided
1 medium yellow onion, cut into ½-inch dice
3 medium carrots, peeled and cut into ½-inch dice
2 ribs celery, cut into ½-inch dice
½ pound button mushrooms, thinly sliced
1 teaspoon dried thyme
½ teaspoon dried oregano
Sauce
3 tablespoons unsalted butter
2 teaspoons Madras curry powder
¼ cup all-purpose flour
1½ cups chicken broth
---
3 cups diced cooked turkey
¼ cup finely chopped fresh Italian parsley leaves
2 tablespoons fresh lemon juice
½ teaspoon kosher salt
¼ teaspoon freshly ground black pepper
---
1 sheet (9 by 9 inches) frozen puff pastry, thawed
1 large egg
Instructions
In a medium sauté pan over medium-high heat, melt 1 tablespoon of the butter and cook the onion and carrots, stirring occasionally, until the onion is translucent, 6 to 8 minutes. Transfer the onion-carrot mixture to a large bowl. Melt the remaining 1 tablespoon of butter in the sauté pan over medium-high heat. Add the celery, mushrooms, thyme and oregano. Cook, stirring occasionally, until the juice from the mushrooms has evaporated, 6 to 8 minutes. Add the celery-mushroom mixture to the other vegetables.

In a large saucepan over low heat, melt the butter. Add the curry powder and cook for 1 minute to bring out the flavor. Add the flour and cook for 1 minute, stirring constantly. Whisk in the chicken broth and simmer until the sauce thickens.

Add the cooked vegetables, turkey, parsley, lemon juice, salt, and pepper to the sauce. Stir and simmer for 1 minute. Transfer the mixture to an ovenproof 10-inch skillet or deep 10-inch pie pan.

On a lightly floured surface roll the puff pastry to ⅛-inch thickness. Lay the pastry over the skillet, trimming any excess with a knife. Cut three or four slashes in the pastry to allow steam to escape. Beat the egg with 2 teaspoons of water; lightly brush the entire surface of the pastry with the egg mixture.

Prepare the grill for indirect cooking over medium heat (350° to 450°F).

Brush the cooking grates clean. Place the skillet on a small sheet pan and place on the cooking grate. Grill over indirect medium heat, with the lid closed, until the filling is bubbling and the pastry is golden brown, 40 to 50 minutes. Carefully remove the hot pan and the potpie from the grill. Allow the pie to cool for about 10 minutes before serving.