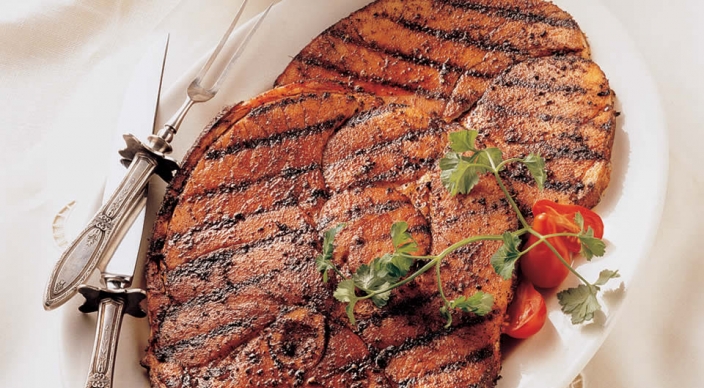 Serves: 4 to 6 // Prep time: 5 minutes | Grilling time: 12 to 15 minutes
Ingredients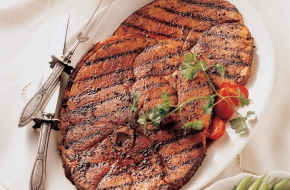 Rub
1 tablespoon pure chile powder
1 teaspoon dried oregano leaves
1 teaspoon packed brown sugar
½ teaspoon ground cayenne pepper
¼ teaspoon freshly ground black pepper
---
1 center-cut smoked ham steak, 2½ to 3 pounds and 1 to 2 inches thick
1 tablespoon unsalted butter, melted
Instructions
Prepare the grill for direct cooking over medium heat (350° to 450°F).

In a small bowl combine the rub ingredients. Brush both sides of the ham steak with the butter and season evenly with the rub, pressing the spices into the meat.

Brush the cooking grates clean. Grill the ham steak over direct medium heat, with the lid closed as much as possible, until the surface is nicely browned, 12 to 15 minutes, turning once or twice. Remove from the grill and serve warm or at room temperature.