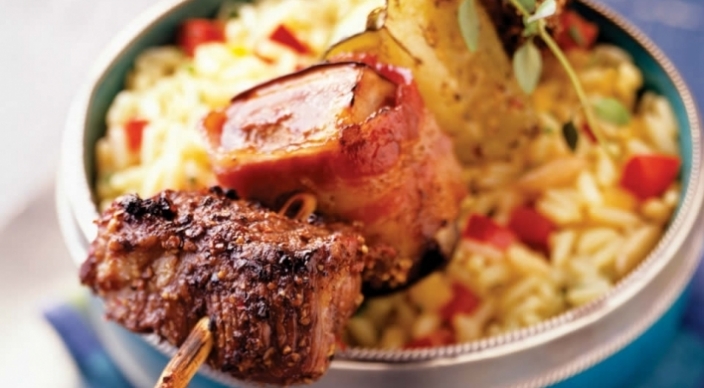 Serves: 4 // Prep time: 30 minutes | Grilling time: about 8 minutes | Special equipment: 4 metal or bamboo skewers
Ingredients
Vinaigrette
¼ cup extra-virgin olive oil
3 shallots, finely diced
1 garlic clove, minced
6 tablespoons chicken broth
¼ cup balsamic vinegar
2 teaspoons ground coriander seed
1 teaspoon chopped fresh Italian parsley leaves
½ teaspoon chopped fresh thyme leaves
½ teaspoon chopped fresh rosemary leaves
Kosher salt
Freshly ground black pepper
---
1 boneless leg of lamb, about 1 pound, trimmed of excess fat, cut into 1½-inch cubes
1 tablespoon coarsely crushed pink peppercorns
1 tablespoon coarsely crushed black peppercorns
4–5 slices bacon, cut crosswise in half
1 small eggplant, cut into 1½-inch cubes
3 medium tomatillos, husked, rinsed, quartered, and seeded
Extra-virgin olive oil
Instructions
In a medium sauté pan over medium heat, warm the oil. Add the shallots and garlic and sauté them for 1 minute. Add the remaining vinaigrette ingredients and mix well. If desired, to fully incorporate the flavors, let the vinaigrette sit at room temperature for 1 hour. Season with salt and pepper.

If using bamboo skewers, soak in water for at least 30 minutes.

Prepare the grill for direct cooking over medium heat (350° to 450°F).

In a medium bowl toss the lamb cubes with the crushed peppercorns. Wrap each bacon strip around one or two cubes of eggplant. Skewer the kabobs by alternating cubes of pepper-crusted lamb, eggplant with bacon, and tomatillos. Lightly brush the kabobs with oil.

Brush the cooking grates clean. Grill the kabobs over direct medium heat, with the lid closed as much as possible, until the bacon is fully cooked and the lamb is medium rare, about 8 minutes, turning three or four times. Remove the kabobs from the grill and let rest for 3 to 5 minutes.

Warm the vinaigrette over low heat. Place the kabobs on a platter, drizzle with the vinaigrette, and serve with rice pilaf, if desired.