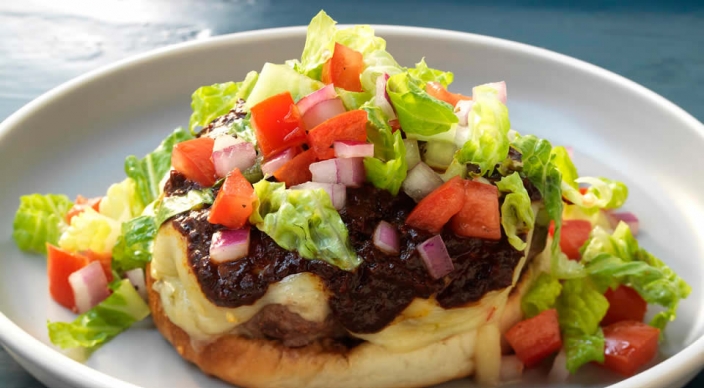 Serves: 6 // Prep time: 20 minutes, plus about 30 minutes for the sauce | Grilling time: 8 to 10 minutes
Ingredients
Sauce
12 dried New Mexico chiles, about 3 ounces total, stemmed and seeded
2½ cups beef broth
4 large garlic cloves, peeled
1 tablespoon dried oregano
1 tablespoon ground cumin
2 whole cloves
2 tablespoons tomato paste
Extra-virgin olive oil
1 teaspoon balsamic vinegar
Kosher salt
Freshly ground black pepper
Ground cayenne pepper (optional)
Salsa
1 tablespoon fresh lime juice
2 large plum tomatoes, seeded, diced
½ cup diced red onion
---
2¼ pounds ground chuck (80% lean)
6 slices Monterey Jack cheese, each about 1 ounce
3 hamburger buns, preferably potato buns, each about 4 inches diameter, split
---
1 cup coarsely chopped romaine lettuce
Instructions
Using kitchen shears, cut the chilies into ½-inch pieces. In a medium, heavy saucepan over medium heat, cook the chile pieces until fragrant and slightly darker, 4 to 5 minutes, stirring often. Add the broth, garlic, oregano, cumin, cloves, and tomato paste. Bring to a boil over high heat, stirring occasionally. Reduce the heat to medium-low, cover, and simmer until the chiles are soft, about 20 minutes. Transfer the mixture to a blender. Add 1 tablespoon oil, the vinegar, 1 teaspoon salt, and ¾ teaspoon pepper. Holding down the cover firmly, blend the chile mixture until the sauce is a smooth puree, but still on the thick side, scraping down the sides as needed. Pour the sauce into a small saucepan and season with cayenne, more vinegar, and more salt and pepper, if desired. Cover to keep warm.

Prepare the grill for direct cooking over medium heat (450° to 550°F).

In a medium bowl whisk 2 tablespoons oil, the lime juice, and a pinch of salt and pepper. Mix in the tomatoes and onion. In another medium bowl gently combine the ground beef, 1 teaspoon salt, and ½ teaspoon pepper. Shape the meat into six patties, each about 4½ inches in diameter and ¾ inch thick.

Brush the cooking grates clean. Grill the patties over direct high heat, with the lid closed as much as possible, until cooked to medium doneness, 8 to 10 minutes, turning once. During the last minute of grilling time, place the cheese on the patties to melt, and grill the buns, cut sides down. Remove from the grill.

Reheat the sauce over medium heat if necessary, stirring occasionally.

Arrange one bun half, cut side up, on each plate and top with a patty. Spoon some warm sauce over each. Mix the lettuce into the salsa and spoon over the top. Serve with any remaining sauce and salsa.